A good surfboard is indispensable for a surfer to excel in the surface water sports of surfing. It leads surfers to put special efforts into the surfboard's design, strength, and light weightiness. A surfer's ultimate aim is to achieve better functionality for
surfboards
, which could help surfers excel in sports. The craze for improved surfboards is equally abundant among the amateurs as well as the professionals. The design and painting patterns of a surfboard show the personality of a surfer. Also, it portrays the passion of a person towards surfing, which pushes surfers to go for painting their surfboards. Apart from this, surfboards come with a fixed paint design and with limited color availability. Due to this, a passionate surfer is sometimes stuck to buy a surfboard against his desires. Ultimately, the surfer goes for painting. People also want to paint their surfboards because they are either their favorite ones or their first surfboard. Similarly, sometimes everything in a surfboard is fine, but its painting is not good enough. So, people go for a paint change for such surfboards. People also look for painting their surfboards to have a change of look of their surfboard. If your desired paint style is hard to find in the market, you should not worry.
You are not the first one go
ing through this situation.
Now, you might get worried that the paint done by you might be of low quality. That is a valid question. However, here are some essential steps that can ensure your surfboard is painted the right way.

Essential Steps for P
ain

tin

g

Your

Surfboar

d

1. Arrange basic safety measures

You must arrange basic safety and security measures as the first and the foremost step. This include:
Use of mask
Eyeglasses
Gloves
These measures can save you from the harmful impacts of spray paints and other tiny particles that can become airborne during work. If you do not prioritize your health and wellbeing, you can become ill and incur diseases related to lungs and other body parts. Nobody would like to become sick in such a way. Therefore, you should always take these basic safety requirements into account before proceeding with the paintwork.
2. Collect surfboard painting essentials
Have you decided to proceed with painting your surfboard as you like it? If yes, you will need a few essential materials for the smooth progress and completion of paint on your surfboard. Following is the list of those materials:
Wet paper towels
Wax comber
Acetone ( don't use nail polish remover as it could lead to low quality of paint)
Sandpaper ( 200 to 250 girt)
Acrylic paint
Spray color cans
Other colors as per your personalized paint design
Brushes in all different sizes
UV resistant color coat spray
3. Remove wax from the surface of the surfboard
On the one side, if your surfboard is relatively old and requires a new painting, it must have had developed a layer of wax on it. Before putting a new painting on a surfboard, the layer of wax must be removed from its surface. You can use a wax comb for this purpose and remove the wax from the surfboard surface completely. Once the wax is removed, you can proceed to the next step. On the other side, if your surfboard is new, it will need no wax treatment. You can directly proceed to the next step.
4. Clean the surface of a surfboard with a wet paper towel
Once you are done with wax removal, you must start cleaning the surf
board with the help of a wet paper towel. It will clear the surface of the surfboard from the remnants of wax. Also, you should remove stickers from the surface of the surfboard, which will make it easier for you to paint in a flawless manner.
5. Apply acetone
Now, you should use acetone to clean the surface of the surfboard. Acetone would remove the wax remnants and other nonessential elements on the surface of the surfboard. The reason to choose acetone lies in its low price. You can buy acetone by just spending $10. Although the material is cheap, the results that it offers to solve are very valuable. Some people try to use nail polish removers. However, it leads to moisture on the surface of the surfboard. As a result, the painting will not stick to the surfboard's surface.
6. Sand your surfboard
When the surface of your surfboard is clean and all wax has been removed, you must start the application of sand. You can use 200- 250 grit sandpaper. You could also use an electronic sander for this purpose. You should make sure that the surface of the surfboard is not damaged while you sand it with the help of sandpaper. You need to sand the surface of your surfboard in a way that creates zero issues for the paint to adhere to the surfboard's surface. You need to sand the surface with diligent efforts so that the gloss from the surface is no more present. That is an important step as a painting sticks to matte colors better as compared to glossy colors.
7. Outline a design for the surfboard
It is an important step as this is why the entire process was initiated in the first place. You can pick a light pencil for this and draw contours or outlines of the desired paint design. If you are looking for some design ideas for painting, you could begin by understanding the shapes. With the help of shapes such as square, rectangular, circles, pentagon, etc., you can pretty much craft a fantastic design for painting on your surfboard.
8. Tape-off
Tape-off is a great opportunity to create a beautiful design. People love to have designs on their surfboards with more than a single or two-tone color combination. Here tape-off method can be applied. People could add paint design as they need. For example, if someone needs a design with straps, the tape could help create the painting design. Apart from that, tape-off can be used to keep the non-painting logos, print designs away from the impact of paint.
9. First paint: the base of the painting design
Now you should apply the base layer that is of acrylic color. This unique color becomes the color. You can apply this in th
e shape of spray and add shadow to your surfboard as a paint design.
You must be careful that you apply the coating of the right base paint colors. Also, apply layers of this coating until a uniform layer is achiev
ed.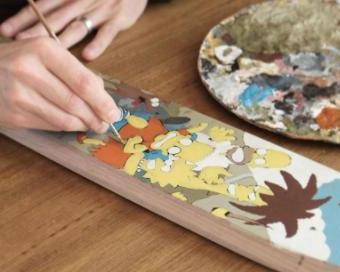 10. Apply paint now
Now, you are all ready to apply paint on your surfboard. First, wear the
safety apparatus and then start applying the paint as per design. You are advised to apply a consistent amount of paint on the surfboard where the painting is required. At the same time, you should carefully apply paint in the taped area as well.
You should make sure that you apply a fair amount of paint layers until the final desired color is achieved. While doing this, you can apply one coat of paint on the surfboard surface and then leave it for some time to dry. Once a coat of applied paint is dry, you can apply the next coat of paint. It would help if
you kept doing this until the painting looks good. You can use regular paint, paint pens, and spray paints as per your liking and availability.
If you apply paint after doing the things mentioned above, the painting will be one tone and stick to the surface of the surfboard exceptionally.
11. Avoid dark colors such as black
You must avoid dark colors on your surfboard. Dark colors such as black will absorb heat from the surroundings, leading to damage to the surfboard. Therefore, you should apply cool colors so that your surfboard is lasting as well.
12. Let the paint dry
Now, you must allow the applied paint to dry for several hours. Usually, you should leave a paint design to dry for 24 hours. Paint is an essential part of a surfboard design. The standard paint designs are not suitable for and liked by everyone. Also, even if someone wants a particular paint design, the passage of time and the wear and tear linked with it makes the old paint look terrible at some point. So, doing paint on surfboards becomes inevitable for surfers. Above is a step-by-step method or guide that tells you exactly how to approach the painting of your surfboard. The process of painting surfboards is fast and requires very little investment. It is worth a try as it could turn a regular surfboard into a personalized surfboard for yourself. You can also learn many other things and skills if you want to during
the painting process.