Having and maintaining luxury skin is splurge-worthy, and you must be willing to spend time and money to achieve it. One of the most frequently asked questions by people who are into skincare is the cost of the HydraFacial machine. But before we delve into that, let's touch base on a few housekeeping on skincare.
Having flawless and glowing skin takes work. It requires super-luxe treatments that include machines with sophisticated technology, such as the HydraFacial machine. This machine is the absolute holy grail for every skincare lover because it is non-invasive and delivers potent products deep into the skin for maximum benefits. With this, you can unclog your pores and tackle dead skin for a deep cleanse.
If you are time-strapped and are looking for ways to cut down on those spa visits, this machine is the ultimate answer.
Below is a comprehensive write-up on all you need to know about HydraFacial machines. Keep reading to get all the answers you need before investing in one.
In this article:
What is a HydraFacial?
HydraFacial is a patented cosmetic-grade skincare process used to improve the dull parts of your skin. This treatment is mainly done in spas and dermatology clinics. However, you should ensure the spa is licensed to avoid unnecessary complications.
A skin specialist mostly does this non-invasive procedure, lasting about 45 minutes. It is painless and immediately effective. The skin specialist will use a HydraFacial machine with hydrating serums to treat the targeted area of your skin. This treatment is similar to microdermabrasion because it is combined with potent serums like hyaluronic acid to exfoliate your skin.
The HydraFacial machine is vacuum-like handheld equipment designed to suction out dirt from the pores of your skin. It is more of an exfoliation process that fills the opened pores with potent serums to rejuvenate the skin. Depending on your skin issues, your skin specialist will use a non-irritating exfoliating treatment suitable for your condition. For example, they will employ acne-healing acids like salicylic or glycolic acids if you fight acne.
How Much is a HydraFacial Machine?
Back to the million-dollar question, how much is the HydraFacial machine? The answer is relative. A million and one things will determine the price of a HydraFacial MD machine. For example, the city you buy the machine from will significantly determine its cost. You will also have to consider the features of your HydraFacial equipment.
Most people often choose a portable HydraFacial machine because they want an on-the-go spa. This means you must cough out more than you would for a clinic-based treatment. These features include style, portability, manufacturer, and other additional functions.
A suitable HydraFacial device will cost nothing less than $1,200. As for the most expensive, it can go higher than $3,000! This kind of shopping could be less favorable for penny pinchers. Always choose quality over budget if you want to reap the best. But while at it, always be careful not to invest in aesthetics instead of value. Some manufacturers who are after quick sales sell aesthetics that compromise the effectiveness of the beauty device.
To help you understand better the pricing of HydraFacial machines, let us look at the benefits they should offer. With this, you can make informed choices on what to put your money into.
Benefits of HydraFacial Machines
Regular HydraFacial at the salon will surely cost you an arm and a leg. So, here are some key benefits if you are considering an at-home HydraFacial machine. However, this does not mean that the benefits do not apply to HydraFacial devices for estheticians, far from it.
Safe on Sensitive Skin – This is one feature you must always be wary of if you have sensitive skin. Most devices that use steam to open the pores are unsuitable for sensitive skin. Fortunately, most HydraFacial devices are not designed to be used with steam. When picking a HydraFacial machine for home, choose one that will not irritate your sensitive skin.
No Downtime – Most facials will irritate your skin, and you will need extra time for recovery before resuming your beauty regimen. With HydraFacial, you will glow as soon as it is done. 30 minutes max! You can resume regular activities, including workouts and skincare, without worrying about irritating the treated areas.
Painless – Although you might feel some slight pressure during the process, that should be it with HydraFacial. This is unlike other cosmetic procedures. Most of them will irritate and cause redness on your skin. Some are even painful as it pierces and tears through the skin to rejuvenate it. This means that you will need numbing at least 30 minutes before treatment. As for HydraFacial, you will find it gentle and relaxing.
Improved Skin – HydraFacial will benefit your skin a lot. It helps remove fine lines and wrinkles and improves skin texture if you stay consistent with the treatment.
Improves Absorption of Products – HydraFacial not only cleanses your skin but also helps open pores. This allows for better penetration of products like serums and exfoliating acid deep into the skin, unlike if just manually applied.
Hydrates the Skin – People who have undergone this aesthetic procedure have reported improved hydration in their skin. This is perhaps because the products can now penetrate better. On top of that, your skin will feel soft and plump. Some said they witnessed delayed aging and improved wrinkling after HydraFacial, which is not farfetched considering that the procedure stimulates collagen production, which improves your skin's elasticity.
Is HydraFacials Worth It?
There is so much buzz on the internet about HydraFacial, and one might be tempted to ask, is it really worth the hype? Like any skincare regimen, it is good. It is as good as other exfoliating treatments that can either be done at home or in a beauty clinic. However, whatever results you get from HydraFacial can be affordably achieved through other means.
You can get better skin for much less by regularly exfoliating with regular skincare products. As long as you understand your skin, you will know what is best for your skin. This is not to say that HydraFacials are ineffective. It works as an exfoliation process and gives the same results as the more affordable skincare regimens.
SkinDeep Laser MD states HydraFacial is a brilliantly marketed but overpriced facial. You do not need any education or licensing before using it! Most aestheticians have come out to claim that there is nothing medical about HydraFacial. This means anybody can get the machine and use it however they deem fit.
What Skin Conditions Can HydraFacials Treat?
HydraFacial is said to improve the skin a lot. This is attributed to its deep exfoliation that cleanses and opens up your pores for better penetration of products. Many skin conditions significantly improve after using the home HydraFacial machine. Here are some skin conditions that can be treated with HydraFacial.
As we all know, most acne, including cystic acne, is caused by clogged pores. Although no clinical studies highlight this, HydraFacials have been considered to improve acne and scarring. Hydra dermabrasion machines can be an effective method to treat this skin condition as it profoundly exfoliates and unclogs your skin pores. If this HydraFacial device unclogs the pores, it could be a considerable solution for the acne menace affecting a significant percentage of the population.
This is an acute skin condition that is very difficult to treat. More studies have yet to be done to suggest that HydraFacial can improve this condition. However, some people with the condition have sworn by the method. Its safety and effectiveness on the condition still need to be highlighted in a study so that aestheticians can use it more to benefit the rest of the population.
There is an actual study that the National Library of Medicine did in 2008 that proved that HydraFacials significantly improve skin aging. According to the study, 20 women who were used showed a remarkable decrease in facial wrinkling. There was a significant decrease in pores and improvement in the hyperpigmented areas. This was in comparison to the topical application of serums to the skin, and HydraFacial was found to be more effective.
This is a type of acne mainly contributed by dead skin cells. It is non-inflammatory and less severe than cystic acne. This condition may benefit from HydraFacial. If you have a mini HydraFacial machine at home, you will easily treat the condition by exfoliating and extracting the blackheads. However, no conclusive study has been done to prove its effectiveness, but the beneficiaries of the HydraFacial device can swear by it.
How Much Does HydraFacial Cost?
As indicated earlier, HydraFacials costs way much more than your regular facials. This cost is attributed to the machine's sophisticated technology and skin products. These expenses are passively passed to the consumer when they visit a clinic salon for treatment.
Most aestheticians using a professional HydraFacial machine will charge you nothing less than $175 per session—the more boosters applied during the treatment, the higher the cost. You might never see the end of it! However, the cost of the treatment might vary from city to city; therefore, you shouldn't take our figures as conclusive.
It could have been better if the insurance covered the treatment. But since it is a cosmetic procedure, it is not. If you must do HydraFacial regularly, talk with your aesthetician for cost-effective solutions, which might weigh down on your pockets in the long run.
How Long Do HydraFacial Results Last?
HydraFacial is a lifesaver that gives your skin that instant reboot. But how long do the results really last? The glow and plum will last you between 4-6 weeks, then gradually fade. You can plan to have your sessions every month to improve the longevity of the results. We should also add that these results will vary from person to person. It all depends on the condition of your skin and the aftercare you give after the treatment.
Who Shouldn't Get a HydraFacial Treatment?
This is one of the most popular skincare treatments. HydraFacials are safe for all skin types because they do not cause scarring or irritation. However, certain conditions can prevent you from using this skin treatment.
Avoid HydraFacial if you have fresh sunburns and severe skin rash. You must also avoid it if you have irritated, sensitive skin and open wounds. If you choose to go ahead despite the mentioned conditions, you might risk infections, among other severe skin conditions. The treatment has also not been approved to be safe for pregnant and lactating mothers; therefore, you must consult your physician before commencing treatment.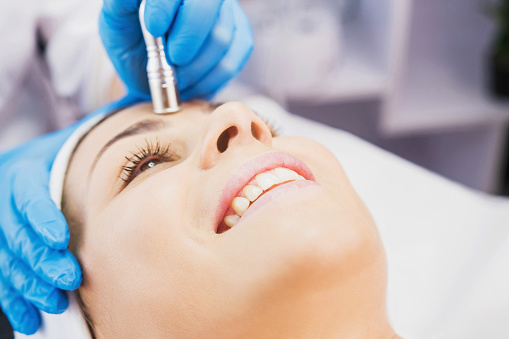 Final Words
Many people who have used the treatment can swear by the HydraFacial machine to improve their skin. However, some dermatologists still refute that owing to the fact the treatment might cause skin irritation and redness. They will argue that these side effects are not necessary in the first place. On top of that, there still needs to be conclusive research to prove consumer claims.
If you must have the treatment, find a reputable spa with licensed aestheticians. However, if you are torn between them, you can always opt for the OTC topical actives and serums, which are way more affordable and easy to stop if irritations occur.
Related Articles:
How to Use a HydraFacial Machine? [Preparations, Steps, Do's & Don'ts]
6 Best Professional Hydrafacial Machines for Facial Skin Care at Home