Everyone longs for smooth, youthful, and naturally-glowing skin. Age, free radicals, pollution, dirt, and sweat ruin your soft and youthful skin. We often spend thousands of money on facial oils, creams, and face packs to regain our natural glow. However, a more potent form of effective treatment is using a professional HydraFacial machine. It is slowly rising in popularity and becoming trendy among women.
If you are interested in whether it is safe and effective to go for HydraFacial and know its advantages and side effects, here is all you need to know. We have discussed what a hydro facial is and listed the best HydraFacial machines to carry out the facial treatment at home.
Embrace the long-term benefits of this amazing skin treatment.
In this article,
Our Picks for the Best Hydrafacial Machine at Home
What is a Hydrafacial (Hydra Dermabrasion) and How Does it Work?
HydraFacial is a skin treatment available in spas and is often conducted by dermatologists. The procedure is also called "hydradermabrasion" since it is similar to microdermabrasion.
The HydraFacial helps in deep cleaning and exfoliation and also hydrates the skin. These three steps treat several skin problems like dryness, wrinkles, fine lines, and acne. A professional HydraFacial machine works like a wand on your face and performs the treatment using facial serums customized for your skin.
The non-invasive hydra dermabrasion treatment is similar to a regular spa or facial treatment but provides much better results.
HydraFacial involves multiple steps in facial treatment and has been designed by Edge Systems. The HydraFacial Machine helps to cleanse the skin, exfoliate the dead cells, and hydrate it deeply with rejuvenating serums.
The reason for its popularity lies in the skin brightening and firming benefits it provides to clients. People seek HydraFacial for regular maintenance of facial skin or before a big event in their life.
Hydro dermabrasion functions similarly to microdermabrasion, where the uneven outer layer of your skin is polished. It is made even for a smoother appearance. The HydraFacial device sucks up the dead skin cells from your face. The magic lies in the infusing of serums into the skin post exfoliation.
Here are the three major steps discussed:
Cleansing and Peeling
This is the step where the hydro facial machine exfoliates the skin. It removes the dead skin cells from the outer surface of the skin. This helps unclog the pores, removing dullness and making the skin look brighter. When performed at proper intervals for skin maintenance, the process helps in boosting collagen production in the skin. The HydraFacial tip releases a fluid vortex on the facial skin to remove the dead skin cell build-up.
Extraction and Moisturization
The HydraFacial tip sucks out the oil and dirt from the pores and removes any residue. Simultaneously, it hydrates the skin to eliminate dryness and fine lines.
Infusing Serums for Protection
The final step is the finishing touch for protection. The treatment infuses the wow factor into your skin. It brings a natural glow, reduces hyperpigmentation, wrinkles, fine lines, and dullness, and closes pores.
The serums give you rejuvenated skin with an even tone.
Benefits of Professional Hydrafacial Machine at Home
The benefits of HydraFacial are immense. They improve skin tone and texture, reduce dullness, and clean pores. The treatment also gives you younger-looking skin.
Here are some of the significant benefits of HydraFacial treatment:
Acne
A hydro facial is effective for acne and treating acne scars. The deep exfoliation in the process removes the oil and dirt from the pores, helping reduce acne. Finally, the exfoliation removes the scars from the surface layers of the skin and brings out the real glow.
Blackheads
The build-up of dead skin cells can cause blackheads. The exfoliation and the extraction of build-up from the pores in the hydra dermabrasion treatment reduce blackheads.
Hyperpigmentation
Exfoliation can fade away scars from the face and reduce hyperpigmentation issues by giving you an even tone.
Reduction of wrinkles
HydraFacial treatments have caused fewer wrinkles and fine lines in women due to the deep moisturization and use of serums. The collagen formation firms the skin and keeps it smooth and youthful.
6 Best Hydrafacial Machines at Home for Facial Skin Care
1. Best Overall: JJ.Yoma 7 in 1 Multifunctional Hydrogen Oxygen Facial Machine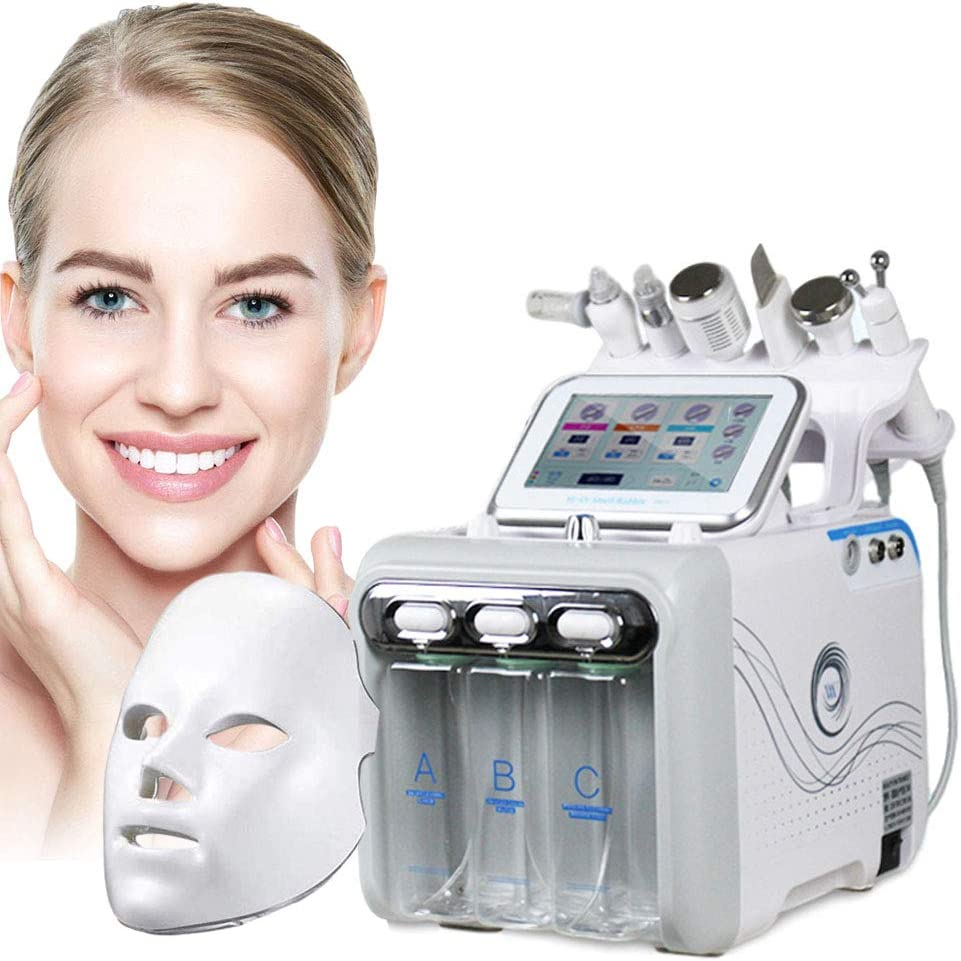 Weight: 19.47 Pounds (About 8 KG)
Power: >350W
Display: 7 Inches
Water Pump: Pressure 90Kpa / 30L Flow
Rating: 4.0 out of 5.0
Improve your skin texture remarkably with JJ. Yoma Hydrogen Oxygen Facial Machine. This is a multifunctional facial cleansing instrument for home.
The 7-in-1 facial skin care machine is the best at-home hydrafacial machine. It uses purified water and turns them into oxygen and hydrogen ions to apply to your skin's surface. The water molecules penetrate the skin and deeply cleanse and rejuvenate it. It also proves to have a superb effect on oily and acne-prone skin.
The cool massage head shrinks pores and reduces the chances of acne and trapped sebum in pores. It cures imperfections, pigmentation, and blemishes to brighten your skin tone.
The 7-in-1 hydrafacial machine for skin rejuvenation provides deep nutrition, tightens the skin, and treats dark circles and fine lines. The HydraFacial is suitable for all skin types, even sensitive skin. Clean blackheads, acne, and excess cutin very effectively.
Pros
Unclogs the skin pores
Suitable for sensitive skin types
Reduces pigmentation, wrinkles, and blemishes
Tightens chin line
Cons
The instructions are poorly translated, with important details missing
2. Best Pore Cleansing: RUTAWZ 6 in 1 Professional Hydrogen Oxygen Facial Machine for Home Use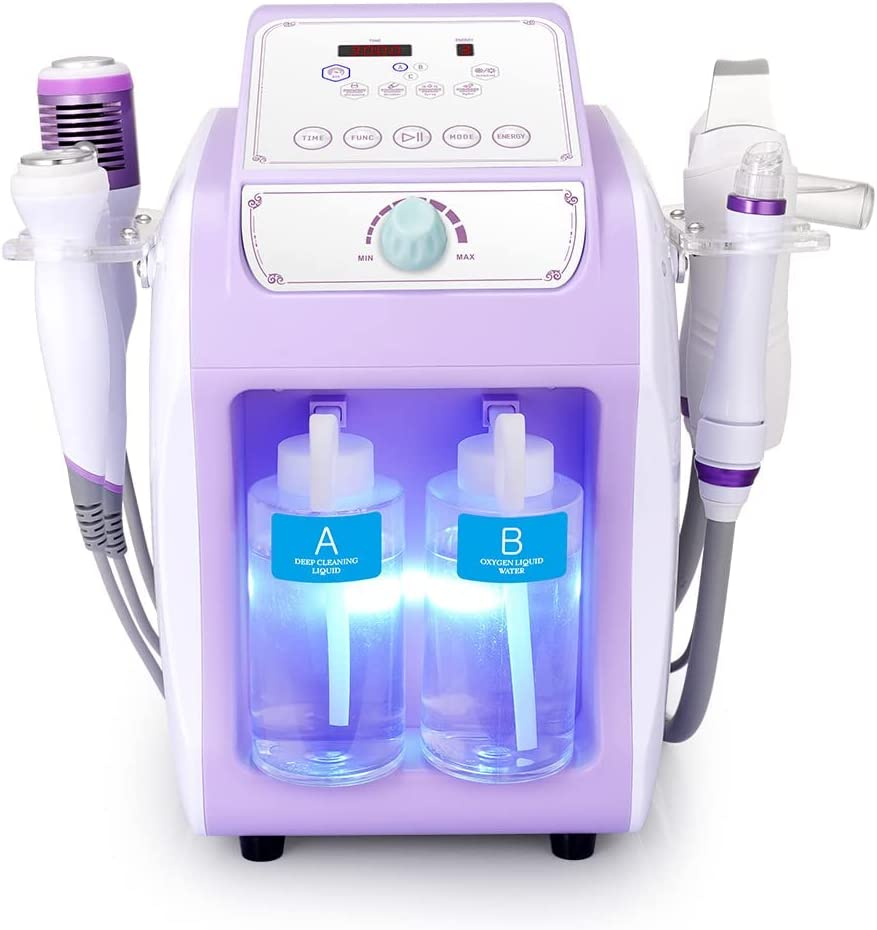 Size: 15.5 x 12.5 x 11 Inches
Weight: 12 Pounds
Warranty: 1 Year (Main Machine); 3 Months (Consumable Parts)
Rating: 4.4 out of 5.0
The RUTAWZ Hydrogen Oxygen Facial machine is a multifunctional beauty tool for your facial problems. This is one of the best hydrafacial machines you can get for home use.
The various customized face cleansing tools like oxygenation spray, hot handpiece, and hydrafacial handpiece combined help to perform several facial treatments. The treatment is suitable for all skin types and can improve skin texture by smoothening fine lines and wrinkles.
Thanks to the hydrafacial machine, you can set the right energy and perform multiple functions like blackhead removal, moisturizing, deep cleaning, ultrasound induction, facial lift, and whitening rejuvenation.
With periodic use, you can find lesser pores, reduced blackheads and acne, and glowing and hydrated skin.
Pros
Easy to setup
Convenient
Provides 6-in-1 treatment
Gives glowing skin
Reduces acne and fine lines
Cons
3. Best Rejuvenating: DXXCV 6 in 1 Hydrogen Oxygen Facial Beauty Machine (Hydrafacial Machine)
Voltage: 110-240V
Working Power: 25W
Weight: 6.6kg
Rating: 4.9 out of 5.0
The 6-in-1 Hydrogen Oxygen Facial Beauty Machine is the solution to deeply hydrated and rejuvenated skin. The product adds moisture to the skin and makes the skin supple and youthful. It also helps to improve skin tone and relieves pigmentation issues.
The hydrafacial machine helps to soften the skin pores and clears the sebum. It replenishes the skin's stratum corneum with water to rejuvenate the cells.
Using the hydro facial machine once a month is equivalent to applying eight hydrating masks on your face. Apply this superb advanced technology and increase your skin's collagen cell growth and absorption of serums.
The advanced technology uses purified water to convert it into hydrogen and oxygen water to deeply and quickly penetrate the skin. It also improves blood circulation, metabolism, and collagen cell growth.
With this 6-in-1 hydrogen oxygen facial beauty machine, you can enjoy a complete spa treatment even at home. It tightens the chin line and reduces eye bags and dark circles. It also reduces the fine lines around the face.
The professional hydro facial machine gently exfoliates dead skin, blackheads, and other debris to remove pigmentation and acne.
Get back your glowing natural skin.
What is in the Package
1 × Main hydrafacial machine
6 × Heads
1 × Oxygen Injection
1 × English Instructions Manual
Pros
Rejuvenates deeply
Increases collagen formation
Removes blackheads and pigmentation
Tightens the skin
Cons
4. Best Pore Shrinkage Facial: DXXCV 7 in 1 Hydrogen Oxygen Facial Machine (Professional Face Care Machine)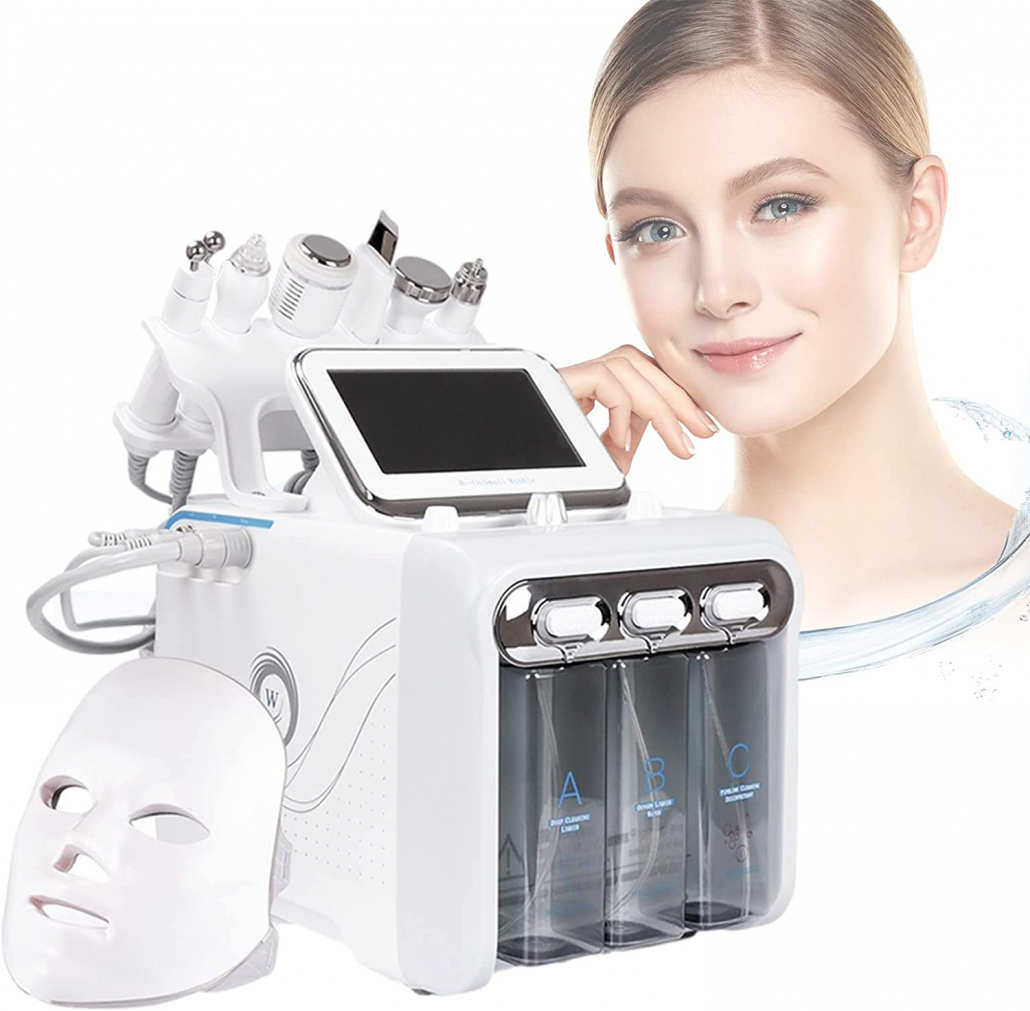 Voltage: 110V-240V
Working Power: 25W
Weight: 6.6kg
Rating: 4.8 out of 5.0
The 7-in-1 Hydrogen Oxygen Professional Care Facial Machine is the perfect facial cleanser you need. This is the best professional equipment for home and beauty salons. The control screen lets you manage the treatment's intensity, time, and mode. All tools for comfortable skin treatment are included in this hydrafacial machine.
The professional hydrogen oxygen machine works well by shrinking pores, removing pigmentation, and improving skin tone. The product offers deep exfoliation to remove dead skin cells, clean blackheads, and bring out trapped debris. It uses purified water and turns it into oxygen and hydrogen ions water, so the molecules deeply penetrate the skin surface. It's the best you can do for skin care and cleansing.
The machine infuses moisture into the skin to make it suppler. It tightens the chin line to eliminate nasty eye bags, dark circles, and fine lines.
It is the best pore-shrinking facial you can use. Find lesser visible pores and regain your naturally smooth skin.
The 7-in-1 facial beauty machine cleans the pores by softening the semi-cured sebum, dead skin cells, and blackheads by bringing them out. The result is that you can enjoy beautifully glowing skin.
Using it equals eight hydrating masks for your face to rejuvenate it.
The massage and serums increase collagen and elastin production in the skin to promote firmness and tightness and bring back a youthful glow. It also increases metabolism and blood circulation.
Pros
Promotes collagen formation in the skin
Removes debris and dead skin cells
Improves the blood circulation
Shrinks the pores            
Cons
5. Best for All Skin Types: MZVOO 6 in 1 Multifunctional Hydrogen Oxygen Machine for Facial Beauty at Home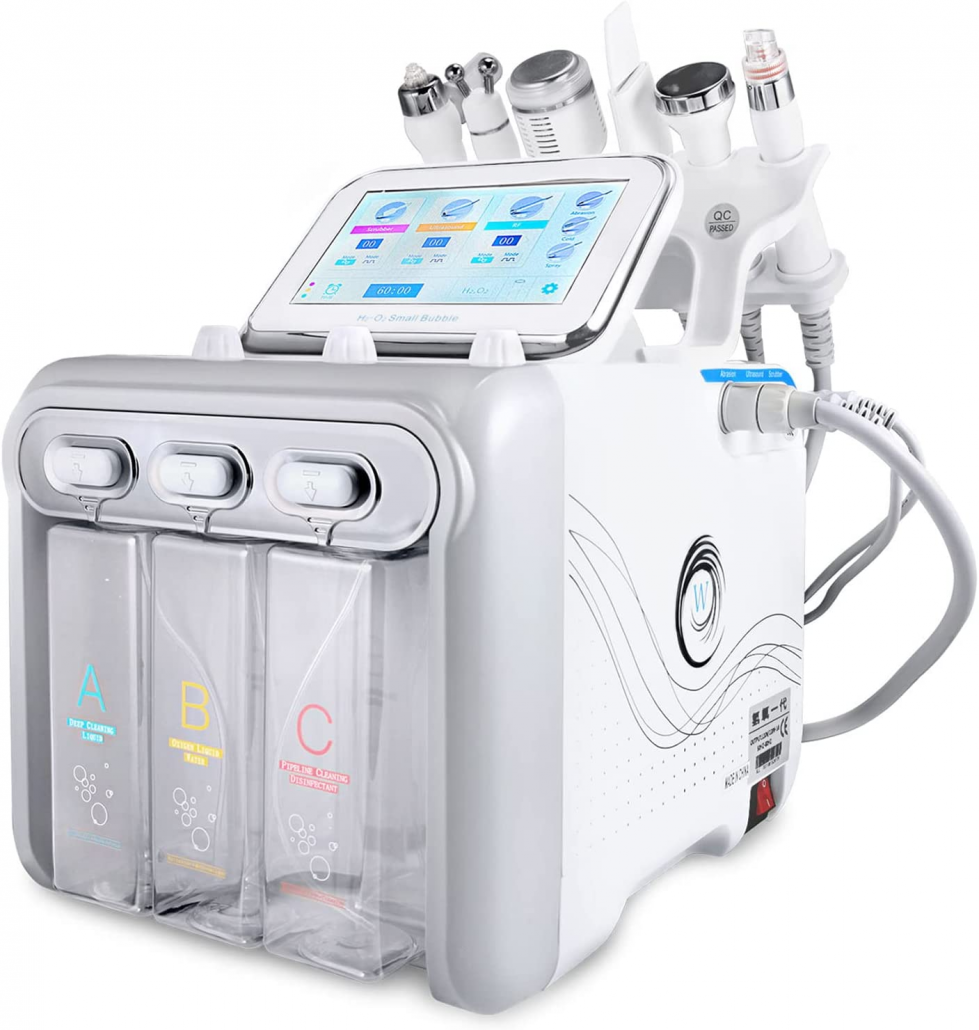 Voltage: Unknown
Weight: 18.85 Pounds
Rating: 3.9 out of 5.0
The MZVOO HydrogenOxygen Face Care Machine is a powerful hydrafacial device for all skin types. Using this hydrafacial machine for estheticians is equivalent to applying eight hydrating masks on your face. Imagine the level of hydration and smoothness you would get. The silky smooth feel and the rich glow undeniably make you feel great.
The professional facial care machine is suitable for all skin types, including sensitive skin, and causes no redness and discomfort.
The cool massage head shrinks the pores and cleans the sebum and dirt deeply. The deep exfoliation reduces open pores and acne. Once the sebum and trapped impurities are out, the pores shrink, and the skin becomes even smoother.
The exfoliation also brightens your skin color naturally. This is not any chemical procedure like bleaching that can harm the skin. The exfoliating procedure removes the dead skin layer from the upper surface of the skin.
The facial cleansing machine works 280,000 times per minute to rinse the dirt while inducing enough water into the skin's stratum corneum cells to restore hydration after cleaning. It lightens the scars and pigmented areas to brighten the skin tone. The result makes the skin suppler.
The facial beauty machine uses purified water converted into hydrogen and oxygen ion water to pass it quickly through the skin to increase absorption and promote effective cleaning.
Overall, it's one of the best hydro facial machines you can purchase for home and beauty salons.
What is in the Package
Frozen hammer
Deep water pen
Water molecule brush
Ultrasonic induction
High-frequency spatula
Bipolar radio frequency
Pros
Suitable for all skin types
Deep cleansing
Extremely moisturizing
Reduces wrinkles and fine lines
Treats pigmentation
Brightens skin tone
Cons
Ultrasonic import did not work for a few customers
6. Best for Youthful Skin: HYSZL 7 in 1 Professional Hydrogen Oxygen Machine for Home Spa (Facial Cleanser Machine)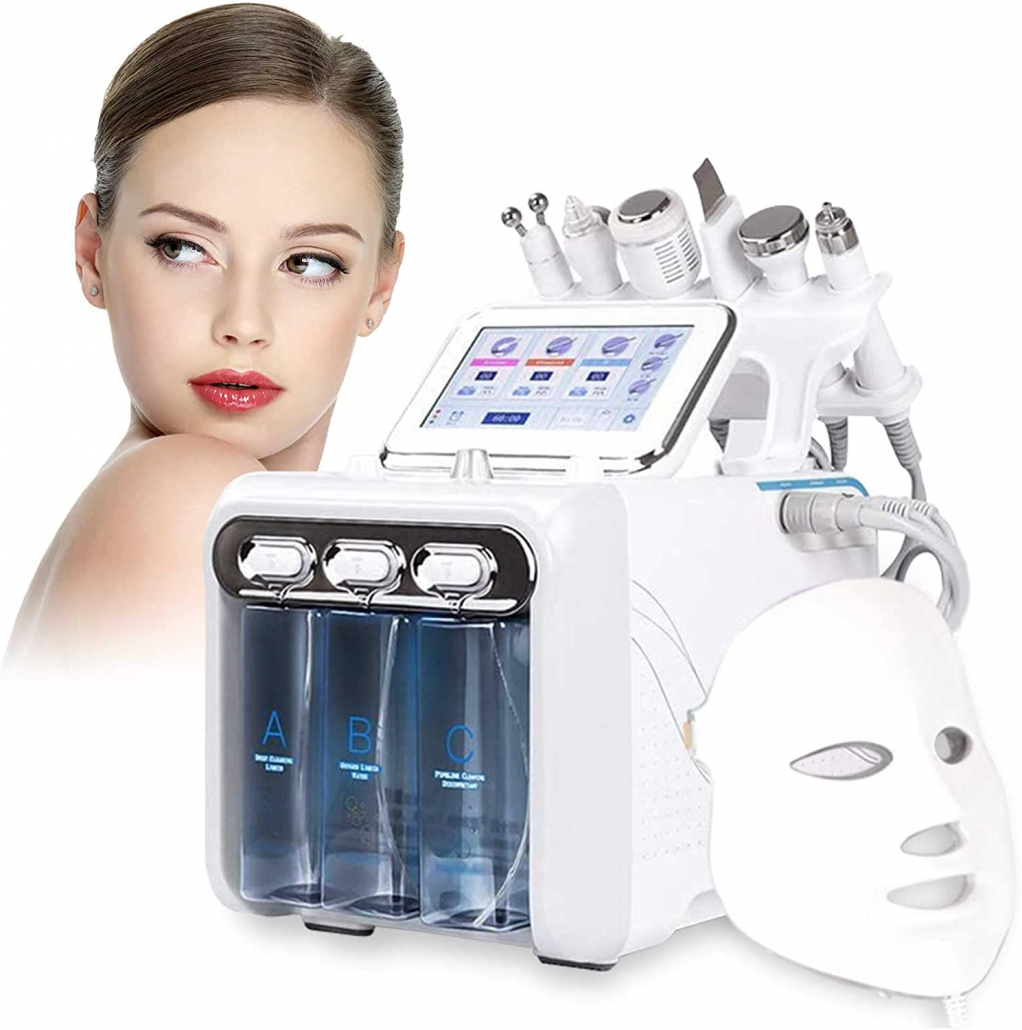 Voltage: 110-240V
Power: >350W
Net Weight: About 9.3KG
Water Pump: Pressure 90Kpa/30L Flow
Rating: 5.0 out of 5.0
The 7-in-1 Small Bubble Beauty Machine is all you need for happy, youthful skin. Using the machine once is like hydrating your face with the goodness of serum oils eight times. Monthly usage can restore your skin's elasticity and get you a supple, youthful look.
The oxygen facial machine is suitable for all skin types and does not make you uncomfortable. It's definitely the best professional hydrafacial machine for home and beauty salons.
The effective treatment adds moisture to the skin to make it firm and supple. The deep level of hydration does not let the skin dry out and lose its moisture. This helps to eliminate wrinkles and fine lines. It also relaxes the skin, and the massager increases blood circulation and boosts collagen production.
With this powerful facial cleanser machine, you can also say goodbye to pigmentation. The exfoliation removes the dead skin cells and improves your skin tone by bringing out the natural glow. It eliminates blackheads and trapped sebum from the skin.
When the dullness is gone, the face has more collagen, the skin is elastic, and the blood circulation is optimum; it makes your face look naturally beautiful without makeup.
What is in the Package
1 * Main Machine
1 * Power Cord
6 * Probes
1 * English user manual
1 * Mask
1 * Packing box
Pros
Very easy to set up
Provides intense hydration
Does not provide discomfort
Excellent results
Removes dead skin cells and blackheads effectively
Cons
Before and After Results of Professional Hydrafacial Machine
People suffering from hyperpigmented, dull, and lifeless skin may notice striking results after a professional HydraFacial treatment. One or two sittings can show you noticeable results. You can find your skin more radiant, smooth, and firm after using a professional HydraFacial machine.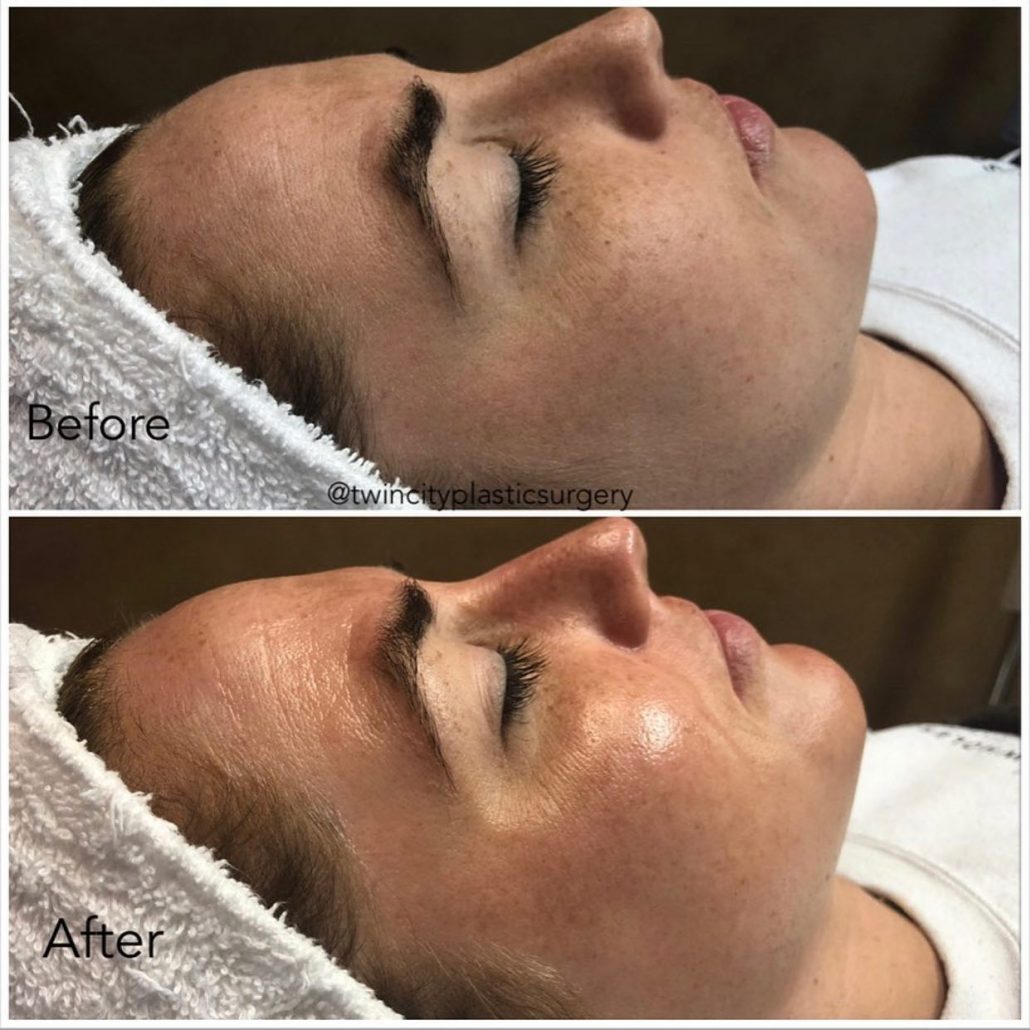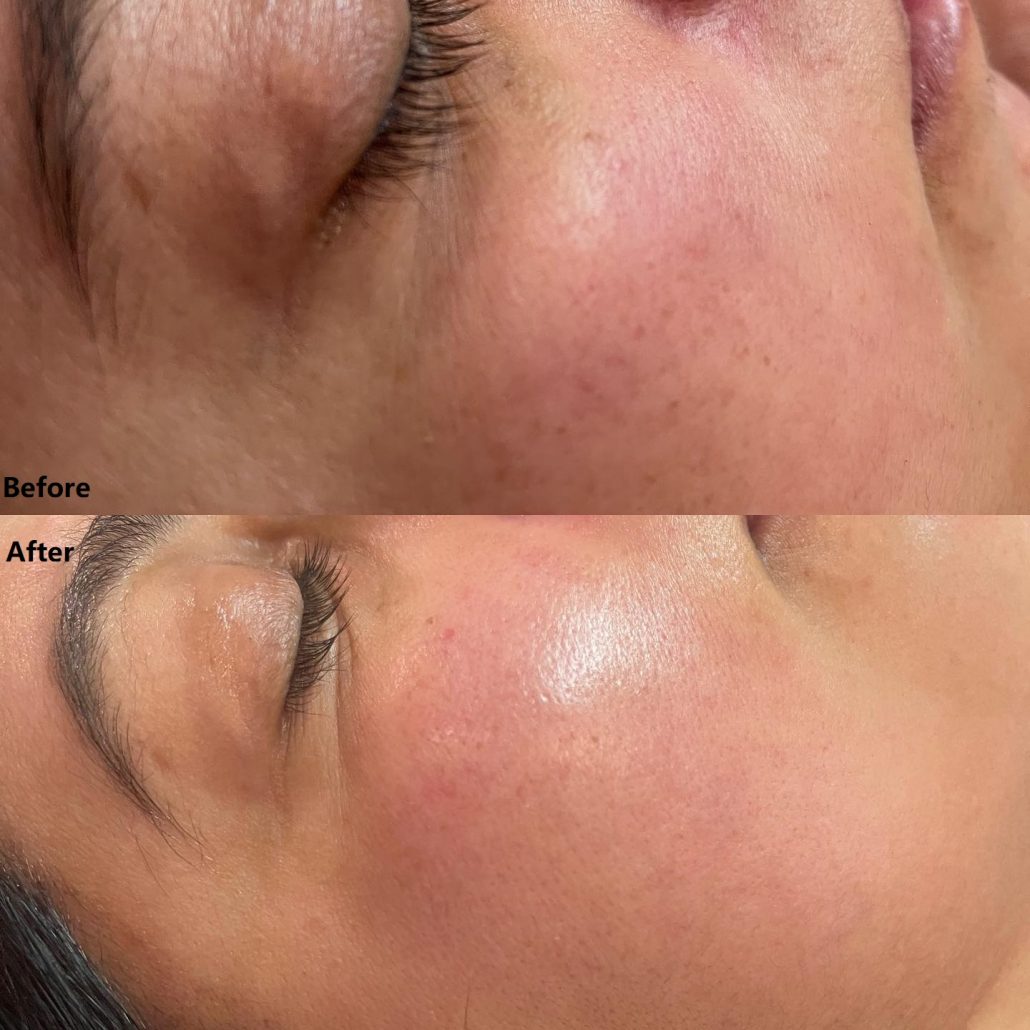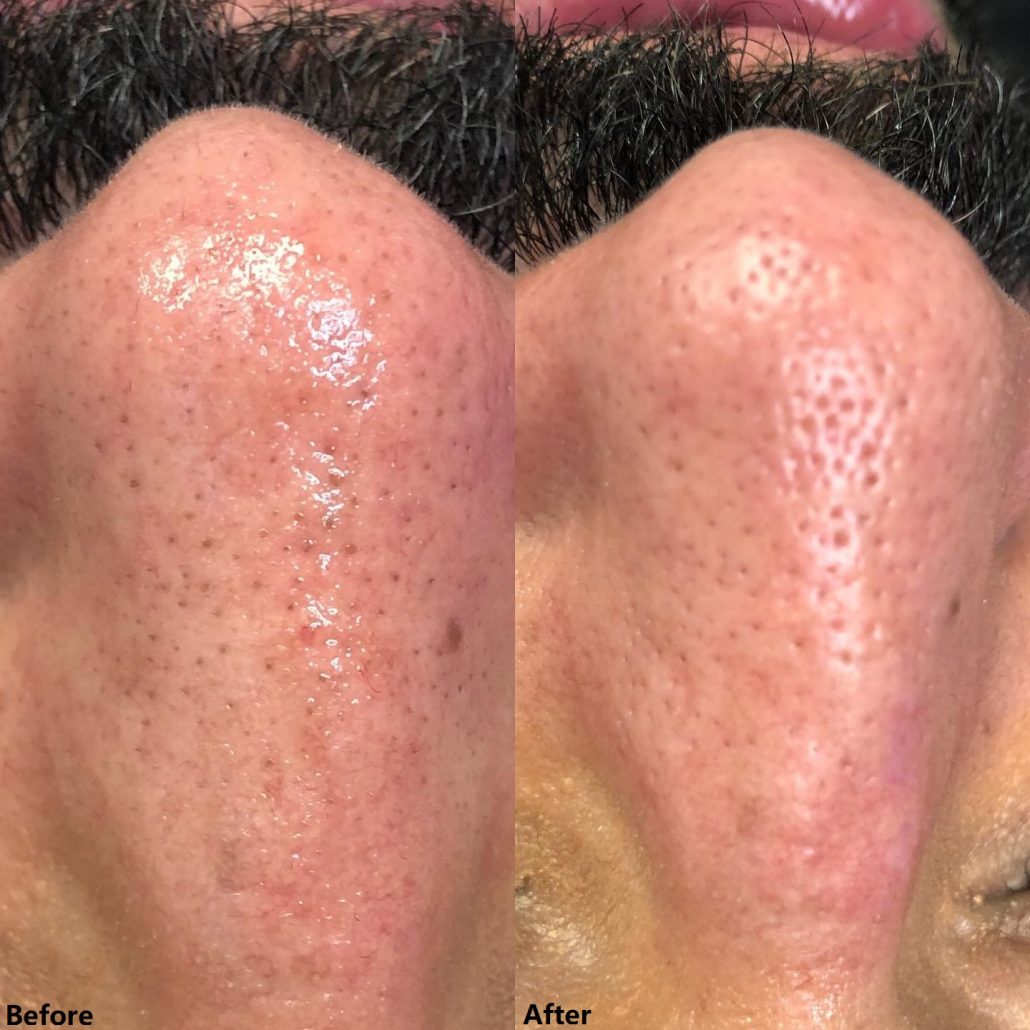 How to Choose the Best Hydrafacial Machine for Home Use
Buying the best professional hydrafacial machine for effective treatment is a challenge. Firstly, the machines are expensive, and secondly, many products are on the market. It isn't easy to decide which to buy and what would be the best. Do not always fall for attractive prices.
There are some factors to check before buying a professional hydradermabrasion machine.
Features
Features vary from model to model and prices. Different features provide different benefits to customers. Always check the features of a hydrafacial machine you purchase to understand its expected performance clearly. If a product lacks the features you are looking for, it's useless to buy it.
Quality
You must always ensure the quality of the material used in the hydra facial machine. Make sure you purchase a durable product that lasts you a long time. A high-quality product may cost more than a low-quality product but will last longer.
A low-quality hydrogen oxygen machine will fail to deliver the results or may not function according to industry standards. Durability is always linked to quality.
Price
Price is one of the deciding factors, if not the only one. Price is the first thing we see while buying a product. It often helps us to decide whether to purchase it or leave. However, price does not always guarantee quality. Always compare the prices and features of different hydradermabrasion devices to determine the best deal.
Budget
After considering the price of the desired products, choose the one that fits your budget. Judge whether the product fits your budget range or is too expensive for you even though it may be the best one.
Convenience
Always look for ease of use and portability while purchasing a home hydra facial machine. A portable hydrafacial machine is easy to carry and use for every customer. Moreover, the instructions and guidelines for operating the product should be simple and concise. You should be able to use the product at home without complications.
Customer Service
Choose brands that have good customer service in case of the device malfunctioning or if some issues have arisen. Knowledgeable and helpful customer representatives should always be reachable.
Check Reviews
Always check customer reviews on Amazon and Google before zeroing in on a hydrafacial machine for home use. Customers who have already used the product can guide you about the other factors well from their first-hand experiences.
How to Use a Hydrafacial Machine at Home
Here are some easy steps to follow to use a hydrafacial machine at home:
Remove all traces of makeup and cleanse the face well.
Press a hot towel on the face to open the pores.
Install the right plugs into the machine and insert the hydro tip on the suction pipe.
Fill in the serum bottles with water and serums marked and provided.
Use the exfoliator tool in small strokes by adjusting the pressure, speed, and water flow.
Apply the facial gel before using the facial scrubber tool keeping the frequency below 5.
Next, add the ultrasound gel and use the tool in circular motions on the face for 10 minutes.
Wipe the face and apply a sheet mask before you use the RF tool to remove wrinkles and increase collagen production.
Finally, select the serum for your face, spray it all over using the tool head, and keep massaging.
Related Source:
How to Use a HydraFacial Machine? [Preparations, Steps, Do's & Don'ts]
How to Clean a Hydrafacial Machine?
Follow the steps to clean a hydrafacial machine after each use:
Wear gloves before cleaning the entire system.
Spray an alcohol-based sanitizing solution on a piece of gauze and wipe every pipe or part of the machine you touched.
Clean all parts of the handpiece very well.
Wipe the bottles, toggles, and switches carefully.
Select the System Rinse option from your program and run it for 10 to 20 seconds.
FAQs About Professional Hydrafacial Machines
1. How Much Does a Professional Hydrafacial Machine Cost?
A professional hydrafacial machine costs nearly $300 to $350. Investing in a professional machine may be expensive, but it is highly beneficial too.
Related Source:
How Much is a HydraFacial Machine?
2. Are Hydrafacial Machines Worth the Money?
Hydrafacial machine treatments are customized according to your skin's needs. They have various benefits like moisturization, pores and fine lines reduction, and lesser acne scars. Therefore, the amazing benefits cost you some bucks, but they are worth the money you pay.
Related Source:
3. Can You Do a Hydrafacial at Home?
Yes, you can perform HydraFacial at home. While getting a HydraFacial treatment at a spa or a clinic can cost quite a lot of money, investing in a home hydrafacial machine can be cost-effective. You can follow the recommended steps and perform the treatment at home.
4. Can Hydrafacial Ruin Your Skin?
No, hydrafacial cannot ruin your skin. It is therapeutic for your skin and has tons of skin benefits. The treatment unclogs the pores and extracts the gunk while deeply moisturizing and treating it with serums.
5. Do Hydrafacial Machines Really Work?
Yes, hydrafacial machines truly work to provide the desired results. The amazing skin benefits are the reason for its popularity amongst people. It rejuvenates your skin and brings out its natural radiance and even tone.
Related Source:
6. What are the Side Effects of Hydrafacial (Hydradermabrasion)?
HydraFacial does not have any significant side effects. The procedure is non-invasive and does not cause pain. However, you better avoid it if you suffer from a severe rash. Also, talk to your dermatologist about whether it is safe to undergo the procedure if you are pregnant or have extremely sensitive skin.
7. How Often Should You do Hydrafacial Treatment at Home?
Hydrafacial treatment at home can be done once a month for the best results.
8. How Many Hydrafacial Treatments Should I Go for Before Seeing Results?
Usually, you should have one hydrafacial treatment per month. At least six sessions are essential to show effective results. However, each time you go for the HydraFacial session, you can find the skin more hydrated, smoother, and glowing.
9. How Long Do the Hydrafacial Results Last?
For each treatment, the results last for a week. Therefore, people having a big event on their calendar often go for a HydraFacial treatment to get that amazing glow for a week.
Related Source:
How Long Do HydraFacial Results Last?
10. Can I Use a Facial Peel after a HydraFacial?
No, you should not use harsh chemical peels after getting a Hydrafacial treatment. However, you can gently moisturize the skin 48 hours after the HydraFacial treatment.
11. Can HydraFacial Cause Facial Skin Peeling?
No, a professional HydraFacial session should never cause redness or skin peeling.
12. Can I Wash My Face After HydraFacial?
Do not wash the face for at least six to eight hours after the HydraFacial treatment.
13. How Can I Retain the HydraFacial Glow?
Maintain a proper skin maintenance schedule to retain the glow.
Avoid too much exposure to the sun.
Do not use face epilators.
Avoid makeup for a day or two.
Don't use chemical peels or retinol products for 48 hours.
Avoid using glycolic acid or salicylic acid-based products.
Apply Hylauronic Acid boosting serum for the next few weeks.
14. Who Can Use a Hydrafacial Machine
All adults with any skin type can get a Hydrafacial treatment done at home or spa.
Related Source:
Who Shouldn't Get a HydraFacial Treatment?