Introduction
Electric scooters are an easy way to get around, especially nowadays, with traffic jams increasing. Scooters are a quick fix to avoid traffic, visit a corner store, or go on other short trips.
While scooters are beneficial, they often come at a high price for excellent quality or at a lower price at the expense of quality. The search to find an e scooter that is both affordable and of high quality can be exhausting. The Gotrax GXL V2 Commuting Electric Scooter is both affordable and of high quality. Read on to find out if it is the right electric scooter for you.
Gotrax GXL V2 Commuting Electric Scooter: Overview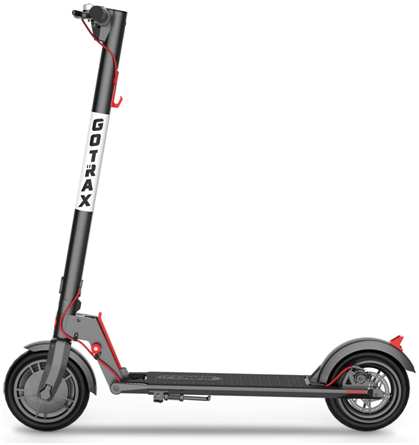 Battery: 36V 5.2 aH
Charge time: 4 hours
Range: 12 miles
Age range: adults
Max speed: 15.5mph
Max weight: 220 lbs
Weight: 26 lbs
Motor: 250 watts
Rating: 4/5
The Gotrax GXL V2 Commuting Electric Scooter is a beginner-friendly electric scooter made with adults in mind. With a basic and easy-to-use handlebar design, it is easy to maneuver and offers a smooth ride.
Best for commuting, the GXL V2 Scooter is a fine choice for users who live in cities. It is easy to maneuver, has a considerably high maximum speed, and can be charged at home overnight, at the office where you work, or any other place with a USB port.
The Gotrax GXL V2 Electric Scooter works best on smooth surfaces, like sidewalks, tarred roads, cement pavements, and so on. While the GXL V2 can hold its own on rougher terrain, uneven ground is likely to loosen up the joints in the scooter and reduce its efficiency and lifespan.
The long charge time of the Gotrax GXL V2 is forgivable when you consider the battery life of the electric scooter. Gotrax advertises a 12-mile range for the GXL V2 Electric Scooter, but you could extend the 12-mile limit with about one or two extra miles using a combination of gear one and gear two. The long battery life of the Gotrax GXL V2 is enough reason to invest in the scooter.
According to the manufacturers, the top speed is 15.5mph. The scooter's top speed is relative to the weight of its passenger—the more weight it carries, the less speed it can achieve. Therefore, heavier riders are less likely to reach the top speed of 15.5mph.
However, some Gotrax GXL V2 Electric Scooter users have testified that its speed can surpass 15.5mph even with considerably heavier riders. A rider who weighs 235 lbs claims that his Gotrax GXL V2 Electric Scooter went all the way up to 16mph, despite that he weighs more than the manufacturer's max weight capacity.
The Gotrax GXL V2 Electric Scooter does not come with a BlueTooth feature, unfortunately. Also, according to customer testimonies, their customer support service in the US is responsive if/when you have a complaint.
Pros
Easy-to-use.
Lasting battery life.
High speed.
It is relatively portable.
It rides up to 12 miles on a full charge.
Cruise control.
Dual braking system.
Cons
Heavy.
It needs a running start to activate the motor.
Long charging time.
Gotrax GXL V2 Commuting Electric Scooter: Design
Frame
The frame of the Gotrax GXL V2 Electric Scooter is sleek with a gorgeous matte black finish. The brake wires and carrying hook add hints of bold red, giving it an overall striking appearance. The scooter has basic handlebars connected to a stem with "GOTRAX" printed in black on a contrasting white background.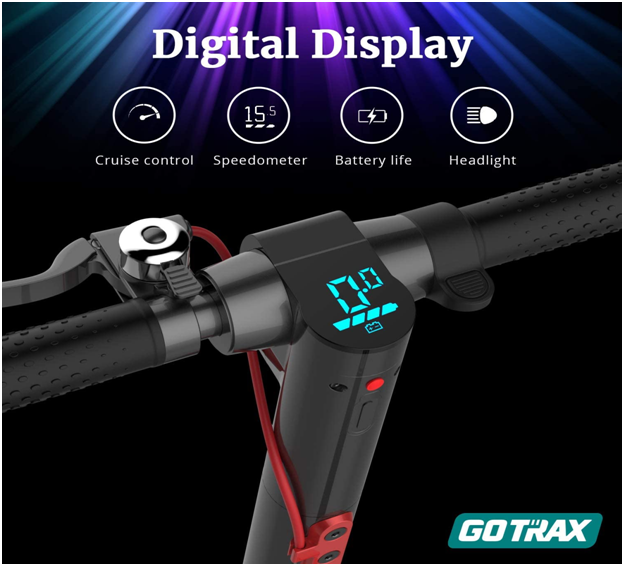 LED display
The scooter has a simple LED display that shows battery life, riding mode, and speedometer. The manufacturers placed the thumb throttle on the right side of the handlebars. It is smooth and rotates easily–unlike many budget scooters.
Brake
The hand-operated brake is on the left side of the handlebars. It is very similar to a bicycle hand brake and, therefore, will be easy to use if you've ridden a bicycle before. The handbell is also on the left side of the handlebars and within easy reach of the rider.
Headlight and rear reflectors
The GXL V2 Electric Scooter has a headlight and rear reflectors. These work well for daytime and evening light but are not sufficient for nighttime driving. If you are going to be using your scooter mainly at night, you should consider getting an additional headlight and taillight to mitigate the risk of accidents. Better safe than sorry.
Deck
The deck of the Gotrax GXL V2 is 18.6 inches long and 6 inches wide. It is coated in anti-slip rubber to improve traction. The use of anti-slip rubber is pretty much standard in scooters. Even if you have big feet, the GXL V2 Electric Scooter deck is large enough to make you comfortable and small enough to be controlled.
Tires
The Gotrax GXL V2 Electric Scooter has 8.5-inch pneumatic tires instead of solid rubber tires. Pneumatic tires are tires that are made by filling rubber tires with pressured air. They are the best type of tire because they are best at absorbing shock to the vehicle. They ensure a smooth and safe riding experience by absorbing the shock from riding into potholes or over rough roads. Pneumatic tires are also better for riding in wet conditions because they gain and retain traction better than solid rubber tires. Some scooter brands fit only one pneumatic tire onto a scooter and use solid rubber tires on the remaining wheels to cut costs. Gotrax prioritizes quality over cutting costs by using pneumatic tires on both wheels.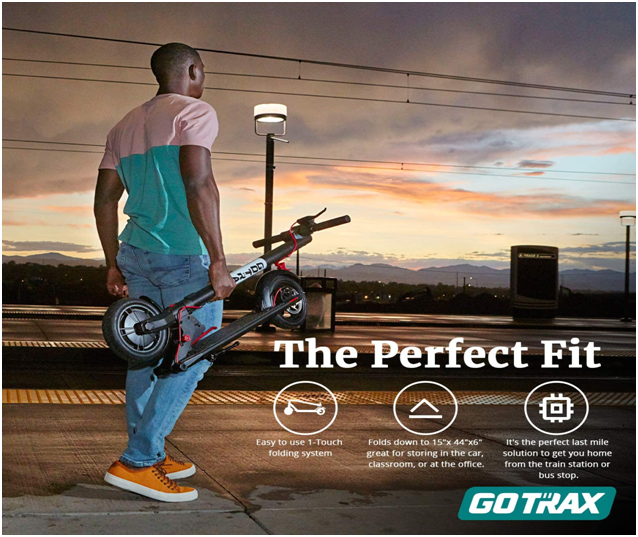 Folding
The GXL V2 folds once at the bottom part of the stem of the handlebars. While folding makes it a smaller package, it remains cumbersome unless you stow it in a car. Even then, it takes a sizeable amount of space. To fold the scooter, you have to first manually unlock the safety mechanism by removing the safety pin that keeps it upright, then pull on the red folding lever at the base of the handlebar stem. The stem will consequently fall onto the deck.
Gotrax GXL V2 Commuting Electric Scooter: Performance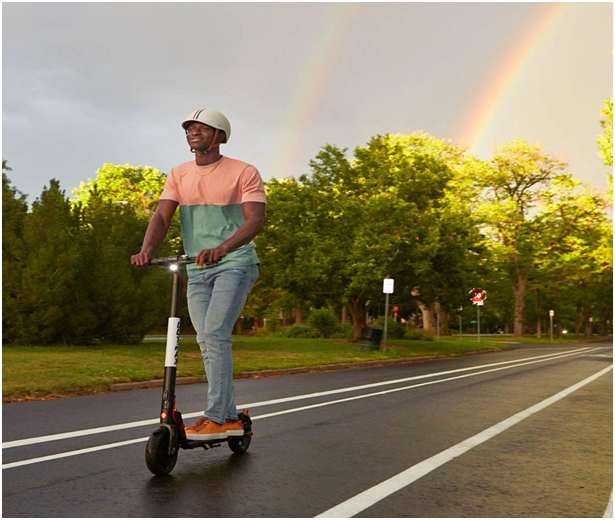 Riding the GXL V2 Electric Scooter isn't as smooth as riding some more expensive scooters, but it holds its own on well-maintained roads and sidewalks. You can use it to travel uneven roads but at the expense of comfort and durability. Riding it on rough terrain could cause it to age faster and loosen it up in some parts—making it unsafe to ride.
Motor
To start the Gotrax GXL V2 Electric Scooter, you'll need to turn it on with the bright red "On" button. After that, you'll need to push it for a bit to activate its motor. The motor starts once it reaches a two mph momentum.
The kickstart feature is common among budget scooters, so that comes as no surprise. This feature avoids accidents by keeping the scooter stable until you're ready to move.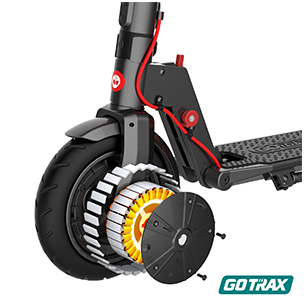 Speed
Once the scooter starts moving, it accelerates very fast. When you move it into first gear, the speed increases from 2mph to 8.6mph in mere seconds. Impressive, isn't it?
To switch into second gear, you only have to press and hold the "On" button for two seconds. Pressing the button boosts the speed to 15.5mph.
The "On" button also controls the lights on the scooter. To turn on the lights, you have to press the "On" button once.
One would think that using only one button for most controls would mean that the scooter is easy to control while driving. However, the "On" button is hard to reach while driving. The distance could be a problem if you switch gears frequently while driving. Otherwise, you're good to go.
Cruise control
One big plus that comes with this scooter is its cruise control feature. If you press and hold the accelerator while going at top speed, the scooter activates cruise control. This feature will be handy for long trips but might be a liability in areas with a lot of traffic where you'd have to stop and start frequently.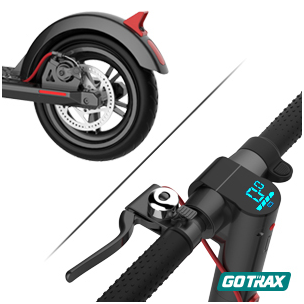 Brake
The GXL V2 Electric Scooter boasts a dual braking system, a rarity on a $300 scooter. The dual braking system consists of a rear disc brake and front regenerative electric brake, which work together to control the scooter fully. This dual brake system gives you absolute control over your scooter. Even if you are cruising at the highest speed possible, pulling on the brakes will bring your scooter to a stop.
There is no inbuilt suspension on the Gotrax GXL V2 Electric Scooter, but the pneumatic tires are an okay replacement.
Waterproof
The scooter has an IPX4 waterproof rating which means it is splash resistant, but you should probably keep it away from wet or rainy conditions. In fact, the manual emphasizes that the scooter is likely to break if used in heavy rain. If you experience frequent rain where you live, this is not the scooter for you.
Gotrax GXL V2 Commuting Electric Scooter: Customer Experience
The Gotrax GXL V2 Electric Scooter has a 4.2 rating on Amazon. While there were some bad reviews from unsatisfied buyers, most buyers found it satisfying, "fun," and "high quality." One user testified that it is the best buy for scooters under $300.
Customer Reviews from Amazon:
David: "This scooter is very fun and comfortable to ride. The tires and suspension do an excellent job of keeping the ride smooth. The speed is more than enough to get around, and the range is excellent, even for commuting.
One of the cons would be that it is pretty heavy, which is expected for the size of the motor, battery, and other components. The portability makes up for this, as it folds up conveniently and easily fits in a trunk.
Overall, I'm happy with this purchase, despite the technical problem I had. I can't speak for its reliability because of this, but I will try to remember to update this review later when I have more miles on it."
Frank: In my opinion, almost everything I needed worked on this scooter. Cheaply made? I don't think so. Pretty sure there are better brands out there. You just have to pay the price.
LolaPi: Mine stopped working after light use. Definitely poorly made. Buy from another brand!
Despite the occasional bad review, the majority of buyers of the Gotrax GXL V2 Electric Scooter on Amazon were impressed by the quality of the scooter.
Gotrax GXL V2 vs. Other Gotrax Electric Scooters
The table below compares features of the Gotrax GXL V2 Electric Scooter with other Gotrax Electric Scooter Models.
Summary
The Gotrax GXL V2 Electric Scooter is one of the best budget-friendly scooters available on the market. For $300, the GXL V2 Electric Scooter is a bargain. It is perfect for beginners and easy to use.
With a 250 watt motor, a 36V battery, pneumatic tires, a top speed of 15.5 mph, and a beautiful matte finish, the Gotrax GXL V2 Commuting Electric Scooter is a steal.
Gotrax offers high speed, distance, durability, lasting battery life, and a great suspension on the GXL V2. Despite the relatively long charge time and bulkiness, the GXL V2 is a very high-quality scooter in general. In other words, it is value for your money.
What Next?
Now since you have learned something about the Gotrax GXL V2 electric scooter, why don't you also check out our other related guides as follows:
Best e scooters for adults
How much does an electric scooter cost
Top electric scooters for commuting
How to ride an electric scooter as beginners
Electric scooter accessories