Introduction
The race to manufacture the best folding electric scooters is on. Every manufacturer is striving to make the lightest, compact, and longest-range e-scooters. With numerous competing brands, you need to make the best choice.
We understand the struggle people go through when purchasing collapsible electric scooters. That is why this list helps you choose the best brand for smooth and reliable mobility. They are premium quality, affordable and long-lasting which will give your value for your money.
Our Picks for Best Folding Electric Scooters
1. Best battery pack: AnyHill UM-1 Portable Foldable Electric Scooter
2. Best editor's choice: Segway Ninebot ES1L Electric Foldable Kick Scooter
3. Most powerful motor: VDEOI Collapsible Electric Scooter for Adults
4. Best battery range: LumBuy HX X8 Bicycle Foldable 36V 10Ah E Scooter
5. Best entry-level: Hover-1 Rally Folding Electric Scooter
6. Best folding e scooter with seat: Segway Ninebot E22 Electric Kick Scooter
7. Best heavy-duty: YADEA KS5 Foldable Commuter Electric Scooter for Adults
8. Best folding e scooter below $500: Hover-1 Journey Electric Folding Scooter
9. Best App operated: ESKUTE APP Electric Portable Commuting Scooter
10. Best customer choice: Gotrax GXL V2 Commuting Electric Scooter
11. Best rated: YYD ROBO Electric 350W Folding Commuter Scooters
1. AnyHill Portable Foldable Electric Scooter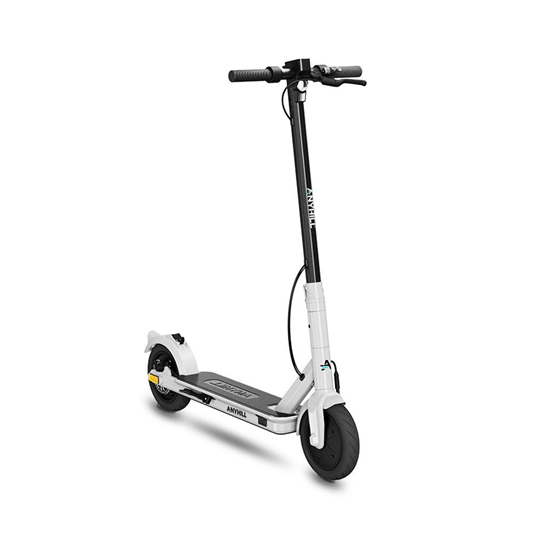 Motor: 350W
Range: 16 miles
Color: White
Charge Time: 4-5 hours
Max Speed: 16 mph
Weight: 29.7LB
Battery: 36V, 7.5Ah
Tires: 8.5 pneumatic tires
Climbing Angle: 15%
Collapsible e-scooters are changing how people cruise to jobs and other places. And, one of the best options we have on our list is AnyHill UM-1 Portable electric scooter. Once in your possession, there is no more storage stress.
The compact frame fully folds down to save space. Whether it's carrying or storing at home or office, the electric scooter is super compact while tool-free folding eases collapsibility.
Most of the available e scooters lack waterproof bodies. However, AnyHill UM-1 is different. Built from top-grade materials, the body has IP 54 protection to resist water and dust. Therefore, it's always safe to drive this compact e scooter under different weather conditions.
Equipped with a 350W hub motor, there is reliable power, achieving hill climbs of up to 15% slopes. Furthermore, a powerful lithium battery delivers enough power to cover 16 miles per charge.
While other scooters cruise at low speed, the scooter from AnyHill can clock 16mph. This is a reasonable speed which enables faster arrival to your destination. With pneumatic tires, you can beat different surfaces without hard rides.
Pros
Super bright led light
Quick 3 seconds folding
Extreme temperatures protection
Cons
The frame isn't fully collapsible
2. Segway Ninebot ES1L Electric Foldable Scooter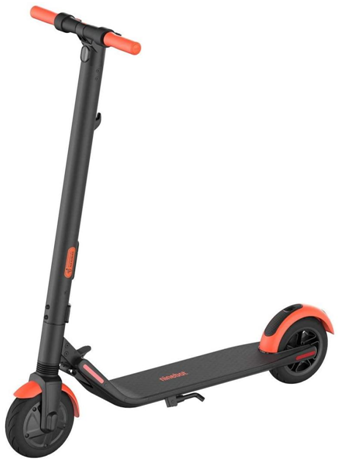 Motor: 250W
Frame: Aluminum
Range: 12.4 miles
Charge Time: 6 hrs
Max Speed: 12.4 mph
Weight: 24.9 lbs
Max Capacity: 220lbs
Tires: 8 inches
Climbing Angle: 7%
Getting to work or enjoying your free time is now more enjoyable. Introducing this Segway Ninebot ES1L with the latest technology offers the best experience among the users.
The brushless motor in this folding electric scooter is the real deal. Rated 250W power, it has more excellent power utilization efficiency than older brushed motors. Besides the best power utilization, the motor allows you to enjoy 12.4 mph cruising speed as well.
Durability and reliability are among the key features you get on this e scooter. The manufacturer uses aerospace-grade aluminum in frame construction. Not only does this provide high reliability, but there is also significant weight reduction. As a result, you can expect improvement in operational efficiency.
Riding on bumpy roads should not be a great concern since front shock absorbers are heavy-duty. Additionally, the 8 inches hollow wheels are great for improving comfort.
Safety, on the other hand, is paramount when riding this foldable e-scooter. The front and rear brakes are electronic, which improves efficiency. Further, Lithium batteries boast dual BMS technology for ultimate safety.
Pros
Comfortable padded handles
Durable one-piece frame
Super quiet brushless motor
Puncture-resistant tires
Cons
Complex battery replacement
3. VDEOI Folding Electric Scooter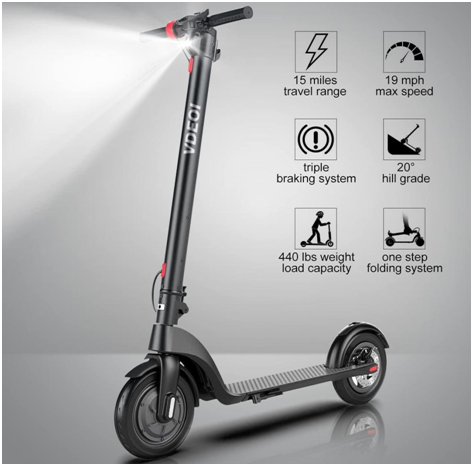 Motor: 400W
Frame: Aluminium-magnesium
Range: 15 Miles
Charge Time: 4-5hrs
Max Speed: 18.6 MPH
Weight: 27 lbs
Max Capacity: 440 lbs
Tires: 9'' dual-density tires
Climbing Angle: 20%
VDEOI Foldable Electric Scooter for adults with alloy frame is extra lightweight. The aluminum and magnesium frame is durable and offers an incredible load capacity of 440 pounds. With this weight, most people will find it handy for daily travels or entertainment.
Powering this e scooter is a 400W brushless DC motor with quiet operation. Riding is enjoyable since the foldable e-scooter has a hill-climbing ability of 20% slope. Additionally, speed, battery level, and other information are easy to view in the LED display.
Some of the scooters have fixed batteries that are tricky to remove. But, for this e scooter, the battery is detachable, enabling charging separately or using a backup while the other one charges.
VDEOI takes safety seriously for every rider. The scooter's unique triple braking system ensures efficient stoppage. A combination of a foot brake, EABS, and drum brake means no safety compromise. Besides, the anti-lock brake mechanism maintains safe braking.
Weighing 27 lbs, unique folding design, and waterproof body, no weather can prevent you from riding.
Pros
Front and rear lights
Skid-resistant heavy-duty tires
Easily detachable battery
Cons
4. LumBuy HX X8 Foldable E Scooter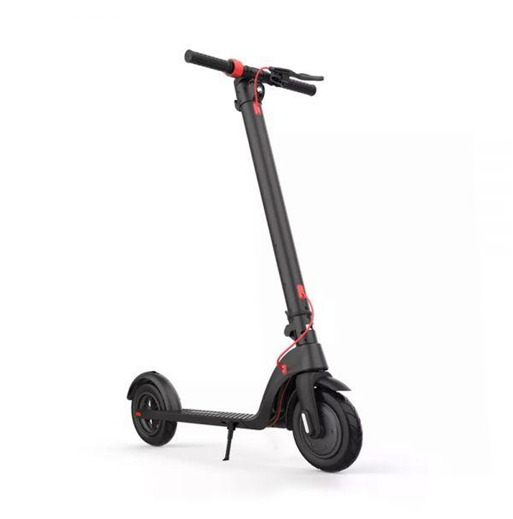 Motor: 350W
Frame: Aviation alloy
Range: 27 Miles
Charge Time: 3 Hrs
Max Speed: 15 mph
Weight: 33lbs
Max Capacity: 220lbs
Tires: 10 inches
Climbing Angle: 15%
Daily commuting requires investing in a premium quality folding electric scooter. HX X8 Bicycle Foldable E Scooter is one of the top-ranked in our list. Possessing interesting qualities, it's undoubtedly worth a purchase.
The quality of build materials makes this foldable e scooter reliable in its lifetime. Aviation quality aluminum is lightweight, never rust and never bend due to weight. Moreover, a person weighing up to 220 pounds can ride without impact on the frame.
A single charge is enough to propel this e-scooter up to 27 miles at 15 mph. Furthermore, riding on sloped surfaces isn't stressful as the scooter can climb a 15% slope. Equipped with an LED display, checking charge, mileage, and speed is simple day and night.
The humanized design improved riding comfort. Likewise, the brake system is efficient in maintaining rider safety. A triple brake system and vacuum tires ensure smooth rides on different surfaces.
Pros
Excellent waterproof performance
Short-circuit and overcharge protection
LED headlight and taillight
Cons
5. Hover-1 Rally Folding Electric Scooter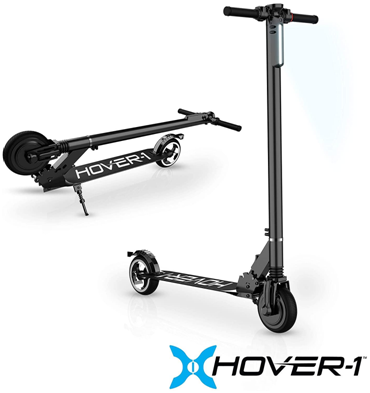 Motor: 300W
Frame: Aluminum
Range: 7 Miles
Charge Time: 4-6.5 hrs
Max Speed: 12 MPH
Weight: 25.13 Pounds
Max Capacity: 264 LBS
Battery capacity: 36V 4AH
Tires: 6.5 inch
Another e-scooter featured in our list is the Hover-1 rally foldable e scooter. Our list will be incomplete if we don't include this incredible electric scooter that has premium qualities.
Despite its simple design, the qualities are outstanding. Bumpy roads and other surfaces won't be of concern since there is an inbuilt suspension system. Besides, the built-in wheel reflector improves rider safety on the streets.
The comfort of driving this electric scooter lies in its smooth electronic throttle and hand brake. Whether going downhill, safety is always paramount since the brake system is super sensitive and effective.
Powering the scooter is a 36V lithium polymer battery and 300W brushless DC motor. Besides, the wheels are stainless steel which means you will never experience rust or corrosion.
Pros
Durable stainless steel wheels
Electronic brake system
Super responsive suspension system
Cons
6. Segway Ninebot E22 Electric Folding Scooter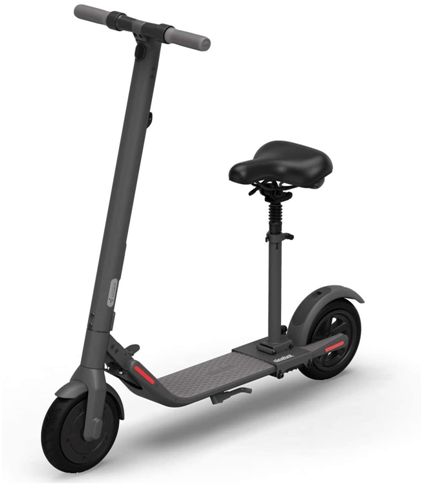 Motor: 300W
Frame: Aluminum
Range: 13.7 miles
Charge Time: 3.5 Hours
Max Speed: 12.4 mph
Weight: 29.8 lbs
Max Capacity: 220Lbs
Tires: 9-inch Dual Density Tires
Climbing Angle: 15%
Are you planning to get a folding e-scooter for recreational or traveling? We have one of the unique choices that will blow your mind. Segway Ninebot E22 with thick padded saddle, dual shock ball, and spring suspension offers the best comfort.
Besides multiple shock absorbers, E22 dual density 9 inches wheels offer grip and high performance. Riding on pavements, gravel, and other surfaces is just incredible. Thanks to the powerful battery, the electric scooter can achieve 13.6 miles and a top speed of 12.4 mph.
If you have concerns about storage, there are no more struggles with non-folding scooters. The collapsible structure is handy and solves storage and transportation challenges.
The powerful brushless motor churns 300W nominal power and 700W maximum power. Additionally, the carrying capacity is incredible as it can accommodate 220 pounds.
Pros
Humanized design
Adjustable seat height
Puncture-resistant tires
Cons
7. YADEA KS5 Foldable Commuter Electric Scooter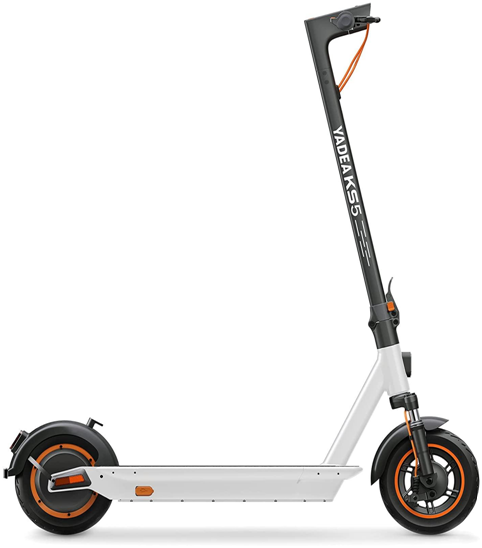 Motor: 350W
Frame: Aluminum
Range: 25 Miles
Charge Time: 5.5 hrs
Max Speed: 18.6 mph
Weight: 41 lbs
Max Capacity: 242lbs
Tires: 10 Inches solid tires
Climbing Angle: 20%
YADEA KS5 is our next pick with an extra powerful 350W motor to cruise even on surfaces having 20% elevation. Besides, a powerful battery can deliver enough power to cover 25 miles per charge at a maximum speed of 18.6 mph.
A heavy-duty frame made from aluminum is featherweight. Despite this, load capacity is unmatched as it can carry up to 242 lbs without experiencing frame damage.
As you know, operating KS5 doesn't involve complicated steps. Availability of the control app lets the rider view speed, battery state, and other functions. The connectivity is simple via Bluetooth; thus, no complexity to pair smartphone and e-scooter.
Another fantastic quality is the combination of braking technologies; it gives the foldable electric scooter a high safety rating. Also, the front fork features an integrated suspension system for smooth rides on bumpy surfaces.
Pros
Latest Bluetooth connectivity
Intuitive display interface
Maintenance-free tires
Cons
8. Hover-1 Journey Electric Folding Scooter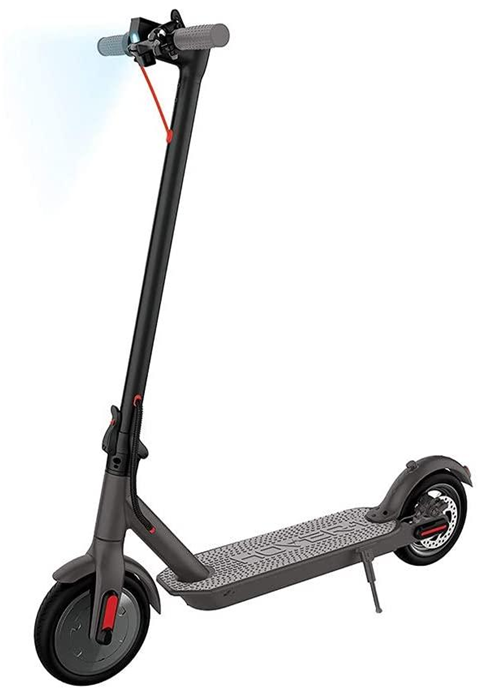 Motor: 300W
Frame: Aluminum
Range: 7 Miles
Charge Time: 4-6.5 hrs
Max Speed: 21.8 MPH
Weight: 32.4 Pounds
Max Capacity: 220 lbs.
Battery capacity: 36V, 6 AH
Tires: 8.5 inches
The Hover-1 journey folding e scooter offers all fantastic features that enable every user to feel excited. With a top speed of 15mph, cruising to and from your destination is now fast and safe.
Despite its compact nature, the e-scooter holds a massive weight of 264 pounds. Moreover, the brushless DC motor delivers enough power to propel the scooter smoothly. A lithium battery with 30 cells is durable, enabling the rider to enjoy more mileage per charge.
The portability and compact design prove Hover-1 is perfect for travelers and recreational riders. Also, the floor is textured, which gives feet an ideal grip during rides.
Pros
Efficient brake system
Contoured hand drip
Tool-free foldability
Cons
9. ESKUTE APP Electric Foldable Commuting Scooter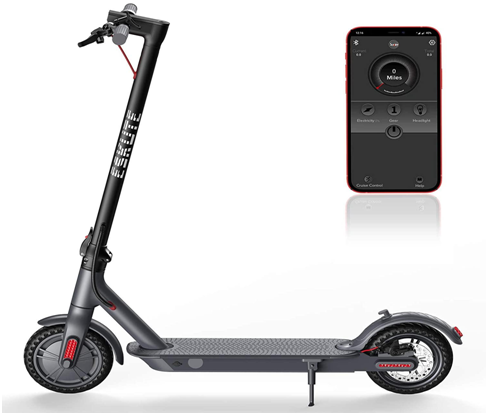 Motor: 350W
Frame: Aluminum
Range: 18.6 miles
Charge Time: 6 hrs
Max Speed: 15Mph
Weight: 28.35lbs
Max Capacity: 220lbs
Battery capacity: 270Wh
Tires: 8.5 inches
Reaching a maximum speed of 15mph, this powerful e-scooter by Eskute is worth your every dime. The 350W motor provides enough propulsion power to carry persons with up to 220 pounds.
Despite the small battery size, there is an assurance of long-range per charge. Actually, the scooter can manage 18.6 miles which is impressive. With the latest technology motor, no overheating or annoying noise generates when riding this e scooter.
The general experience of riding the foldable electric scooter is fantastic. One of the main reasons is the LED display for different parameters. Moreover, the smartphone control app ensures easy operation.
Unlike most scooters on the market, this offers easy collapsibility, and an integrated stand ensures easy parking. Additionally, 8 inches pneumatic tires guarantee smooth and puncture-free rides.
Pros
Fade-resistant paint
High illumination LED light
Built-in charger
Cons
The handlebar isn't height adjustable
10. Gotrax GXL V2 Folding Electric Scooter for Commuting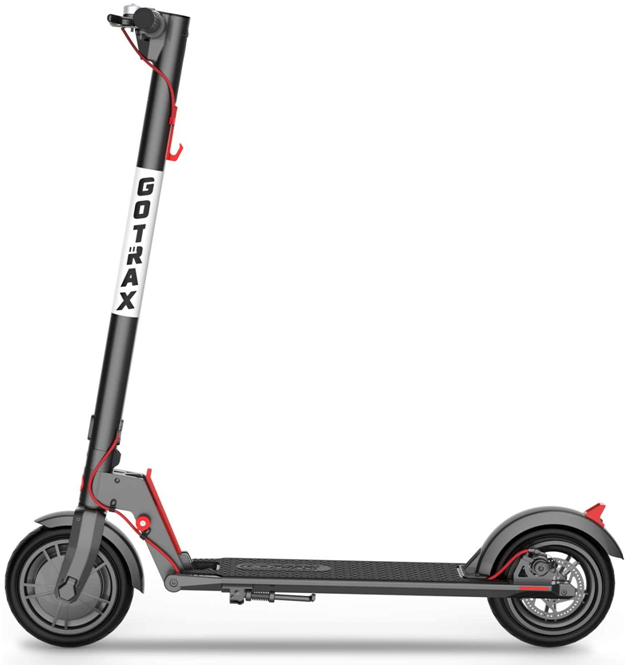 Motor: 250W
Frame: Aluminum alloy
Range: 9-12 miles
Charge Time: 4 hours
Max Speed: 15.5 miles
Weight: 26.4 lbs
Max Capacity: 220lbs
Tires: 8.5 inches inflatable tires
Climbing Angle: 14%
We can't finish our listing without mentioning Gotrax GXL V2 foldable scooter with tough aluminum alloy chassis. The lightweight frame doesn't cut the weight limit, which makes it as tough as rivals. Additionally, it can carry 220 pounds weight, making it ideal for everyone.
Regardless of whether you are a beginner, operating this scooter is easy due to the digital console. Moreover, the battery life is significantly better to provide more range. You can manage 9 -12 miles after a full charge.
The dual braking mechanism is super-efficient and reliable for rider safety. Also, air-filled tires are good at absorbing impacts during rides.
Pros
Fast charging battery
High grip tires
Textured footing surface
Cons
11.YYD ROBO Electric Folding Scooter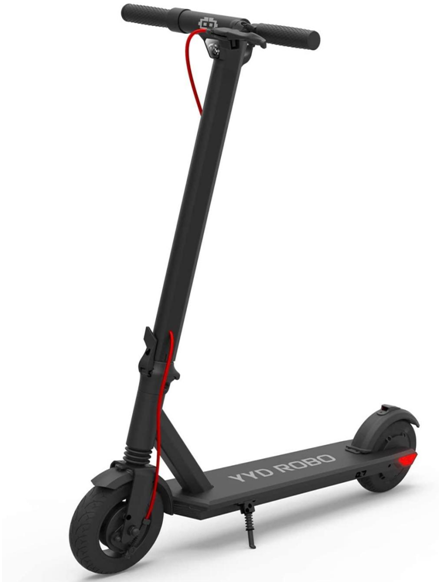 Motor: 350W
Frame: Aluminum
Range: 12.43 Miles
Charge Time: 5 hrs
Max Speed: 9 mph
Weight: 28lbs
Max Capacity: 264lbs
Tires: 8 inches shock-absorbing tires
Climbing Angle: 15%
Coming last in our selection is YYD Robo folding electric scooter for adults. Boasting the latest features and manufacturing, it is expected to provide the best experience and performance. The 350W brushless motor is robust, reliable, and generates exceptional torque.
Apart from the smart design, the e scooter's battery is super reliable. It provides enough power for 12.43 miles range while driving at a maximum speed of 9mph. Also, the app control is handy since checking the battery level, speed, and other functions is super easy.
With the electric folding scooter, you don't have to feel stressed for night riding. The inbuilt LED headlight illuminates up to 50 feet for safe night driving. Additionally, tail lights will keep you visible at night to prevent accidents.
Pros
Shock-absorbing tires
Handy app control
Quick folding structure
Cons
Buying Guide for Best Folding Electric Scooter
Buying a folding electric scooter is a great move. But, what are the vital elements you need to check before buying?
Foldability
Of course, they are foldable e scooters, but the level and folding style count a lot. There are different types of folding frames. Some can transform entirely into compact scooters that can fit in your backpack.
However, most electric scooters have folding handlebars and a front wheel. As a general rule, always look for a scooter that can fold to the smallest size. This will save space and keep transportation convenient.
Battery range
When buying a car, miles per gallon is a concern. Similarly, miles per charge is also a great concern for every electric folding scooter buyer. Unlike in gas situations, scooter charging takes time. Therefore, a powerful battery that lasts longer is always recommendable. The higher watts per hour, the better the battery it is.
Related: electric scooter battery
Safety
One of the top priorities is to check how safe your foldable e scooter is. A while ago, there were reports of exploding batteries in hoverboards which are closely related to e-scooters. Therefore, it is essential to ensure the batteries and other parts are certified.
Apart from the certification of parts, be sure your scooter has a perfect brake system. Manufacturers install different brake systems which aim at safe ridings.
Ease of use/ controls
Using an e-scooter should be as simple as possible. Whether it's balancing setting speed and other functions, every scooter should be easy to ride. The good thing is nowadays, some brands make scooters compatible with smartphone apps. Thus, you can enjoy all functions at your fingertips.
Hill climb ability
Electric scooters aren't for climbing hills. They are for use on relatively flat surfaces. However, this doesn't mean they cannot travel in slight inclinations. With different motor capacities, it will determine whether your scooter can climb small slopes.
Top speed
The maximum speed of an eclectic folding scooter is also an essential quality. Essentially, you don't need mobility equipment that takes a lot of time to get you to the destination.
On average, electric scooters have a standard speed of 15mph. Therefore, you can choose higher or lower speed depending on your preference.
Related: best e scooter with 20mph
Frequently Asked Questions
1. Are there three-wheel electric folding scooters?
Yes, there are three-wheel folding scooters, although they are bulky and need more space. Therefore, they are not popular among users.
2. Do you need a license to drive an electric scooter?
No, electric scooters are classified as e-bicycles; hence no license is needed to drive.
3. What is the age limit for electric foldable scooter users?
In most cases, electric scooters are for use by adults and kids over eight years old.
4. Are electric foldable scooters easy to run?
Not only are they easy to drive, but also economical since they require minimal maintenance.
5. Do the folding mobility scooters have a warranty?
Yes, just like any other electronic device, you should get a warranty once you buy a folding scooter.
Conclusion
There is a range of electric folding scooters exists on the market. With these mobility equipment improving each day, we expect them to get even better. Whether the frame, battery life, and other features changes are expected.
However, as for now, the featured folding electric scooters are the best you can pick from the market. They have outstanding performance, reliability and are highly affordable.
What Next?
Now since you have learned something about the best folding electric scooters, why don't you also check out our other related guides as follows:
Best e scooters for adults
How much does an electric scooter cost
Best e scooters for kids
Top electric scooters for commuting
How to ride an electric scooter as beginners