Introduction
Erhu is a native musical instrument of China and has gained worldwide popularity owing to mesmerizing musical tones it produces with just 2 strings. Primarily made of snake skin, this musical instrument is now available in several varieties, which leaves buyers confused about how to buy the best one for themselves.
That's what this article deals with. This article puts the discussion to the rest regarding which erhu to buy. It suggests some top picks and honest, detailed reviews so you can understand minute details about each erhu. The article also includes some vital information related to erhu. Keep reading to learn more.
In this article:
Our Picks For The Best Erhu
How to choose an erhu?
How much does an erhu cost?
Is erhu hard to learn?
How many strings does an erhu have?
How To Play Erhu?
Our Picks For The Best Erhu
Top 10 Erhu Recommendations For Different Users
1. Best affordable option: Wuyue Chinese 2 strings violin 2 Stringed Chinese Instrument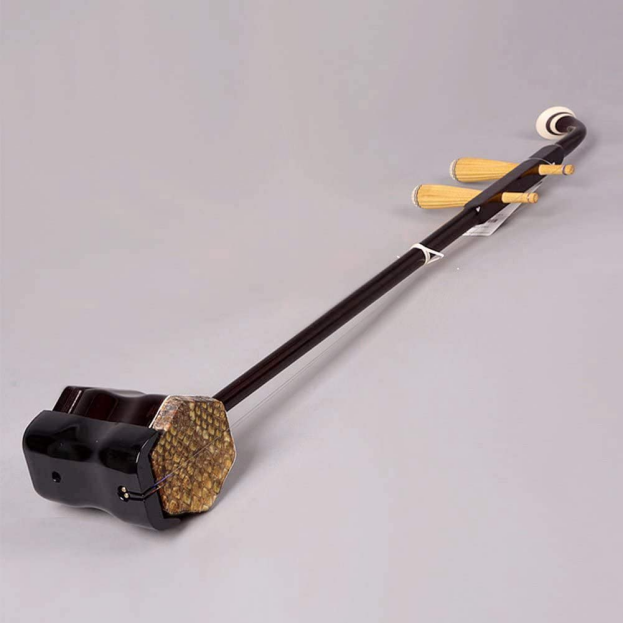 This Chinese erhu comes in two color options and is made of whitewood. The overall appearance is elegant and offers promising output for a perfect harmonious session. It's the best affordable option since it comes at an affordable price while still offering durability and clear output. Moreover, it's also recommended for beginners for patented marks on the neck to allow a novice to learn finger placement on the strings.
If you're trying to achieve traditional Chinese sounds, there's no better instrument than a conventional Chinese erhu. This product will help you achieve your goal. The overall weight is 2.9 pounds. The origin is Shanghai, and the style is Hexagon Drum. You can buy it for personal use, gift it to your friend, or decorate your home with this artistic piece of equipment. Being affordable means, it won't be heavy to your pocket if gifting to someone.
Pros
Patented marks on the neck are beneficial for a beginner.
Value for money.
Comes with several accessories in the shipping package.
Durable product.
Cons
Not suited for professionals.
The marks don't give an authentic feel of a traditional Chinese 2-string violin.
2. Best for trainees and learners: Engraved rosewood erhu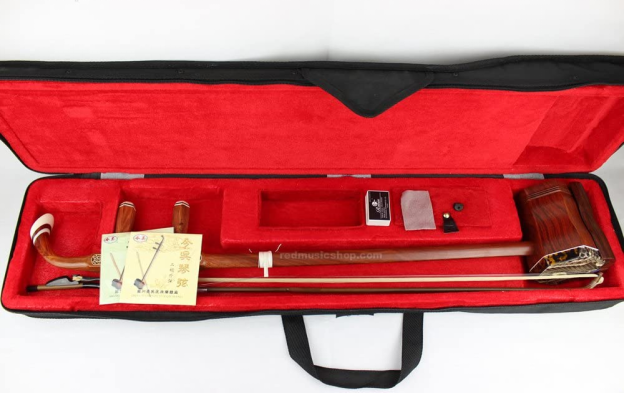 It's an engraved erhu with a tuning mechanism made of bronze. Bronze is a durable material that adds to the product's overall strength. It's the best option for trainees and learners as it comes with critical study or learning material, including chart stickers for note position (2 counts), a tutorial book, and a DVD in English (1 count).
It's a polish-finish product with random engravings. The strings are made of stainless steel, so you can't expect them to be damaged anytime soon. A trainee isn't aware of how much force should be applied to the strings with the bow, which means strong and durable strings are necessary. This product gives you that. With a manual operation mode, this erhu is made of rosewood.
Pros
Comes with all the vital study material in English.
The package includes a bow, instrument case, spare strings (1 set), fine tuners, and an electric tuner (battery not included).
It comes fully assembled, so there is no hassle with the installation.
Cons
It weighs 3.3 pounds, which can be a burden after some time for a beginner who doesn't know well how to hold the instrument.
3. Best for clear tones: OrientalMusicSanctuary Professional Black Sandalwood Erhu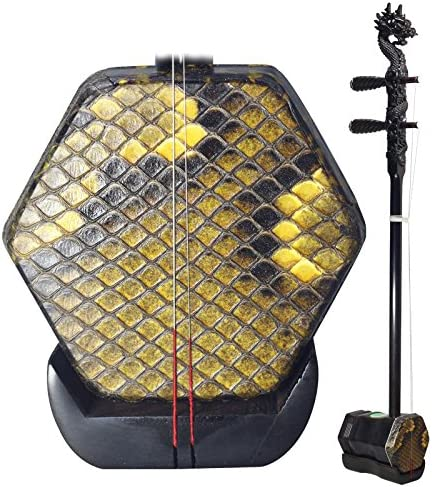 Not all instruments generate a clear tone, but this one will. Made of black sandalwood/blackwood, this is indeed one of the most promising Chinese erhu, which won't be easy to your pocket but will be worth it, owing to its crystal tone output. It's shipped with all the necessary accessories, so there is no need to rush to the store for additional purchases.
The dragon head is engraved by the hands, which adds to the product's overall aesthetic appeal and beauty. Dragon has been a part of Chinese culture since ancient ages, giving you a natural feel of a traditional Chinese product.
Pros
Highly durable product.
Crystal clear tones capability.
USA-based warranty, hence best suited for the US market.
Spare parts are included in the shipping package.
Comes pre-assembled.
Cons
The erhu is quite heavy and dense, hence can be problematic during long musical sessions.
The dragonhead is also heavy and gives a different feel than other erhus.
4. Best handmade option: LANDTOM Rosewood Erhu 2 Stringed Chinese Instrument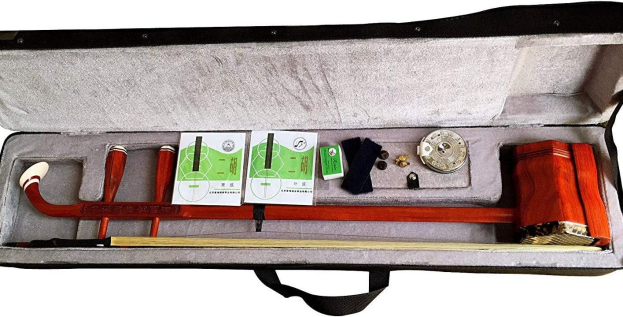 It's the best handmade option as the entire piece of equipment is prepared using hands. Handcrafted products have a different fan base. However, the item may not have a clear finish, but it is still worth buying since it's made of durable rosewood and cedar and is available in a Mahogany color.
The product comes well-tested by expert musicians, so there's no doubt about the music output. This product is suited for beginners, trainees, and intermediate users who look forward to daily practice. The music style is world music.
Pros
Durable rosewood made.
Quick delivery to the doorstep in 7 days.
No customs issue if shipping to the USA.
Comes with a free teaching book.
Cons
It's pretty heavy.
It may not appeal to those who do not like handcrafted products.
5. Best for experienced users: Professional Dunhuang Er Hu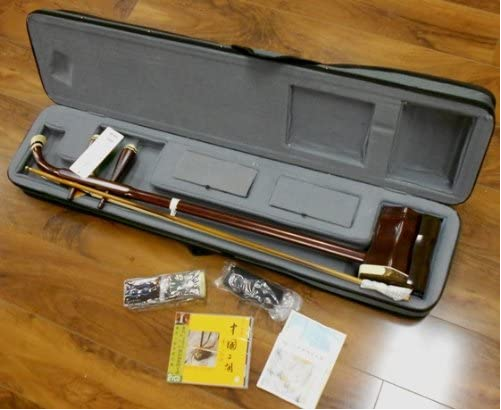 Experienced users demand a quality product, and this is that product. It's made of rosewood and pine and features professional quality snake skin. The snake skin used in the item is meant for professional use as the quality of tones will be breathtaking and is suited for professionals and experienced users. The design ain't fit for a novice as it doesn't have neck marks or any assistance to support a novice player.
Pros
Produces high-quality sound.
Value for money.
Made of durable materials.
Premium quality snake skin.
Ships with all the necessary accessories needed to start playing right away.
Cons
It weighs 5 pounds, so it can prove to be tiring during long musical sessions.
The CD comes in Chinese, which may be useless for a non-Chinese audience.
6. Best for deep bass tones: OrientalMusicSanctuary Professional Black Sandalwood Zhonghu Er Hu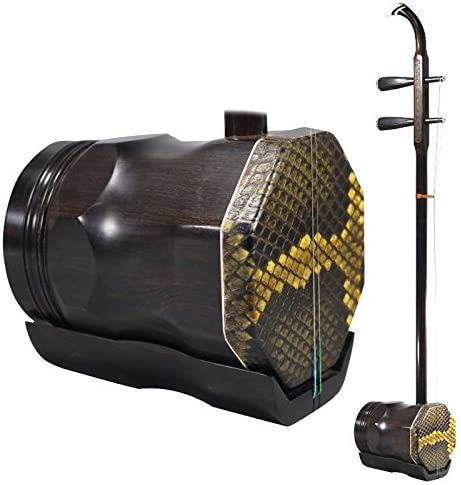 The primary aim of this erhu is to generate deep bass notes. It's made of black sandalwood, which supports deep bass output. It sounds adorable and has an extensive dynamic range to achieve clear mid tones. The back is made of basswood. This erhu is best suited for solo performances and presentations in an orchestra.
Pros
Made of genuine snakeskin.
Comes pre-assembled. Just rosin the bow nicely.
The shipping package comes with all the necessary accessories and parts needed to get playing right away.
Comes with a hard case.
Cons
The model was released in 2017, which is quite inferior to the latest models and designs.
Shipping time to the USA is quite considerable.
7. Best non-python option: EcoErhu Cambodian EcoFriendly Erhu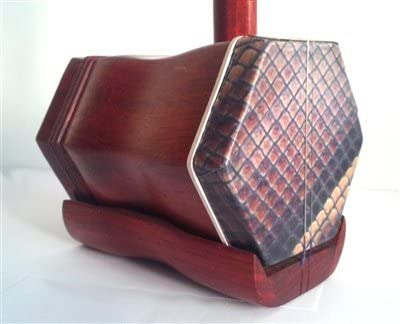 This Chinese tow-string instrument, erhu, is made of several materials, including Cambodian-scented rosewood, African blackwood, sandalwood, Thai rosewood, etc. The makers have used a patented membrane of hybrid silica-cellulose that mimics snake skin. It's the best option for non-python or snake skin as it doesn't use genuine snakeskin.
Those not fans of animal cruelty shall opt for the world's first non-snake skin erhu to stay eco-friendly. It doesn't compromise on the sound quality because snakeskin is absent in it. As a result, the equipment ain't subject to CITES requirements.
Pros
It's waterproof and weatherproof.
Long-lasting materials used.
100% eco-friendly.
Patented hybrid silica-cellulose membranes replace snake skin.
Attractive design and appearance.
Cons
4.59lbs is quite heavy for a beginner.
Not suited for professionals and experienced players.
8. Best for beginners: Wuyue Chinese 2 Strings Flat Neck Erhu Asian Stringed Instrument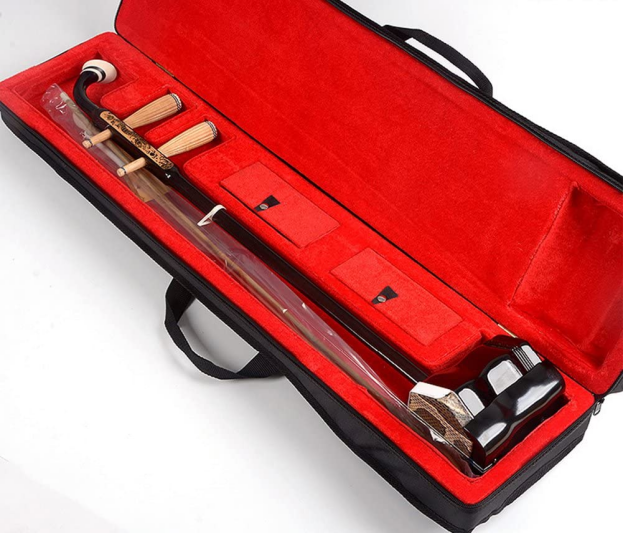 One of the best options for a beginner erhu enthusiast, and several strong reasons favor the claim. For instance, engraved dragon phoneme marks are much needed to assist a beginner in playing nicely. The neck is flat, which eases overall handling and aids grip. It produces musical sounds and promising tunes.
It's a handcrafted product made of whitewood. The strings are made of nickel steel, which won't damage easily due to the high pressure applied by the beginner player.
Pros
Ships with all the necessary accessories to get started right away.
A flat neck ensures an awesome grip.
Phoneme marks assist beginners in finding the phonemes.
Cons
You might need to buy better rosin.
Delivery to some parts of the USA can take quite a while.
Not suited for levels above beginners.
9. Best durable option: LANDTOM Ebony Erhu Chinese 2-string Violin Ehru Instrument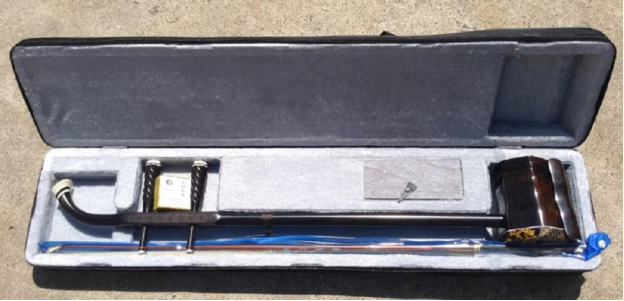 This is Made of ebony or black sandalwood, and this black erhu violin is a high-quality product that's the best durable option on the market. The materials used in the manufacturing are primarily used for making durable and high-quality musical instruments. So you get the best durability along with the best music output in one product. This long-lasting product is best suited for professionals, and beginners will have difficulty playing this instrument.
Pros
Comes with all the accessories.
It comes with a hard case, so you don't have to buy it separately.
Durable musical instrument.
The aesthetically appealing design and appearance.
Cons
It doesn't come with a snakeskin certificate.
10. Best overall erhu: Dunhuang Erhu Chinese 2-string Violin Ehru Instrument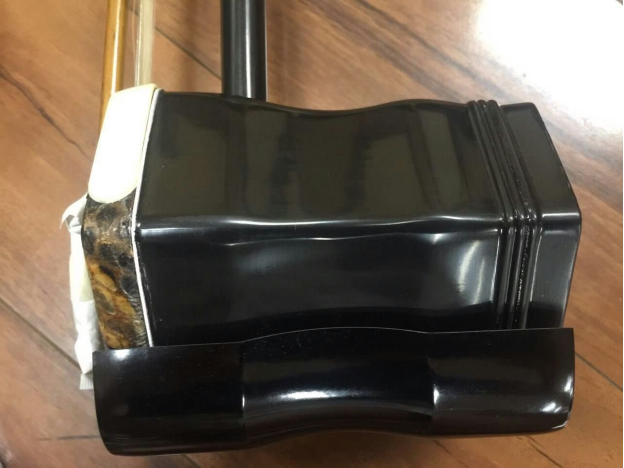 If you're searching for an overall best erhu, this erhu's the way to go. With all the features under one roof, this erhu comes in pine build and weighs 7 pounds. The weight might seem a disadvantage, but it is still a worthy choice owing to the overall build quality. It's pure pine! The soundboard uses standard snakeskin, and the pegs are made of ironwood. You'll get everything in the shipping package needed to kick-start your music session.
What else makes it the best overall is its price. It's a pure steal owing to value for money since there's no way you'll land a better product in this price segment with all these features. The tone it produces is sweet and pleasant. The target users range from beginners to advanced. The shipping package also comes with a CD, so you always have one option to learn to use the product. Many people still prefer YouTube or other learning sources, though.
Pros
Value for money.
Excellent durability.
Appealing design.
Ships with all the content needed.
Uses genuine snakeskin for traditional Chinese tones.
Cons
The bow will lose hair frequently, so you might need to purchase one separately.
7lbs. can be heavy for many users.
How to choose an erhu?
Erhu instrument purchase is a tough decision as there's a lot of stuff to look for. You must choose the wood used to make the erhu Chinese instrument, snakeskin, and tone. Typically, erhu has three tones- Shanghai, Beijing, and Suzhou. Playability is also an essential factor to look for when buying a musical instrument. The playability is meant to assure tone clarity and overall output.
Erhu musical instrument is an exciting item with several exciting characteristics you should know before making a purchase. Some of them are listed below:
Erhu uses a python or snakeskin that's meant to create musical vibrations with the help of a bow. The traditional erhu in China was made with snakeskin, but some modern erhu variations use viable alternatives in case you're not a fan of snakeskin.
The fingerboard is absent in erhu, and the musician stops the strings with their fingertips to create vibration patterns and variations. An interesting thing here's that erhu strings never touch the neck when stopped.
The bow is primarily made of horse hair, which never separates from the strings once the erhu is in action.
Erhu utilizes two strings so closely placed that the musician plays them together as if playing one string.
How many strings does an erhu have?
The Chinese violin, otherwise called an erhu, features merely 2 strings. However, these two strings are capable enough to generate countless tones and notes, allowing the musician to convey their emotions nicely with just 2 strings.
How much does an erhu cost?
The expected price of erhus ranges widely, where the cheapest ones can be as low as $50 or even lower. On the other hand, the expensive ones can go as high as $10,000 or even more. The reason behind such a diverse price range is governed by the materials used in manufacturing.
Expensive erhus, such as those made of high-quality Indian sandalwood, can go up to $10,000 or even more. The soothing natural fragrance, its importance in certain traditions and cultures, etc., has contributed to the rising price of wood in the international market.
Is erhu hard to learn?
Erhu is considered one of the most challenging musical instruments to learn, and mastering them is way more complicated. There's a strong reason behind that- erhu doesn't house a fingerboard. As a result, the player or the musician cannot sight the exact place to put their fingers to generate different tones and sounds.
Learning to play erhu nicely demands the musicians to learn precisely where to place the fingers against the strings to generate different tones. They must memorize the exact point in the string to press it with their fingers. Such expertise is only possible through constant practice, a high focus level, and the ability to learn and grasp the technique.
How To Play Erhu?
This section briefs on how to play an erhu before you buy the product.
Go through the list above and order an erhu according to your requirements.
Apply rosin to the bow and install the tuner to the erhu. The tuner will help you play in tune. The bow will need a lot of rosin for the first time.
Place the bow between the two strings. Do not bring it out from the strings throughout the session. Don't apply too much pressure to the string or the bow, or else the strings will break.
Set your erhu up for the best results. Keep the inner string counterclockwise and the outer string clockwise. The qianjin is meant to hold both strings together. Make sure the strings are attached to it.
Slide the bridge to bring it to the center and put the damper under it.
Keep the erhu's top tip at an angle of 45 degrees to your upper body. Rest the bottom on your laps, close to your gut, and keep your hands relaxed before beginning. The palm mustn't touch the neck.
Start practicing the erhu. It'll take some time, but never back out from hard work, as it'll surely pay off.
Conclusion
By now, you have seen some amazing product recommendations on the erhu. You also saw a brief guide on how to get started with it and some erhu characteristics. The next thing to do is to buy one erhu for yourself and start practicing. It's challenging but will be a really interesting skill to learn.