Who said you couldn't experience beautiful starry lights without going to the mountains? Here is the Best Starlight Car Roof Kit that will make it possible.
How about making your car out of this world? Will a starlight car roof do the job? Yes, it certainly does. Transform your average car into Rolls Royce with a highly functional starlight car roof kit.
It must be a daunting task to select one of the best starlight car roof kits since the market is full of a variety of car roofs. That's why we've curated some of the best starlight car roof kits for your car. Keep on reading.
Spending money to make a car look lavish and stylish from the outside gives satisfaction to car lovers. Doesn't it? So why not make it extraordinary from the inside as well? A promising starlight car roof is going to help here. Don't wait anymore and make your car incredible with a starlight car roof. Not only a car, but you also can illuminate your room with a starlight roof kit.
Our Picks for the Best Starlight Roof Kits
1. Best Overall: Upgraded AKEPO 10W RGBW StarLight Car Roof Kit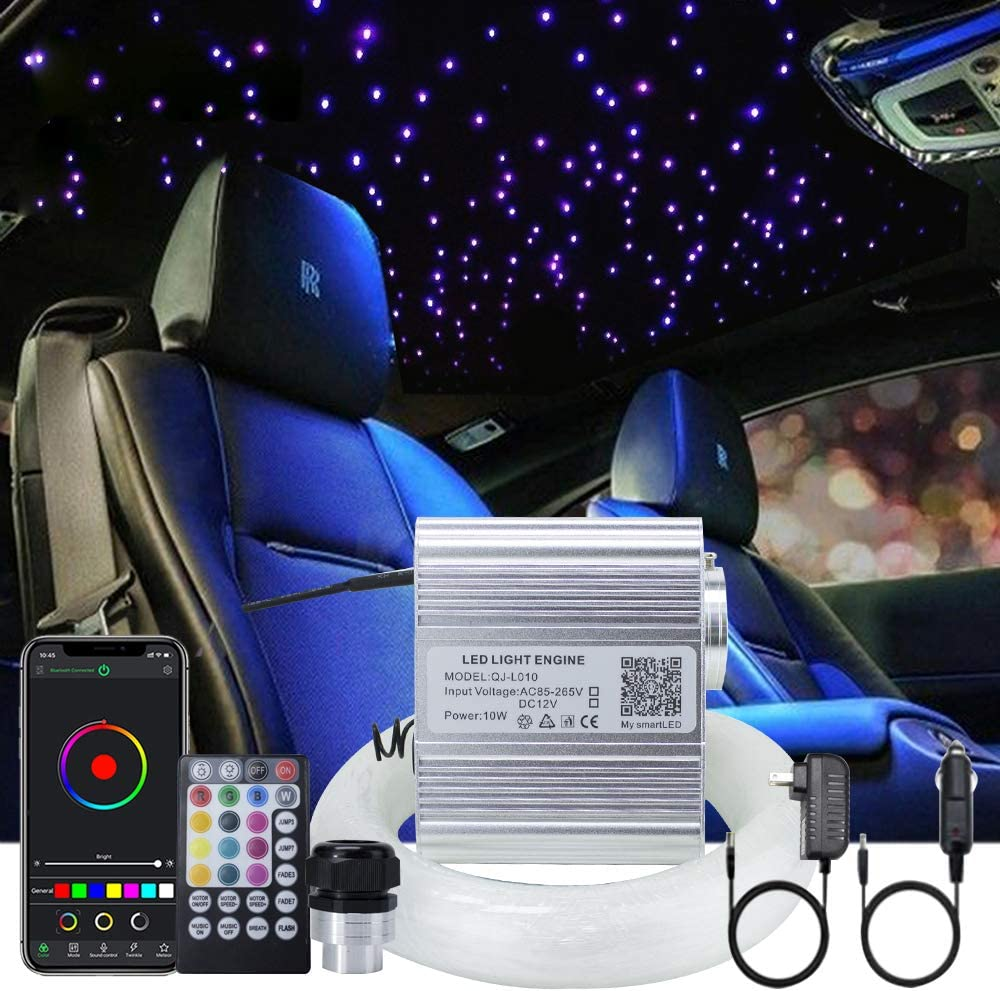 Item Weight: 3.3 Pounds
Power: 10 W
Lifetime: 50,000 Hours
Warranty: 2 Years
Rating: 4.6 out of 5.0
The upgraded Akepo starlight car roof kit is all about aesthetic vibes and classy looks. With 14 beautiful static colors, you can transform your boring car into a stylish one. The twinkle effect of the realistic star ceiling sky lighting can be great for your car and your home. Additionally, the six dynamic changing modes, 4-level twinkle speed, and brightness can be controlled via mobile app and remote control.
Just download the app, connect mobile Bluetooth with a light engine, and control colors as you want. The controlling factor gives a lot of freedom to the user. You can go for pure white light to lighten up your home or room and choose RGB multicolor to decode your car roof. The starlight car roof kit comes with a remote control to provide enough freedom to the user. You'll love the romantic environment with your partner.
Pros
Affordable
Twinkle mode speed
Good quality
Sound activation mode
Cons
2. Best Optical Fiber Light Kit: AKEPO 20W RGBW Dual Head Starlight Car Roof Kit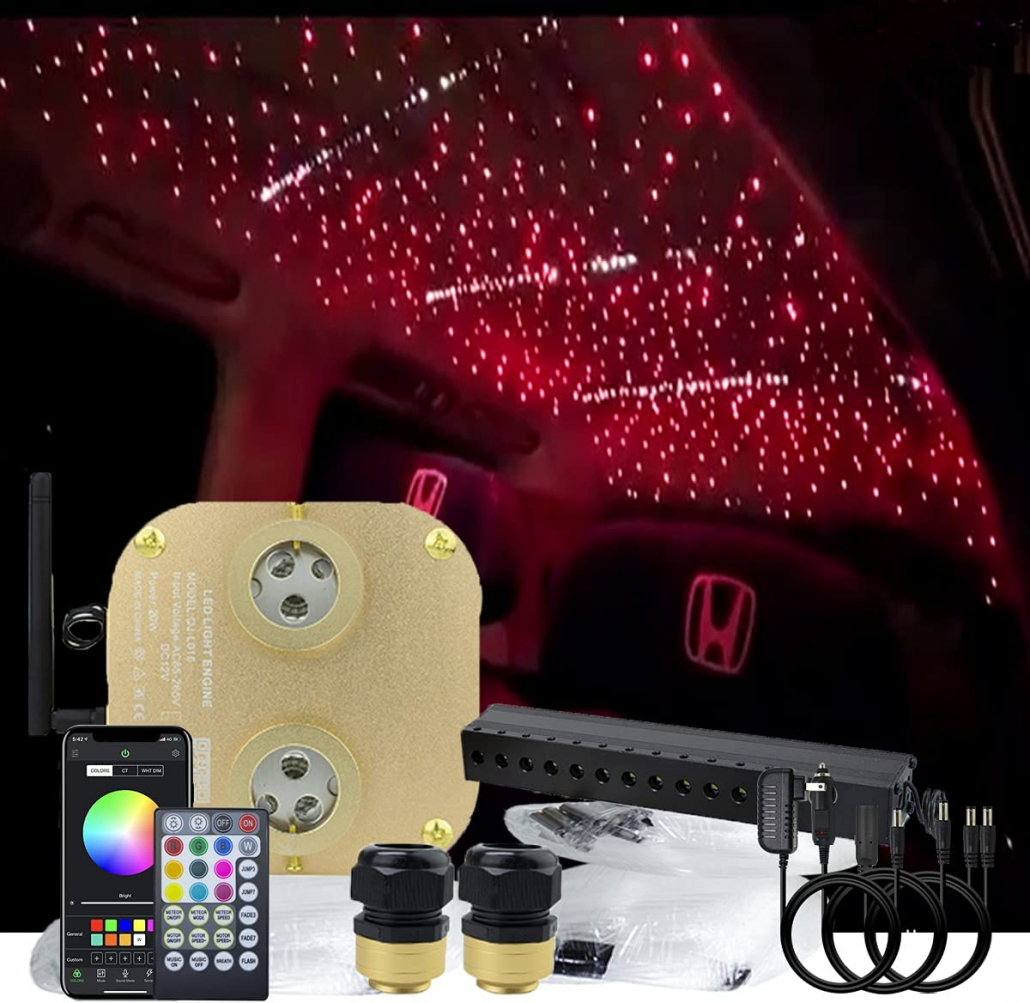 Item Weight: 7.87 Pounds
Power: 20 W
Warranty: 2 Years
Rating: 4.6 out of 5.0
If you want a vivid and realistic starry sky car or room ceiling, there is no better option than the AKEPO Dual starlight car roof kit. Every feature provides an extraordinary experience and makes your purchase worth it. You can easily adjust the brightness the way you want it. Not only brightness but the color selection and mode speed can also be chosen according to preference.
You can illuminate your parties and make your cozy room more comfortable with this starlight car roof kit. Features like end glow fiber optical cable and dual head RGBW lamp beads won't make you regret this investment. Also, there will be no worry of any mishap like an electric shock because of waterproof optical fiber cables.
Pros
1-100% brightness control
2-year warranty
Waterproof optical fiber cable
Mobile App
Cons
No installation instructions
3. Best for Strong Power: AMKI 32W Twinkle LED Starlight Car Roof Kit Controlled by Bluetooth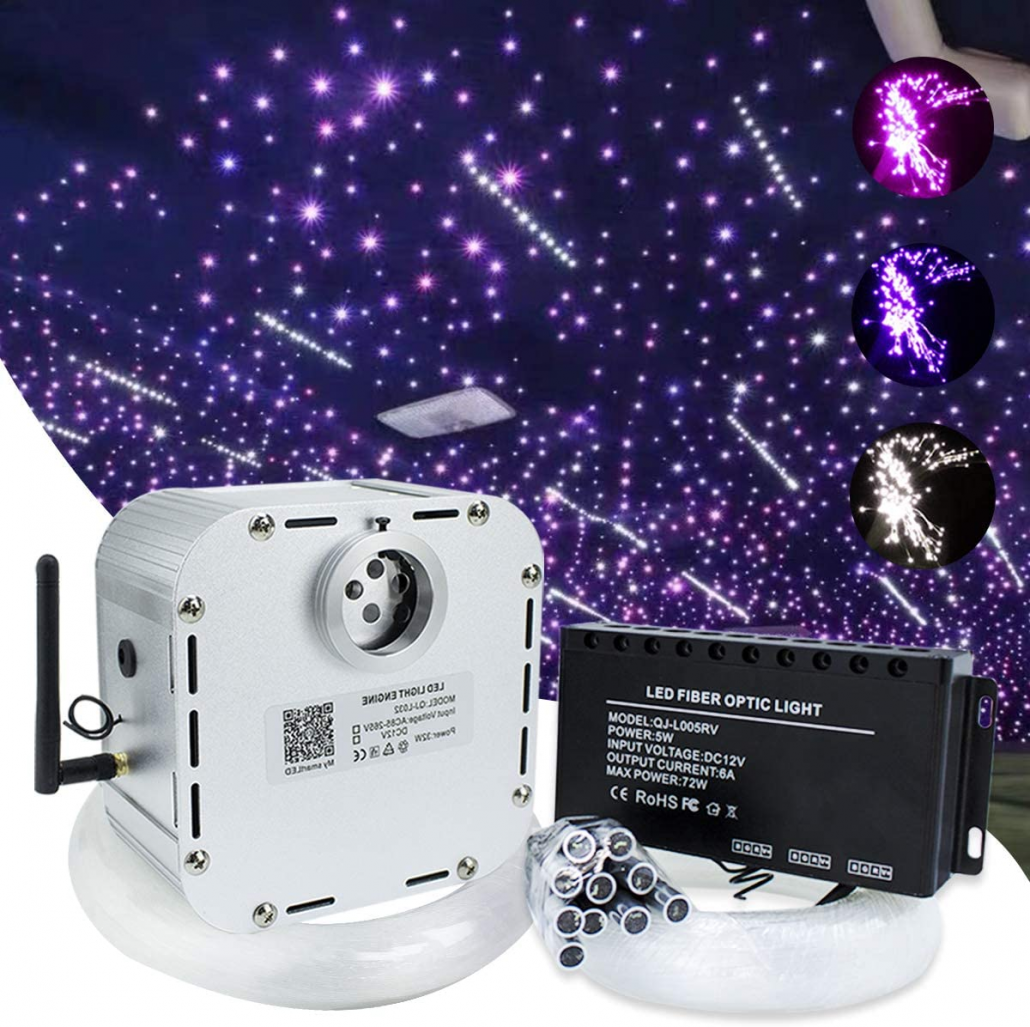 Item Weight: 12.57 Pounds
Power: 32W
Warranty: 2 Years
Rating: 4.5 out of 5.0
Did your last roof lights collapse within a month because of cheap quality? Forget such incidents because AMKI LED starlight ceiling kit is right here.
This starlight car roof kit offers safe, waterproof, and durable optical fiber that lasts for a long time. From brightness to speed to color, everything can be controlled via mobile app and remote.
A normal and boring place can become attractive, aesthetic, and cool. Be it your car, dining room, pool area, home theater, bedroom, and whatnot. The price might be a little bit in a high range for valor, but every single penny will be worth it when you get the classy vibe you want. By switching on the meteor light mode, you can enjoy the unbelievable flickering of the star that looks realistic. Just switch off the room lights and enjoy different speed and brightness modes.
Pros
Comes with warranty
Perfect brightness
Mobile application
Looks realistic
Cons
Only ten static colors via remote
4. Best for Easy Use: AZIMOM Bluetooth Fiber Optic Starlight Car Roof Kit for Interior Decoration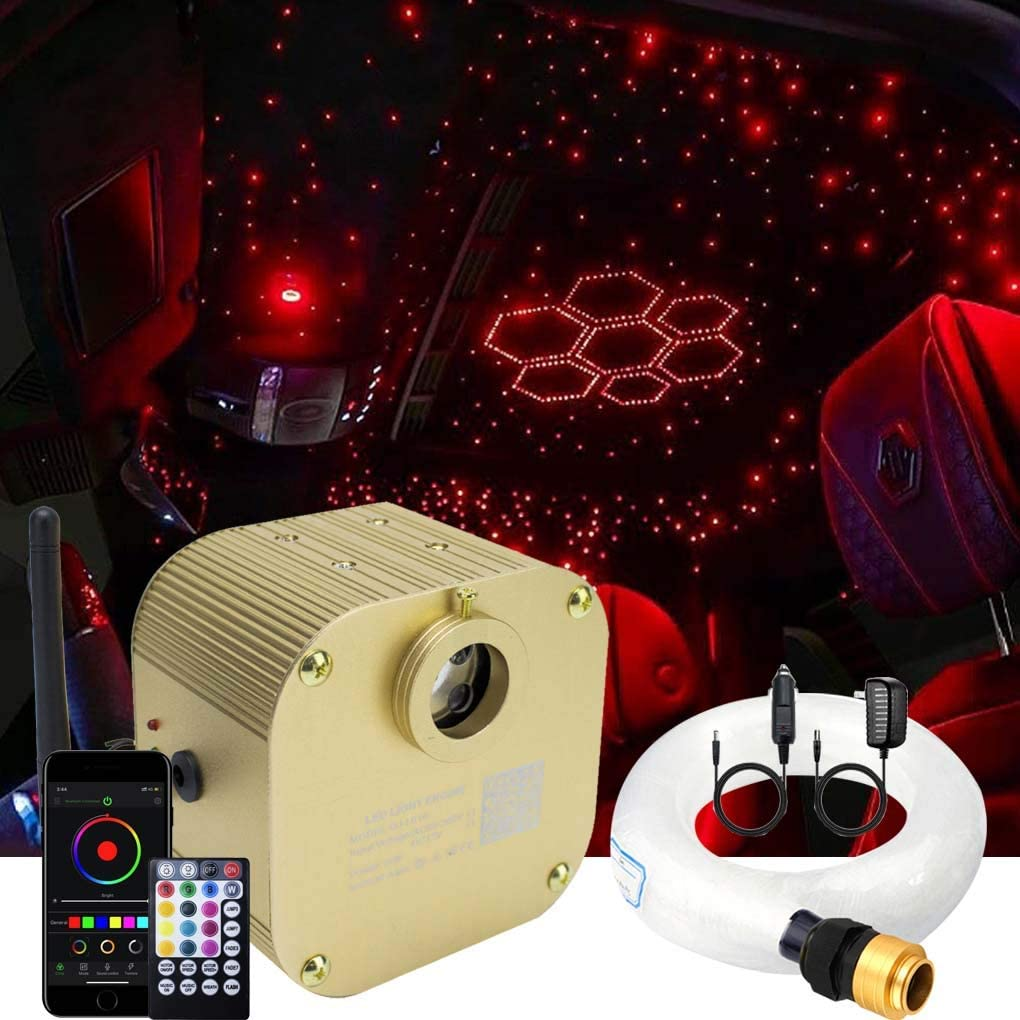 Item Weight: 3.52 Pounds
Power: 16 W
Lifetime: 50,000 Hours
Warranty: 2 Years
Rating: 4.8 out of 5.0
It's understandable if you don't want to invest vast amounts in a starlight car roof kit, but finding an affordable kit isn't a piece of cake. No worries. The upgraded AZIMOM lighting kit can be the deal maker for you. One of the best options for decor rooms, cars, shops, weddings, and birthday parties, so don't hesitate to have it.
The high-quality aluminum with transparent plastic is all about reliability and longevity. Get ready to enjoy the dancing lights' rhythm with the music that provides quality time with your favorite person. Having such outstanding features as music modes, a remote controller, Bluetooth app control, and end glow optic fiber cable are indeed heart-winning deals, despite the low price range.
Pros
Sturdy and durable construction
Easy to install
Value addition to the room
Dynamic ambiance
Highly rated by customers
Cons
Can lag during Bluetooth connection
5. Best for Durability: AZIMOM Dual Port 16W Starlight Car Roof Ceiling Light Kit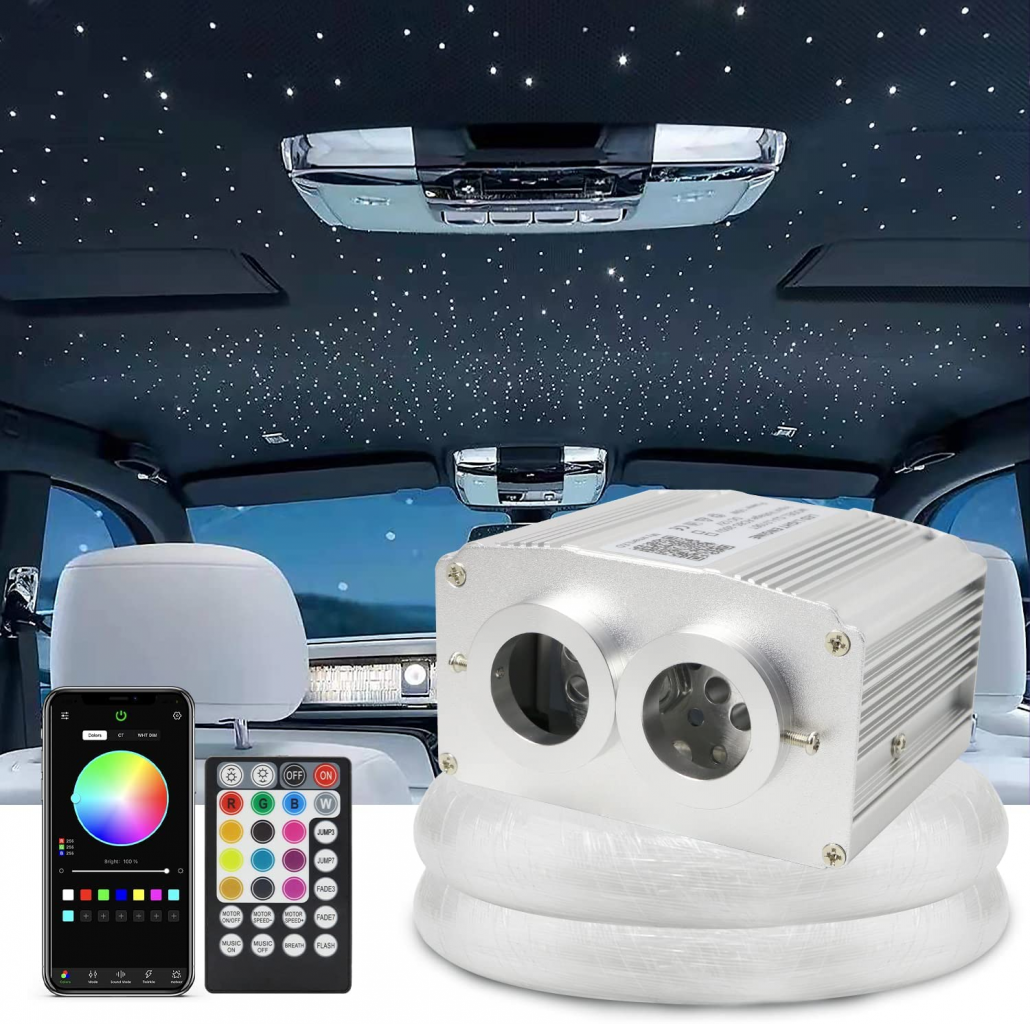 Item Weight: 5.63 Pounds
Power: 16 W
Lifetime: 50,000 Hours
Warranty: 2 Years
Rating: 4.5 out of 5.0
Who doesn't want to experience starry space and beautiful twinkle lights? Everybody does. But now, you can have a fantastic experience in your car or your room with an upgraded version of the AZIMOM Dual Port Roof Kit.
This starlight car roof kit offers glow fiber optic cable with a high-power dual port. You don't have to struggle with controlling the lighting kit as you have plenty of options, such as a remote controller with 28 keys and an upgraded mobile application.
If you want quality time with your partner or friends, get this optics light ceiling kit to make your evening cozy with rhythmic music. You can control the light engine via your Android and iOS with the "My SmartLED" app. So many positives about this starlight car roof kit.
Pros
Durable construction
2-year warranty
Easy to install
Affordable Cost
Cons
Sometimes remote stops working
6. Best Music Activated: AKEPO 32W Twinkle Starlight Car Roof Kit
Item Weight: 9.78 Pounds
Power: 32W
Lifetime: 50,000+ Hours
Warranty: 2 Years
Rating: 4.5 out of 5.0
How would you feel when your lighting kit beats according to music rhythm and gives an out-of-world feel? Certainly great. You can get the same feeling with this AKEPO twinkle light kit. Furthermore, unlike other starlight car roof kits, you don't have to struggle to set it up, as the installation is pretty easy.
Illuminate your room's ceiling or car roof with this lighting kit that offers 16 static colors, 6 dynamic changing modes, and 4-level twinkle speed adjustments. Besides that, the brand ensured maximum adjustability, offering 1-100% brightness and sound adjustment. Additionally, waterproof fiber optics cable minimizes the chances of electric shock by 100%.
Pros
Perfect for cars and room decoration.
Looks incredibly realistic
Easy to set up
Cons
7. Best Upgraded 2022: AZIMOM 20W Bluetooth Starlight Car Roof Twinkle Kit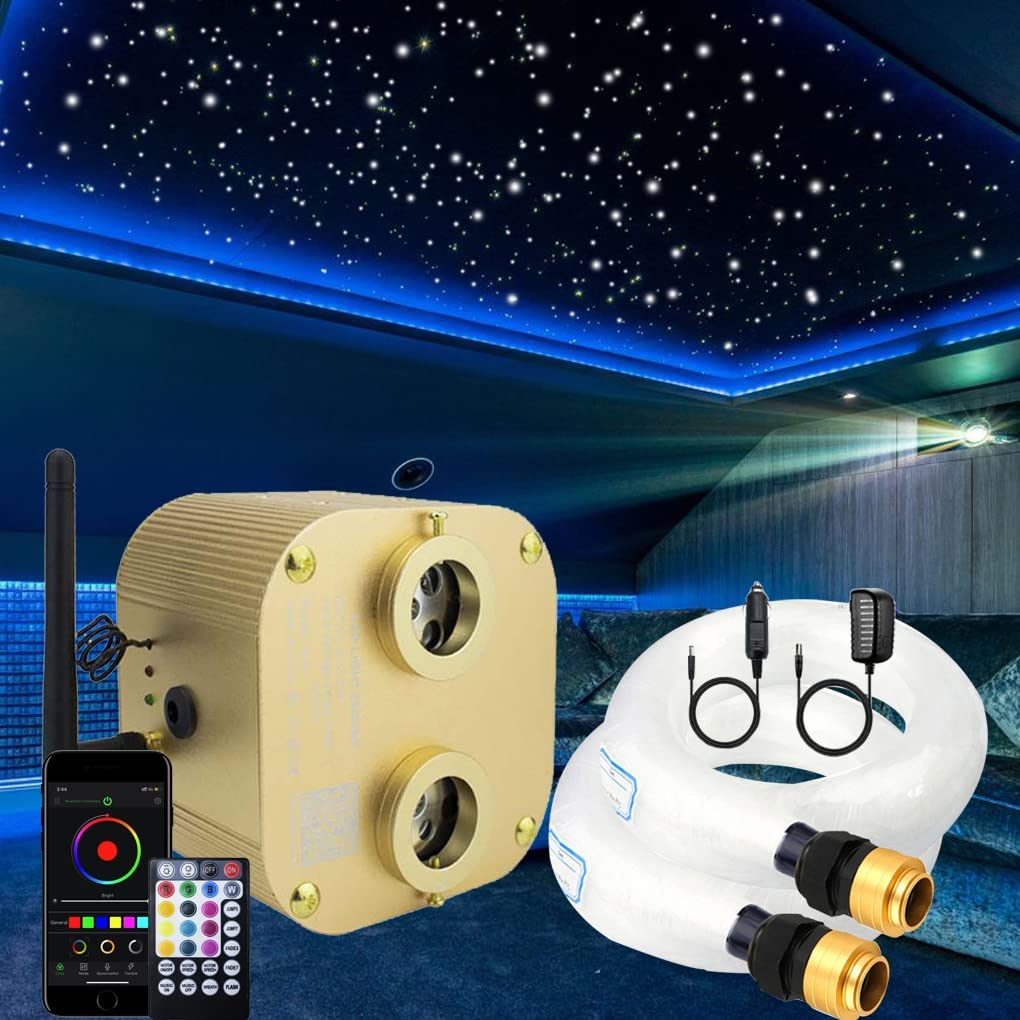 Item Weight: 7.48 Pounds
Power: 20W
Lifetime: 50,000+ Hours
Warranty: 2 Years
Rating: 4.5 out of 5.0
Are you a white light type person, or do you prefer mixed light? Whether your preferences are, we have got you covered. The AZIMOM Bluetooth ceiling lighting kit is all about beautiful colors and adjustability.
Every feature adds a special value to the overall experience. Such as remote control and app control won't make you adjust the setting manually. With the help of this starlight car roof kit, you can take your room or car environment to the next level with little effort.
Download the "My SmartLED" application on your phone and control your aesthetic kit with your mobile. The dancing of lights with the music rhythm will make you go WOW. Additionally, a 2-year warranty allows you to trust the brand in many ways. Price can be an issue for a lot, but it is undoubtedly a good option if you want something durable.
Pros
2-year warranty
App control
White and mixed light setting
Adjustability
Cons
8. Best Pocket-Friendly: AKEPO Optics Lights Starlight Car Roof Kit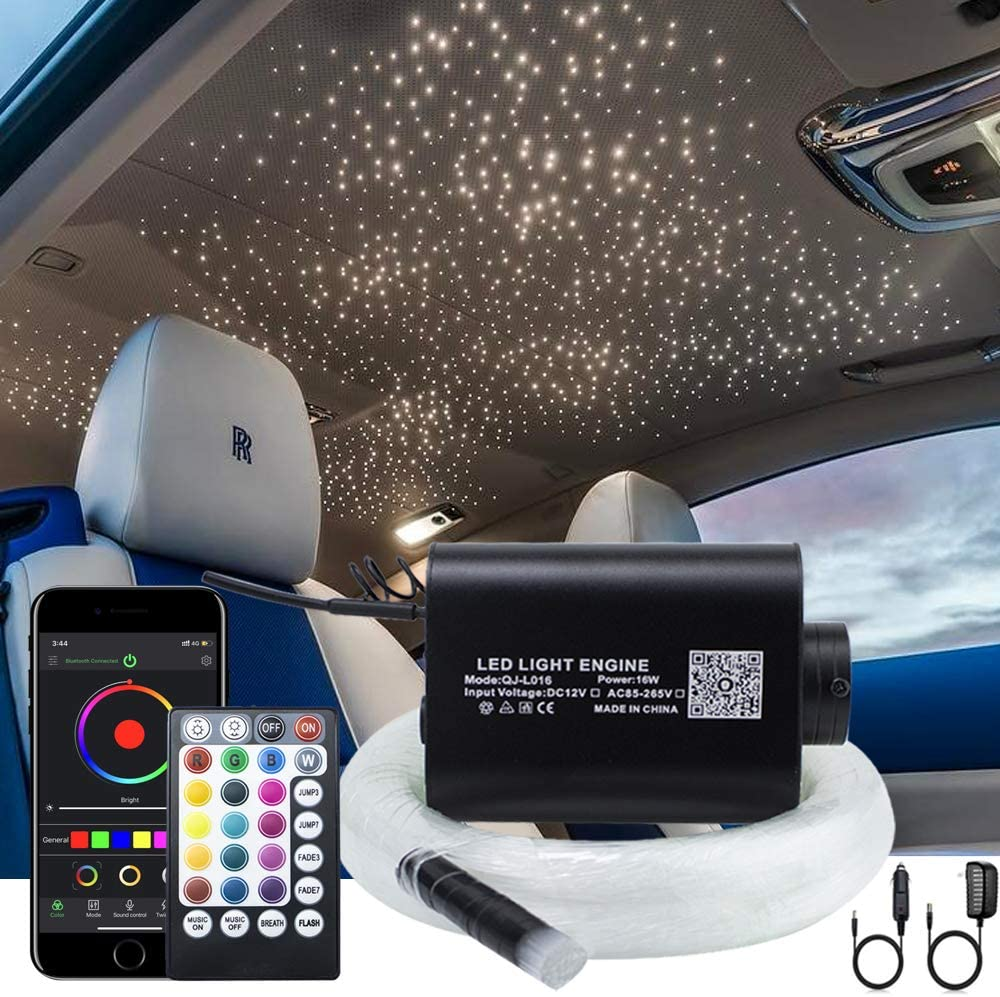 Item Weight: 3.84 Pounds
Power: 16W
Static Colors: 17
Warranty: 2 Years
Rating: 4.5 out of 5.0
Don't want to go over the board with a price? If so, then this AKEPO Optics star lights kit won't cost you a kidney. There's not even a single feature that won't impress you. Also, the AKEPO starlight car roof kit offers RGBW lamp beads to provide pure white and RGB mixed white. The brand put a lot of effort into delivering flawless control over the lighting kit. How? By offering an upgraded mobile app and remote controller as well.
There's nothing this starlight car roof kit won't offer. From brightness adjustment to dynamic changing mode to waterproof fiber optic cable, every box is checked with this kit. People love the fact that it doesn't cost a lot and still manages to offer every feature that a high-end starlight car kit does. So, you shouldn't hesitate to get your hands on this AKEPO starlight kit.
Pros
Simple to install
Pocket friendly
Worth the money
Make your car dreamy
17 static colors
Cons
Fibers should be a little longer
9. Best for DIY Keys: FIREWORK Bluetooth 10W Starlight Twinkle Kit for Car Home Ceiling Decoration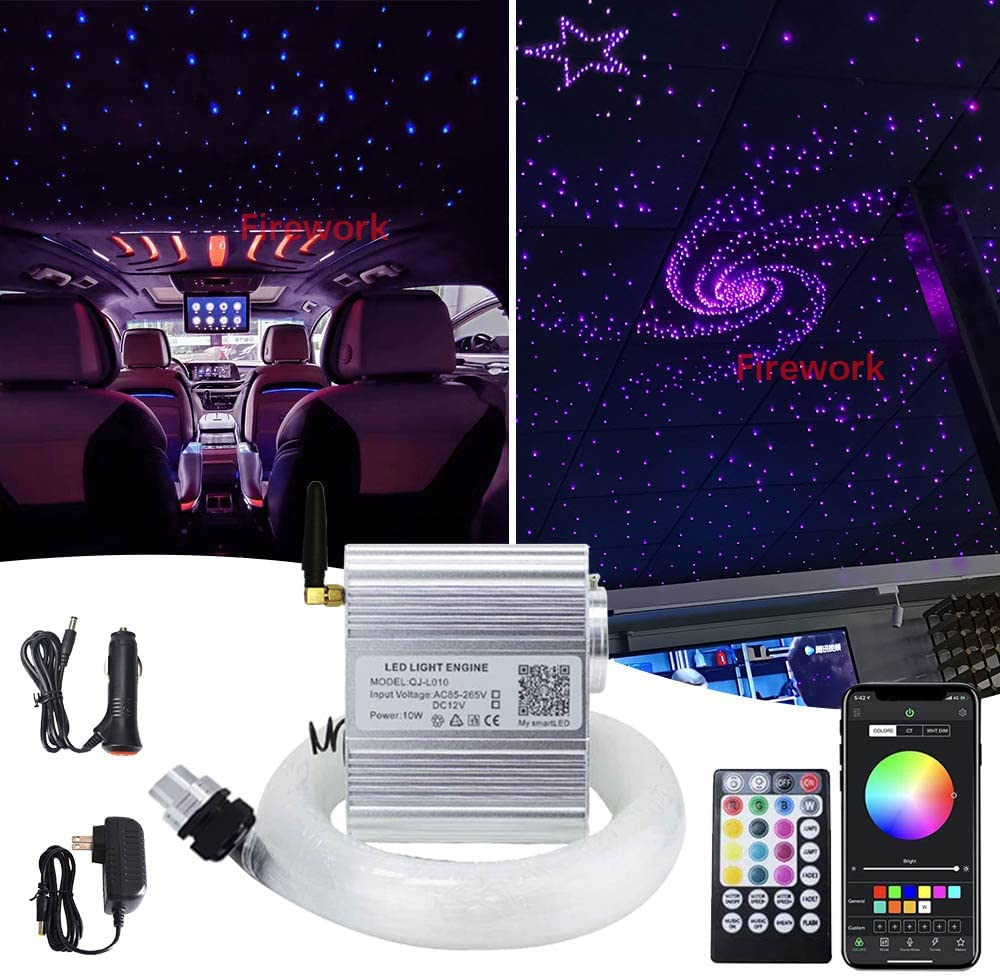 Item Weight: 3.43 Pounds
Power: 10W
Lifetime: 50,000+ Hours
Warranty: 2 Years
Rating: 4.6 out of 5.0
If I tell you that you can have quality time with your friends or partner with dreamy lighting effects, you will certainly feel great. Isn't it? So, here is the key to your happy time – the FIREWORK Starlight car roof kit. You can select from many sizes and install them in your car to give a luxurious look, room to create a dreamy vibe, and parties to enhance the look of the decoration.
Installation of the light engine and kit doesn't take weeks. In addition, just forget about any unwanted incident, as fiber optics cables are entirely safe, non-conductive, and waterproof. You'll surely love how the setup of the lights comes out and make your place heavenly and realistic like starry lights. How cool is it!
Pros
Long-lasting
Light on pocket
High Power
Perfect brightness
Cons
The app got stuck sometimes
Only eight static colors
10. Best for Easy Installation: AKMI 16W Fiber Optics Starlight Car Roof Kit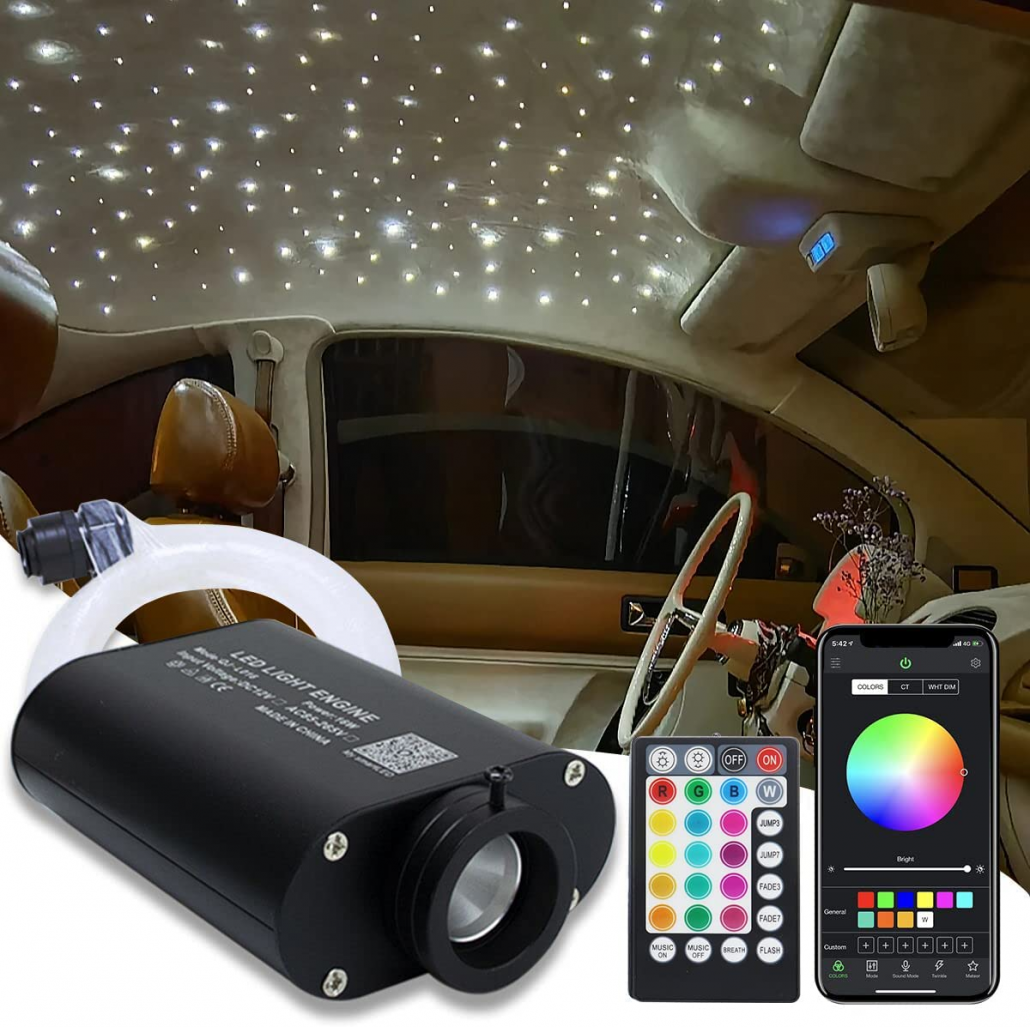 Item Weight: 1.5 Pounds
Power: 16W
Lifetime: Up to 50,000 Hours
Warranty: 2 Years
Rating: 4.4 out of 5.0
How can we not mention this AKMI starlight car roof kit in our list? Here you go. The AKMI is all about affordability and convenience. Talking about affordability, this twinkle ceiling kit is one of the most affordable devices on our handpicked list. You won't have to think twice before buying this starlight car roof kit. Also, the quality and construction won't disappoint you in any way. The aluminum metal protects the light engine in the best way possible.
The AKMI isn't only for cars; you can decorate your room, truck, dining room, parties, restaurants, and whatnot. The multiusage makes this kit one of the most favorable products. Features like high light conduction, waterproof cuttable fiber optical cables, Bluetooth connectivity mobile app, 2-year warranty, and gorgeous static colors, all features make this car roof kit worth having.
Pros
Great for small space
Easy to install
Perfect control over engine
Low price
Cons
The app doesn't work flawlessly
Things To Look For While Selecting a Starlight Car Roof Kit
It's not an unusual thing not to know about features you should be looking for while choosing a starlight kit for the roof. A lot of people don't have much knowledge and end up buying something cheap and impermanent. You must read this buying guide to spend money on the right kind of kit. Go for the best starlight car roof kit and enjoy the dreamy ceiling!
Durability
The first thing you should look for in a starlight car roof kit is its durability. Durability comes with material and construction. Most of the kits are made of aluminum and plastic as well. Go for sturdy and superior aluminum material. Additionally, the finish of the kit should be of plastic to add extra support to the construction.
To keep the kit functional for a long time, it's crucial to look for the durability and longevity of the material. Otherwise, you'll surely regret your buying decision. A good and practical starlight roof kit should be resilient and sturdy.
Control Options
Does the starlight car roof kit you're buying have flexible control options? If not, you should never buy this optics fiber kit because control options are the second feature that the user needs. Not having two or three easy controlling choices can surely be a dealbreaker.
A starlight car roof kit should have two solid and practical options: remote control and mobile application. The remote control should have easy-to-use keys with clear instructions. Regarding the mobile app, a light kit should be controllable via android and iOS apps that offer lag-free Bluetooth connections.
Easy Installation
Would you like a kit that takes weeks and struggle to set? No! Right? So, easy installation is another convenient feature you should never overlook. Also, don't forget to check that your kit has an instruction manual so that you can understand the installation process better.
Wasting your precious hours setting up the light engine perfectly can be absolute frustration, but carefully selecting a starlight car roof kit can save you from this headache.
Brand Value
Does brand matter when it comes to starlight car roof kits? Yes, it does. When selecting a car roof kit, it's mandatory to go for a well-known and reputable brand. Also, famous brands offer warranties and are easy to use as well.
Colors
Does your kit only have one color, or does it offer RGBW? The sign of a good starlight kit is that it should have RGB mixed colors. So that you can have that dreamy and heavenly experience with a variety of gorgeous colors. If you want a realistic experience, you should go for a real-looking RGB color kit.
Price
The price range is the last yet essential factor you should consider. Whether your budget is tight or you can spend some extra bucks, it's possible to get a reliable and durable starlight car roof, as our mentioned kits are under every price range. You can choose what suits you the most. Nevertheless, remember that the higher you pay, the better the product will be.
FAQs About Starlight Car Roof
1. How Much Does a Starlight Car Roof Cost?
Starlight car roof kit can range from $50 to $400. You can get a kit according to your budget and demand. Whether your budget is low or high, you can always enjoy your desirable car roof or room ceiling.
2. How Long Does a Starlight Car Roof Last?
The more you pay, the longer it will last. A high-end starlight kit should last 6-7 years. On the other hand, a mid-price light kit can go for 2-3 years.
3. Can I Use the Starlight Car Roof in My Room?
Yes, why not? You can use a starlight car roof anywhere you want. You can use it on the ceiling of your room, make your parties more fun, have a dreamy car roof, and decorate restaurants and hotels as well.
4. How to Install a Starlight Car Roof?
To install the starlight car roof, it is better to understand the instructions manual that comes with the kit carefully. Because kits from different brands need different steps to set up the starlight kit, and some can be tiresome while some can be easy.
5. Is it Challenging to Install a Starlight Car Roof?
Yes and No, both. If you set up the straight car roof for the first time, you must find it frustrating and challenging. However, if you do it for the second or third time, you'll be able to do it easily. To avoid any challenge, reading the instruction manual and following the procedure step by step is a good idea.
Conclusion
Starry light night is one of a kind experience for anyone. It seems impossible to experience those amazing starlights in the city. But now it's not important anymore as a starlight car roof is all you need. It works like a medication if you're feeling depressed or sad. It can make you relax and is a gorgeous way to decorate your home or car. So, what are you waiting for? Get a perfect starlight car roof kit from our recommended list and have quality time.