Do you know you can go to your college on a skateboard? Sounds exhausting? Not with Blitzart Electric skateboard.
Whether it's fun/adventure or short-distance travel, a skateboard is always a good idea. A skateboard is fair for sport and fun but can be exhausting for travel purposes. You must be thinking. Well, you're right and wrong at the same time. Regular energy-consuming skateboards shouldn't be used as transport as pushing for a long time makes you sweat and dehydrated. But forget about sweat and effort with an Electric Skateboard.
We can't forget our most favorite Blitzart Electric Skateboard when we're talking about electric skateboards. "But I can't spend my one month's salary to buy a skateboard" We do hear you. We understand that such motor skateboards don't come economically. That's why we came up with a Blitzart Hurricane Electric Skateboard that is not only affordable but durable as well. Let's dig deep.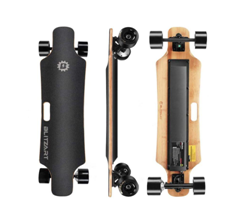 Specifications:
Battery: 36V, 4Ah, Li-ion battery
Speed: 17 mph
Deck length: 38 inches
Wheel diameter: 3.54 inches
Material: Maplewood
Weight limit: 260lbs
Price: $299 on lumbuy
The Blitzart Hurricane Electric Skateboard is best known for delivering durability and affordability. Both features rarely come together. But Blitzart knows how to impress every single time.
This Blitzart electric skateboard is an all-rounder with advanced technology. If you're planning to upgrade your board, then you won't find a better one than this all-in-one longboard. This Blitzart isn't our favorite for one specific attribute, but it's our favorite for every impressive feature.
Our detailed review of Blitzart will inform you about the best and not-so-good features. So that you'll decide whether it's for you or you should pass it.
Key Features:
Advanced battery with 36V, 4.0Ah, 144Wh lithium-ion features decent battery life.
Rechargeable upgraded wireless remote
8 to 10 miles maximum range of tires
Sandwich of 7 layers of maple wood between 2 layers of bamboo.
Aesthetic and polished look to the board
Ready to ride when you get it.
Quiet motor and wheels are the best deal-makers
Replaceable tires when got worn
Detachable battery to make it a typical board
17mph speed is its best performance level
Pros
Easy-handling remote
Two-speed modes–Beginner-friendly
Replaceable motor
Battery charges fully in 3 hours
Pocket-friendly
Upgraded battery technology
Cons
Single hub motor
Sometimes, the remote and board don't sync properly
Speed gets to slow down with battery life
Main Features:
We went the extra mile to compile the best and worth considering points of the electric longboard. Read the full review to invest your money in something worth having.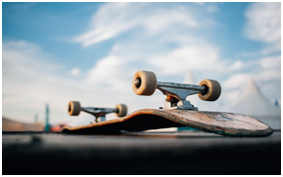 Speed and range:
You can enjoy your time with this skating board at 17 mph speed. You shouldn't do aggressive skating as the speed may get affected. This board may not suit your needs if you're not lightweight and want something faster.
What about range? The maximum range of tires is 6-10 miles with a single battery charge. Both range and speed can be different for different sizes of persons. The lighter you're, the better I'll perform for you.
Weight:
The 13 lbs weight of the board makes carrying easy when not under your feet. The Blitzart Electric Skateboard works best with lightweight. It'll deliver according to your weight and way of riding.
The maximum limit of the rider should be 260 lbs or less. You better not consider having this one if you're more than that. The skateboard works with optimal speed and a range of 170 lbs or less.
Motor:
The motor of the board has built inside the wheels. That's why it's called a hub motor. The Blitzart skateboard offers a 350W single-hub motor. The single motor of this board is as good as the double motor. Don't get fooled by this fallacy.
The hub motor also makes it easy to carry the board, as the motor isn't under the deck. Remember, don't expect too much from this motor. It isn't the fastest, but worth your money.
Battery:
You'll get a replaceable lithium-ion battery with 36V and 4Ah. Want to travel 8 miles in one go? Not a problem. The Blitzart battery can take you places with a single charge. Yes, 6-10 miles under one trip. It sounds rather promising. Isn't it?
Another convenient and time-saving feature is a three-hour full charge. You do not need to wait for 6 hours to get a fully charged battery. Blitzart just saved your precious time.
Deck:
If a skateboard offers a durable deck, that means it's meant to last long. This is what Blitzart Electric Skateboard is all about. The seven-layer maple deck wood with two layers of bamboo wood gives perfect stability and durability. The flexibility of the deck makes sure to ride smoothly on rough and bumpy roads.
The vibration-absorbing ability makes it more efficient and doesn't let you fall off of the deck. Another feature that impressed us, the grip tape holds your feet firmly, even in wet or rainy conditions.
Quality and Durability: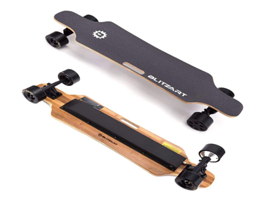 You can associate performance and durability with this 38 inches long skateboard. From the deck to the wireless remote, everything provides good value. Despite the lower price, Blitzart didn't compromise on quality.
Speaking of stability, the board gets a bit wobbly and flimsy when you climb the steep hill or do some tricks with the board as the motor power is one-sided.
Remote:
The easy-to-grip remote with different control switches makes riding manageable. The remote offers one beginner mode and one advanced mode according to your liking. You'll find different switches on the remote such as forward, brake, shift buttons, and reverse.
What's more? LED light indicators on the remote display the battery percentage. You'll get an insight into battery life and ride accordingly.
Wheel:
The wheels of the board have durable polyurethene material known as quiet operation. The wheels don't make noises while riding. These wheels are sturdy enough to tackle uneven or bumpy terrain smoothly. The material acts as a shock absorber which is a great plus point.
Reverse-kingpin Trucks:
Wide turns are possible with this kind of truck. Reverse-kingpin trucks are better than normal-kingpin trucks for electric longboards. You can tighten the trucks for a better ride when climbing or getting on
steep hills.
Affordability:
The board won't make your bank account blank as the price of the board is much lower than other electric skateboards. A great way to have a fun and light workout at an affordable price.
Other features:
The Blitzart Electric Skateboard has all the small but essential features. Such as, you can easily get on and off of the board with the help of the hold function. Easy acceleration and deceleration are possible with different control switches. Maximum boards are difficult to carry when not in use, but the Blitzart brand gave a handle to carry the board easily.
One of the biggest perks of this skateboard is the detachable battery. You can easily remove the battery and use the board as a normal board. It sounds amazing. Isn't it? A convertible skateboard that can be used for both fun and short travel purposes.
Conclusion:
This Blitzart Electric Skateboard isn't only good for battery life like other electric longboards. But this Blitzart longboard is a blend of all features. You only get very few pitfalls, such as battery life and speed with higher weight. Other than that, this skateboard is a good deal for amateurs and experts as well.
Who Should Purchase It?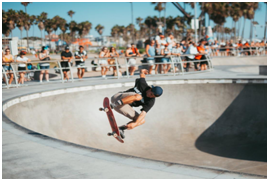 Are you looking for a decent skateboard to begin your skating? If so, then this Blitzart Electric Skateboard will be your star. Its amazing features make it more beneficial for beginners.
If you want something for long commutes, then this very product might not be able to satisfy your need as it targets short-range distance. Nevertheless, it's a considerable longboard for touring your neighborhood and visiting your college campus.