The practice of leveling your lawn from time to time is something you should engage in if you wish to maintain a perfect level appearance of your lawn or yard. From heavy rainfalls to persistent critters, it's only expected that you always have your lawn leveling rake.
You shouldn't leave your lawn unleveled because the consequences tend to worsen over time. And one essential tool you need for the task is a decent lawn leveling equipment!
You can use a leveling rake to spread the sand and topsoil mix across your lawn for an even ground – preferably one with a flat base and moderate weight.
Now, we're going to be looking into some of the distinctive features of the best lawn leveling rakes you may find!
Read on to determine which of them suits your lawn treatment, ideally.
In this article,
Our Picks for the Best Lawn Leveling Rake
Briefly, the lawn levelers we shall be reviewing here are chosen based on specific qualities ranging from premium to very affordable selections.
1. Best Overall: Rocklin Lawn Leveling Rake
Sizes: 30 and 48 inches available
Weight: 8 lbs (30 inches)
Rating: 4.7 out of 5.0
This is the ultimate lawn leveling rake that effectively helps you get rid of unwanted dips and divots. It enables you to fill the ground soil with enough dirt as you level the surface.
The Rocklin Lawn Leveling Rake has well-sized ground plates of (30 x 10)", which permits utmost maneuverability and functionality.
A lengthy 78″ handle allows you to cover more areas conveniently, which is adjustable to as low as 50″. With extensive applicability, the lawn leveling rake is cut out to operate on many types of grasses, including Ryegrass, Fescue, Bermuda, and St. Augustine. Besides, it's best applied for grass lengths that are 1.5″ or below.
In addition, the Rockin lawn leveling rake comes in double spot welded stainless steel material with a net weight of 8 lbs.
Pros
It is very simple to set up and use.
It has a reliable design of a stainless steel handle and a solid aluminum ground plate.
It offers great value for the money.
It has an optimal strength-to-lightweight combination.
It is highly sturdy & adjustable and can work on almost any type of grass.
Cons
It may not be ideal for large lawn projects
2. Easy Assembly: Standard Golf Company Lawn Leveling Rake
Size: 30 inches
Item Weight: 10.25 lbs
Rating: 4.6 out of 5.0
As its name suggests, the Standard Golf Company Levelawn Tool is specially designed for golf courses. It comes in an ergonomic build that distributes top dressing materials for a decent lawn leveling experience.
Golf superintendents choose this lawn leveling rake type because of its well-suited design for their courses. The lawn tool has a 30-inch wide head to help you level a broad area with little effort.
Besides, the lawn leveling rake also features a two-piece wood handle for an adequate grip while raking a lawn. Standard Golf's Levelawn has most of its entire design in wood with a net weight of 10.25 lbs.
Pros
It is perfect for golf courses.
It is double spot welded.
Its handle is a wood composite, offering smoothness and lightness.
Its 7-foot tail allows for covering a wide range.
It has a straightforward setup and application.
Cons
The two-piece handle may become flimsy during usage.
3. Most Versatile: Varomorus Stainless Steel Lawn Leveling Rake Tool
Plate Size: 30 " × 10 "
Total Weight: 10 lbs
Rating: 4.2 out of 5.0
One may hardly find a lawn leveling rake to do a better job like the Varomorus Lawn Level Tool. With this versatile rake, you can make your garden, golf course, yard, or field flat and neat.
This lawn leveling rake is a highly durable tool that can provide a smooth, even lawn as it eliminates bumps and depressions. The rake has an extensive 72-inch handle to help you cover more distance in any leveling or reseeding project. Specifically, spreading screened topsoil, mounds of leveling materials, and breaking up heavy soil are all achievable. It even allows you to use a 50-inch handle with double sections. The product comes in stainless steel design with a net weight of 10 lbs.
Pros
It is highly durable with a reliable construction in 304 stainless steel.
It is appropriate for both small and large lawns.
Its handle's top has a bent shape for convenient pushing and pulling.
Cons
The handle to ground plate connection might become loose.
It might be a little heavy for leveling dirt.
4. Best Budget: HOSKO Lawn Leveling Rake
Style: 6 FT
Weight: 8.75 lbs
Rating: 4.1 out of 5.0
When it comes to shopping for a level rake that offers both efficiency and affordability, HOSKO's Lawn Leveling Rake is the right choice.
The lawn leveling tool is made of 304 stainless steel, suggesting a low tendency to rust and extended service life. You can easily operate the tool with simple angles (0° to 90°) and length (15.6″ to 60″) adjustments that suit your comfort.
In addition, this lawn leveling rake is a handy tool for getting rid of dips and divots as you level the ground soil and dirt evenly. It also works for a wide variety of grasses, including Bluegrass, Kentucky, Bermuda, and Fescue. The stainless steel product has a net weight of 8.75 lbs.
Pros
It is very compatible for leveling small areas.
It has an adjustable length and angular adjustments.
It is just right for the price.
It uses rustproof fabrication.
Cons
Its ground plate isn't ideal for large lawns
The handle to ground plate connection might become loose.
5. Most Lightweight: Fly Hawk Lawn Leveling Rake Tool
Ground Plate Size: 17"×10″
Weight: 6 lbs
Rating: 4.2 out of 5.0
With an easy setup and aesthetic quality, this lightweight lawn leveling equipment is a terrific pick for your lawn. The lawn leveling rake lets you eliminate unwanted turf and tilting by filling up dirt and smoothing it out with little effort.
Besides, the tool demonstrates good maneuverability, function, and mobility through its nicely sized ground plate (17 x 10)". You can also alter its relatively long 6-foot handle down to 4 feet for you to operate the leveler conveniently.
This lawn leveler can rake a wide species of grasses and is best applicable for grass lengths of 1.5 inches and below. Designed by Fly Hawk, this stainless steel lawn leveling rake weighs only 6 lbs.
Pros
Lightweight
Easy assembly
It has a rustproof, non-slip stainless steel handle for better durability and usage.
It has a flat, tough head (ground plate) design that minimizes deformation.
Its handle is adjustable for a suitable length.
The manufacturer offers a 30-day warranty on the product.
Cons
Its plate dimensions may not cover as much ground at once.
It may not be the best pick for tough bumps.
It is relatively smaller than its full size.
6. Most Sturdy: GLORYA Lawn Leveling Rake
Size: 6 FT
Weight: 7.92 lbs
Rating: 4.0 out of 5.0
Keeping a wide lawn leveled can be quite a hassle sometimes. But with products like the GLORYA lawn leveling rake, you get relieved of the tedious activity.
Why? This leveling rake was constructed to aid heavy-duty works on lawns, yards, or golf courses. A helpful adjustable extra-long handle between 72″ and 60″ provides a flexible experience that suits your comfort while leveling the ground soil.
The yard and lawn leveling rakes works better than the average landscaping rake by keeping your soil and grass leveled faster without a backache.
Demonstrating excellent sturdiness, it comes with a high-quality ground plate (17 x 10)" and is easy to set up and disassemble. The 6-foot GLORYA lawn leveling rake has a net weight of 7.92 lbs, made entirely in stainless steel.
Pros
It possesses relatively great sturdiness.
It is ideal for leveling small areas
It offers easy installation.
It is decent for the price.
Cons
It may not be convenient weight-wise while leveling broad areas.
It may not be challenging to move dirt in grass areas.
The handle to ground plate connection might become loose.
7. Easy Assembly: SurmountWay Lawn Leveling Rake Tool
Plate Size: 30*10 inches
Weight: 10.68 lbs
Rating: 3.9 out of 5.0
Delivering an efficient and neat leveling job while providing a quicker and better experience are all premium qualities of the SurmountWay Levelawn Tool. It comes in very handy for anyone trying to level low spots in their lawns or yards or spread a fresh, top dressing.
The lawn leveling rake enables you to maintain a flat and beautiful lawn by evenly distributing materials in small and large areas. This includes removing stones from the soil, breaking up clouds of sand/loam, and smoothing the ground for better grass growth.
SurmountWay offers their buyers a wide range of selections starting from a 5-ft to 7-ft handle and ground plates from (17 x 10)" to (45 x 10)". All lawn leveling rakes of this manufacturer are made in ABS stainless steel with an average net weight of 10.68 lbs (30 inches).
Pros
Handle size can be adjusted from 78 inches to 28 inches.
It comes in varied selective dimensions.
Its absolute stainless steel material prevents it from rusting.
It is suitable for any type of grass.
It has a foldable handle and an overall easy setup.
Cons
It may be relatively costly.
It may have a flimsy performance.
How to Pick the Right Lawn Leveling Rake for Your Lawn or Yards
With the several brands and features of lawn leveling rakes, it's only expected that one might have quite the challenge in making an ideal selection. There's no turning back from this decision now because leveling your lawn enables rainwater to drain away properly while removing bumps from the ground; you wouldn't want to take a chance on avoiding such an activity.
Determining the right lawn leveling rake for your project is mainly based on certain factors, including the size of your lawn, the number of tools needed, and the tool's versatility.
Consequently, when picking an apt lawn leveler tool, you should consider:
Material
It is recommended that you look out for the overall design quality in any lawn leveler. Mainly, high-quality stainless steel is often better because it is rustproof and can serve for a longer period. You should also look for the welded joints and connection points between the head and the tail to ensure lawn leveling rakes aren't flimsy but firm.
Size
Checking out for the size and extension of any lawn leveling tool is of vital importance. While some come in a fixed length, better lawn leveling rakes are usually adjustable.
Using an extra handle length will be more comfortable when working on large lawns. Similarly, it's helpful to select a ground plate (tail) with wider dimensions when covering more ground. Proper sizing selection also prevents backaches while working.
Weight
Regular yard levelers aren't often heavy. So, it's not a bad choice to equip a relatively light leveling rake. You just need to determine the strength-to-weight suitability for the type of leveling task you'll be engaging in.
Tough lawn leveling rakes are effective in leveling dirt but might not give the best experience for pushing and pulling. Lightweight-level rakes are a better option when working on a larger scale.
Applicability
This has to do with the terrain on which you have to work. The reason why people choose to get a lawn leveling tool instead of a landscape rake is that the lawn leveler provides better application, generally.
There isn't a fixed species of grass that all lawns use. Some are made for gardening, sporting, and other activities. Hence, it is recommended that you pick a lawn leveling rake that applies optimally for the groundwork.
Cost
Of course, no one wants to end up selecting an overpriced lawn leveling rake. But how exactly can one determine a product for the right price? Simple! The material quality and functionality of the leveling tool are what influence the prices here. Ensure you perform an adequate comparison on those two vital factors to help you make a good decision for your money.
How to Use a Lawn Leveling Rake
Leveling your lawn automatically removes debris, fills pits, and distributes the application material evenly. Here's how to go about achieving all these results:
Start by Mowing
If it's been months since you last mowed your lawn, the grasses are probably too long for an effective lawn leveling operation. However, you shouldn't cut down the plants too low but can trim them to a length between 1.5″ to 2″.
Dethatch and Aerate
They are not necessarily part of the leveling procedure but are important for growing healthy plants after you level your lawn. Dethatching involves removing dead grass, debris layers, and other soil organic materials. Aeration oxidizes the soil, which aids the roots in obtaining nutrients to enhance plant growth.
Accumulate Application Materials
This means combining your leveling matter and spreading them evenly. For this activity, you shouldn't just use sand or topsoil alone for dressing the affected lawn areas. You can mix them and even include compost for a more beneficial outcome.
Doing so helps level your lawn and supplies the grass with valuable nutrients.
Fill Up Uneven Areas
Proper leveling includes inspecting areas that appear to have abnormally lower depths compared to the normal ground level.
So, If you observe about 5-8cm deepness in an area, it suggests that there aren't enough nutrients in the surrounding soil. Dig out the affected area with its roots and fill with your mixed dirt until you get an even level.
Level the Soil Mixture
If you don't notice any sunken areas on your lawn, just go ahead and use your lawn leveling rake to spread the mixture. Apply the top dressing on a thin layer of uneven ground and ensure that you don't spread heavy dirt over the affected area to avoid choking the grass. Use a back and forth momentum for spreading the top-dressing mix.
Related Source:
How to Use a Lawn Leveling Rake
How to Level a Bumpy Lawn
Bumpy or uneven lawns are problematic aside from the unattractive appearance they give. They can cause drainage problems in the environment or have someone trip over them.
However, you don't need to spend money hiring a landscape-gardener expert or greenskeeper to achieve an even lawn.
Just by equipping a lawn leveling rake, you can solve half of your lawn's bumpy areas.
Lawn leveling rakes are special tools designed mainly with stainless or galvanized steel material. The rake comprises a long rod attached to a ground panel with 2 to 3 flat rods in-between.
The construction is ideal for leveling a bumpy lawn caused by creeks, waterlogging, and soil settlements.
To get rid of an uneven lawn,
Equipped and assembled your lawn leveling rake so that the handle and ground plate are firmly fixed.
Investigate the surrounding for all the bumps on your lawn.
Get a mixture of topsoil, sand, and other organic matter for the affected parts of your lawn.
Apply the combined dirt to the bumpy regions and use your lawn leveling rake to spread the mixture in a back-and-forth motion.
Spread the remaining soil mixture on a thin layer around the affected areas to attain an equally leveled appearance.
Ensure you don't choke up or engulf the grass blades because the grass still requires sufficient sunlight.
In the end, knowing how to level a bumpy lawn helps you:
Achieve a super smooth lawn.
Renovate your lawn's turf conveniently.
Develop a smoother surface while seeding fresh grass.
Fix issues of persisting unevenness or depression.
Equally distribute leveling materials while eliminating rocks, debris layers, and small clumps on your lawn.
Related Source:
Differences Between Lawn Leveling Rakes and Landscape Rakes
Rakes, generally, seem like straightforward tools – no doubt about that. But, not all rakes have the common garden implement design we probably see around more. While some look-alike construction-wise, it is important for one to distinguish certain functionalities and applications.
The lawn leveling rake and landscape rake have similar and distinct characteristics that you should know. A good understanding of both tools helps you better determine their suitability for a specific area.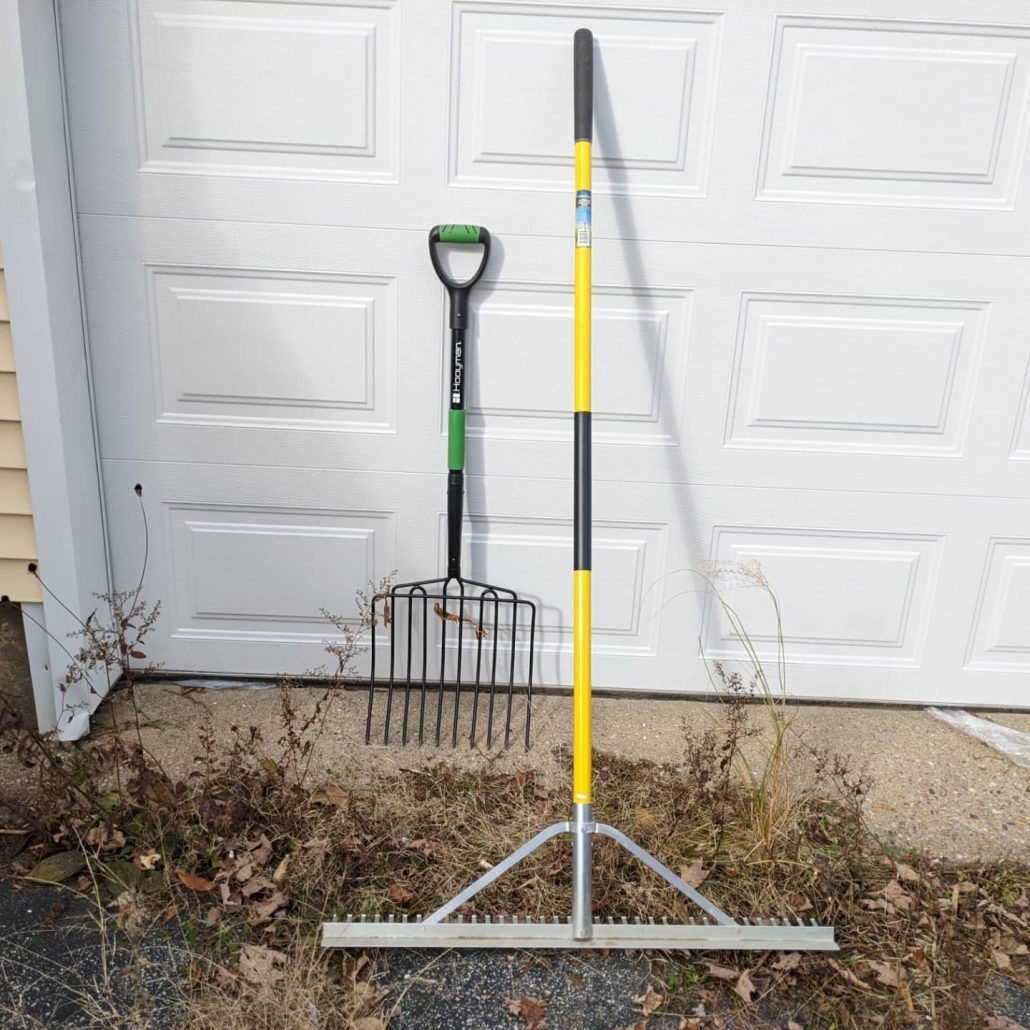 ○ Landscape Rake
– A landscape rake has a broad and sharp head and is usable in gardens, yards, ponds, and lakes.
– Particularly, it is well applicable for tidying the leaves & sundries of a lawn, removing thorny weeds, and getting rid of stubborn plants in water bodies like ponds and beaches.
– This lawn leveling rake can also be used in leveling wide areas of cultivated soil and spreading large amounts of sand and earth.
– It has a large rake head of about 20-36 inches, and due to its size, it is typically made with light materials such as aluminum.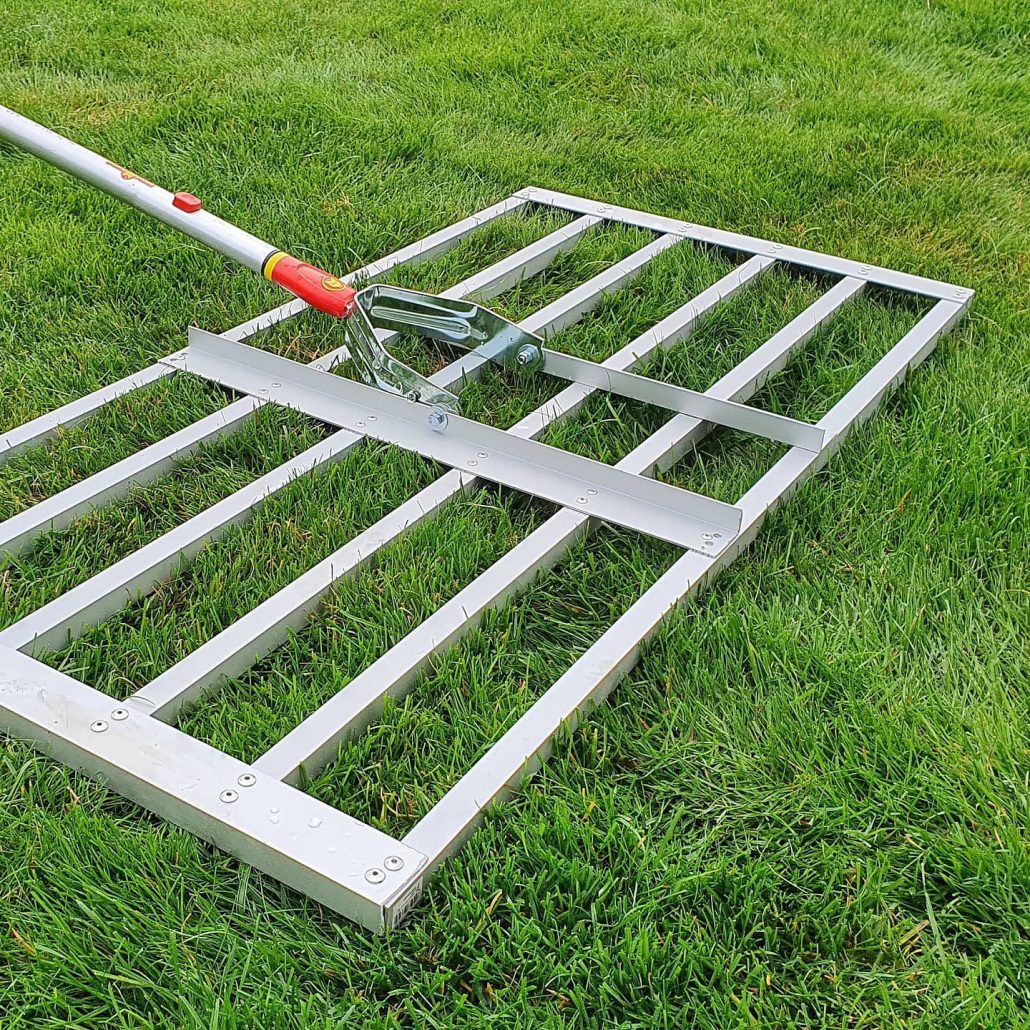 ○ Lawn Leveling Rake
– This is a level head (aka flathead) rake that features two to three rows of interconnected rods attached directly to a long handle.
– From its title, it is often used for leveling lawns, yards, fields, and golf courses.
– It is also used for breaking up spades soil and getting rid of debris
– This lawn leveling rake has a standard rake head size measuring 17″ x 10″ and a 76″ long handle. Most of its standard fabrication comes in stainless steel, but some other products have handles made with wood composite.
FAQs about Lawn Leveling Rakes
1. How Much Does a Lawn Leveling Rake Cost?
A lawn leveling tool usually costs between $100 to $150, but you can get some below the range like the HOSKO Lawn Leveling Rake.
2. What's the Easiest Way to Level Your Lawn?
With the aid of a standard lawn leveling rake, getting a leveled lawn becomes more straightforward and convenient.
3. Can you Level a Lawn/Yard with a Rake?
Of course! There are many yard or lawn leveling rakes you can equip that are suitable for leveling your yard or lawn.
4. What Happens When You Don't Level Your Lawn/Yard?
Soil erosion, waterlogging, and animals are popular causes of an uneven lawn which invite bumps and depressions on a lawn/yard.
5. Is a DIY Lawn Leveling Rake a Good Idea?
While crafting out a lawn leveling rake is not a typical DIY, it is very much achievable as long as you have the appreciable materials to perform the job.
Related Article:
How to Use a Lawn Leveling Rake
How to Make a Lawn Leveling Rake