There might be various types of sanders out there; however, choosing the wrong one for your sanding job can turn out to be a nightmare for you. Sanding is considered an essential aspect of woodworks as these tools help repair, restore and refinish the hardwood surfaces. So, choosing the best type of sander is always vital whether you are a toolmaker, a home hobbyist, or a full-time manufacturer.
Even though we consider belt sander VS orbital sander to be the same as a power sander, they still differ in the way they work for us. Both of these sanders are power tools that utilize sandpaper to shape and smoothen a wooden floor. Still, both sanders offer different functions and specialties.
So, which one should we prefer for a job? Let's find out with a comparison between these two sanders.
Comparison between Belt Sander VS Orbital Sander
Belt Sander VS Orbital Sander- there are many things that need to know about them. Also, you should know that orbital sanders come in two types; the regular orbital sander, which is known as a sheet sander, and the random orbital sander that includes a round head.
| Belt Sander | Orbital Sander | Random Orbital Sander |
| --- | --- | --- |
| The primary purpose of a belt sander is to remove a more significant amount of material from the object faster. | An orbital sander can help to get a smooth finishing of a surface, especially for sanding corners. | A ROS is also a finishing sander, but it offers a higher material finishing rate compared to an orbital sander. |
| A belt sander works with the help of a continuous loop sand belt. This belt circulates between two spinning drums. | The head of an orbital sander is in a rectangular shape which rotates in an orbital motion to diminish materials from a surface. | The ROS has a round head. The head and orbits rotate side by side, to make a random orbital motion. |
| A belt sander is the most suitable tool for the removal of aggressive material. It covers a large area and works best on smooth surfaces. | Orbital sanders are suitable for finishing. You can easily sand corners and edges using an orbital sander. | ROS offers finishing without leaving a swirl pattern. Also, you get a higher material removal rate than regular orbital sanders. |
| A belt sander helps prepare a surface for further fine sanding. | Orbital sander helps with the final finishing of woodwork projects. | ROS offers fine sanding using automotive work. |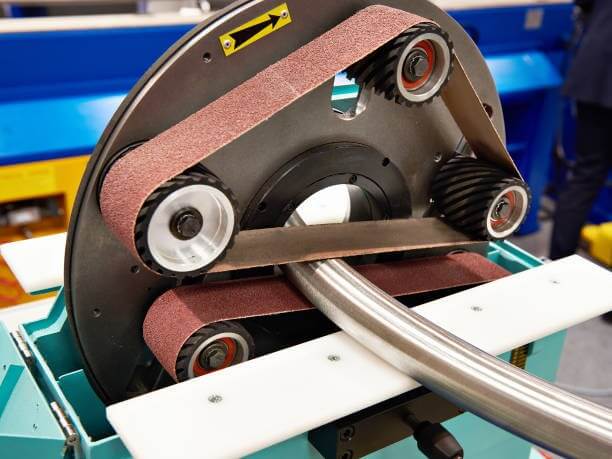 Belt Sanders-Aggressive Material Removal
A belt sander is a tough guy when it comes to any sort of manufacturing job. The design of a belt sander allows it to remove a large number of materials in a concise period. These sanders come in four sizes, from 3X18 to 4X24. The most popular one among all these sizes is the 3×21 one. It is known to be the most adaptable and convenient for controlling. The 4X24 is the most aggressive sander that can tend to be quite damaging in the hands of an inexperienced user. Belt sanders come with a motor that is attached to two rotating drums. As these drums turn, the sandpaper belt moves, allowing us to run it across the desired surface.
Advantages & Disadvantages of a Belt Sander
After being the biggest sander, a belt sander is designed for aggressive use on larger wood pieces. A belt sander is capable of removing various materials from the surface of wood quickly. There are generally two types of belt sanders, handheld and benchtop belt sanders.
The handheld belt sander offers portability, so you can take it anywhere with you to work. On the other hand, the benchtop version of a belt sander is more extensive, heavier, and more powerful. The tool is used mounted to a bench and is used for finishing burdensome duties. Whichever of these benders you choose for your woodwork jobs, here are some advantages and disadvantages you should require your attention to.
Advantages
Belt sanders can be used to provide finishing to metal, flooring, and woodwork jobs. Also, you can use them to complete time-consuming projects such as smoothening corners and diminishing burrs. A belt sander can also be utilized to resurface and renovate old furniture by removing paint and other stains from the woods.
As we already know, belt sanders are aggressive types of sanders and can remove a considerable amount of materials from a surface in a short period. These sanders are generally used for primary stages of sanding, where we require eliminating large amounts of materials.
As discussed before, a belt sander can be stationary or portable. We utilize stationary or benchtop sander for those burdensome materials that can be brought closer to the sander. For non-moveable materials, a portable belt sander is preferable.
A belt sander is easy to use. All you need to do is move the belt sender over your working object while applying even strokes. There is no need to put too much pressure on it. Just roll it gently on the workpiece and let the sander do its work.
Disadvantages
With many advantages at hand, there will be a few disadvantages to come as well. Belt sander has an aggressive nature; as a result, they do damages to delicate workpieces. It doesn't matter how fine-quality sandpaper you will use for your work; there will always be a few sanding marks left on your work object.
Belt sanders are more suitable for smoothening rough lumber to prepare it for further sanding. This tool cannot be used for providing finishing touches or final sanding. Moreover, when sanding is done at two different grain meeting points; you will end up getting even nastier scratches on your project.
Belt sanders are also quite loud to work with, so you will have to use ear protection while working for long hours with them.
Orbital Sanders-Finishing Sander
Orbital sanders are lightweight and can be held in your hand. These sanders allow you great flexibility for applying sanding your head on any surface. These sanders are specially designed for doing small jobs where shaping and finishing are to be done. Orbital sanders are ideal for shaping wood pieces and doing finishing around curves. You can even shape and polish a doorknob using an orbital sander's flexibility offers. However, an orbital sander cannot be used to work on a flat plank. It can't be used to remove stains and paints from wood. If a user tries to apply an orbital sander for burdensome works, he will ruin its attachments.
Advantages & Disadvantages of Orbital Sanders
As we already know, a belt sander is an aggressive sanding tool and offers a high amount of power for sanding jobs. Compared to a belt sander, an orbital sander is a light and handheld tool for sanding jobs. This tool is generally used at the last stage of the job, or sometimes, to provide finishing and polishing to rough spots.
As discussed before, we get two types of orbital sanders for finishing sanding jobs. The regular one, also known as a sheet sander, and another one is a random orbital sander.
These sanders come with a sanding pad with sandpaper attached to it. The difference between these two sanders is that a sheet sander spins its sanding pad in a similar consistent pattern. Whereas the random orbital sander spins randomly without following any spinning pattern
Here are a few of the advantages and disadvantages of these orbital sanders that a user should know before using them.
Advantages
It is the most significant advantage of an orbital sander. An orbital sander comes with a rectangular or square sheet that allows it to adjust into the corners and flush against ends, making it the perfect sander for toolmakers.
With an orbital sander, you won't need to buy huge sheets of sandpapers. You can use square and rectangular sandpaper sheets. Also, stick these sheets over the sanding pad.
Orbital sanders come to use on those projects that were primarily finished by aggressive belt sanders. These sanders smoothen the surfaces while diminishing deep gashes left by harsh sandpaper. These sanders' back and forth motion helps reduce the threat of any deep scratches and makes a surface splinter-free and as smooth as possible.
Disadvantages
An orbital sander doesn't allow removing a massive amount of material in a second. It just mildly scratches over the top, making a user spend a considerable amount of time on a single section. Even though these sanders leave minimum scratch marks compared to a belt sander, these marks still are visible to the eyes. Also, an orbital sander doesn't help work on large surfaces, so if we use an orbital sander to work on a larger project, it will take us a considerable amount of time to get the job done.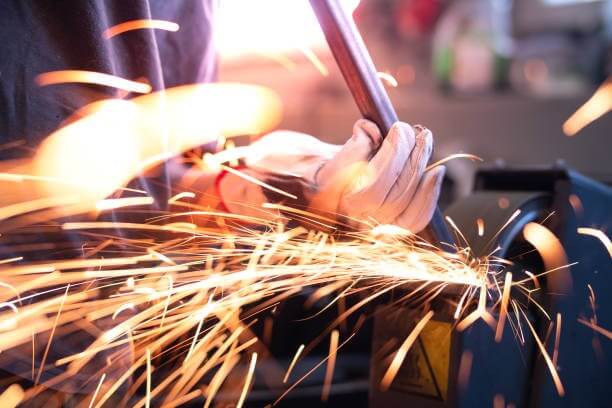 Orbital Sander VS Random Orbital Sander- which one should you buy
If we come to the truth, both of these sanders cannot fulfill all of our sanding requirements. We will always need a belt sander for heavy sanding and shaping works. An orbital sander can be used to eliminate gashes left by belt sanders while dealing with bothersome ends and corners. Also, we will require a random-orbital sander if we have to remove the filthy marks left by both of the other sanders.
A professional full-time manufacturer will more likely want to have both sheet sander and ROS. These tools keep their strengths and weaknesses. If we combine these two, they will surely benefit us more.
If you are still a home hobbyist and get to deal with loads of finishing woodworking jobs, refinishing furniture, and smaller tasks, then a random orbital sander will be more suitable for you. That little extra amount of investment will offer you great versatility with your tool.
A sheet sander or normal orbital sander can be fine for a person that requires an orbital sander just for occasional use.
FAQs
Can I use an orbital sander as a polisher?
Orbital sander helps to polish your woodwork. An orbital sander is a device that is used for polishing and sanding. Orbital sanders rotate in one direction circularly and make use of a waxed pad to shine and buffer the woodwork project.
Can you use an orbital sander on a car?
An orbital sander can prove to be a great tool for those looking for a helpful tool to sand or polish their car. For sanding your car surface, you will have to utilize a random orbital sander.
Can you use an orbital sander for furniture?
Orbital sanders are used for smoothing and sanding purposes. These sanding tools are easy to use, lightweight, and provide a swirl-free finish on various wooden furniture surfaces.
Is an orbital sander better than a belt sander?
Belt sanders are aggressive tools, and they can remove deck material faster. However, they can be hard to handle and difficult to work in tight places. Orbital sanders are more user-friendly.
What type of sander is considered to be the best?
A random orbital sander or ROS is considered to be amongst the most effective sander. ROS can be a good tool for both finishing and quick stock removal projects. It is not as much as faster as a belt sander for stock removing, but more powerful than a regular orbital sander.
What belt sander size is the most common?
The most common belt size for a belt sander is 4 inches wide and 3 feet long. Bigger machines take six-inch by forty-eight-inch belts or even more.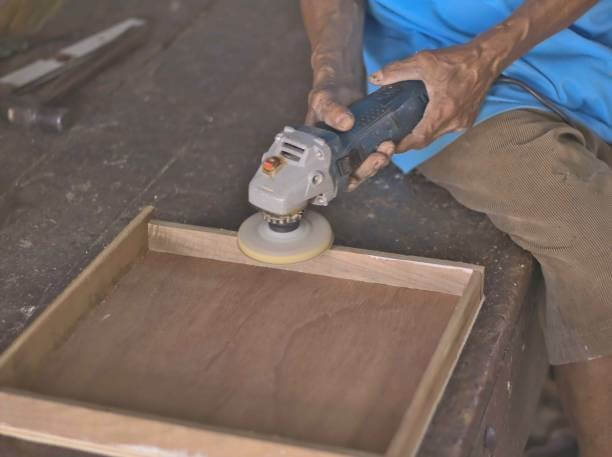 Final Words
In the conclusion of this article, it would be better to brief the whole concept in a few points. As a professional, you will require both of these tools in your workshop for finishing your woodwork jobs.
Belt sander and orbital sander are quite different tools as a belt sander offers brute force and can be handled by an experienced worker only to maximize its true potential. On the other hand, by using orbital, you can perform detailed jobs. You can smoothen uneven spots, work out on edges, curves, and corners. Depending on a job's requirement, you can need all three belts, orbital, and random orbital sanders. There will be no wrong choice to make; it will depend on what you wish to do with these tools.