If you want to cut cement board, perhaps your regular saw won't work. You can cut different materials with specialized saws, which is why the market is flooded with types of saws, including wood saws, concrete saws, diamond saws, etc. This article concerns concrete saws, also called concrete cutters, some product recommendations, and general knowledge of concrete saws. Ideally, there are circular cutters and straight saws in the market that use an electronic motor to achieve high RPM for efficient and precise cutting. This article focuses on circular concrete saw recommendations.
In this article,
Our Picks for The Best Concrete Saws
Can A Circular Saw Cut Concrete?
Does A Concrete Saw Need Water?
What Are Concrete Saw Blades Made of?
Our Picks For The Best Concrete Saws
Best Easy To Use Option: Evolution R230DCT Demolition Saw
Best Lightweight Option: Stark 3200W 16" Concrete Saw
Best Gasoline-powered Option: Husqvarna K770
Best Overall: Evolution R300DCT
Best Hardcore Option: Evolution R230DCT 12-in-1
Best Wet/Dry Cutter: XtremepowerUS 16" Electric Cutter
Best Affordable on Price: XtremepowerUS 14" Electric Cutter
Evolution R230DCT Concrete Saw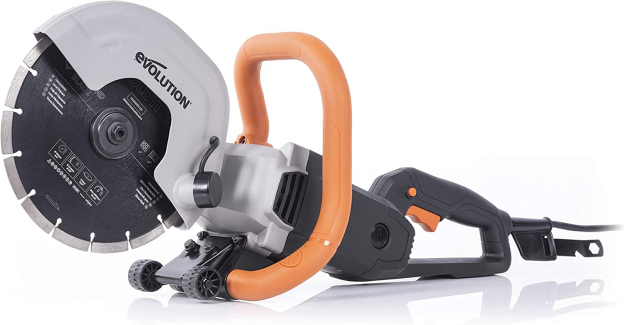 The Evolution R230DCT has 9-in-1 features: an angle grinder, cutoff saw, disc cutter, power cutter, circular saw, chop saw handheld, demo saw, a 15-ampere motor, and works without gas. There's a 3.5″ diamond masonry blade for the increased facility. This cutter is designed to replace a grinder as it generates better performance than a regular grinder.
Moreover, in terms of safety, this cutter is more practical and safer than many competitor cutters. This saw is the best option for ease of use because it has a wheeled skid plate that not only adds to the overall user's safety but also assists in cutting concrete.
There is a 3m rubber cable, which is heavy duty, so that it won't break off easily or quickly due to prolonged use. The cutter starts softly and doesn't give a jerk upon start. As a result, it becomes easy and convenient to use.
This concrete cutter's design is such a way that the user doesn't have to stay in an awkward or odd posture. You can remain relaxed and keep a proper posture when using the saw. As a result, you won't encounter back pain.
There are several ideal scenarios where this cutter can come into play. It can cut bricks, reinforced concrete, and stones and be used for paving purposes, window installation, landscaping, general maintenance activities, construction, pool renovation, etc. The 1600W motor is strong enough to generate high RPM, which will help you achieve a more straightforward and precise cut without any chance of damaged edges.
Item weight: 3.4lbs
Size: 9" blade
Material: general-purpose diamond blade
Rating: 4.5
Efficiency details: highly accurate with easy function and manoeuvrability
Pros
It's value for money, as reported by several users from all over the world.
The manoeuvrability is easy, and even an intermediate user can use this saw reasonably easily.
The shipping package contains all the necessary items to get started with concrete cutting. You don't have to make additional purchases before using this cutter.
Cons
The cable length may prove to be slightly short.
Stark 3200W 16" Concrete Saw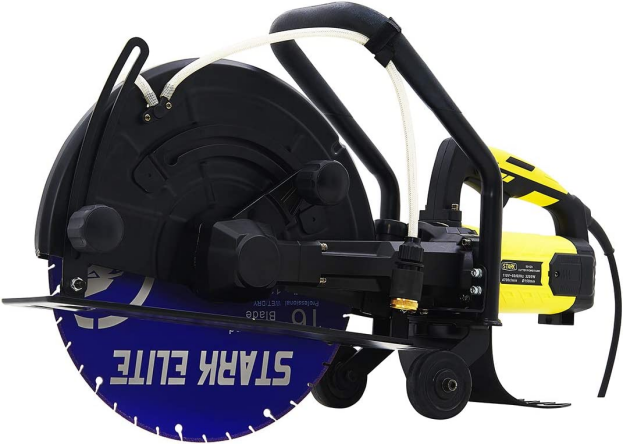 This circular saw has been rated the best lightweight option. It has an excellent power-to-weight ratio, which explains why the saw remains lightweight while still offering a stunning performance. Moreover, it comes in a black and yellow combination, which looks reasonable. It's an electric saw or a cutter with 3200W power consumption. With a 16″ blade, there remains almost nothing that cannot be cut with this saw.
It has an adjustable angle so the user can remain comfortable and adequately handle the saw. It allows users to use the saw for a long time without getting exhausted.
The package comes with a water feed attachment and a user manual. The saw also has a dust port, so the work site's surroundings can remain less messy. The motor can freely rotate without any load at 4,700 rounds per minute.
This saw is also designed for wet cuts. Furthermore, there's an adjustable valve for water flow to control how much water flows through the cutter to the blade. From a safety point of view, this cutter features a double protection switch, preventing the cutter from running accidentally.
The concrete quickie saw has 24 teeth, enough to cut most surfaces precisely. It won't get stuck on the surface or the edge. Its special feature is a brushless motor.
Item weight: 40lbs
Size: 16" blade
Material: steel and ABS plastic
Rating: 4.3
Efficiency details: Power motor with fair accuracy. The dust collection feature allows the surface to remain dust-free for the best view while cutting.
This high-speed blade circular saw can cut most metals, stones, and porcelain. The electric-powered motor is durable and won't damage easily. Hence ideal for the long run. You can use this circular saw for hours.
Pros
Strong performance.
You can use it for dry and wet cuts.
High-wattage motor.
The maximum cutting depth is 6″ as claimed by the makers, but can cut 5.75″ in practical use.
Cons
It's not suited for cutting small objects since the blade is fairly large.
High power consumption.
Not designed for small projects or small work.
Husqvarna K770 Conncrete Saw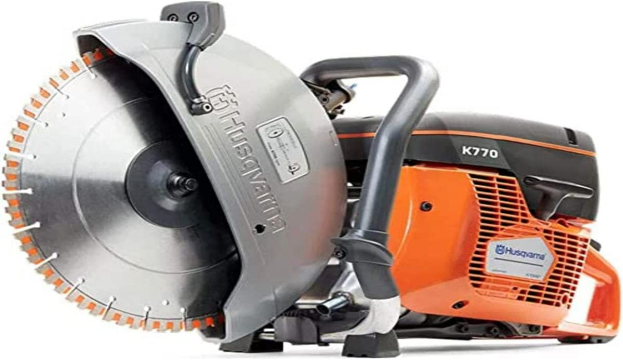 This saw is claimed to be a good value-for-money option by several reviewers. It's a gasoline-powered concrete saw, which operates through a brushless motor. It can be equipped with up to a 14″ blade, which isn't included in the package.
The power generated by the motor in this saw is up to 5HP. It's a lightweight and powerful saw featuring a smart tension system. The smart tension system minimizes the risk of over and under-tension. This compact cutter is ideal for most household work and some small-level commercial projects.
You can buy this saw for your regular use as it'll be worth every penny. People often go for saws of this size as they can cut most concrete surfaces, including bricks and stones. You can even woodwork this saw if you want, but you'll need a different blade.
An air filtration system allows filtered air to pass through the equipment. Dust won't get collected in the motor, so it can keep running smoothly. This saw is designed for long use, and you can use it for hours with small rest intervals. With up to 5″ cutting depth claimed by the maker, you can achieve a fairly deep cut up to 4.5″.
Furthermore, for ease of use, the saw has low vibrations, achieved by the perfectly balanced motor. It starts softly and reliably.
Item weight: 22.4lbs
Size: 14" blade
Material: steel
Rating: 4.8
Efficiency details: smart tension system for minimum wear and tear and good accuracy.
This saw is meant for intermediate users and small to medium-sized projects. It can be cold-started in 1 or 2 pulls each time. It usually takes time to adjust to this machine, but once you get the hang of it, you'll love cutting stuff down. However, the user needs to wear safety gear before using this saw.
Pros
Powerful motor with durability.
Deep cut rate of up to 4 to 5 inches.
You can use it for long sessions with small break intervals.
It's gasoline-powered so that you can use it outdoors without electricity.
Cons
Gasoline can be more expensive than electricity in some places.
The accuracy is good but not excellent.
Evolution R300DCT Concrete Saw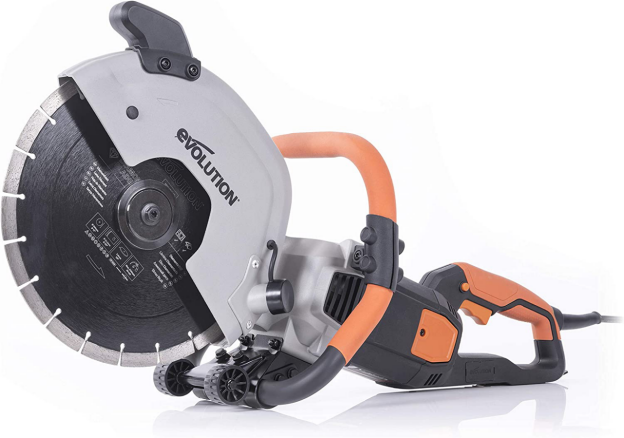 It's the best overall product since it's affordable, has multiple functions or features, and is multi-purpose. It is a circular saw with an angle grinder, cut-off saw, power cutter, and more. It is an electric power cutter that comes with a 15A motor. It cannot operate on gas but has a huge cutting depth of up to 4.0"+. It's typically maintenance-free since there's no fuel used in the machine. There are no pull chords.
Users will find it easy to use as it can be operated with one hand. An adjustable blade guard allows users to use it with one hand. It's fairly easy to maneuver, and the accuracy is breathtaking. People have found it valuable for money while still getting quality performance.
You cannot expect less weight, but it is still worth buying if you're looking for performance. The high-capacity blade is ideal for cutting down stones and other concrete materials. You can use it for hours without worries.
Its variations include a diamond blade, multi-purpose blade, disc cutter, and premium multi-purpose blade. The blade size of 12″ proves ideal for most household uses and small-level commercial projects. Even an intermediate can use this equipment.
The 13 feet long cable won't prove to be short in most situations. You don't always have to use an extension cord, which will reduce the risk of fire hazards or electrical shocks, especially when using outdoors.
The motor is high-performance and can retain speed even under heavy load, thanks to 15amp. It consumes 1800W, which is neither too high nor too low. Optimum power consumption ensures a proper balance of economy and performance.
Item weight: 21.3lbs
Size: 12" diamond blade
Material: steel
Rating: 4.4
Efficiency details: High speed with 4″ depth cutting and high accuracy. The cutting angle is 45 degrees.
Pros
It comes with a blade included in the package, so you don't have to spend money separately on the blade.
The cable is fairly long, so you don't have to use power extension cords.
It can be operated with one hand without any trouble.
There's a handle of steel wrapped around the front, and it also has a rubberized grip.
Cons
Not so light in weight.
High power consumption.
Evolution R230DCT 12-in-1 Concrete Saw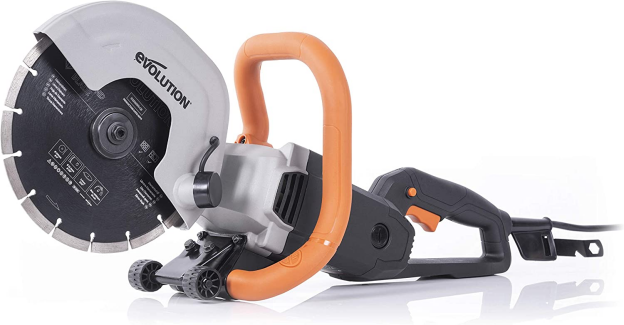 If you're looking for a hardcore option for cutting purposes, then perhaps this is what you're looking for. The blade is a 9″ diamond blade, with which cutting stones will be a piece of cake. Please note that this is a hardcore option for home use. You can use it for almost all house projects, such as cutting stones, small rocks, and other small construction work at home.
It comes with a 3m rubber cable, which is meant for heavy duty. You can even step on it without breaking the cable. The product features a soft start meant for a safe operation. If the cutter starts softly and smoothly, you won't get a jerk, which is important to ensure safety. Otherwise, the cutter might accidentally slip from your hands, mishandling.
The 15amp motor is strong enough to maintain high rpm under heavy load. The cutter comes with a diamond masonry blade, one of the best on the market lately. If you want a concrete cutter with a mix of the value of money, performance, ease of access, and manoeuvrability, this product will be a steal deal for you.
It's an easy-to-use tool that doesn't require the operator to stay in an odd or uneasy posture. You can remain comfy while handling the machine as you can remain in a comfortable posture throughout the operation. Moreover, the sharp blades will keep you from applying much manual force, so you won't feel exhausted anytime soon.
This saw will work like a charm if you're looking for long cutting sessions. Just don't forget to take small intervals to cool down the blade from unwanted breakage. The surface's edge after cutting will be sharp and uneven and won't have rough edges anywhere. If you're looking for a high precision level in terms of accuracy, then this machine won't disappoint you.
Item weight: 3.39lbs
Size: 9" blade
Material: diamond blade
Rating: 4.5
Efficiency details: high accuracy with the possibility to use the machine for a long time. The expected accuracy rating is 4.8 out of 5.
Pros
It is a value-for-money product.
Long cable up to 3m.
No gas provision, which means it's a maintenance-free machine.
It's designed to allow users to retain a proper and comfortable posture during operation.
Enhanced security features for added protection along with aided accuracy.
A soft start to avoid jerks and accidents.
Comes with a blade included in the package.
Disadvantages
Cons
9" blade ain't suited for commercial projects.
The maximum cutting depth is 4″, as the maker claims, which can be a bit low for advanced users or big projects.
XtremepowerUS 16" Electric COncrete Cutter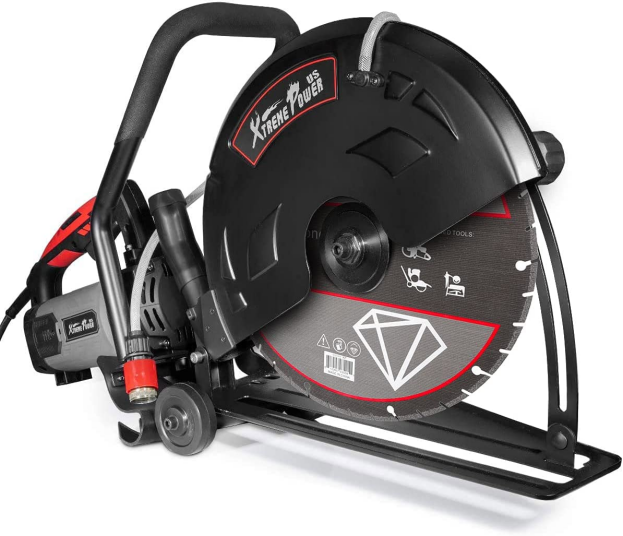 Not all cutting operations are dry. So, if you need wet cutting, you'll need a wet cutter, but if you want to cut dry, you'll need a dry cutter. What if you can get one cutter suited for wet and dry cutting? If that tempts you, then this product is for you. This cutter is rated the best for wet and dry cutting as it comes with a water line for wet cutting. You can keep the line closed for dry operations.
Moreover, this is a circular saw with an extraordinary appearance, giving users confidence. It's lightweight while offering performance at the same time. The motor is well-placed, which results in extremely low vibrations. As a result, the user doesn't have to apply much manual force to keep the cutter on the line. It will prevent the user from getting exhausted.
The motor has a power rating of 3200W, which is strong enough to cut down even the toughest materials in the construction industry. You can expect to cut down porcelain, metals, stones, bricks, and other concrete without giving up on the performance. You'll get a smooth finish without damaging the blades. The motor can retain high RPM even under heavy load. The machine operates on electricity, so it's maintenance-free.
Those who love staying clean during the cutting work will love this product. Why? Thanks to the dust collecting chamber, which keeps the work site dust-free to some extent. As a result, you'll also get a clear view of the cutting surface so you can cut even more precisely and at a faster pace than other cutters where the dust collection chamber remains absent.
The operator's safety is important, which is why this saw comes with a metallic guard to prevent the sparks from reaching the operator. So you can cut down almost any stone at a fast pace without worrying about sparks.
For wet cutting, just fill the water line with water and control the water supply through a valve. Depending on the requirement, it will let you increase or decrease the water supply speed. Not only is such a feature convenient, but it is also good for achieving high performance.
Item weight: 40lbs
Size: 16" blade
Material: steel and ABS plastic
Rating: 4.2
Efficiency details: comes with a dust port for clean surface view, adjustable angle, and guided roller for better accuracy and overall efficiency.
Pros
3200W motor can cut almost anything you desire.
4300 RPM is seriously meant for quality cutting and high performance.
Dust port will keep the cutting work mess-free.
6″ cutting depth is a serious deal. You can achieve extremely deep cuts that are not possible in rival products.
The water line attachment enables wet cutting as needed.
Guided rollers will help you cut accurately.
Cons
The 16″ blade is very large for cutting small objects. You cannot use it for small projects such as small bricks or pebbles.
A 16″ blade demands excellent skills to handle it properly.
It's not suited for beginners or intermediate users.
XtremepowerUS 14" Electric Concrete Cutter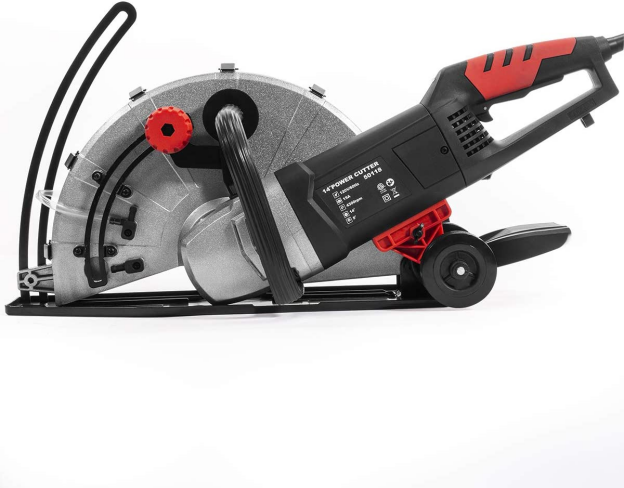 Most cutters with accuracy and performance are mostly unaffordable, while the affordable ones either lack accuracy, performance, or both. However, if you're looking for the most economical option, this is the product you should go for. It's available in a red/black combination, which looks impressive.
The weight-to-power ratio is rational, so you get a mix of lightweight while retaining the performance for the best cutting results. It is an electric cutter that's suited for outdoors only. The motor is 2600W and ideal for small projects, and it has a 14″ disc angle cutter that can precisely cut large objects. It can cut granite, porcelain, concrete, and stones.
If you're wondering about precise cutting and accuracy assurance, this equipment has a guide roller that will help you cut the surface precisely and without any error. As a result, it also becomes suited for beginners who're still fairly new to cutting.
A durable double protection switch prevents the cutter from opening up accidentally. Furthermore, this cutter comes with a water line, so you can go for wet cutting if needed. To control the water flow and pressure, there's a valve that you can turn on/off.
The accuracy level and ergonomic design rating are somewhat average but still worth it, assuming you're staying economical on your budget. With the help of an adjustable angle, you can remain in the best posture throughout the cutting job without giving up on performance and accuracy. The maximum cutting depth possible with this concrete cutter is 5," but you'll get up to 4.7″ in practical use.
Item weight: 29lbs
Size: 14" blade
Material: steel and ABS plastic
Rating: 3.8
Efficiency details: average accuracy but worth money. Guide rollers allow staying on the track and right line to avoid inaccuracy.
Pros
Wet and dry cut functions are available.
Value for money.
Metal guard to protect the user from sparks.
Adjustable angle for better posture retention.
Cons
Average accuracy may not tempt advanced users.
A 14″ disc cutter is not ideal for large projects.
Can A Circular Saw Cut Concrete?
In a nutshell, a circular saw can cut concrete. However, there are several things you need to remember. For instance, the thickness of the concrete and the saw diameter is very important to determine if your circular saw will be able to cut the given concrete.
Circular saws have a protective metal guard on the top and a spindle in the middle that rotates the saw with the help of the motor attached to it. As a result, for instance, a 7-inch saw can cut nearly 2″ deep in any concrete. If you've got a larger circular saw or if the concrete is less thick, you might be able to cut the concrete completely.
However, if the concrete is thicker than the maximum cut depth of your circular saw, you might need to apply force with a sledgehammer to cut down the remaining concrete.
Using measuring tape, you can measure your circular saw's estimated cut depth. Place the measuring tape at the saw's tip on the circumference and the other end to the center.
How To Use A Concrete Saw?
Using a concrete saw to cut down a concrete surface is easier said than done, and you must follow some essential steps to avoid an unhealthy cutting session. Follow these steps:
Prepare the surface by placing it on a flat surface like the ground. The cutting surface must not wobble as the saw will exert a lot of force, and the surface must stay in place. Mark the surface lines, so you know where to cut the surface.
Wear all the safety gear, including a dust mask, eye-protective gear, ear plugs (if you don't like a noisy saw), gloves (avoid slippery gloves), and shoes. Avoid wearing full-sleeved shirts and synthetic clothes that can easily catch fire.
Equip the cutter with the right blade size needed to cut down the surface properly. You might also need a sledgehammer if your concrete blade isn't large enough to cut through the surface completely. Ensure that the saw's power cable isn't damaged. Plug it in.
Attain a comfortable position and adjust the saw's angle on the surface, so you remain in a comfortable posture. Ensure you're holding the saw well with both hands. Avoid using the cellphone. Ensure you can see the surface properly and the environment is well lighted.
Start the saw with low RPM first. Let the blade cut a bit on the surface. Make a shallow cut line through the marked line so your blade can remain in place.
Make deeper cuts through the line and let the blade cut through the surface.
Does A Concrete Saw Need Water?
A concrete saw may require water if the blades are not designed for dry cutting. Ideally, blades in concrete cutter are designed for wet and dry purposes. The dry-cutting blades have segments that prevent the blade from overheating. Hence they don't demand water. However, normal blades without any segments demand water since they'll overheat, and water is their only cooling agent.
Interestingly, you can use a dry-cutting blade with water if the user wants, but a wet blade cannot be used without water since it'll heat up immediately and get damaged or might even break immediately. If used with water, a dry-cutting blade may see increased life and help keep the vision clear since the dust will settle down with water.
What Are Concrete Saw Blades Made Of?
Bonded abrasive materials are used to make saw blades. Most saw blades are made of steel, which is also called high-speed steel (HSS). However, cutting high-speed steel demands using cobalt HSS. Many more materials are used in cutting saw depending on the surface to be cut.
For example, some saws may be made of iron or similar metals suited for small-scale projects. You can cut concrete even with iron blades, but they are not durable, which is why people don't take an interest in iron blades or other blades made of soft metal.