Introduction
San Judas is a highly significant symbol in many communities and cultures, especially within the Hispanic community from the 20th century. San Judas tattoo is used to reverence the iconic Saint Jude, originally known as Saint Judas. Still, the name was changed to avoid most people mistaking him for Saint Judas who betrayed Jesus.
Saint Judas Thaddeus is recognized as the patron of hope, an intercessor, and a direct route to Jesus, someone who intervenes on behalf of others when seeking one thing or the other. The symbolism of San Judas tattoos spreads over several characteristics, and all of these characteristics are illustrated in most of the design tattoos in one way or the other.
Related: best tattoo guns
In this article,
San Judas Tattoo's Meaning or Symbolism
1. Loyalty:
Although Jude wasn't a close relative of Jesus Christ, he was one of the first followers of Christ. He was with Jesus from the beginning until his death and crucifixion, and even after his death, he became an evangelist, preaching the gospel of Christ everywhere. The Bible also attests to the staunch loyalty of Jesus Christ.
Getting a San Judas Tadeo tattoo is a great way to let others know that you are a loyal person who remains beside your loved ones regardless of the situation.
2. Evangelism:
Although most Christians argue about the gospel's support of the Bible, Bible-themed tattoos have always been used as a form of body art. The people who get these kinds of titles justify it by saying that it's a way of spreading their faith and carrying the gospel around with them.
Getting a San Judas tattoo can be a form of evangelism for some, but it can also symbolize evangelism because Apostle Jude was a great evangelist.
3. Martyrdom:
Saint Judas died a gruesome death after being beheaded by the Romans due to his loud evangelism. According to the Bible, the Apostle didn't mind this death as he was happy to be counted worthy of such.
The martyrdom is why some soldiers decide to get a San Judas tattoo.
Other reasons like kindness, change, miracle, and servitude make different people get tattoos. However, most of these reasons inform the design of the tattoo that anyone gets.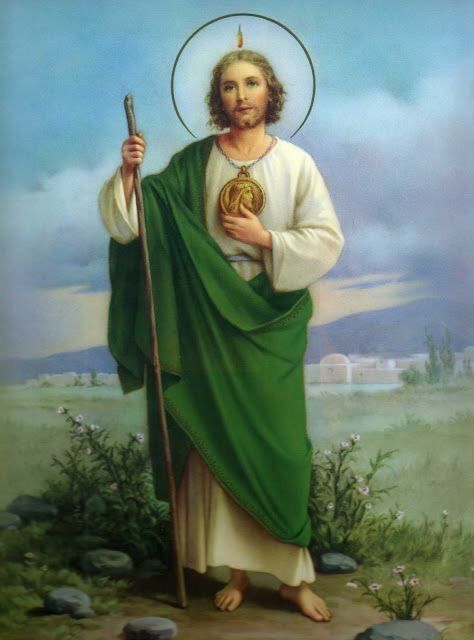 History of San Judas (Apostle Judas Thaddeus)
Apostle Judas Thaddeus was known and called by different names, including Thaddeus, Jude, and Labbaeus. There is a lot of disparity regarding his descent and relativity with Jesus. While some people, especially protestants, believe that he is a different Jude from the Judas that betrayed Jesus. Most Catholics believe that every variation of the Judas and Jude name refers to a single entity. There is also an ongoing argument on whether or not he is the same Apostle that wrote the epistle of Jude.
The most unifying concept on the issue of Apostle Jude is that he was one of the twelve apostles.
Most people do not know a lot about Saint Judas, so his life is replete with many controversies and disparities in information. Another point of this controversy is his death. While some people believe he was killed in Persia, others do not agree. The only thing that several people and schools of thought agree upon is that he was beheaded with an ax. Therefore, in most San Judas Tadeo tattoos, you will find the image of an ax incorporated into the real art.
Judas Thaddeus is said to have died in 65 CE in a place that is now known as a region in Syria. However, to date, his remains can be found in St. Peter's Basilica, alongside Simon the zealot, who experienced the same martyrial death as the Apostle.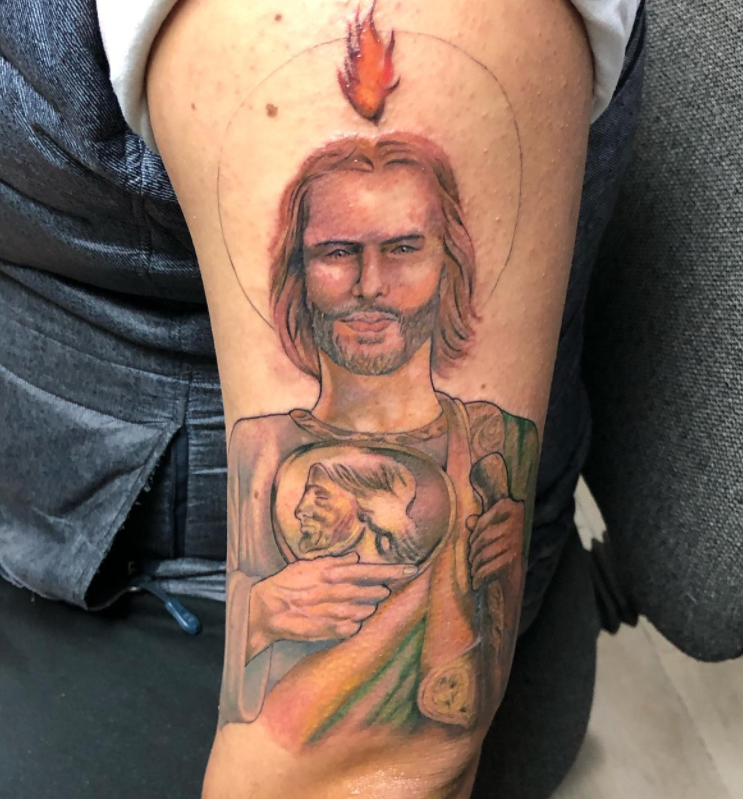 Why are San Judas Tattoos So Popular?
The consensus with the story of Apostle Judas is that most people mistake him for the same Judas that betrayed Jesus and therefore didn't see any reason to ask him for prayers or beg him for intercession. So, for this reason, he was always waiting on people's prayers. This wait, the story continues, accounts for his swift response to the few people who do pray to him.
The saint's popularity in the Hispanic community is mainly due to them regarding him as a patron for lost causes, which is very relatable to their everyday lives. This is also why it seems to gain continual popularity in the Hispanic prisons, because of the loss and hopelessness attached to a prison experience.
Also, at the time, Saint Judas was on his own a lot. When Christians were persecuted and experienced a lot of hostility, Jude was there to help give exhortation and strength to people who were hurt and hated. He also wrote a letter to Eastern Christians and churches that has become home to many persecuted Christians.
Suppose you ever come across someone who has a San Judas Tadeo tattoo and asks about it. In that case, they will always have one deep or meaningful story of loss, or terrible situation of hopelessness, or something equally grievous.
Design and Placements of San Judas Tattoo Designs
The San Judas Tadeo tattoo is something of high reverence and deep meaning. Therefore some key things show the importance of the tattoo. Some of the most significant characteristics of a San Judas tattoo include:
1. Placement: It is a given that portraits, drawings, and designs of any Holy figure are generally reserved for the upper part of one's body, and the San Judas Tadeo tattoo is no different. Depending on how large or small the tattoo will be, you can choose to have the tattoo inked on your chest, back, forearm, or bicep.
2. Motifs: There is a large pool of motifs you can pick from to add deeper meaning to your tattoo design. Some people use the staff, others the ax, while some have him holding Christ's medallion to represent holiness.
3. Color: While some people are okay with just using black ink in their design, others make good use of color in designing the blood, his robes, or even flowers around the creation of the saint.
4. Halo: In additional attempts to illustrate the holiness, sainthood, or apostleship of Saint Judas, most people draw a Halo around his head. For some, it's a simple circle. For others, they include some other intricate details even to the Halo.
5. Stance: In some San Judas tattoos, people have him standing upright with one of his fingers pointed skywards. He is simply looking sideways at some other designs, and they are still the rare designs drawn inside a cross.
Top 30+ Amazing San Judas Tadeo Tattoos Ideas
Now that you have a good idea and basic knowledge of the history, importance, meaning, and symbolism of San Judas tattoos, you can look at them from the proper perspective. In case you are looking to get one or two inks of San Judas Tadeo tattoos, we have compiled a list of all kinds of San Judas tattoo designs you can try.
Whether you want something simple, small, big, complex, with color or not, there is certainly a San Judas Tadeo tattoo design. Go through our gallery of choices and pick the best option for yourself.
SAN JUDAS TADEO TATTOO DESIGN GALLERY
San Judas Tattoo on Arm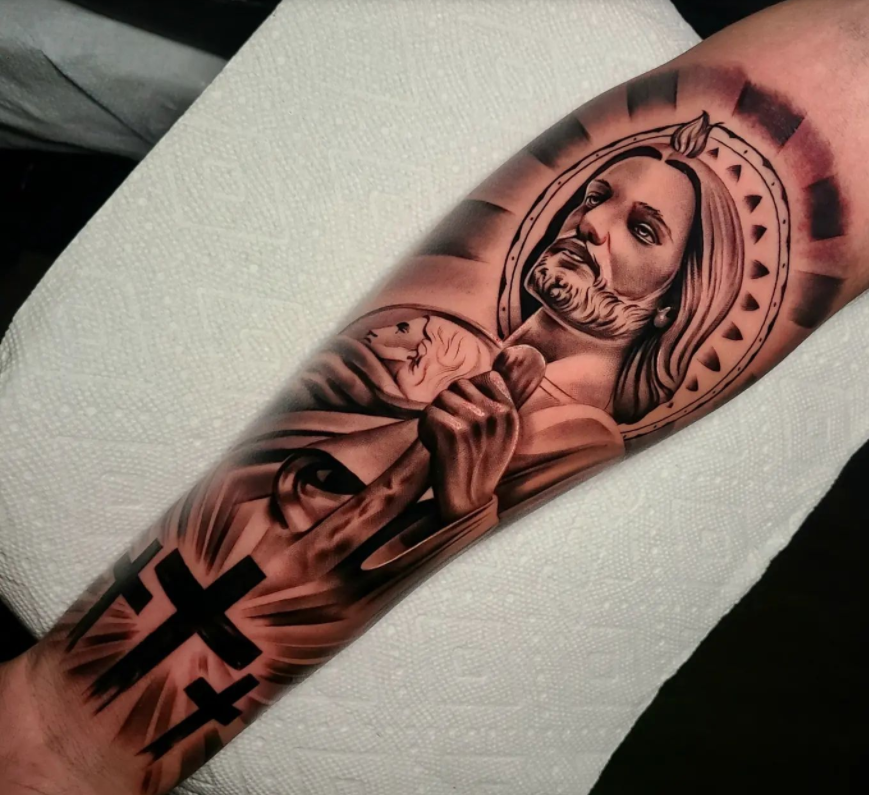 Realistic San Judas Tadeo Tattoo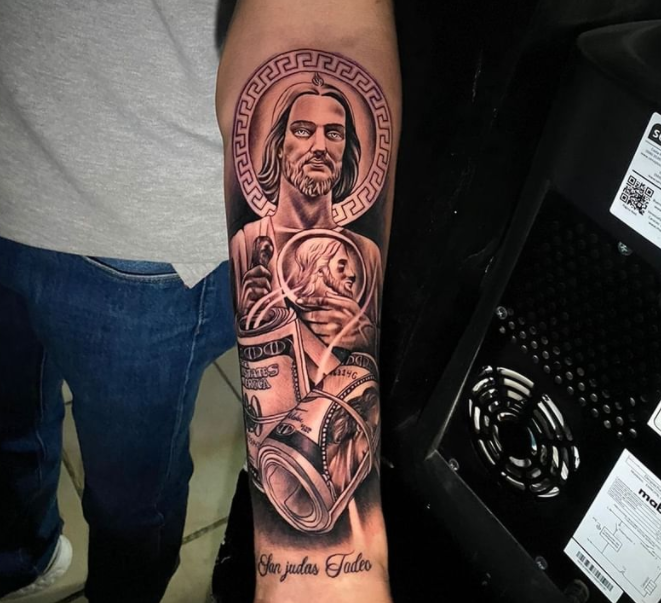 San Judas Tattoo with Mirror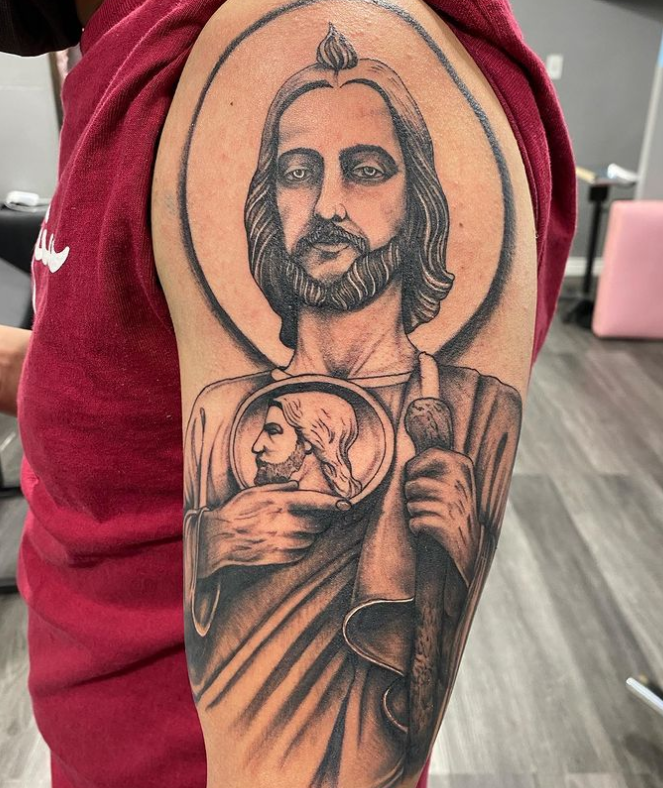 San Judas Chest Tattoo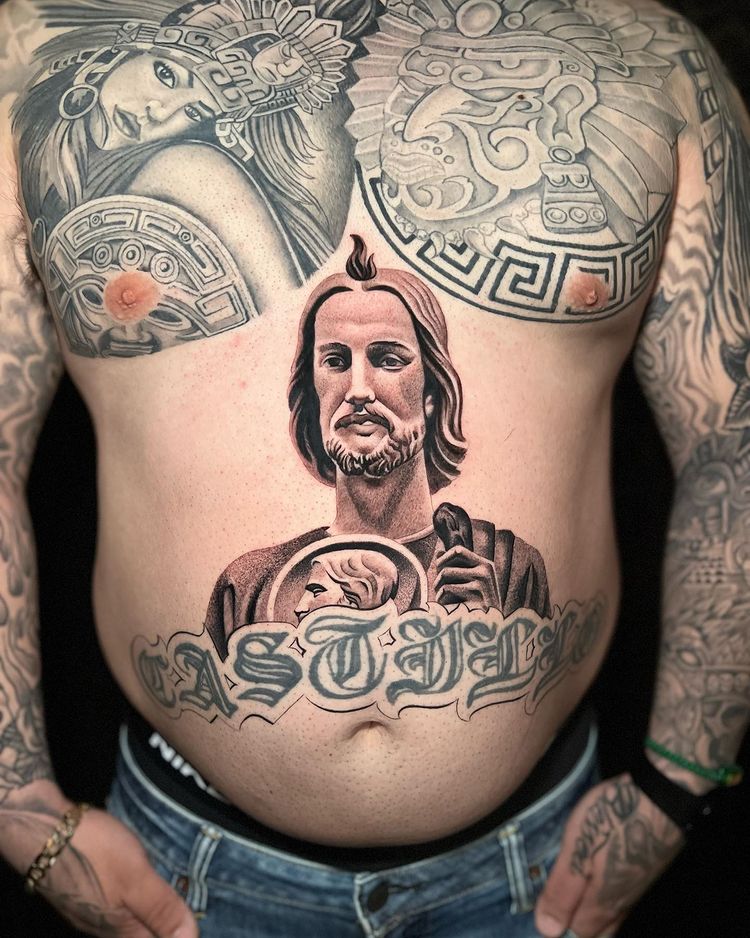 San Judas Arm Tattoo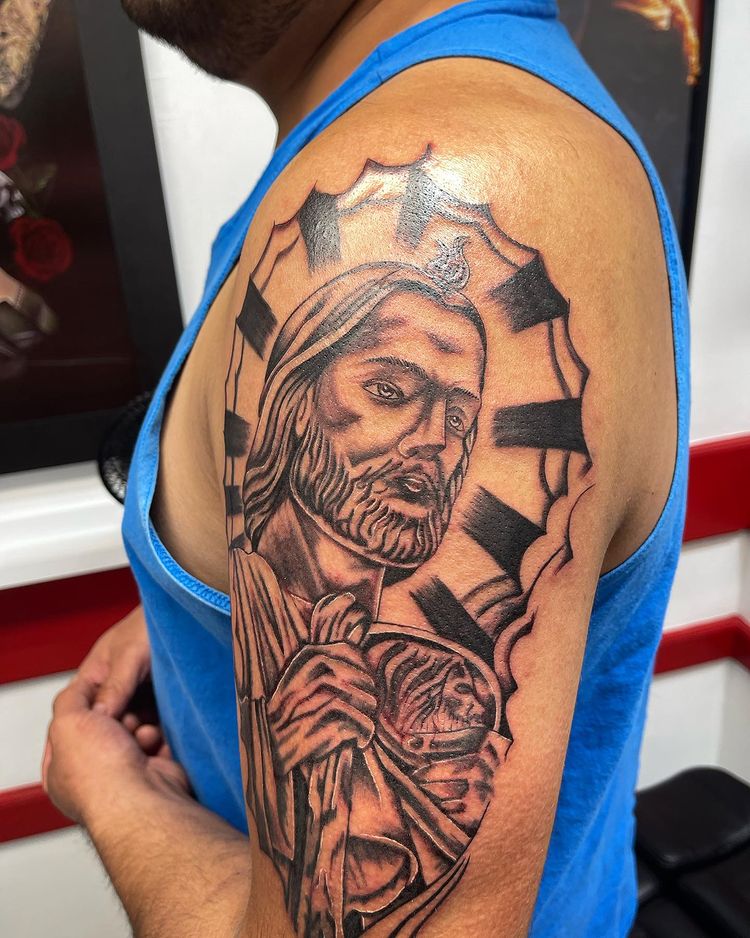 Colorful San Judas Tadeo Tattoo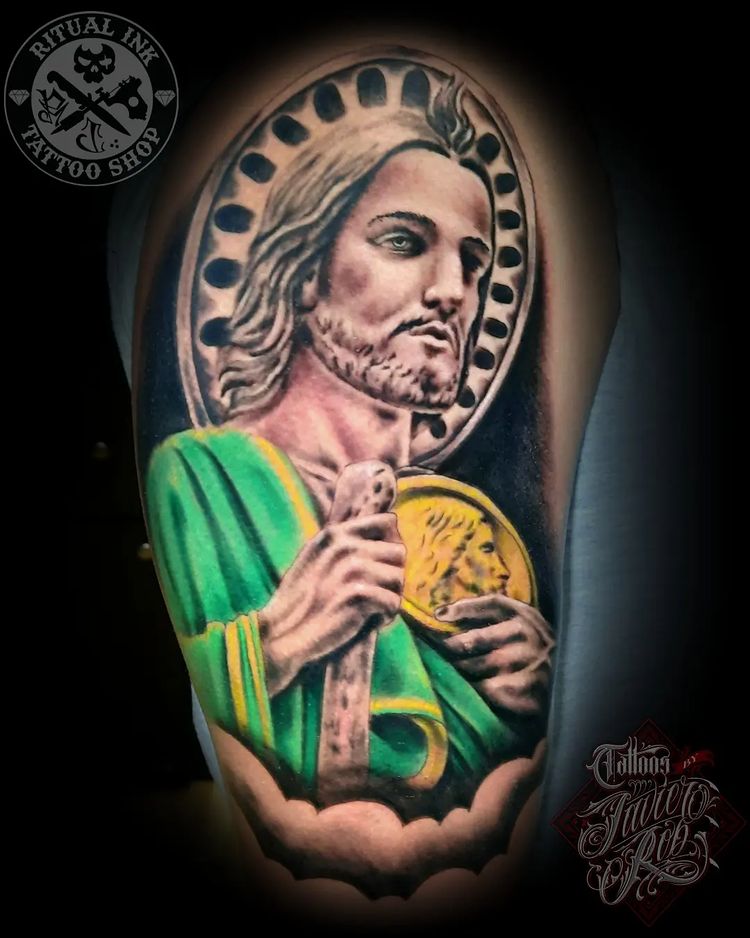 Tattoo De San Judas Tadeo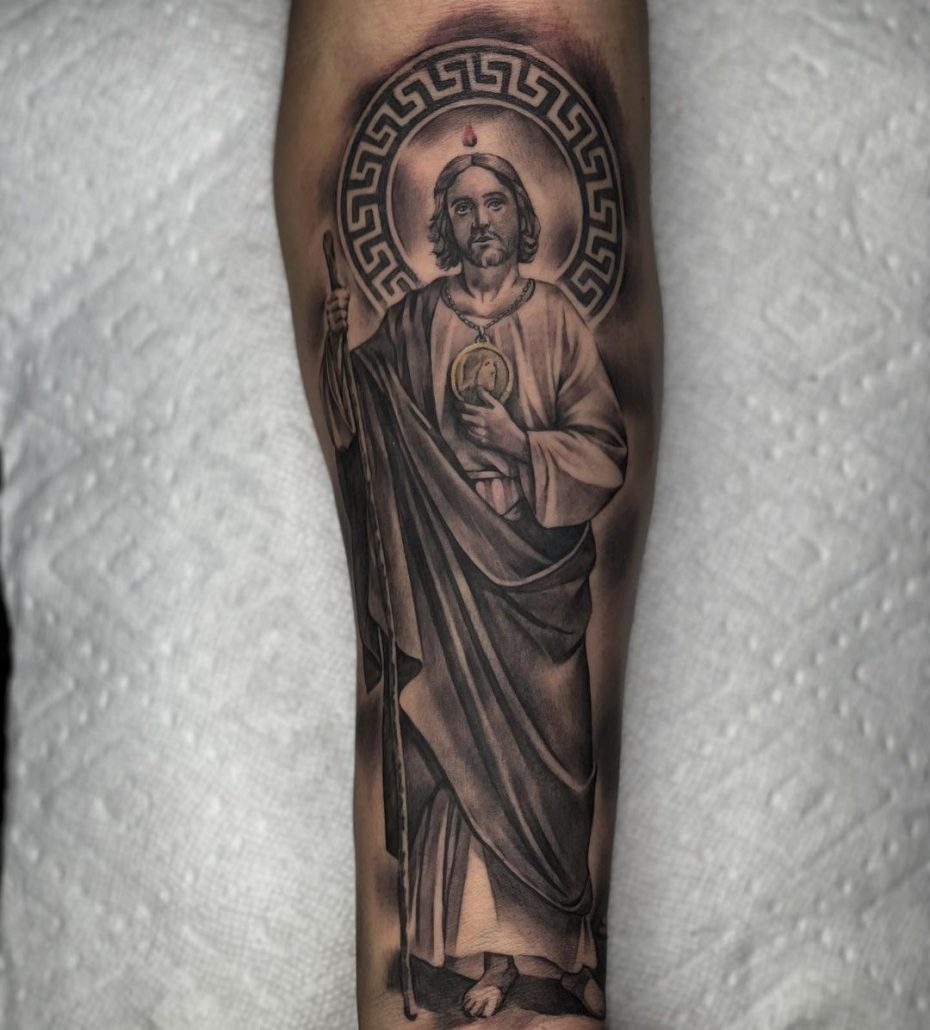 Cute San Judas Tadeo Tattoo Design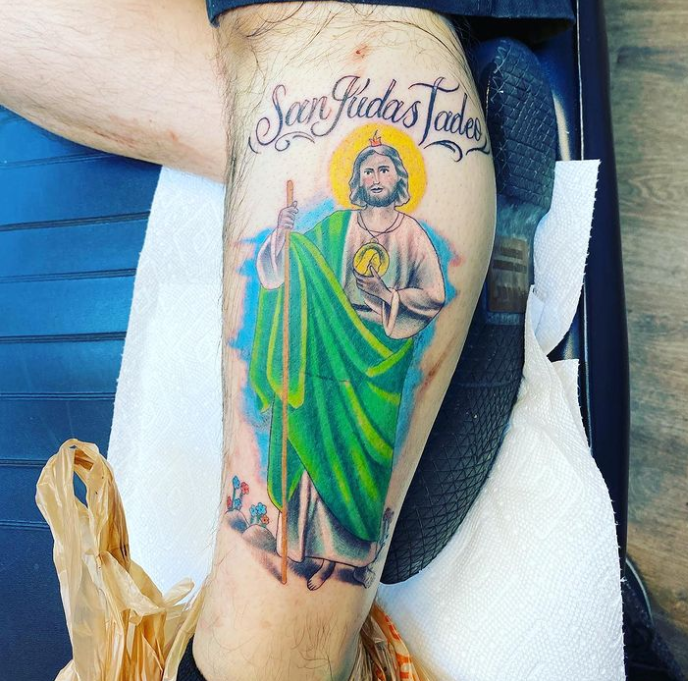 San Judas Tattoo and Pigeon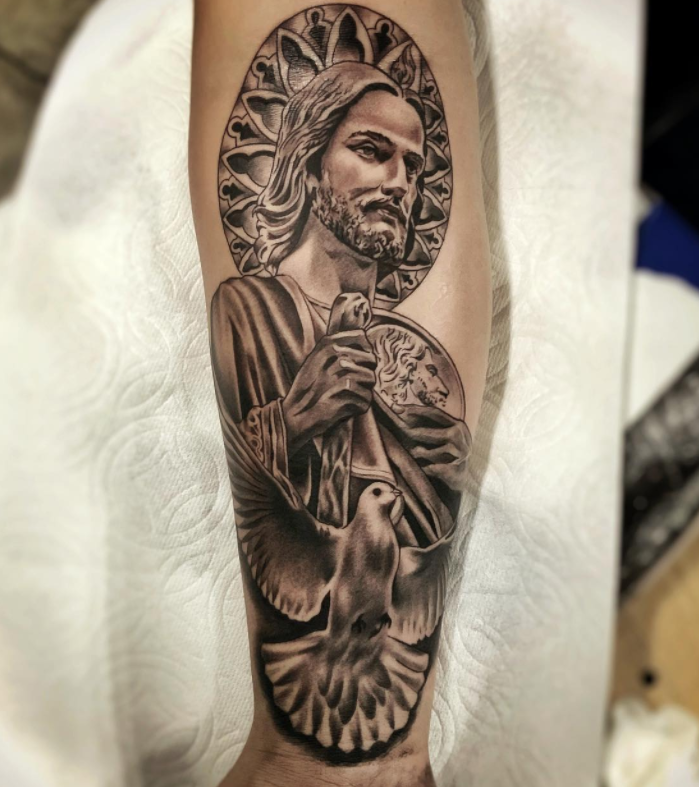 San Judas Tadeo Tattoo Design on Chest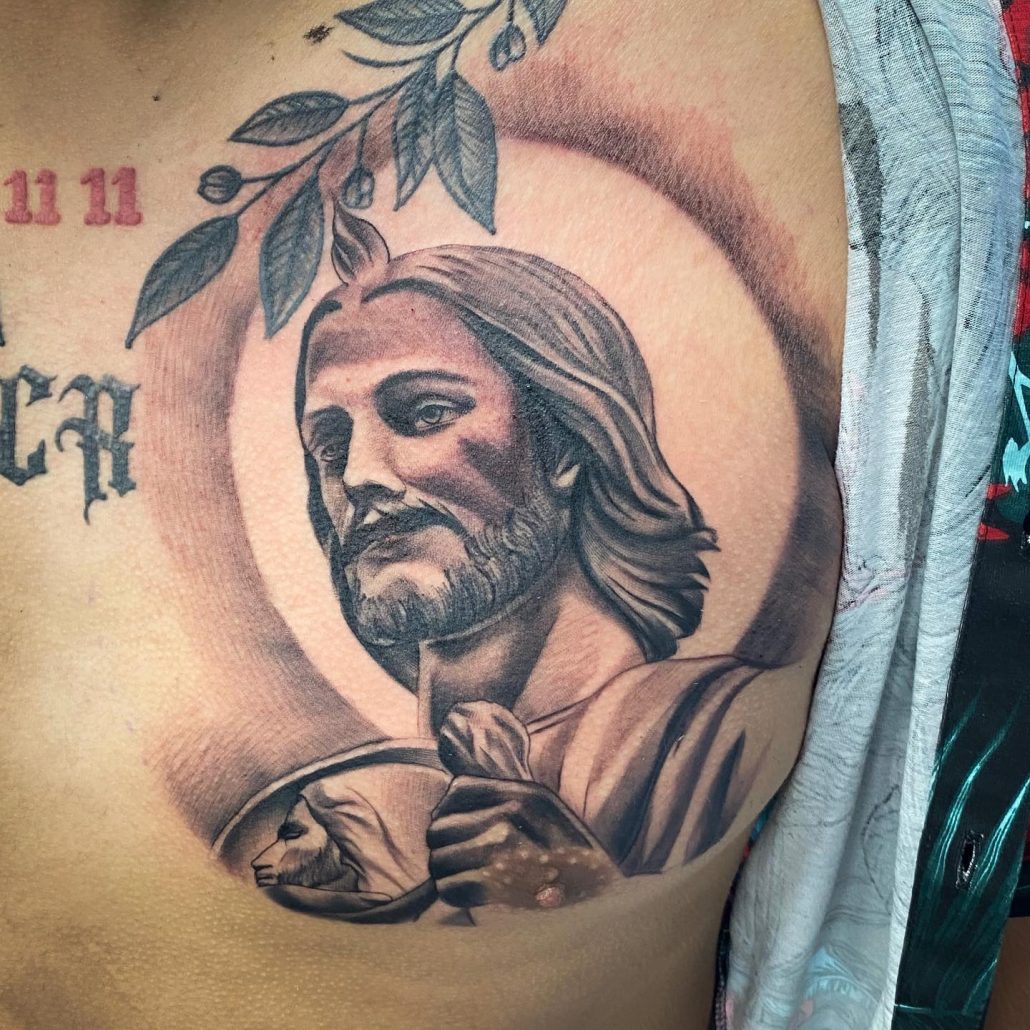 San Judas Sleeve Tattoo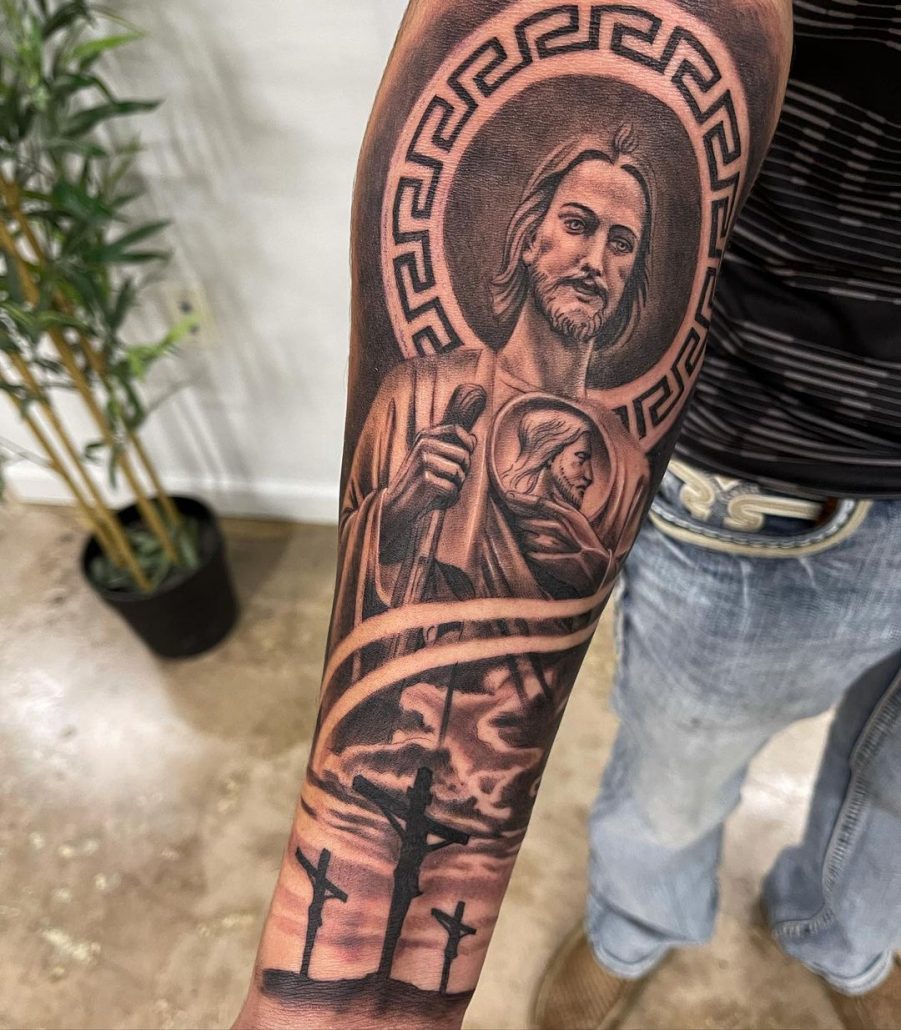 San Judas Tattoo with Roses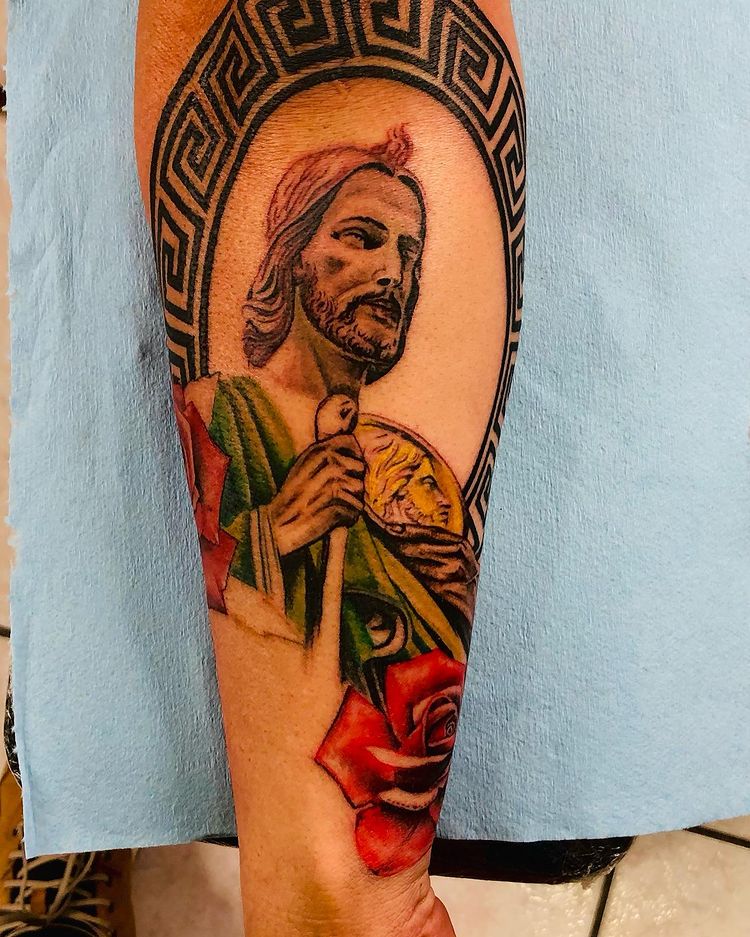 Small San Judas Tattoo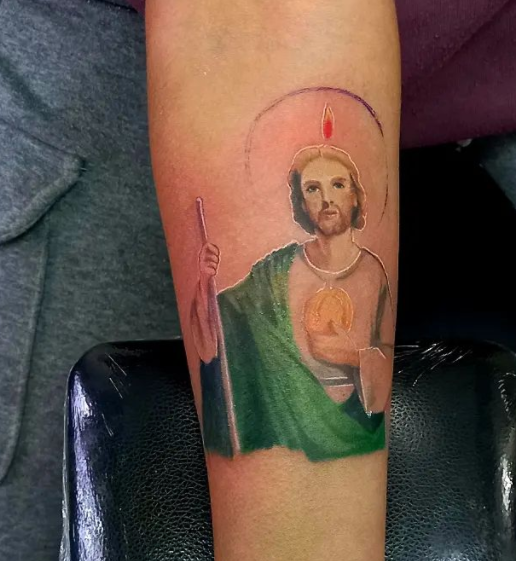 San Judas Tadeo Tattoo with Kind Smile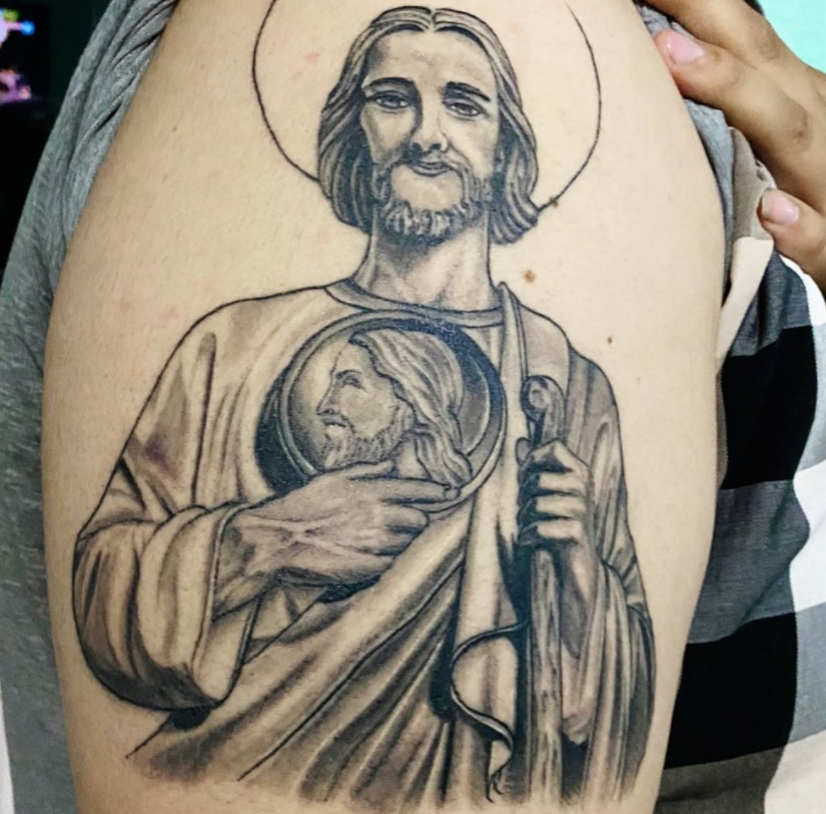 Cross and San Judas Tattoo Drawing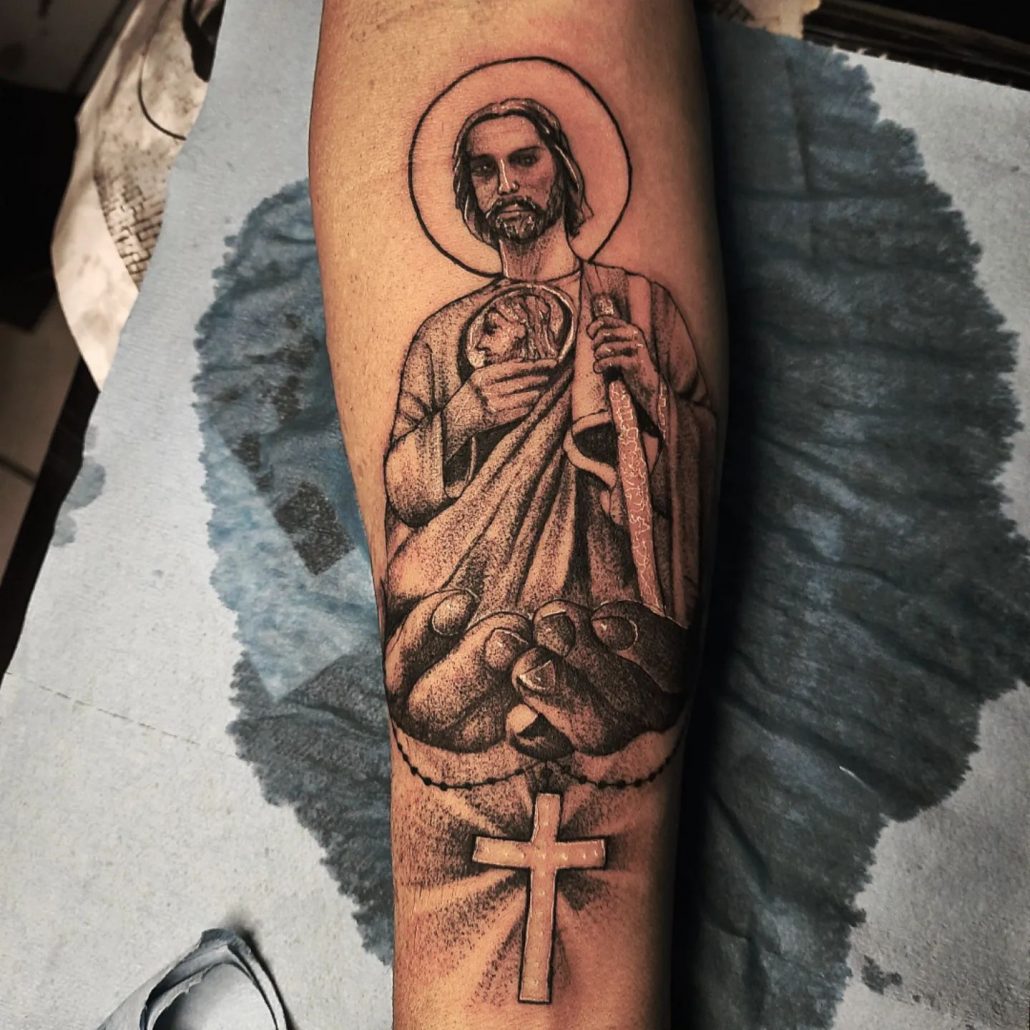 Large San Judas Tadeo Tattoo on Chest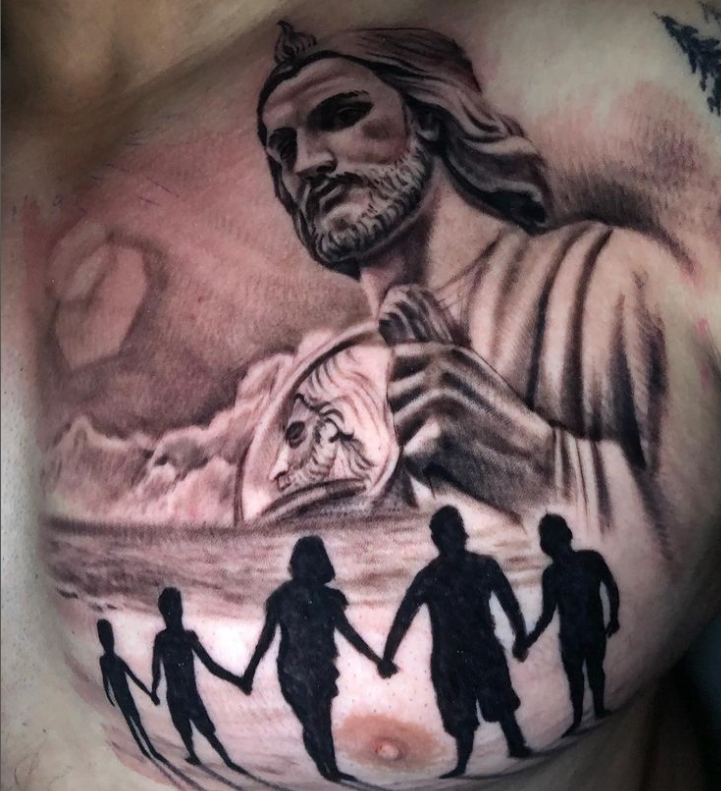 San Judas Tadeo Tattoo Design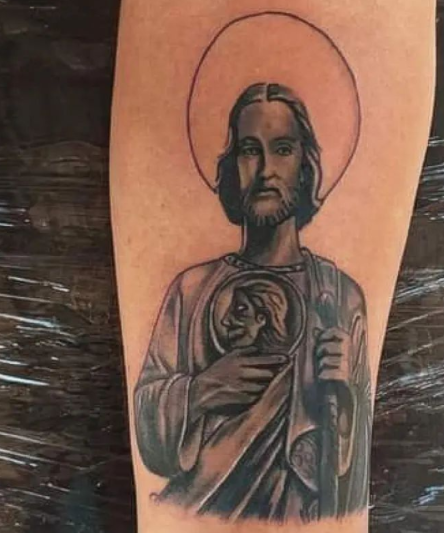 Smiling San Judas Tattoo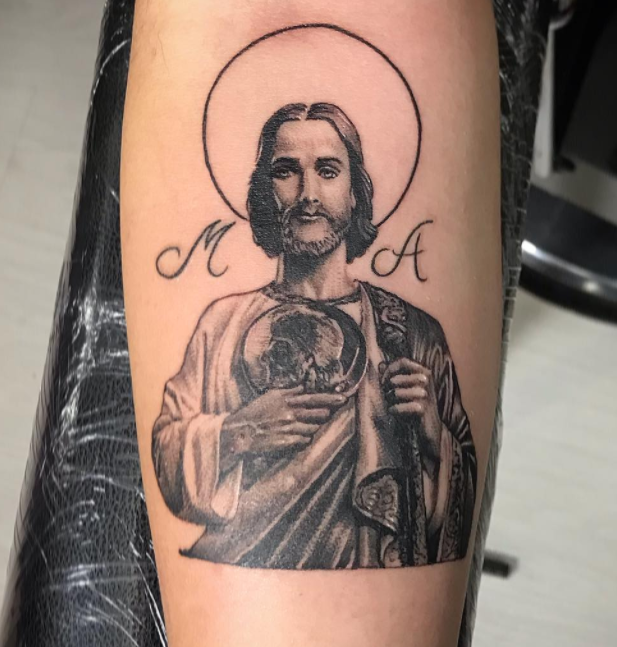 San Judas Tattoo Idea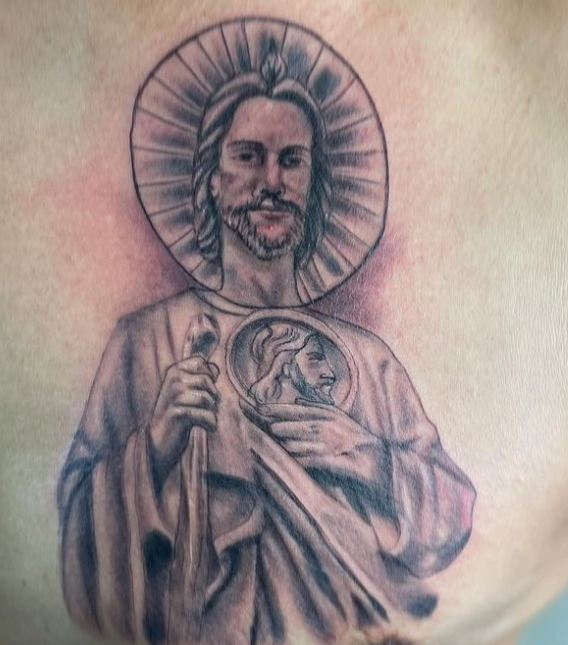 Small San Judas Tadeo Tattoo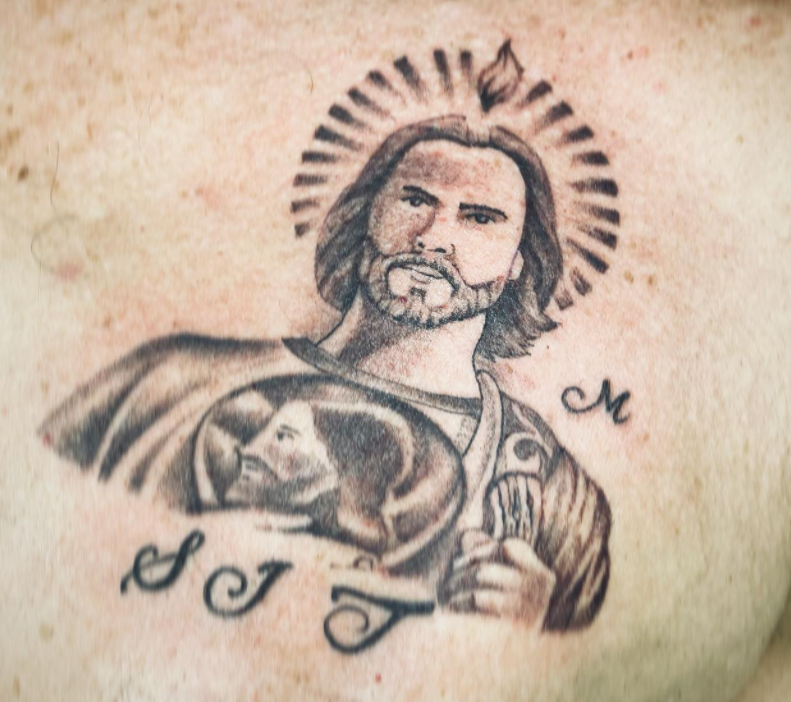 San Judas Back Tattoo in Color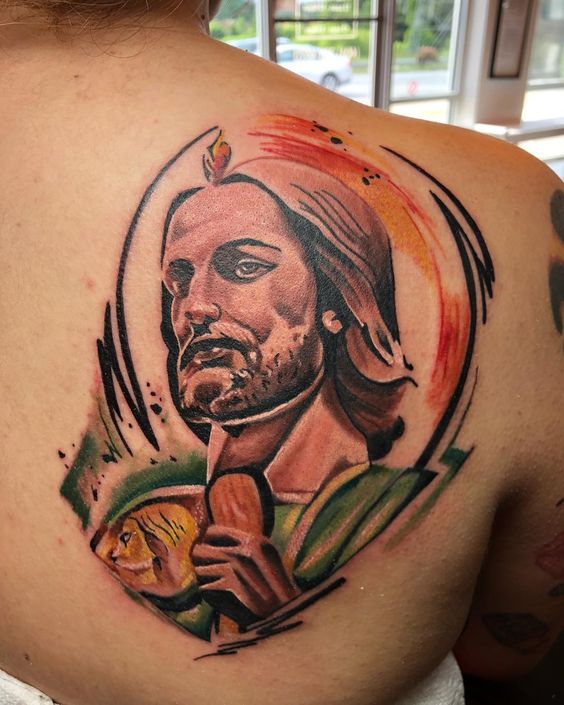 San Judas Tattoo with Big Rose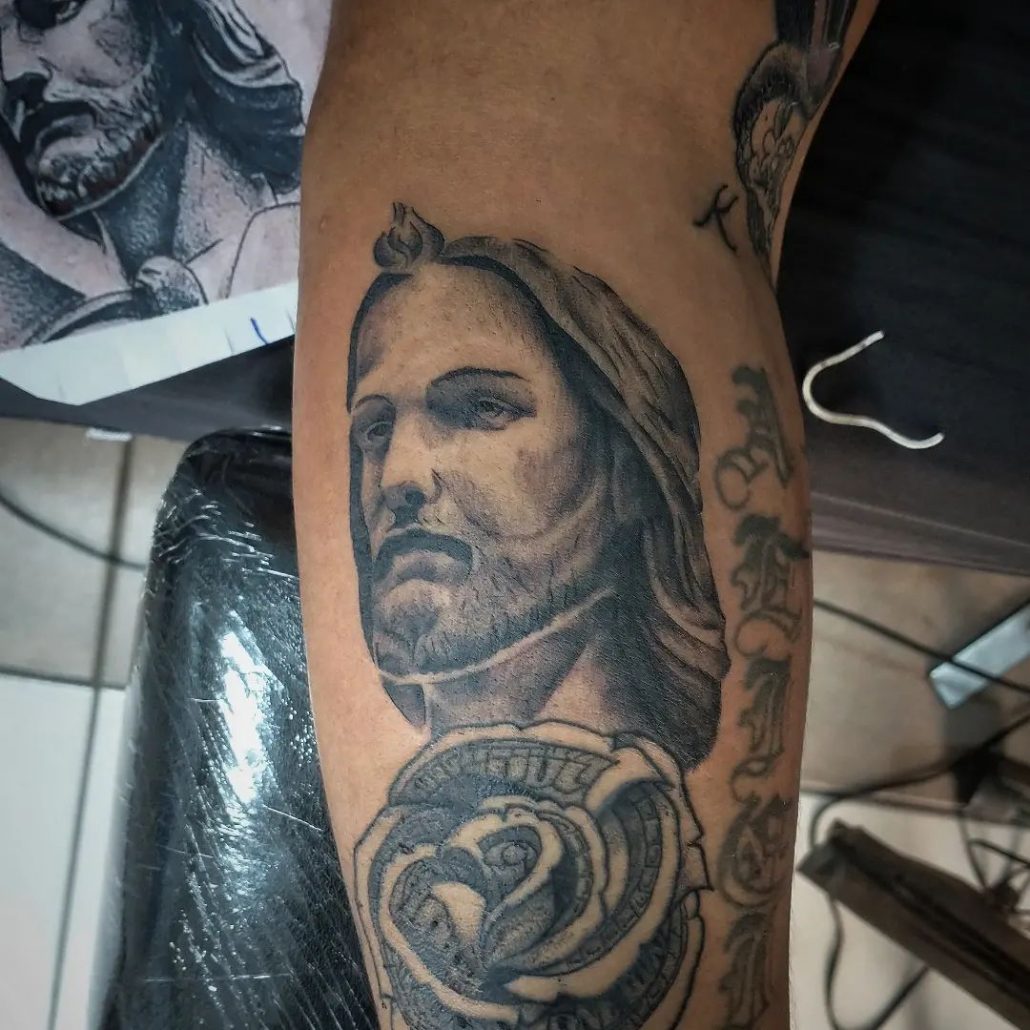 Cute San Judas Tattoo Idea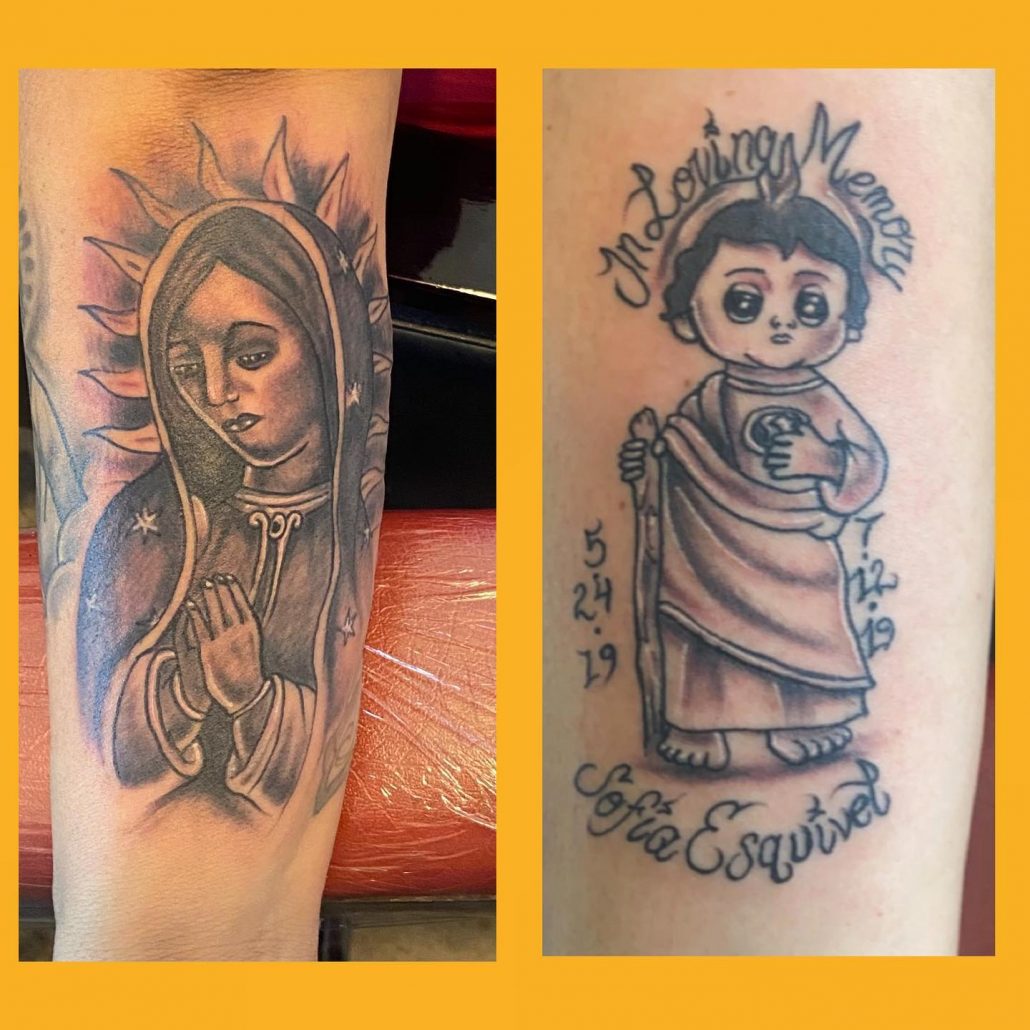 Creative San Judas Tadeo Tattoo and Cross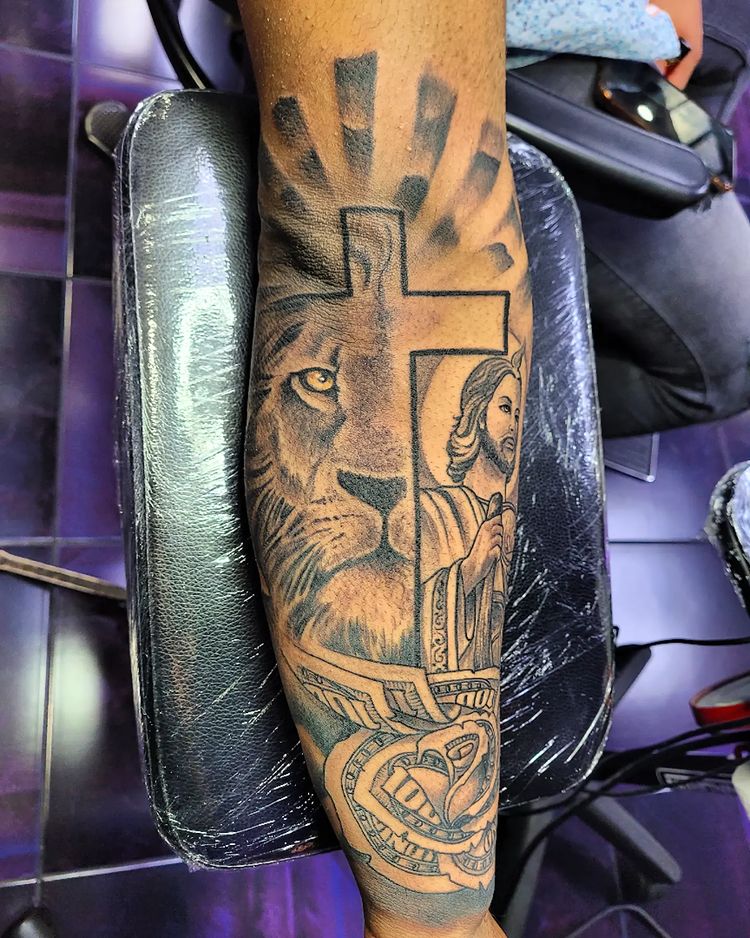 San Judas Tattoo Forearm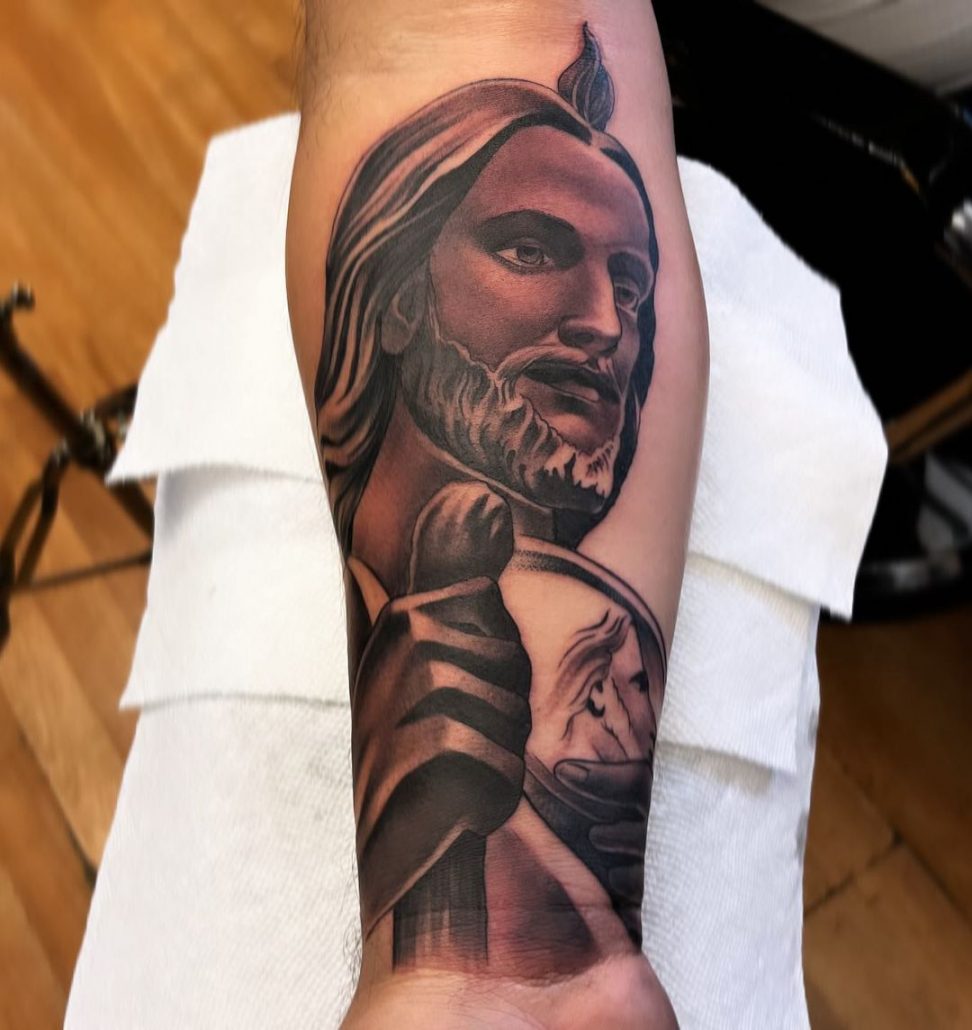 San Judas Tattoo Shoulder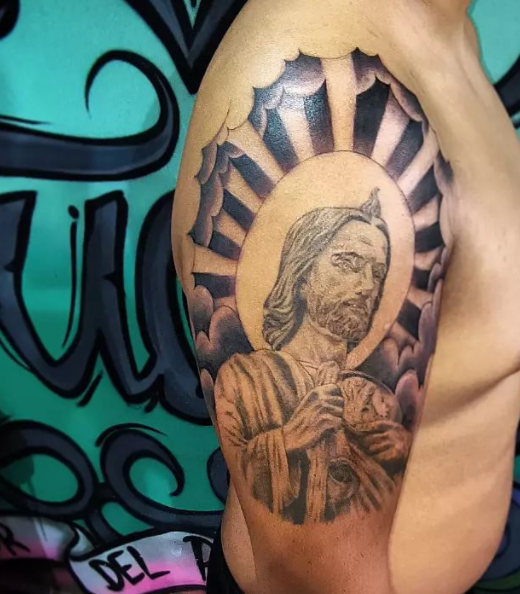 San Judas Tadeo and Pigeon Tattoo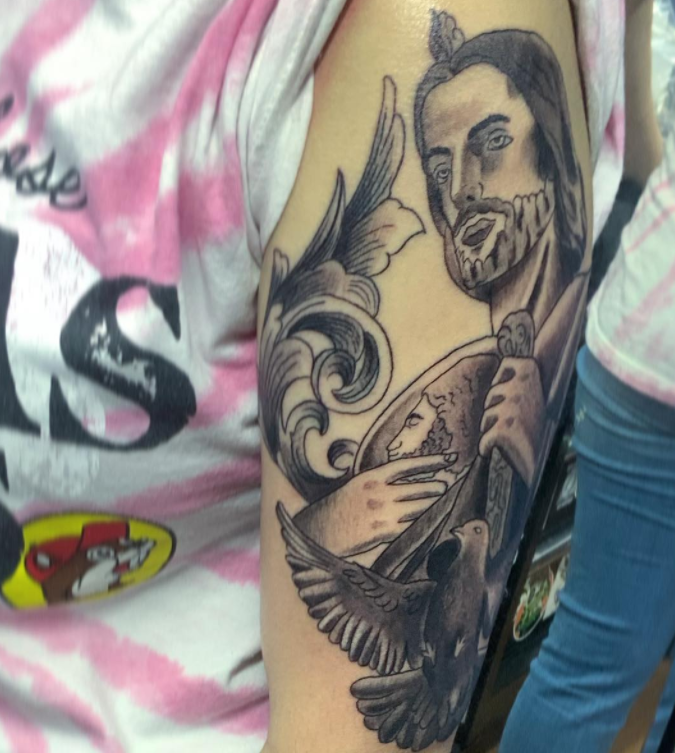 Solemn San Judas Tattoo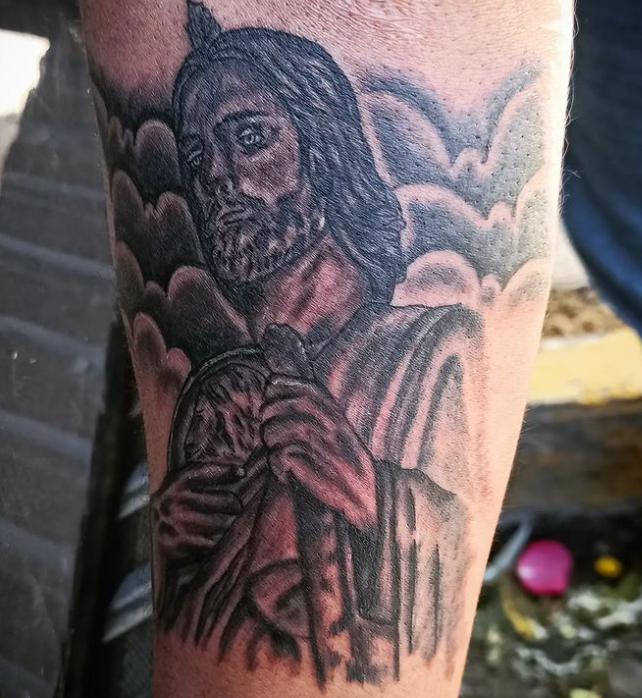 San Judas Sleeve Tattoo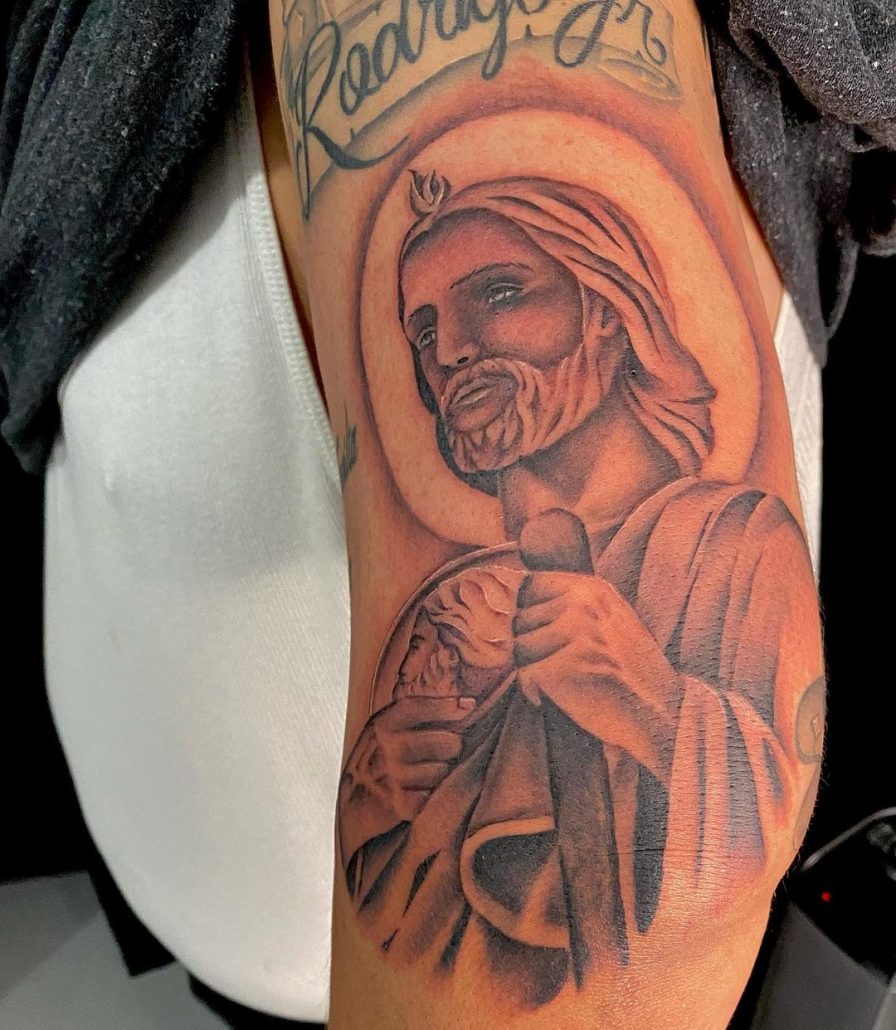 Sleeve San Judas Tadeo Tattoo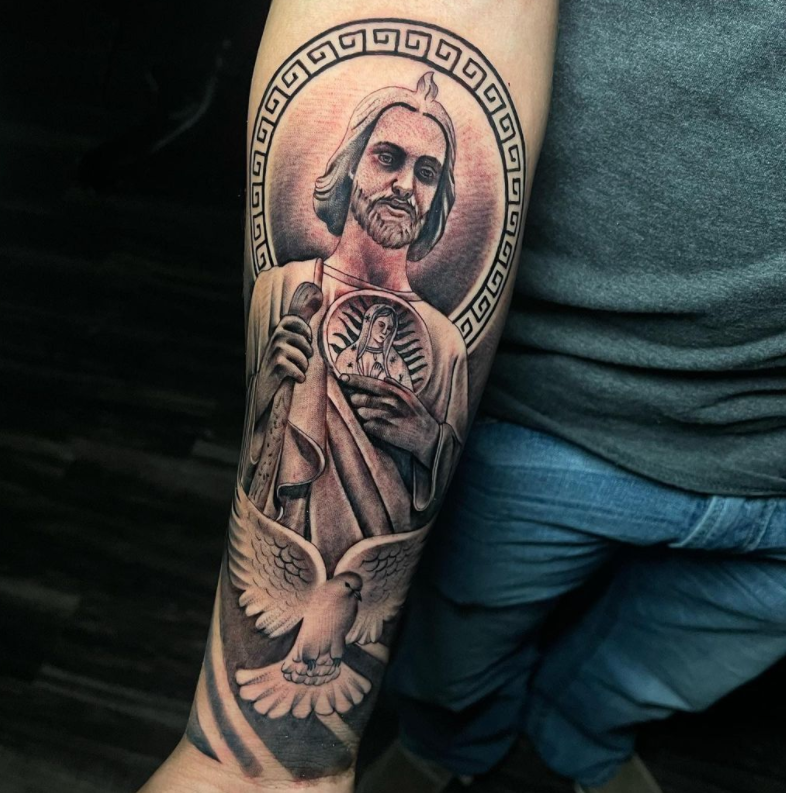 San Judas Neck Tattoo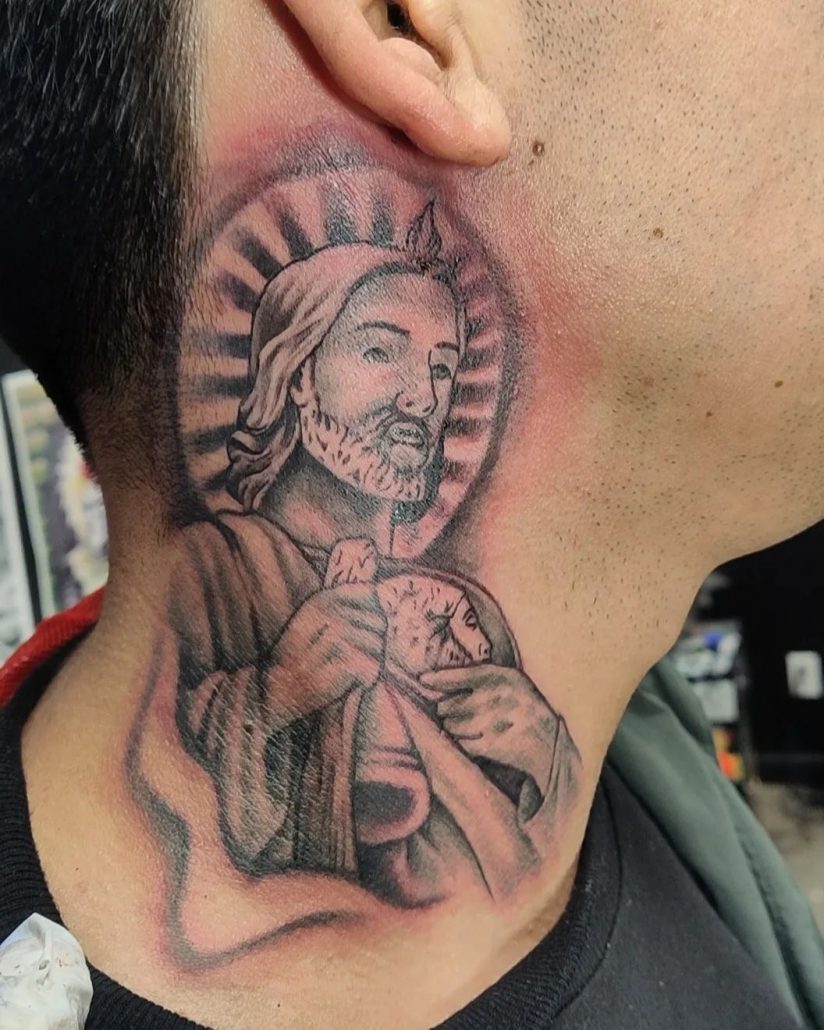 San Judas Tattoo on Hand with Roses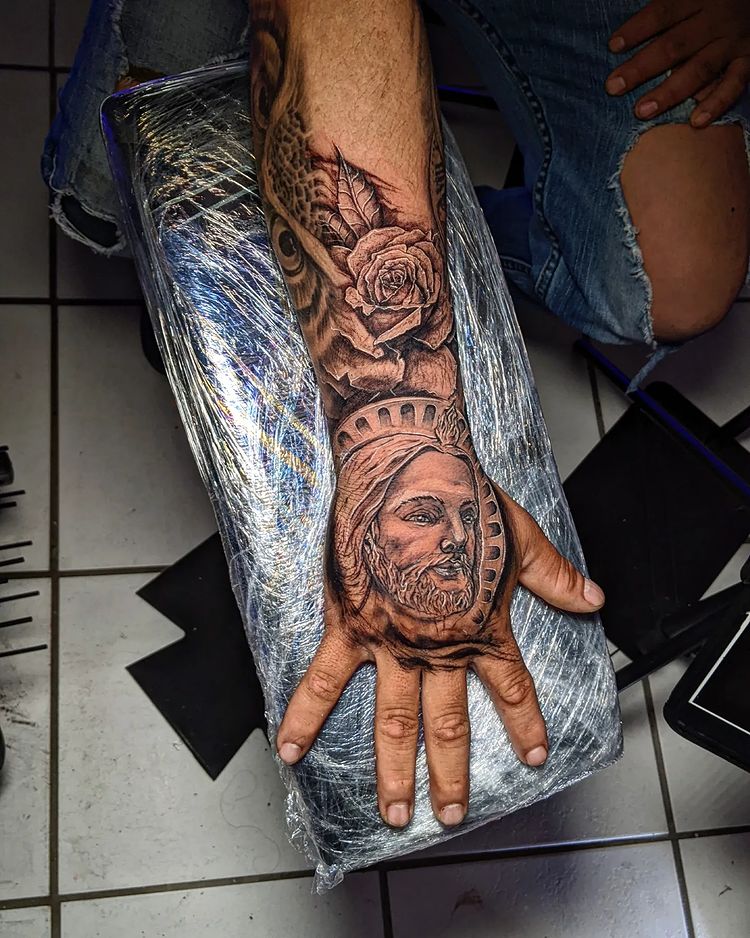 Green San Judas Tadeo Tattoo