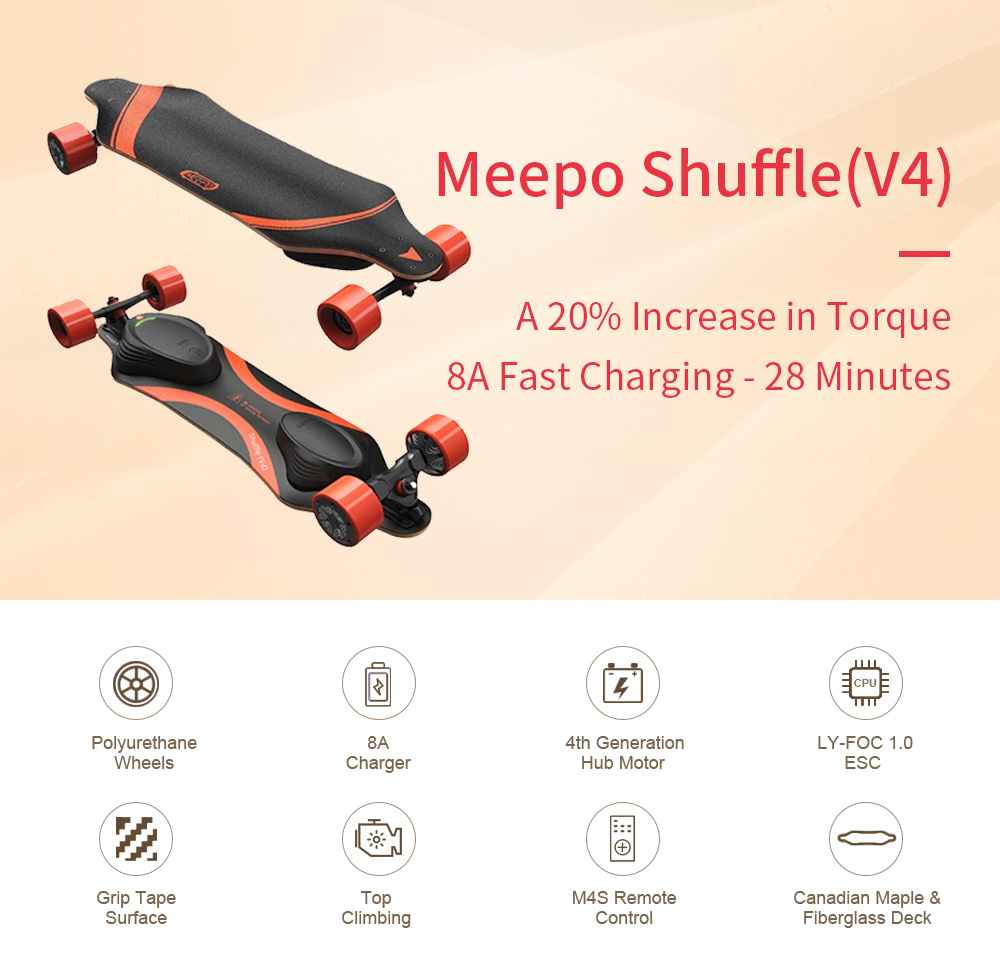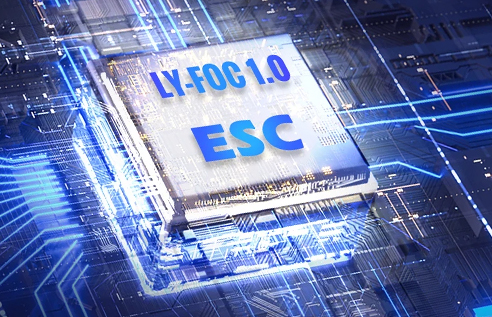 LY-FOC ESC System
The Meepo features a new ESC braking system, which provides more precise control over the board. Riding is safer.
Precise Control
Beginner-friendly
New ESC System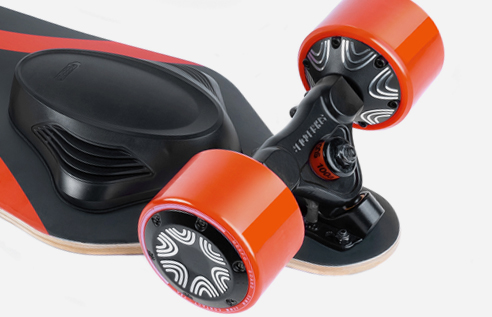 Shredder 45° Downhill Trucks
Shredder V4 is made of aluminum alloy, which has greatly improved durability. It strikes a good balance between stability and sensitivity.
A356.2 Aluminum Alloy
Stability & Agility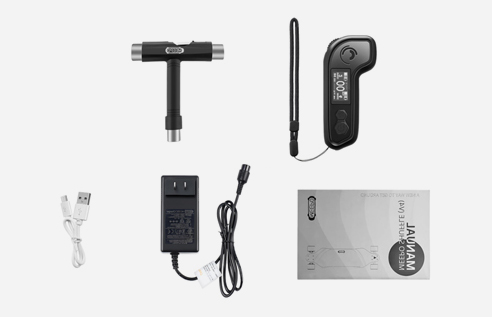 8A Charger
It supports 8A fast charging, from 0% to 100% in 28 minutes.
Your board can be fully charged in 30 minutes with an 8A charger.
No more anxiety of a low battery.
There are four modes to accommodate daily uses (including the novice-friendly "LO" mode. )
8A Fast Charging
30 Minutes
Novice-friendly "LO" Mode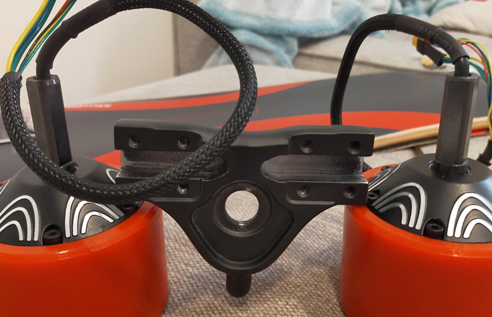 4th Generation Hub Motor
Compared to our V3 motor, the latest 4th generation hub motor boasts an impressive 20% increase in torque.
Even more impressively, it still maintains our industry-renowned power efficiency. Meepo dominates skateboards with power efficiency and quietness.
620W*2
A 20% Increase in Torque
Industry-renowned Power Efficiency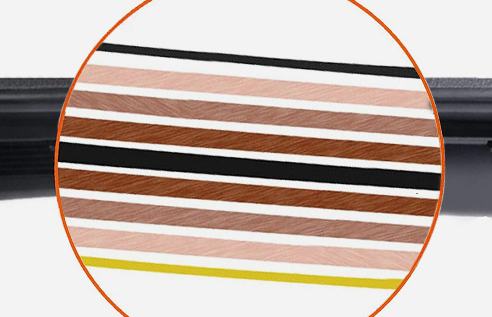 Canadian Maple & Fiberglass
A concave face helps you turn and provide a stable ride at high speeds.
Meepo has eight layers of Canadian maple and one layer of fiberglass to make the board more flexible and durable. Waterproof is up to IP6X.
A Concave Face
Eight Layers of Canadian Maple
One Layer of Fiberglass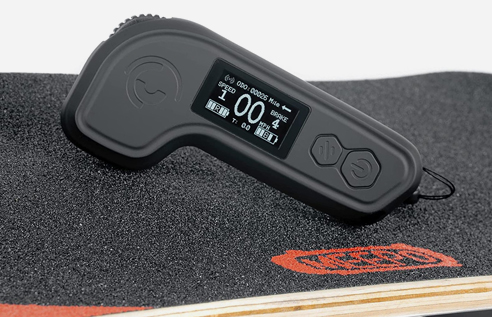 M4S Remote Control
It is the only remote control that can independently control acceleration and braking modes.
With 2.4Ghz channels and signal boosters, Meepo ensures a stable and secure connection between the board and the remote control, even under the worst signal interference.
Independent Control
2.4Ghz Channels
Signal Boosters
SHIPPING & FAQ
Standard Shipping:
Order now, then we will ship your skateboard by sea / by train
Arrives at US / Canada about 35-50 Business Days(After shipping)
Arrives at the UK about 40-55 Business Days (After shipping)
Arrives in Europe about 60-70 Business Days (After shipping)
Air Shipping:
Order now, then we will ship your skateboard by air
Arrives at the US about 7-15 Business Days (After shipping)
Arrives in Europe, Canada about 15-20 Business Days (After shipping)
Arrives at Asian countries about 7-15 Business Days (After shipping)
* We will update the delivery time in real-time according to the feedback of the logistics company.
Q:When will the order be shipped?
We will ship the board out within two business days. (Will update the tracking number in a few days.)
Q: May I modify an order after placing it?
Yep! Please contact us within 1 hour after purchase. However, we cannot assure you that we will change the order successfully as it is difficult to modify the order once sent to the factory.
Q: Can I modify my address after the order has been shipped?
Please contact us at SERVICE@LUMBUY.COM, then we will always do our best to assist, but do not make any guarantees. Sometimes it is too late, and the courier no longer allows the change. If there is an additional charge for changing the address, we will notify the customer before deciding to change if they want to proceed. The customer will be responsible for any additional fee incurred.
Q: Will I receive a tracking number?
Yep! You will receive an email with a tracking number after shipment.
Q: Do the batteries need to recharge after I received the board?
Yes, you could do that. Because we will not fully charge the battery before shipment (for protecting the battery for long-distance shipping) and it may be low upon arrival.
Q: How much weight can the board carry?
The max load of the board is 300Pounds. We recommend a max weight of  300 Pounds. If it exceeds this weight, it may affect the performance and speed of the board.
Q: How to adjust steering sensitivity?
You can use a T-wrench to adjust the tightness of the nut at the front of the truck. Loosen the nut for flexible steering. Tightening the nuts will harden the steering.
Q: How fast can I get on the board?
29 mph.
Q: How can I pair the remote with the board?
It's easy!
1: Please turn off the board and remote.
2: Meanwhile, long-press the power button of the board and the remote for more than 5 seconds.
3: When the remote vibrates, it will show that the pairing is successful.
Q: How can I get support when my board has a problem?
Please contact us by email: SERVICE@LUMBUY.COM. And attach pictures or videos of product problems in the email. We will reply as soon as possible.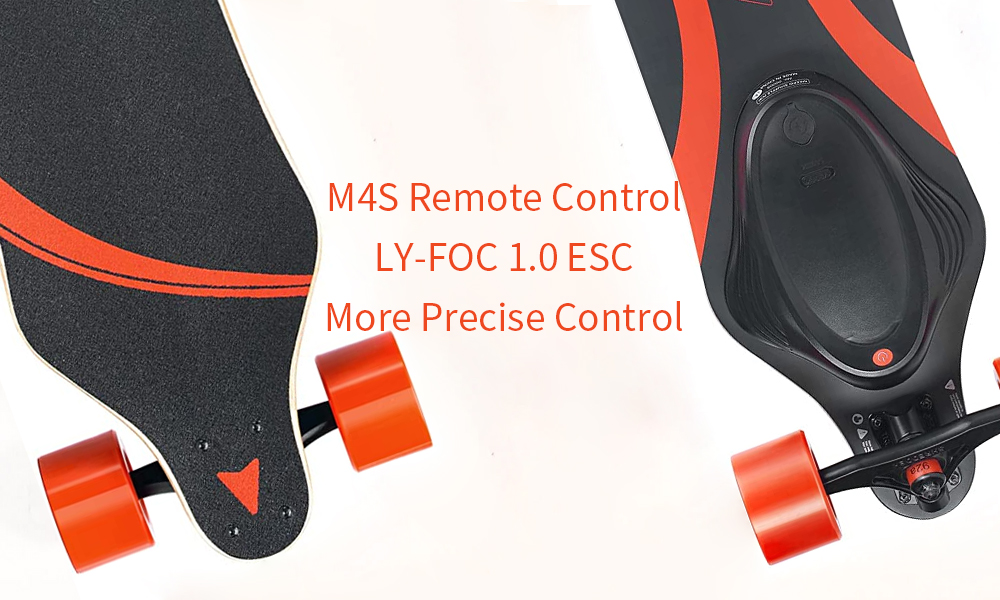 LumBuy electric skateboard focuses on quality, timeliness, and price. Professional pre-sale and after-sales service are never out of reach. Whether you are a green hand or an experienced rider, you can choose an electric board that suits you. LumBuy has become partners with multiple brands at the same time so that you can buy with confidence. All LumBuy electric skateboards are perfect if you are commuting public transportation as it is excellent to accompany and easy to carry on and off buses.
Shipping Fast

: The best options for you – Standard Shipping or Air Shipping

Excellent After-Service

: To contact our customer service department anytime

Variety of Brands

: WowGo, TeamGee, Maxfind