Over the years, marijuana has proven to be an important element in our active society, and the choice of a grow tent is essential. There are indoor and outdoor grow tents. International statistics estimate 159+ million people worldwide use marijuana. Amongst which 94+ In the United States have at least used the drug once in their lifetime. Statistically, marijuana or cannabis is the 2nd most-consumed substance/drug after alcohol in the United States.
Marijuana grow tents present the best solution for people looking to grow weed and who don't have much space. This method presents a better alternative to growing outdoor marijuana with all the inconveniences it presents. In this guide, you will discover the best marijuana grow tents available, the advantages and disadvantages of various grow tents, the cost of setting up a weed growing tent, etc. It's easy to get confused by the number of options available, so here's a guide to help you navigate buying the right grow tent for a successful marijuana garden.
Things You Should Consider Before Choosing a Marijuana to grow tent.
Before choosing a grow tent to buy, there are certain considerations to take to ensure that your choice of marijuana grow tent suits your current need. These factors include;
Marijuana Grow Tents Size and quality
It is essential to consider the quantity and quality of the marijuana you wish to grow before choosing a tent. The initial consideration of the tent's quality and size plays a lot in the growth of the product. Take a deep look at your plants, decide on the number of plants to grow. This consideration plays directly into the tent's size accurately because many other micro factors depend on it.
Grow Tents Features
To ensure good cannabis growth, the grow tent should include a few key features. These feature viewing windows, which eliminate the need to enter the tent and disrupt the environment for inspection constantly. Also, look for tents with large doors to make entering and exiting the tent pleasant and straightforward.
Grow Tent Quality
Generally, tents made of strong steel and frames last longer than other formations. Therefore, consider the choice and quality of constructive material, inside reflective cloth and outside cloth carefully. It is always important to buy marijuana grow tents of the best quality.
Choice of Soil or Soilless
Marijuana grows tents presents two main growth methods. Hydroponics is a soilless method used to grow marijuana. Water is used as the primary medium instead of the traditional soil). This method regulates the kind of equipment needed for a grow tent and the choice of package perfect for you.
Soil method: Growing marijuana with soil.
Soilless growth: Growing hydroponically.
To consider the best grow tent combination package, consider these carefully selected factors.
Grow tent with Light
There're several grow light options are available as LED, fluorescent, T5, and HPS. Always try to get a full spectrum to grow tent light.
Other Equipment
This factor comes when the material mentioned above has been put to use. Because the category of material you need highly depends on these four factors, do not forget to consider the other support equipment, as every material is important to realize a successful grow tent.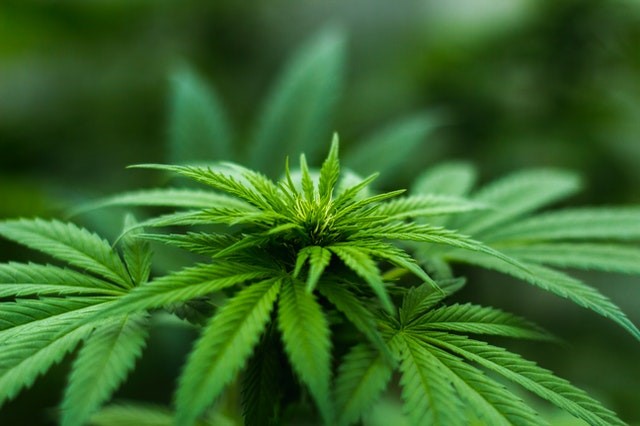 The Advantages Of Marijuana Grow Tents
There are so many advantages attributed to Marijuana grow tent. Let's dive into it!!! For this guide, we will exploit the most important.
Grow tents are perfect for indoor gardening
One important aspect about grows tents is that they provide the best environment for indoor gardening. All you need is just to set up all your plants, weed growing tent equipment, and you're good to go.
All you have to do is not just take good care of it and wait for the highest possible yield. That's all there is to it.
What does it mean to have a complete system? It is, as the name implies, the ideal and all-in-one solution. You'll get everything you need to get started growing. The intriguing part is that most grow tent kits (especially all of our recommended kits) include minor but quite useful gadgets. As a result, it is the finest option for any grower.
You don't need a grow room for a plant tent.
The most significant benefit of a weed growing tent is that; you don't need a separate room.
In terms of cost-effectiveness, it includes everything you need for a successful light and growth environment. If you start buying these items separately, you'll see how much money you can save.
Grow tents have Optimal Light balance
A renowned marijuana/cannabis grow tent maker further confirms that the correct size of the tent is crucial for the best internal reflectivity in the grow tent. He also assessed the lighting performance and, as a result, concluded that an optimal plant tent will be able to offer enough light for plants.
You can indeed manage the temperature and humidity in your plant tent. You'll be able to control it with the help of the full equipment.
Smell-free
Marijuana growth emits a pungent smell. The majority of the grow tents include filters to eliminate odors and keep your grow room fresh. Another important factor is that you won't have to devote as much time to maintain as you might think. It will save you time while also assisting the plant's growth.
Maximum marijuana yield
A perfect choice of equipment will undoubtedly provide you with maximum yield. A bud grower is a complete set of goods that will assist you in producing a high-quality crop.
Smart Choice
Growing cannabis has never been this easy. A bud grower is more than just a choice because you will receive a great setup that is well-engineered for the package. As a result, it will undoubtedly supply you with the best results possible.
A Controlled environment
Yes, you have control over the environment in your grow boxes. You'll be able to control it with the help of the complete equipment.
Free System Maintenance in its entirety
What does it mean to have a full system? It is, as the name implies, the ideal and all-in-one solution. You'll get everything you need to get started growing. The intriguing part is that most cannabis grows tent kits include minor but quite useful gadgets. As a result, it is the best option for any grower.
You don't need a grow room. Thus, the most significant benefit of Cannabis tent.
Disadvantages of Marijuana Grow Tents
We uncovered that grow boxes have only two main problems. They were more expensive than one could imagine. That is in terms of cost. Although not every setup is costly, a substantial amount of money is required for a complete setup. That is why some beginners cannot afford it, but the price is justified when we consider all of the equipment, nutrients, and other variables.
These tents are occasionally pricey. As a result, we recommend you double-check the product review and current prices before placing an order.
Are Grow Tents Worth the Expense?
With extreme heat being a problem in many parts of the world these days, planting and guarding plants against harsh weather conditions such as sunlight and extreme weather conditions, grow boxes have become indispensable to people seeking lasting solutions to these challenges.
Even while a grow tent is an initial investment that can be costly, it can save you money in the long run. It is because it is less expensive to use a flowering tent to give water, nutrients, and light to your plants.
Because of the reflecting mylar interior coating, your lighting investment will do the job several times over. Plants get life and health every day by receiving light from all angles for the exact amount of time required.
Because you have complete control over the growing environment, you will not waste water due to excessive sun and wind. Rain or flooding runoff will not deplete your vitamin supply.
Types of grow tent products, the price, the pros, and the cons.
With the global marijuana market share expected to grow at $146 billion per year till 2025, many people are beginning to develop an interest in flowering tents. Generally, Canadian companies sell starter kits for less than $500, 2′ x 2′ grow tent, nutrients, pH drops, digital timer, clip fan, adjustable hangers, lighting, and Carbon dioxide bags. There are more complicated kits in the market worth $1000+, so the choice is yours. Which grow tent do you need?
Best Overall DIY Pot Tent
This tent is completely self-contained and may be used even in the most distant locations. Grow tents come with LED lights, such as our Light for Pot, more useful if placed close to a power source. A duct fan is incorporated to circulate the carbon dioxide. The plant will be under ideal air conditions within the tent as a result of this.
It can hold four mature marijuana plants, and the overall build is resistant, with bars providing strength within the flowering tent. It also features a timer and an adjustable fan.
Best Small Grow Tent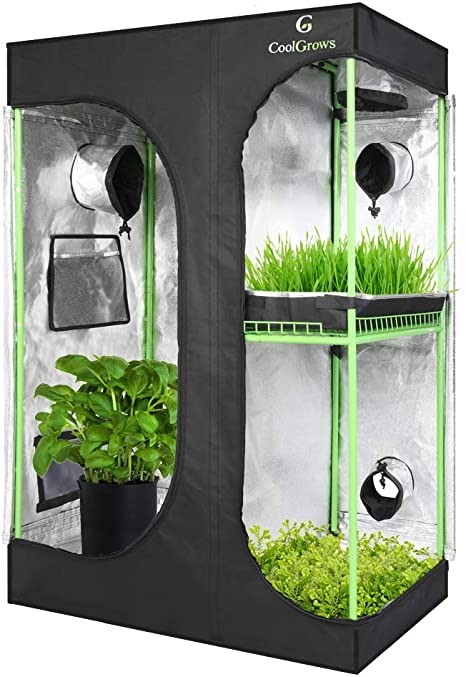 Coolgrows Mylar Reflective Hydroponic Grow Tent
The marijuana/Cannabis will be grown in this DIY pot tent from seedlings to fully grown adult plants. The French doors provide exceptional accessibility, allowing entry and leave without interfering with the plants. The viewing window is also strategically positioned to avoid interfering with the white light.
This marijuana/cannabis grow tent has a durable canvas outside and a robust metal bar construction with silver aluminum foil on the inside. The reflective interior keeps the environment inside favorable to optimal growth by preventing light seepage.
Best Large Grow Tent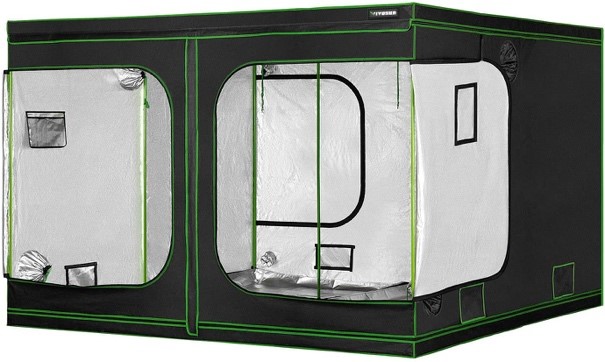 The Famous Vivosun Horticulture, Large Mylar Hydroponic pot grow tent (6 plant capacity)
This tent can easily contain, as mentioned above, between 4 to 6 whole marijuana plant sets. The reflective mylar is used for its inner design, which provides 98 percent reflection. The exterior design includes a durable canvas of 600D. The Vivosun tent zippers perform more. They're tough, keeping light out while remaining durable.
This tent also features a removable floor tray designed to collect plant drainage and provide clean-up space between.
Best Eco-friendly Grow Tent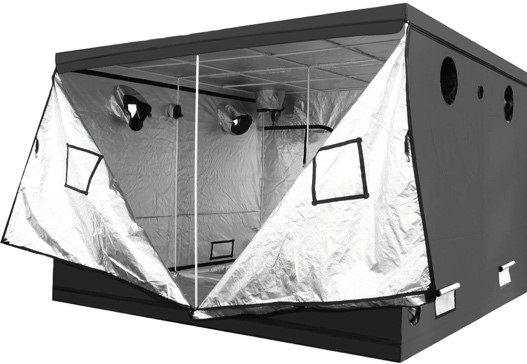 iPower Hydroponic Water Resistance Marijuana Grow Tent
Because it utilizes less power than other solutions, the cost of growing plants with this flowering tent is substantially lower. It saves energy since the thick tent equipment and long edges preserve the growth environment. It's also tear-resistant, water-resistant, and simple to clean and maintain. Its inside is 95 percent reflective. The plants within are safe because of their pest-resistant structure.
The choice of marijuana/cannabis pot grow tent is a blend of several factors and careful considerations. However, we recommend you talk to an expert to fully optimize your growth potential and get the results that you deserve. Marijuana is the future of pain relief.