Introduction
Are you a fun-loving and full of humor person? Do you want to show your humor to the world in the form of a unique tattoo? If yes, you are in the right place to get to know some of the most creative and hilarious funny tattoos ideas. Some of them are simple yet interesting. Keep on reading.
Have you heard the saying "Life is too short for boring things"? It's not wrong at all. Have fun in life, and don't hesitate for new adventures. Then why go for some deep meaning and boring tattoos? Your tattoo should show your fun personality to express yourself in a better way. Explore this article further and go for the funny tattoo that suits your personality better. Let's go right into the hilarious ideas without blinking further.
Related: wireless tattoo machines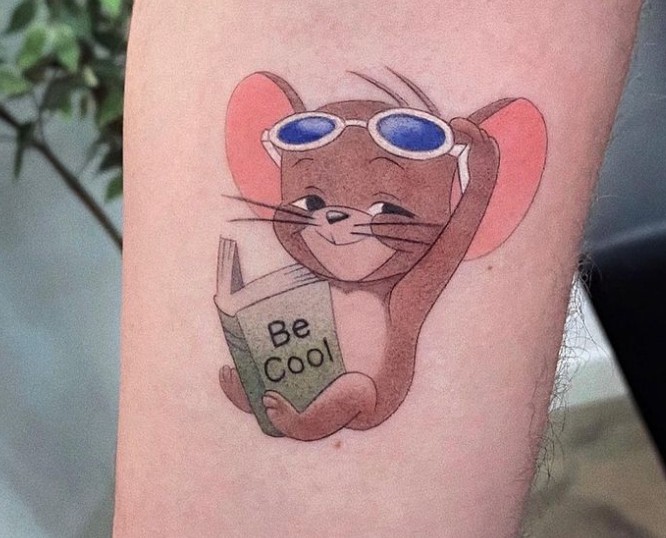 Top 50+ Most Creative Small Funny Tattoos:
1. Cool Sign with Sunglasses:
Want to get some cool ink into your skin? If yes, these stylish sunglasses with written cool could be suitable for you. This is great for people who don't want to go overboard with the tattoo. You can also go for different colors of glasses. Other colors may look even more classy and fabulous.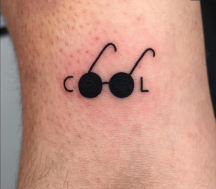 2. Your Opinion Doesn't Matter:
Are you tired of people with constant criticism and conflicted opinions? It's just frustrating. Isn't it? Such people need a befitting reply to their unnecessary views. If you feel the same way, you certainly need a funny tattoo like this one. This tattoo represents sarcastic humor that your opinion about me doesn't matter to me, so you should just keep quiet.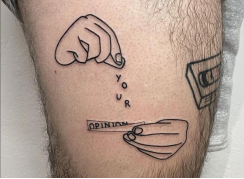 3. Hand with Cat Paw:
Are you a cat owner? If yes and you want to express your attachment to the cat, then go for this funny tattoo without thinking twice. You don't have to be a cat lover to have this cool tattoo; you simply can replace the cat's paw with your pet's paws. It's a great design for all pet lovers.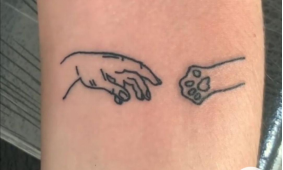 4. Glass of Wine (Funny Couple Tattoo):
Minimal funny tattoos are the best when it comes to looking classy yet cute. A simple and small glass of wine or a glass of champagne looks great and shows your love for the drink. You and your partner both can get such funny tattoos. It would be a great couple goal.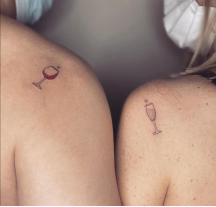 5. OK Bye:
What to do when someone wants to get out of your life? Nothing. Yes, you heard it right. Let them go. This is what this cool tattoo says. Cut out the toxic people from your life. This funny tattoo is a sarcastic and humorous way to remind you constantly. You can also go for "Cut the Crap Out" as a tattoo on your arm or anywhere you want.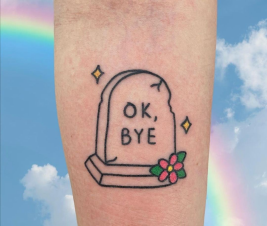 6. Pistol Tattoo:
Pistol as a tattoo? Heck yeah. You must have seen people, especially celebrities with such small tattoos on their neck, hands, and even waist. The small pistol tattoo looks cute as well as classy. It is one of the best funny tattoos if you want to go with minimal design.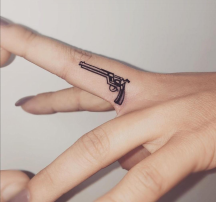 7. Two Cute Potatoes:
The two potatoes conversing at a crime scene look super fun and cute. If you're a fan of french fries, you will undoubtedly love this cute tattoo. The first potato acts like a victim who did something bad, while the second potato acts like a police officer or a hero. Don't you think it's creative and amusing?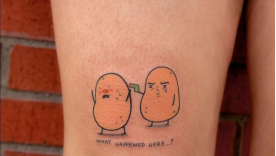 8. Scar Zip:
Do you have an old medical operation or any other kind of scar and don't like it much? If so, getting a tattoo is one way you can hide it without actually hiding it. This funny zip tattoo can perfectly creatively hide your insecurity. We love this idea. Do you?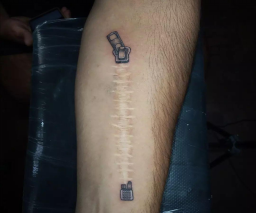 9. Approval from Seal:
Want someone who would always cheer you up in a fun way? This cute sea seal with an approval hand sign will excite you whenever you feel down. We humans constantly need someone who makes us feel good about ourselves. This seal of approval tattoo will be our constant companion. It's adorable as well. Isn't it?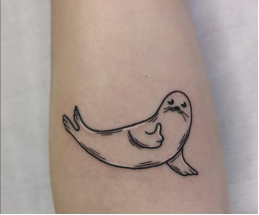 10. Cute Duck:
We are completely in love with this small tattoo. It is probably one of the funniest and cutest tattoos on our list. This cute duck will look super adorable on your arm or thigh. You can change the note written with the duck according to your personality.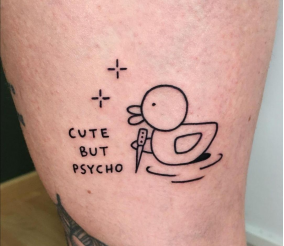 11. Hand with Boots:
If you want something super funny, this booted hand tattoo should be on your list. You can go for a small hand if you don't prefer huge tattoos. However, this looks adorable yet amusing.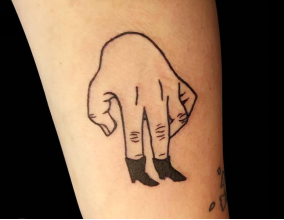 12. Ghost Boo:
Transforming your birthmark into something funny and cute? Is it possible? Yes, it is possible with some fun tattoos. All you need is some creative ideas and make your ugly birthmark into an interesting tattoo, like this one. Be creative and get a fun tattoo.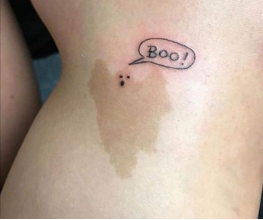 13. Slice of Pizza:
Are you a pizza person? If so, you'll love a pizza slice on your arm as a tattoo. If you don't have anything in mind, just go and get a small tattoo like this. You can go with another item as you like.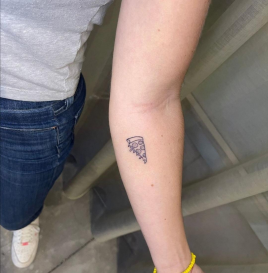 14. Snake:
Snake tattoo on collarbone? Doesn't it look amazing? If you want to be cool and stylish, go for a snake tattoo. You don't necessarily have to go with a collar bone tattoo. The arm is one of the suitable places for snake tattoos.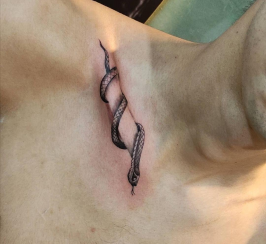 15. Girl with Funny Braids:
Don't do this, or you'll regret it later? Are you fed up with such compliments from random people? Let's have a funny small tattoo with a perfect reply to these comments. This girl with irritated expressions having funny braids can be an ideal tattoo if you want something savage.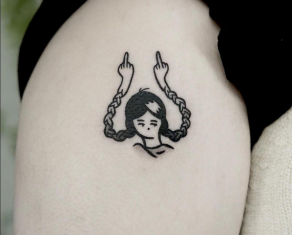 16. Scared Yet Funny Face:
This face gives scary and funny vibes simultaneously. You can have it on your fingers, arm, wrist, and anywhere you want. Don't forget to explore different funny faces. Go according to your taste in humor.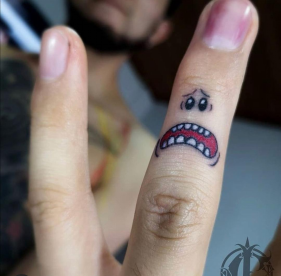 17. Devil Ghost:
Some people have a knack for scaring others. If you're one of those, you will definitely like this devil ghost tattoo. You can surely modify it a little by adding some colors inside.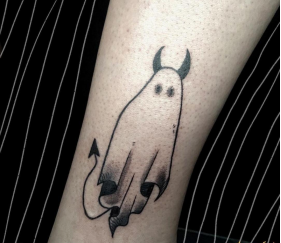 18. Funny Chemistry Tattoo:
Life Sucks? Being a chemistry student, it's safe to say that life doesn't do great with all those elements and atomic numbers. You can release your frustration by having such tattoos. This is also a creative way to remember different elements.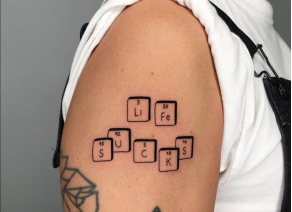 19. Fist Bump:
This tiny fist bump looks super cute and funny on the wrists. It looks like a narrow bracelet with two fists at the upper part. Jewelry lovers will love this idea for a new simple tattoo.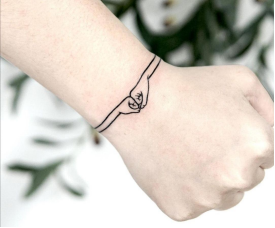 20. Cool Sunshades:
This funny tattoo is in deep thought with a savage style. Also, sun shades make it even more trendy and funny. You can choose different colors of sunshades.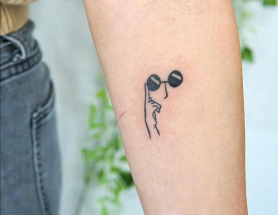 21. Funny Potato:
Look at this funny thing. The potato is wearing sunglasses with funny facial expressions like he's scaring someone. The facial expressions make it super adorable and amusing. A fun-loving person would love it.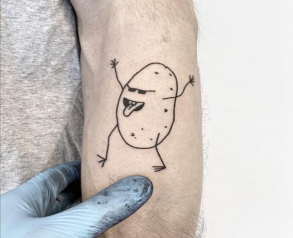 22. Cloud with Rainbow:
Well! This tattoo idea is more cute than funny. A true example of a minimalist and cute tattoo. A tiny cloud with a little rainbow aside. Isn't it interesting?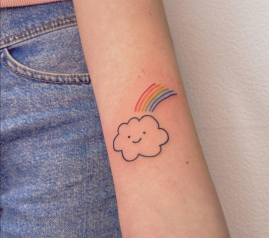 23. Cute Burger:
A burger tattoo with the crown will be attractive for burger lovers. You can go for different styles of burgers the way you want.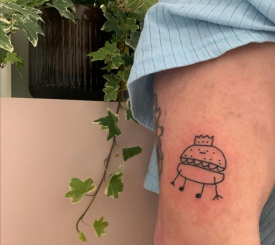 24. Fish on Scar:
Hiding the scar with the tattoo and making it attractive can be pretty fun. Like in this tattoo, the tattoo artist did a great job transforming a scar into adorable fish. It looks fantastic to a lot of people.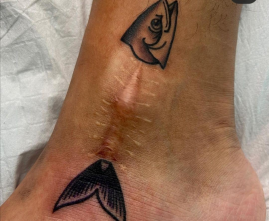 More Creative Funny Tattoos Ideas:
Here are some all-time favorite fun tattoos. Some of them are funny couple tattoos. Have a good look and get inspiration: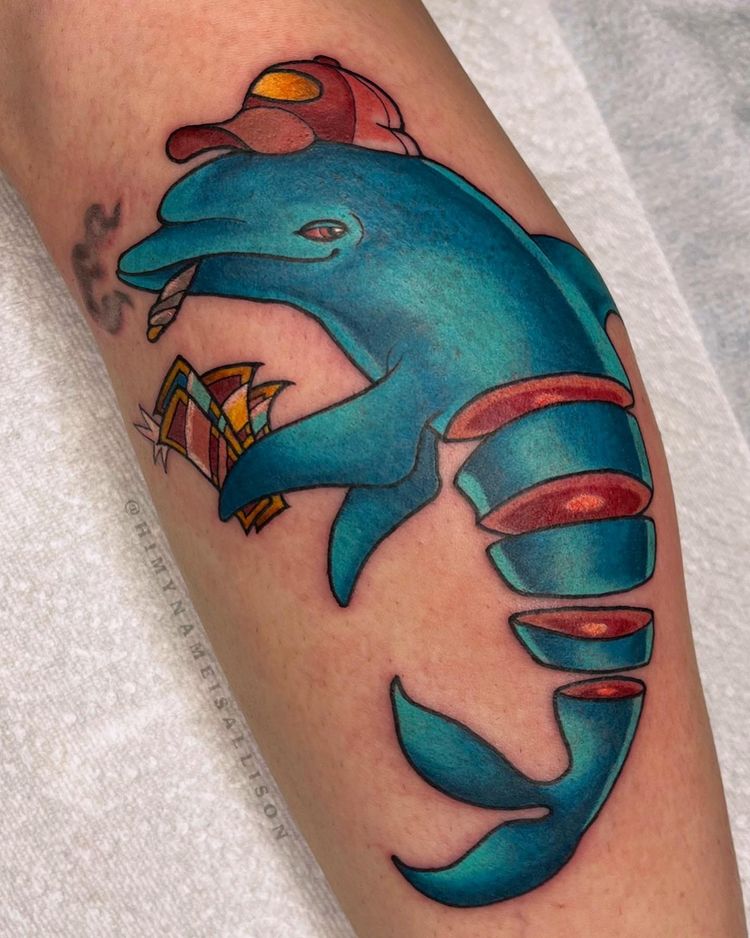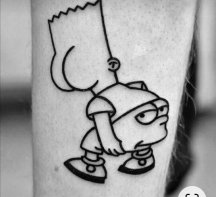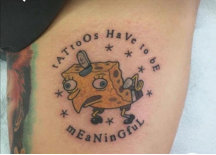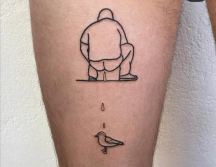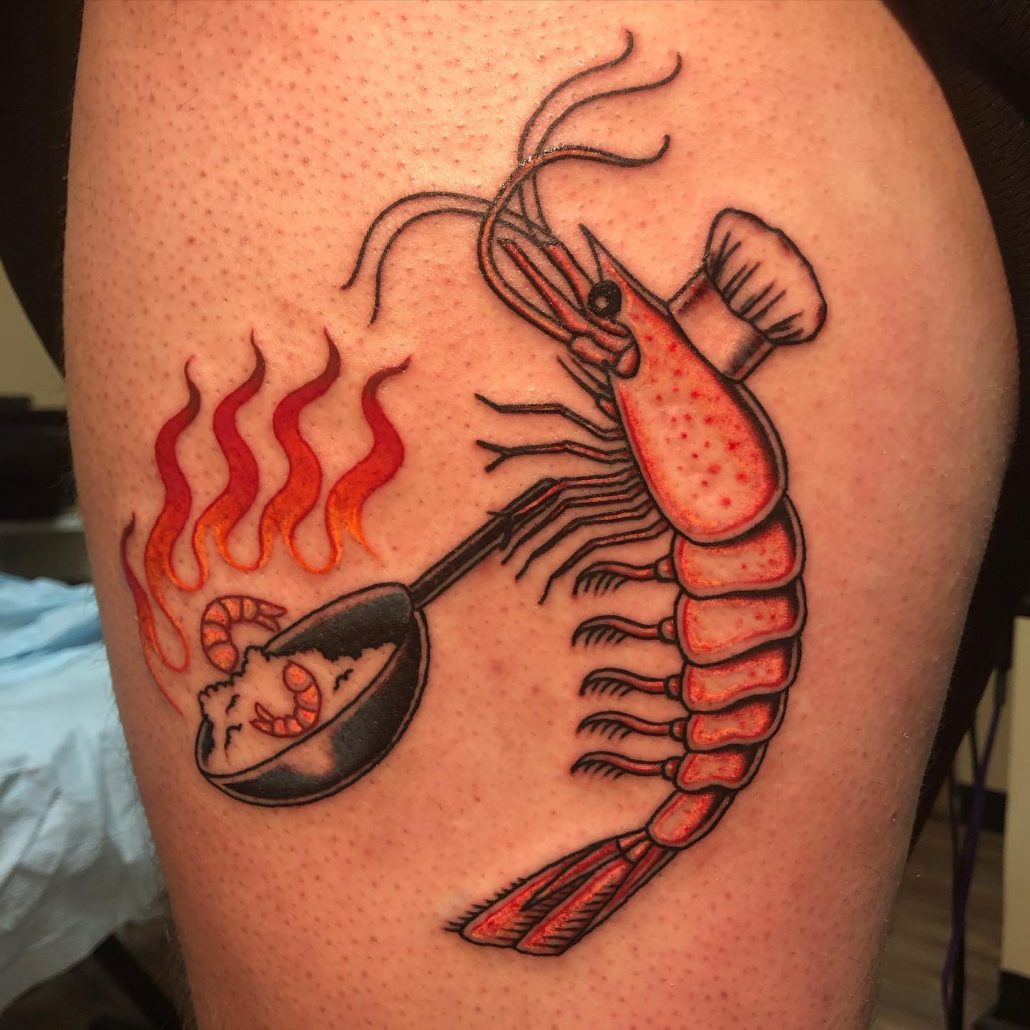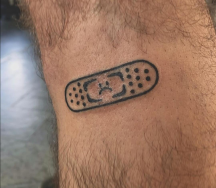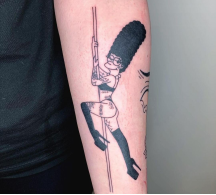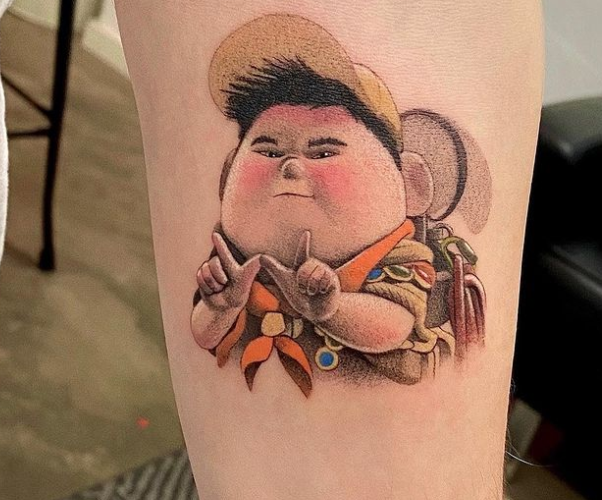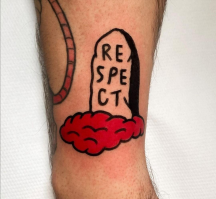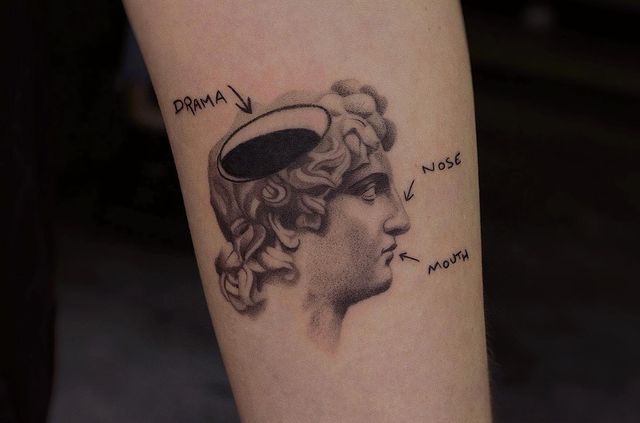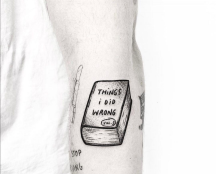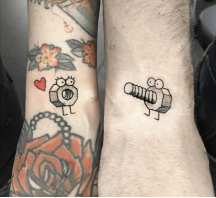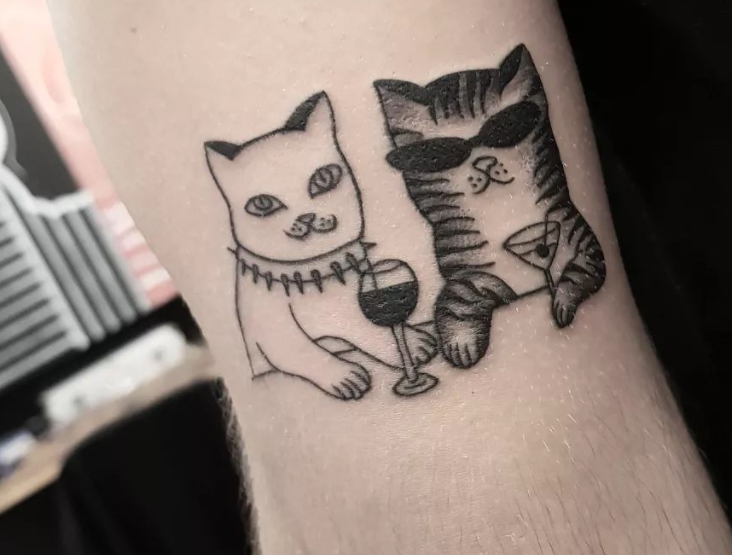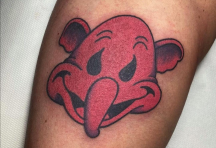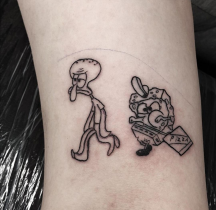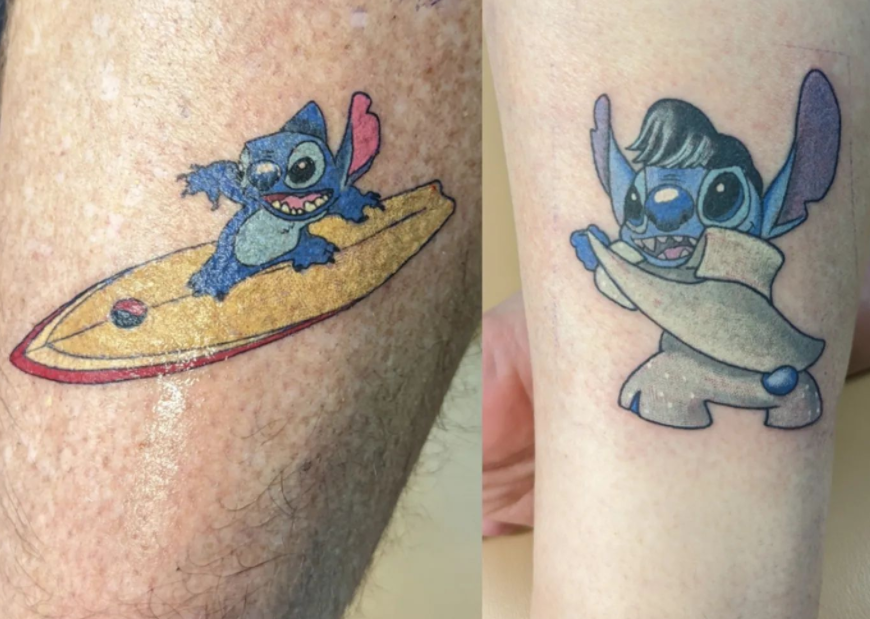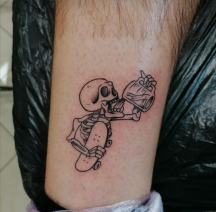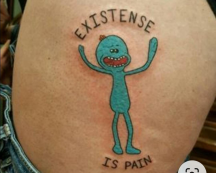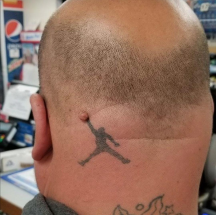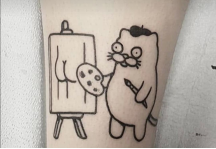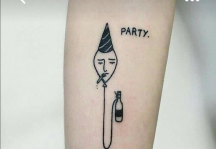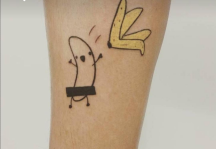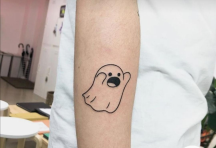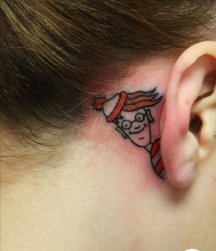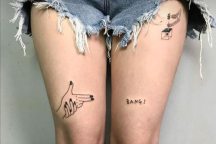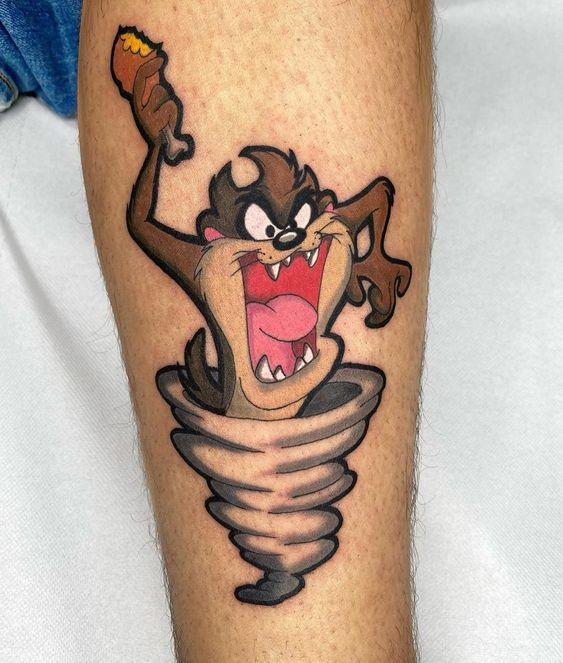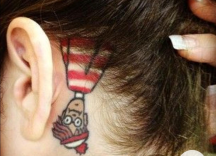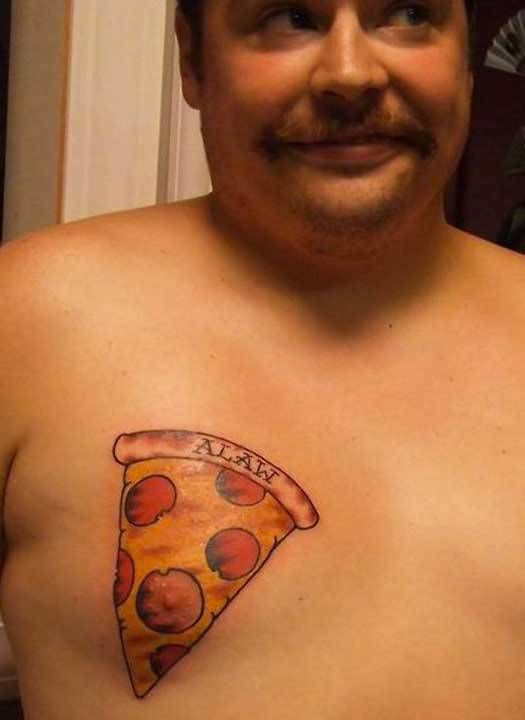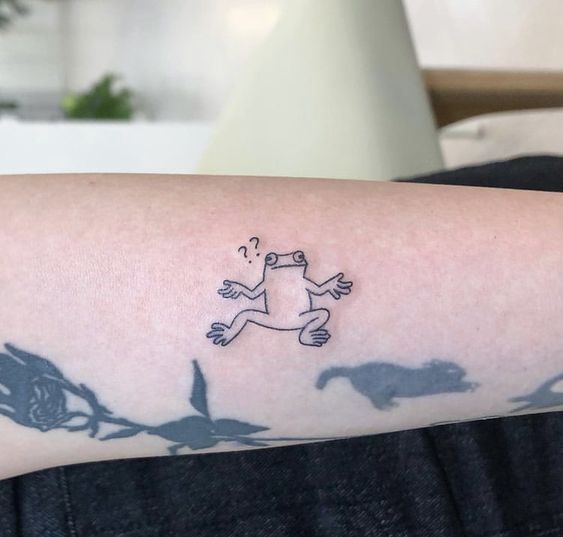 It's a Wrap:
A tattoo is something that will stay on your skin for your whole life, so you need to be careful while selecting one. It should complement your personality in a better way. Don't go over the board with tattoos. Have a good thought about it then go for a certain design. Otherwise, you may regret it later.