Melodica; Simplest Music Instrument to Learn
With a lot of resemblance to harmonica and pump organ, the melodica is one of the best and simplest handheld free-reed instruments that you can have. You can easily play the melodica by blowing air through the mouthpiece and using the keyboard, which is mounted on the side to give different keys.
Besides being fun and interesting to play, the melodica is a unique instrument you should have or learn. This musical instrument may seem to be a toy to you, but believe me, you are not; learning how to play it will give you a super fun experience.
It might be tricky to choose the best melodica for your personal or group use without being biased on specific counts. This article will give extensive information on different types of melodica and insights to make an informed choice before hitting the markets. Stick on throughout the entire article to better understand the melodica market.
In this article,
Our Picks for The Best Melodica
Types of Melodica Worthy Knowing
What is the Best Way to Use Melodica?
History of Melodicas
Melodica is one of the musical instruments that, if you have passion for, you will not fail to know its history. It was invented by Hohner, a renowned music giant, around the 1950s. However, it is important to note that there have been similar instruments as early as the 1900s in Italy.
If you are a keen researcher, you will point out that melodica was not taken seriously back then. Among the first users of the melodica, the instrument is Phil Moore, a jazz musician. Over time, the melodica instrument has gained popularity across the globe. Most Musicians now use the melodica instrument in various journals of music.
While on the history of the melodica instrument, you may realize that there are other key contributors to the instrument's popularity, including Pablo Augustus, a Jamaican musician known for reggae and dub music.
Melodica Parts and Construction
The melodica is built with a combining principle of two instruments: the piano and the accordion. If you want to play a melodica, you must hand-hold it and simultaneously use the mouthpiece and keyboard. You will note that the keyboard has about two or three octaves; hence the instrument can pitch various notes in different keys.
The mouthpiece of this instrument is connected to the main instrument via a tube. You don't have to hold the instrument all through to your mouth. It can be laid horizontally while you enjoy playing and having relaxing music sessions.
The melodica is quite easy to play and use as it is not complicated in design or build. You will find it even more enjoyable than using a foot pump to play. You can easily play extremely high notes with a lot of ease with minimal straining. You can play extremely low notes as well.
Even though melodica comes with various designs and colors, the principle of how they work is all the same. You will find the instrument very easy to play if you understand different music keys and clefs.
Our Picks for the Best Melodica
Best Overall Melodica: CAHAYA Melodica 32 Keys Double
Best budget Melodica: EASTAR 37 Keys melodica Instrument
Best premium Melodica: Rise by Sawtooth Piano Style Melodica
Best Professional Melodica: Hohner Melodica
Best for Beginners Melodica: RockJam 32 Key Melodica
Best Advanced Melodica: Stagg MELOSTA32BL 32 Note Melodica
Best Group Melodica: Yamaha 37 Key Melodica
Best Solo Melodica: YAMAHA PIANICA 32 Keys P-32E
Best Overall Melodica: CAHAYA Melodica 32 Keys Double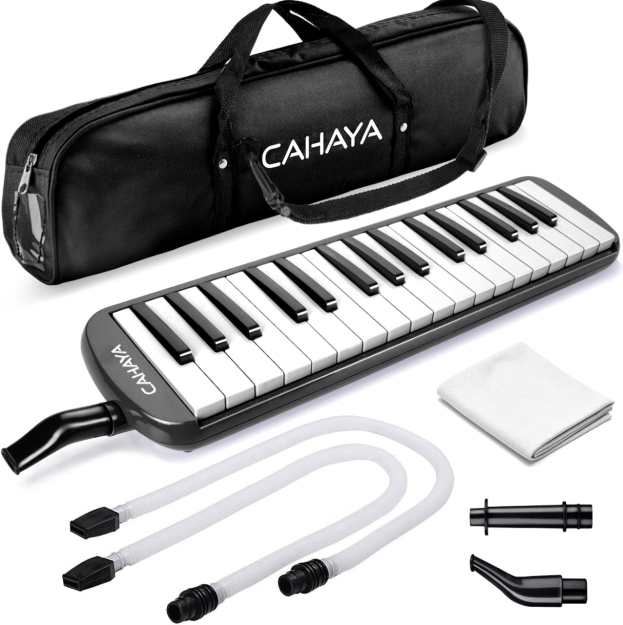 Brand Name: CAHAYA
Material: Abs
Item Dimensions: 16.4 x 14.1 x 1.6"
Size: 32 Keys
Rating: 4.6
Type of Keyboard
With this melodica, you will get a smooth and responsive piano keyboard. This is a fundamental aspect to look out for when choosing the right melodica, especially if you are a beginner. You can play different chords and notes smoothly using a piano keyboard.
The range of buttons is convenient, and even the labeling has been done on point. When you advance your music career, you will find it still fine and soft to play any kind of notes, whether flats, sharps, or single notes, with the CAHAYA melodica.
CARRYING CONVENIENCE
With the CAHAYA melodica, you will get a carrying case made of cotton and leather. You can have the carrying cases in different colors to match your suits and clothes. The carrying case has been designed to have a zipper for easy opening and closing. The straps for the zipper case are robust and manufactured in a way that they are ergonomic.
Healthy and Safety
Safety is also a core value when designing and building this type of melodica with the casing. The CAHAYA melodica is built using zero toxic materials and substances and is safe for human consumption.
Compatibility and Design
Are you a music instrument instructor? Then no need to worry. This melodica is perfect for music instruction, playing, or even learning. It has a compact design that will suit your needs very well.
You can easily slide your handle under the straps while playing with the other hand. This is possible only with a short mouth design. It is, however, good to note that there might be a variation in mouthpieces due to the production of different batches.
Pros
Different length variation mouthpiece
Safe and harmless for use
Press reed key
Cons
It plays only 3 octaves
No extra mouthpiece
Best Budget Melodica: EASTAR 37 Keys melodica Instrument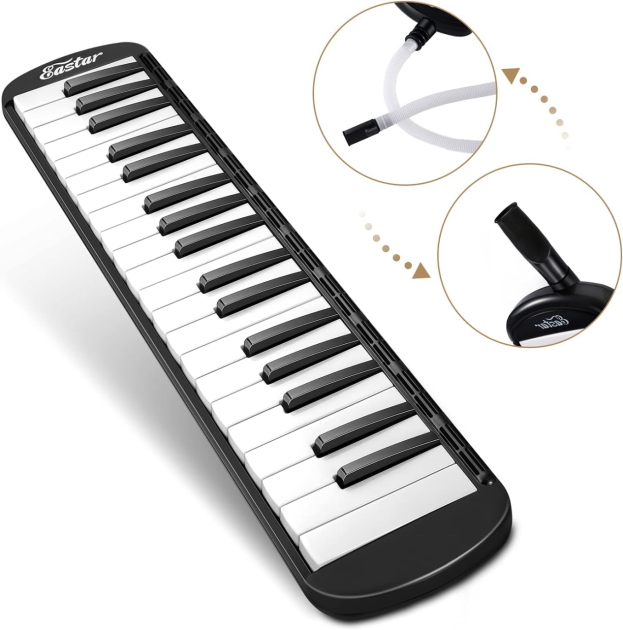 Brand Name: EASTER 37 Keys Melodica
Material: Abs, Copper
Item Dimensions: 20.5 x 5.5 x 3.75"
Size: 37 Key
Rating: 4.7
High-Quality Sound
The Easter Melodica has air chambers that are extremely enhanced. Enhancing the reinforced air chambers and the combs ensures strong airflow if you consistently play your music. The strong airflow in the instrument improves the resonance and tone quality.
High-Quality Material
The materials used in building this musical instrument are phosphor, bronze reed, and copper base. These materials make the Easter Melodica instrument very safe for use as it is non-toxic ABS resin.
As a user of the Easter melodica instrument, you are assured of long-time play and the durability of the instrument materials.
Best Gift Choice
The high-quality bag makes it easy to carry or store all along. The bag comes with a tube and shoulder strap. The melodica makes a perfect choice for a gift for your kid. It has high playability and quality that your kid can easily admire if they love music.
Easy to Play
If you are a beginner in the music field, then the Easter melodica is the perfect choice for you. Melodica is best to make your kid enlightened and happy. It is very easy for your kid to learn.
The instrument's simplicity and easy nature of the instrument will spark your kids' interest in learning music to an advanced level. You might also consider buying learning aids for your kids for music and how to play the instrument easily.
Pros
Easy play for beginners
Comfortable and portable
Right size for your needs
Cons
Requires training before use
Best Premium Melodica: Rise by Sawtooth Piano Style Melodica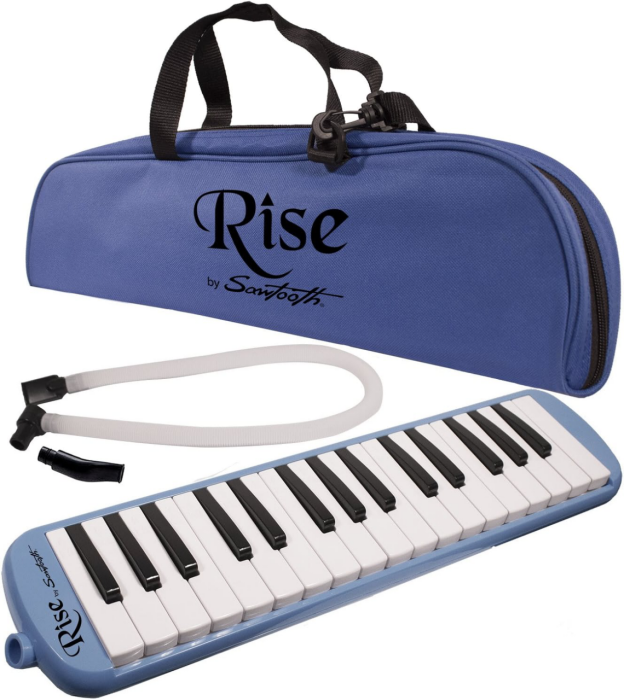 Brand Name: Rise by Sawtooth
Material: Abs
Item Dimensions: 17 x 5 x 3"
Size: 32 Keys
Rating: 4.6
Best Design and Shape
Your kid will love this type of melodica as it has an easy and friendly shape. The shape and design make it one of the best and very safe for you or your kid to use. It is very easy to teach your kid using this type of melodica as it is less heavy and has a manageable size for your kid to hold.
Easy to Play and Learn
Are you new or a beginner in the music journey? No worries, the Rise by Sawtooth has your needs catered for. The melodica comes with 32 piano-style keys. These keys are basic and easy to learn or teach somebody with no musical experience.
However, it is advisable to have a tutor to help you with the theoretical aspect of music before embarking on the practical part of it. This will ensure you easily get and grasp music concepts with more ease.
Best Gift Choice for your Kid
Kids love gifts that are not attractive but unique. The color design and casing are extremely beautiful for any kid to ignore or reject as a gift. The melodica design comes in different colors or even more than one combination.
Healthy and Safety
Melodica is made from non-toxic materials that are harmless to human health. The casing for the Rise by Sawtooth has two very strong straps. Besides the straps and case being robust, it is ergonomic in a way that will make your kid or you not bored at all times.
Stylish Mouthpiece
With the Rise by Sawtooth Piano, you will get a mouthpiece to soothe your needs. You can opt for a short mouthpiece or even go for a mouthpiece that is connected to a hosepipe.
Pros
Great for players of any skill level
Budget melodica
Carry bag included
Cons
It has a limited number of keys
Requiring careful handling while playing
Best Professional Melodica: Hohner Melodica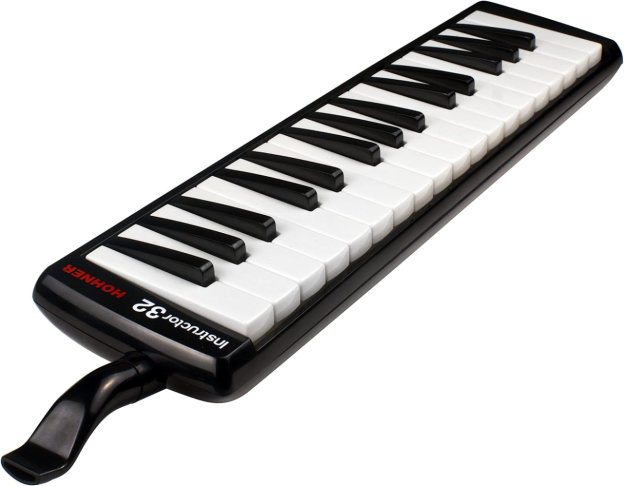 Brand Name: Hohner Accordions
Material: Plastic
Item Dimensions: 20 x 7.5 x 3"
Size: 32 Keys
Rating: 4.7
Ergonomic Design
How you feel when playing is the top concern for the Hohner Accordions. For this reason, the design and build of this particular melodica have been done so that you will not have any ergonomic issues arising from playing for extended periods.
Ideal for Both Beginners and Professionals
The Hohner Melodica has 32 keys. It can play up to three octaves. This makes it ideal for playing both simple pieces and even complex music pieces. It is easygoing; hence if you are a learner or a beginner, you will find it handy in your music career.
For advanced music players, you have nothing to worry about. The Hohner melodica can play full tones well and even semitones. This makes it one of the best melodic or harmonic playing instruments in your music collection.
Design and Casing
The melodica has a Deluxe Case, which is extravagantly built and designed. The casing is made from the best fabric, not to mention it comes in different colors hence giving you a range of choices that you can opt for.
The best thing about multicolor choice is to design how your music store theme looks. This gives your music environment a beautiful, serene, and personal taste in the color choice.
Best Gift Choice
Are you planning a surprise for a birthday, wedding, anniversary, or any kind of occasion for your kid? Then you don't need to look anymore. The Hohner Accordion Melodica is a perfect choice as a gift for your kid. The critical range is big enough to accommodate both beginners and advanced music players.
The melodica can be a perfect gift for anyone with no age limit as long as they love and have a passion for music. With the 32 key student feature, you can play simple lines like jingle bells or even advance to more elaborate and complex song structures.
Pros
Ideal for both music students and experts
Budget-friendly
Ergonomic design
Cons
It might require an adapter or converter for non-US users.
Best for Beginners Melodica: RockJam 32 Key melodica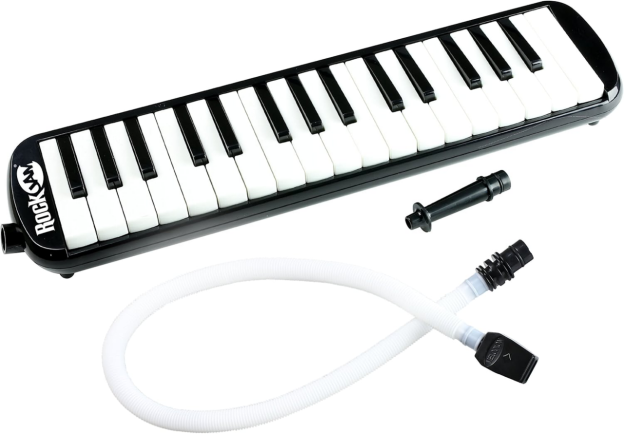 Brand Name: RockJam
Material: Abs
Item Dimensions: 16.1 x 3.9 x 2"
Size: 32
Rating: 4.5
Whether you are an aspiring musician or want to advance your understanding of music fundamentals, the RockJam 32 key melodica is built for you. It will give a vibe of fun and compact means to start or advance your musical journey.
Small Size, Numerous Features
This type of melodica has two mouthpieces that will make your playing experience fun and outgoing. Other than the mouthpieces, you have a cleaning set for your instrument. Ensuring your mouthpieces and instrument are always clean is a fundamental aspect of performance and durability.
All-in-One Casing
In the bag, the package contains everything you will need for your music session. You can service your melodica anytime, anywhere, from the simple mouthpiece toolbox for maintenance.
Portable Electronic Keyboard
The casing has to carry handles that have been ergonomically designed to suit the purpose. The RockJam Melodica has a carry handle that you can use while playing. This would give you sessions or hours of comfortable play, especially if you instruct students.
Playing styles
The melodica is perfect for a beginner or a pro like you. It has two playing styles you can try out whenever you are comfortable. This feature gives you a full view of the keyboard should you want to place it on a table or a lap.
An advanced musician can hold the melodica close to her mouth and play it like brass or any wind instrument.
Pros
Convenient for beginners and experts
Durable materials
Elegant look and style
Cons
Comes with a price
Requiring careful handling in case of kids
Best Advanced Melodica: Stagg MELOSTA32BL 32 Note Melodica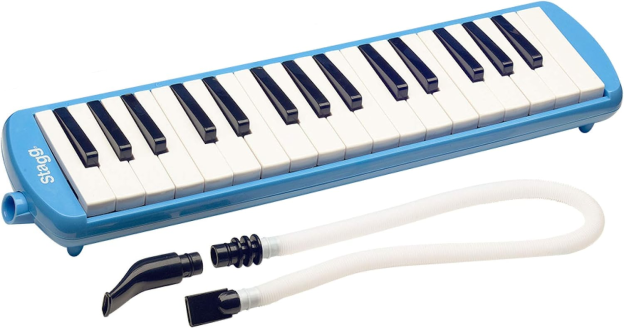 Brand Name: Stagg
Material: Plastic
Item Dimensions: 5.5 x 1.2 x 1.6"
Size: 32 keys
Rating: 4.5
The Stagg 32 key melodica has a lot of resemblance to the harmonica. It is very easy to play as it requires you to blow through the mouthpiece while pressing the keyboard keys.
Besides being ergonomic, the Stagg 32 key melodica is highly portable and compact. Here are some outstanding features that you might want to check out.
Design and Ergonomics
The Stagg 32 has the best ergonomic design considerations and has been rated among the best musical instruments. It is not heavy yet has straps that you can use to hold it while playing your music with a lot of ease.
The light nature and high portability make it even better for kids to play. It has two sets of mouthpieces that you can opt to use. The longer and tubed mouthpieces are ideal if you want to play while having the melodica on the table.
Convenient for Both Beginners and Advanced Players
If you are a beginner struggling to play with one hand, you need not worry anymore. The Stagg 32 Key melodica has made it easy to play with two hands. If you wish to use both hands, you must connect the mouthpiece tube that is long enough to reach your mouth while the melodica instrument is on the table.
Health and Safety
The melodica is built using non-toxic material. This makes it very safe to use with no worry of any radiation or infection from the components of the melodica. The outer casing is plastic made; hence no radiation or unnecessary heat while playing the melodica.
Best Gift Choice
The Stagg 32 Key melodica is one of the best-modified melodicas that you can gift your loved one during their birthday or anniversary. The color of the melodica is blue, which has no glare to most people, not too shiny or dull.
Pros
Fit for beginners and advanced players
Comes with a casing
Easy to install and play
Cons
Requires careful handling
Comes with a price
Best Group Melodica: Yamaha 37-Key Melodica (P37D)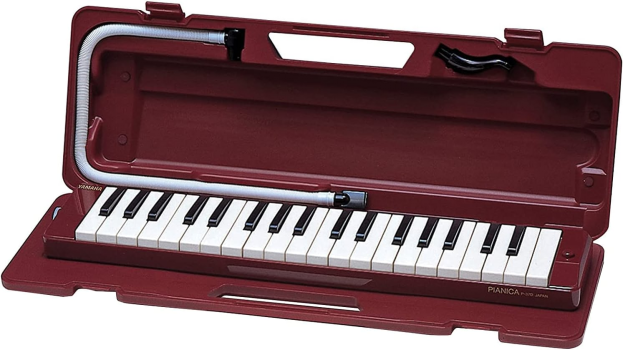 Brand Name: Yamaha
Material: Rubber, Latex, Plastic
Item Dimensions: 2.4 x 7.1 x 20.5"
Size: 37 Key
Rating: 4.6
The clear and Bright tone
You expect a very fast tone response with the Yamaha melodica. This particular melodica produces a rich sound even with a small amount of air blown into the melodica. The tone quality across all notes has been proven to be excellent, bright, and clear.
Build and Construction
This melodica is built using a rubber seal enclosing the air chamber. This ensures that you won't have any leaks. Also designed for the entire system are valves to prevent the backflow of air. It is good to note that this instrument may not be good for you if you are allergic to latex or rubber.
Light Weight and Compact Design
The Yamaha melodica is light and very easy to hold while playing. It is highly portable should you wish to play or perform in motion. The melodica is quite ideal for carrying between home and school. It has a protective case that is strong and durable enough to prevent breakage in case of accidental drops.
Smooth Action Keyboard
Every individual key is installed with suspension springs responsible for the antivibration guide. This gives the keyboard key a smooth and responsive feel.
Stable and Top-notch Tuning
The Yamaha melodica key tuning last for longer than you can imagine. It is tuned and adjusted by specialists before being released to the market. Among other systems, the specialists ensure the internal brass sound plates are serviced well.
They ensure they are resistant to corrosion by treating the reeds with anticorrosion resistance. In doing so, the melodica's pitch is stable and clear for extended periods.
Best Gift Choice
The Yamaha melodica can be a perfect candidate for the gift if you think of motivating your kid on her birthday or appreciate them graduating. The casing is so nice and easy to wrap as a gift. Any kid or the mature person who loves music will love to have Yamaha melodica as a gift or present. Try it out!
Pros
The strong and durable casing
Highly tuned and serviced
Great quality and design
Cons
Comes with a price
It might require high-maintenance checks
Best Solo Melodica: YAMAHA PIANICA 32 Keys P-32E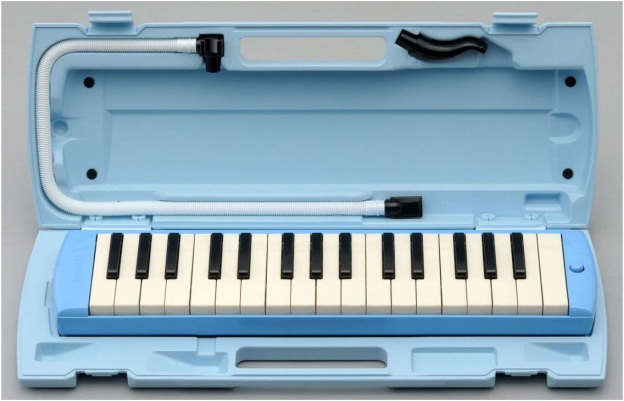 Brand Name: Yamaha
Material: Plastic
Item Dimensions: 37.8 x 1.93 x 16.7"
Size: 32 Keys
Rating: 4.5
The Yamaha pianica melodica is a medium-sized instrument that is light and portable but has numerous features. This makes it ideal for both beginners and advanced players. You can opt to try it if you are an instructor or a music student. Here are some of the amazing features of this particular melodica.
Great Design and Performance
The Yamaha melodica can be played using a single hand or even both, depending on the experience level. It has a side handle that you can use if you are experienced in playing using one hand.
Should it happen that you are still an amateur, you don't have to worry, as you can play the instrument using two hands.
All you need is to fix your tube mouthpiece. You can play your Yamaha pianica melodica on the table with a long tube mouthpiece or stand with two hands.
Ergonomic Design and Safety
Everybody takes safety matters very seriously, especially the ergonomic aspect. Playing for long sessions can be a threat if your instrument is not well-designed.
With the Yamaha Pianica, you don't have to worry about any effect if you play for longer sessions. The mouthpiece and keyboard are designed to significantly reduce any health risks resulting from playing for more extended periods.
Ideal for all Levels of Skills
Both beginners and advanced players can play the Yamaha Pianica melodica. Whether you also would like to learn music or aspire to play music, the Yamaha Melodica is a perfect learning instrument.
It has 32 keys, which makes it simple yet ideal for any level of music. In that regard, you can play simple musical lines and even complex pieces of music with sharps and flats or semitones.
Pros
Easy to learn and play
Relatively cheaper than its peers
A great gift choice
Cons
Offers a limited number of keys
Types of Melodica Worthy Knowing
Four different melodica variations are distinct that you ought to know. The instrument is categorized according to the way the particular instrument is tuned. These are low or high-note instruments. Read through to get the details.
Alto and Soprano Melodica
This melodica plays very high-tone notes; therefore, you can refer to it as a loud instrument. Some of the melodicas of this kind have been designed so that you can play using both hands. One hand could play the alto keys and the other the soprano keys. It is key to note that in the new versions of this melodica, you will only get a mouth tube and, ordinarily, the keyboard that you can use to play for both voices.
Tenor melodicas
You can easily play low-pitch notes using this type of melodica instrument. The melodica uses your left hand to hold the bottom handle while playing the keyboard. You can also play using the tenor melodica using two hands and a mouthpiece hole connected with a tube. With this kind of connection, placing the melodica on a flat surface is easy.
The Bass Melodica
These will give you the lowest pitch notes in the lower octave. You can easily play them using a single hand and a mouthpiece connected via a tube. One of the perfect examples of bass melodica is the Hohner Melodica Basso, whose production continued. The Hammond and Suzuki Bass Melodicas are still in production and doing well on the market.
The Chromatic Button Melodica
Also known as the According Melodica, you will easily identify it because of its metallic nature.
Even though it is made from metal, it works the same way as the traditional melodica that uses reeds. The keyboard's button arrangement is replaced with chronologically arranged buttons. It is a unique melodica you might want to check out for your musical instrument collection.
Wooden melodicas
This is one of the most interesting types of melodicas that you can come across. The difference you will not see in these types of melodicas is that they are 3D printed, made from high-quality Italian reeds, and mostly made 95% from woodwork. They produce a sound that is warm and richer as compared to melodicas that are made from plastic.
What is the Best Way to Use Melodica?
The way you want to use the melodica highly impacts the type or the kind of instrument that you will choose. It doesn't matter the number of instruments you prefer if you have a musician's class. The purpose of melodica plays a vital role in the type of melodica you should opt for.
Beginner Musician
You must learn more about the simple music keys and a few octaves if you are a beginner. Two-octave melodicas will be best for you to learn simple music lines. You will also learn simple mechanics on the melodica at a low-cost instrument.
Advanced Musician Users
You might want to extend your experience to a three-octave melodica. The instrument will give you exemplary construction and higher pitches but comes at a slightly higher cost than a two-octave melodica.
Group Setting Musician
If you are a group tutor or a member of a music group, then you need to consider the voice range that you want to fit in with your fellow musicians. The ranges of the resonant sounds in the different sets of alto, soprano, tenor, and bass must be a significant factor. Choose soft-tone soprano and alto melodicas for a group setting. The softness factor is critical in controlling the amount of noise in the group setting performance.
It is best to consider the quality of the tone for your instrument if you are buying a melodica. Going for a clear instrument with the best resonant tone for melodic lines or accompanying chords is advisable.
FAQS
What is melodica?
A melodica is a musical instrument that resembles a harmonica or a pump organ, and it is free-reed and handheld when playing. Mainly used to play simple music pieces for learning and leisure.
Is melodica easy to play
A melodica is not challenging to play as long as you have an interest and passion for knowing how to play it. It is easy to build an interest in music with melodica.
How does a melodica work?
Melodica has a combination of keys and a mouthpiece for blowing. You are supposed to press a key while blowing breath through the mouthpiece to have a sound otherwise known as a note in the music world. The combination of arranged musical notes makes harmonious sounds, otherwise referred to as musical compositions.
Is melodica a serious instrument?
Yes, melodica has been a serious instrument since its endorsement in the 1960s by composers like Steve Reich. After that, many musicians adopted it in the contemporary music world.
Clint Eastwood by Gorillaz
"Clint Eastwood" was a song by the English virtual group Gorillaz. It was released on 5 March 2001 as the first single of their debut album.