Grow tents are a reliable option for people who live in homes without yards or in apartments, as they don't have some space outside to grow their favorite plants. A grow tent is also applicable during unstable environmental conditions that don't guarantee quality harvest results. Building your dream 10×10 grow tent can be expensive and hard. Under your very own conditions, a grow tent allows you to recreate nature, and you can control the growing environment all year long, regardless of the seasons. In indoor gardening, grow tents are one of the most important tools.
Our Picks for The Best 10×10 Grow Tents
IPower GLTENTXL4 Grow tent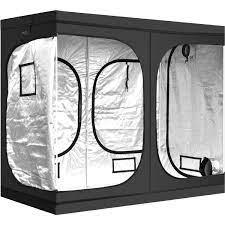 iPower is among the leading manufacturers of growing systems when in need of grow tents, grow lights, and other gardening equipment. The 10×10 grow tent by iPower is made from a heavy-duty material that is thick and tear-proof, which is double stitched to ensure no light leaks out of the tent. The tent is durable and very strong due to the material and the zippers installed.
Its frame is made from all steel which makes it very strong and sturdy. The tent has push-lock corners that add to the sturdiness and help with assembling it. The 10×10 grow tent from iPower is one of the most private grow tents to use, such that if you are growing marijuana, you don't have to worry about any odor leaking. Pests and bugs are also prevented from entering due to the airtight feature, which protects your weeds, and marijuana from any damage.
Pros
It's easy to install.
It's made of high-quality material.
Your plants get maximum light absorption as it has a reflective rate of 95%
It's easy and safe to work with.
Cons
Some light can manage to escape between the zipper's teeth even though the tent is largely reflective of light.
Ultra Yield grow tent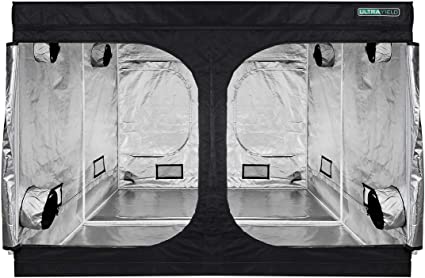 The Ultra Yield 10×10 grow tent will not disappoint you if you are a beginner in indoor planting. It's highly recommended for beginners because it does not need any tools or a professional to assemble- the process is easy. If you are growing taller strains of any plant, this tent will come in handy, as the height is adjustable. The 10×10 grow tent provides enough safety and security to the plants as it's made of a heavy-duty material that is highly durable. You can hang grow lights and other growing equipment with ease on this tent because the frame is thick and made of metal, which ensures sturdiness and stability.
The lining is 97% mylar which reflects light to the crops. This promotes healthier yields. You can access the tent with ease as it comes with a large french door design. The floor has a removable tray that makes maintaining and cleaning the grow tent easy. It is one of the best options to go for if you are looking for a 10×10 grow tent that you can repeatedly use for the growth of your crops.
Pros
It's beginner-friendly
Easy to assemble
Has an adjustable height of up to 12″
Easy to clean and maintain
Cons
Not a well-known brand in the market
Topolite hydroponic grow tent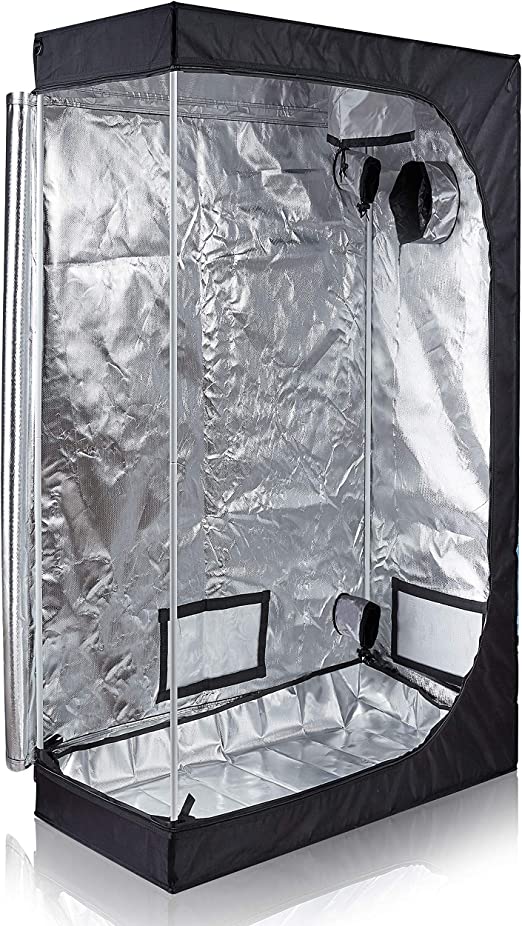 The Topolite 10×10 grow tent is among the long-lasting tent. It was rated and regarded among the top companies known for its unmatched grow tents and other growing tools; Topolite has an unparalleled rich collection of 10×10 grow tents. It was made from an oxford material that is light and tear-proof. A green window on the tent allows you to monitor the growth process of your crops. This prevents one from entering and out of the tent, as the window doesn't allow light out.
In case of unusual water floods, the waterproof lining material will prevent any damage to the plants. The tent has a solid and durable zipper designed to provide enough safety and security to both the tent and the crops. It can prevent pests, insects, and bugs. The vents are fitted with a mesh that also provides quality ventilation to the growing plants. Installing this tent is easy and tool-free.
Pros
Easy-to-use plastic corners
Long-lasting, durable frames
Easy-to-understand assembly guide
Cons
Assemble guidelines miss some information about flaps which makes assembling difficult.
Anjeet hydroponic grow tent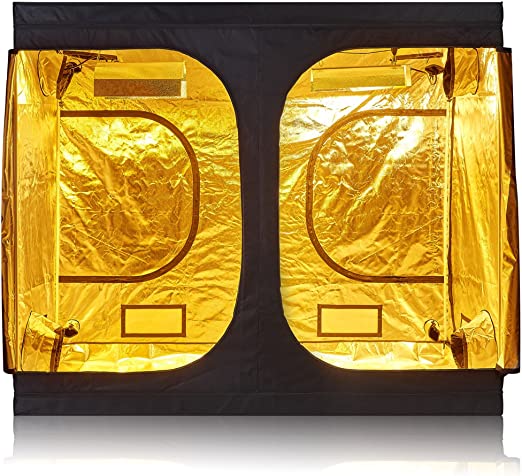 The Anjeet 10×10 grow tent is highly rated for indoor growing, as it's made from heavy-duty cloth material. This material is tear-proof and ensures no light leaks from either inside or outside the tent. Any harm from the outside environment is prevented by the external zipper that helps to seal the tent. The tent's inside has a reflective mylar lining that reflects the grow lights, which enhances the growth of the plants. There is an instruction manual to guide you on how to set up the tent.
The tent has multiple vents that work both as filters and fans to ensure quality air circulation; therefore, your plants will get good airflow. The floor is waterproof and has a removable tray that makes cleaning the tent easy. In order to enhance air circulation further, the tent has four nylon belts that act as filter straps.
Pros
Heavy duty and very durable
Two windows and an extra-large door
Cons
Not a well-known brand in the market
How to set up a 10×10 grow tent?
Setting up a 10×10 grow tent can be a detailed and time-consuming process. The grow lights, temperature, fan, vents, and humidity levels have to be checked before starting the indoor growing. The following are some key components to look for when setting up your 10×10 grow tent.
Light
The lighting of the tent will have either a positive or negative impact on your plants. Caution must be exercised to allow maximum harvest. Grow lights of 300 to 340 watts are highly recommended for a 10×10 grow tent. Away from your plants hung the light no more than 12″. The growing light is the 'sun'. The only difference is that you control how much of it your plant receives and what type of light they get. Grow tents maximize and reflect your lighting since they are lined with a reflective material that promotes 100% usage of your lighting. Each plant receives access to the grow light when it's turned on.
Temperature
One of the most challenging tasks in indoor growing is managing the heat. A moderate temperature has a positive effect on the plant's growth, health, and production. Too cold or hot temperatures will either slow the plants' growth or increase the chances of plant disease. Therefore, it's paramount to maintain a temperature of between 65-80℉.
Humidity
Moderate humidity will have a positive effect on the plant's growth and health. Too much moisture will suffocate the plants or promote the growth of bacteria and mold. Therefore, enclosing your garden in a 10×10 grow tent allows a cheaper and easier area to be controlled. Poor humidity levels and temperatures result in stagnant growth, mildew, pests, and stressed-out plants eventually die. To maintain humidity levels of not more than 70% at the highest, you will require a thermo-hygrometer that will give you the accurate minimum and maximum temperature and humidity in a day.
Fan
Carbon-filter air purification devices are designed in grow tents to bring fresh (CO2) air. Grow tents circulate air well by bringing in carbon dioxide (CO2), which the plants need for healthy and robust growth. For this reason, it's ideal to have at least two medium-sized fans. Have one fan above your plants and another one on the ground to allow good air circulation.
10×10 Grow Tent Layout: What to consider before setting up a 10×10  grow tent?
The space available
By looking at the space you want to use for your 10×10 grow tent, it's mathematically hard to figure out how many plants you intend to grow. There is a limited amount of room to use for your grow tent in either a large bedroom, garage, or basement. Therefore, maximizing your growing space is ideal. How you will run the plants inside the grow tent is determined by where you place the tent. The number of tents you intend to use is also a question any indoor plant lover should ask themselves. This is because some plants require cross-pollination; hence you may want to consider growing them in separate tents. Grow in two different tents if you need to veg and flower a plant at the same time.
Plant count
After choosing the 10×10 tent size, the next important component is finding the right grow tent material for your needs. Giving yourself about 1-2 square feet per plant of room to grow will enable you to find an efficient way to calculate; how large of an area you need for the number of plants you want to grow and how many plants you can fit in an area. A 10×10 grow tent holds up to 30 plants comfortably. However, some plants create common deviations, e.g., auto-flowering plants, as they stay smaller throughout their lives. The hydroponic food tables limit the space around you and above your plants because they take up space in your grow tent. Growers can also limit the amount of room they have between each plant when they train plants to grow wide instead of tall. Working with how much space you have for a 10×10 grow tent will enable you to figure out how many plants you should grow.
Tent construction
After choosing the 10×10 grow tent you need, you are ready to get into how it's put together and how it's made of.
Cover
A 10×10 grow tent's cover can be made of canvas or oxford cloth. The tear-resistance and breathability of the cover's material will help you know what will work best for your plants. The reflective material in your tent can either be diamond or hammered. This will enable the reflection of the light from your grow light to your plants. Quality zippers will insulate your indoor garden and prevent pests from infesting your plants. The stitching of the tent can weaken the strength of the cover's material. Check the airports and vents and know how many they there are and they are of what kind.
Frame
The frame of a 10×10 grow tent will hold the weight of your ventilation equipment and grow lights safely over your plants and also hold the cover in place. A metal frame keeps its shape better than a plastic frame, but it is much lighter and can hold a good amount of weight. The tent pole connectors can either be button-locked or standard. To choose the right one for you, check whether your connectors and poles lock into each other with a button or slide into each other. Lastly, check whether the tent offers center, metal or plastic connectors, as a bad corner or center connector will
How many plants can a 10×10 grow tent fit?
If you want your medium plants to get bigger than usual, a 10×10 indoor grow room will house about 24 or so plants. It can also accommodate up to 32 medium plants.
The 10×10 grow tents require big space in the garage or extra room. You can choose between a 600-watt light to save a few bucks or use the 1000-watt light that is highly recommended. A portable grows space saves indoor plant lovers some money and time since they don't have to build the room from scratch.
They can also manage the humidity and heat in the growing environment, ensuring their favorite plants get the best. The 10×10 grow tents have complete kits like odor control, hydroponic or soil grow set-up, ventilation system, and four grow lights that are helpful accessories for use during the growing cycle.