Shearing is a vital part of sheep rearing. Whether you have got just a few sheep or a huge flock, shearing is a professional task. If you do not wish to opt for a professional shearer, you must have efficient sheep shears to carry out the task safely.
Most people wonder whether dog clippers can do the job. Dog clippers are good for one sheep, but they are never sufficient enough for flocks of sheep. You need proper sheep shearing clippers that can cut through the fleece.
Since you are investing in sheep grooming equipment, you must know all the details about professional sheep clippers before purchasing. In this article, we shall discuss what to look for in sheep shears and how to choose the best one.
Our Picks for the Best Sheep Shears and Clippers
1. Best Professional: BEETRO 500W Electric Professional and Heavy-duty Sheep Shears for Sale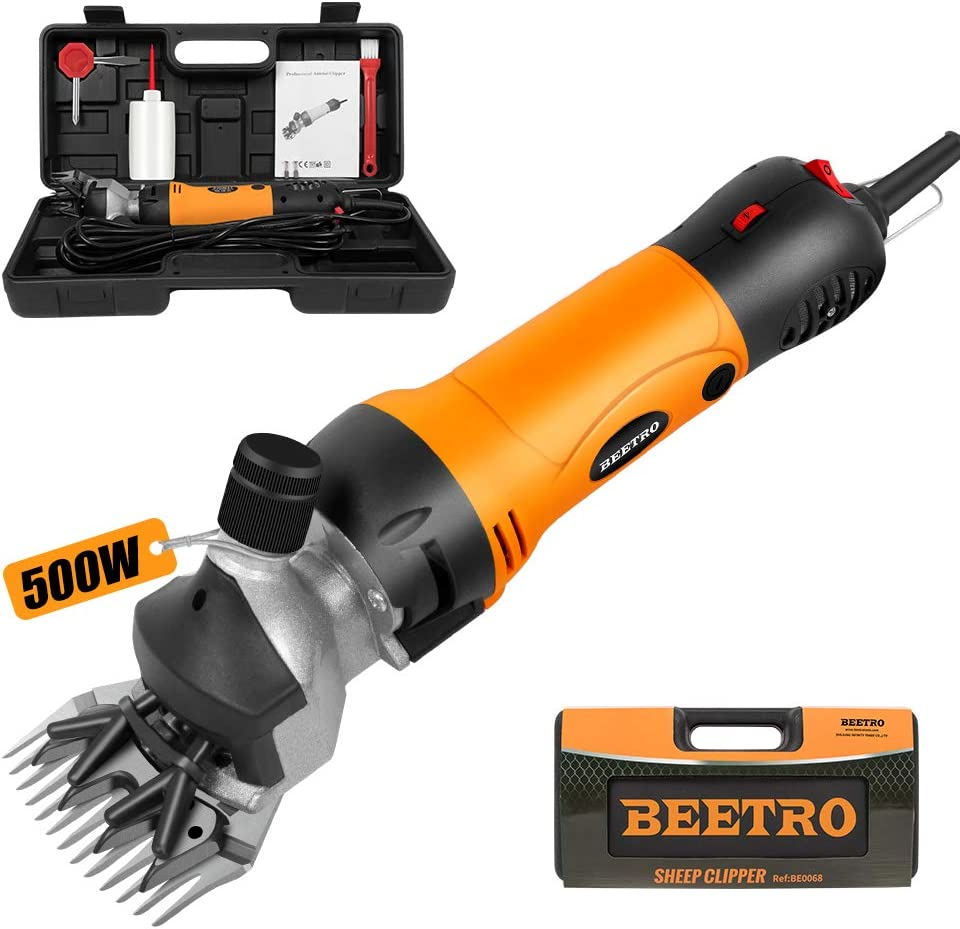 Power: 500 W
Rotate Speed: 0-2400 RPM
Item Weight: 1.3 KG/ 2.89 LB
Noise Emission: 72 dB
Use Range: Sheep, Llamas, Goats, and Alpacas
Rating: 4.3 out of 5.0
BEETRO 500W Electric Professional Sheep Shears are the most professional heavy-duty sheep shears you can get. This highly efficient sheep shear has a power of 500 watts and makes the act of sheering goat alpacas and sheep smooth and easy.
The sharp blades have superb hardness, toughness, and heat-resistant quality. Moreover, the speed is adjustable with up to 6 controls to help you work efficiently. You can use high speed for fast trimming and full body shaving. The low speed helps to shear sensitive areas.
Whereas some sheep clippers can be used on dogs and cats, this one is strictly meant for farm animals. You can only use the BEETRO 500W sheep shear machine for goats, sheep, llamas, and alpacas. However, despite no heating issues, do not keep the shear clipper on for a long time to avoid overheating.
Overall, the speed and power of the shear make it one of the most efficient electric sheep grooming tools. The straight 13-teeth blade helps cut thick coats of wool quickly and safely.
What is in the Package
1× Sheep clipping machine
1× Lubricating oil
2× Replacement carbon brushes
1× Cleaning brush
1× Special screwdriver
1× Operating instructions
1× Carrying case
Pros
500W motor
2600 RPM operating speed
Doesn't heat up too quickly
Runs quietly
Multi-speed options and adjustable
Cons
Very heavy
Can heat up if left idle
2. Best Overall: Dragro 2022 Upgraded Professional Electric Sheep Shears and Clippers 500W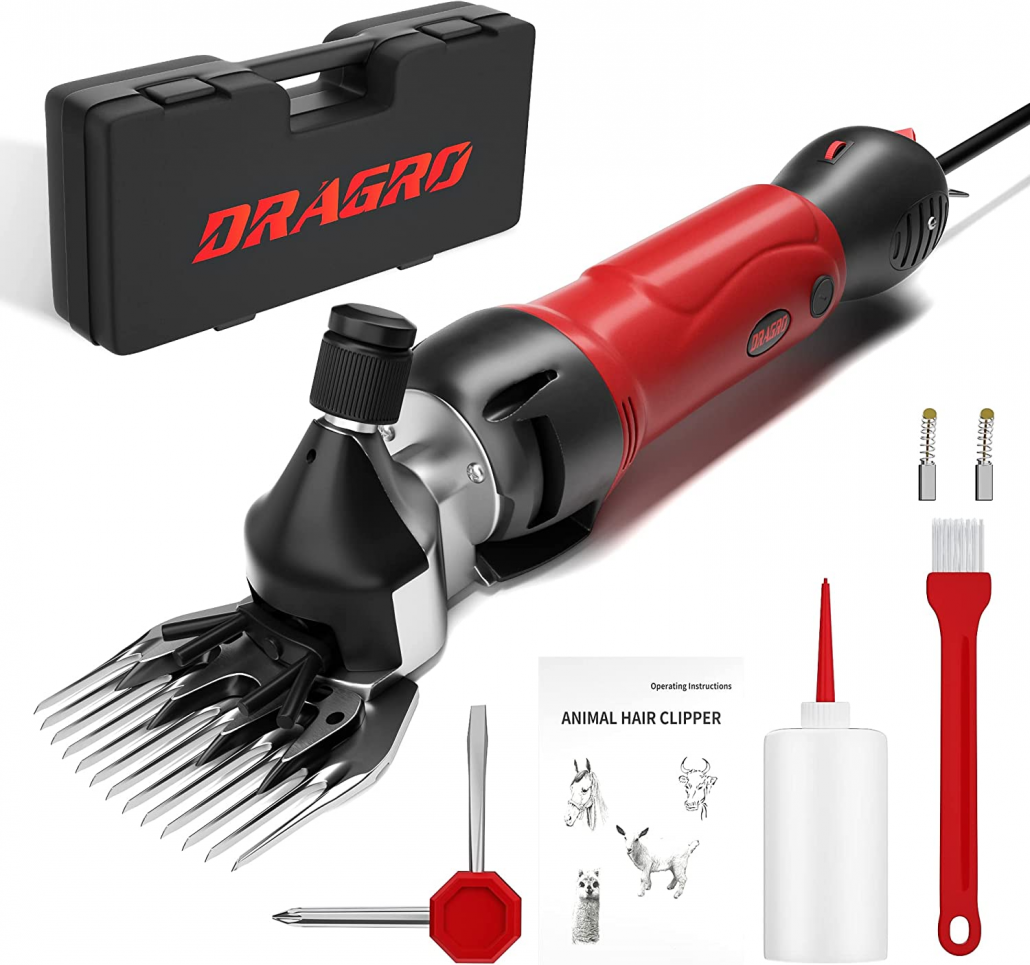 Power: 500 W
Rotate Speed: 0-2400 RPM
Item Weight: 1.3 KG/2.89 LB
Warranty: 12 Months
Use Range: Sheep, Llamas, Goats, and Alpacas
Rating: 4.3 out of 5.0
Drago presents excellent sheep shearing clippers at this price. The upgraded kit has a spare blade, lubricating oil, brushes, and a wrench. It's one of the best sheep shears you can get within a reasonable budget.
At this price, Drago sheep shears give an excellent performance. The 4 to 6-speed controls help you regulate the shearing process. The lower speeds allow you to clip the sensitive areas safely. The 2400 RPM speed is good enough to achieve clean and smooth shearing in minutes.
The only drawback is that the sheep shears tend to overheat when used for a long time.
Pros
Budget-friendly
Runs on high power
Smooth functioning
Helpful accessory kit
6-speed controls
High speed
Cons
Tend to overheat quickly.
3. Best All-Round Kit: Pet & Livestock HQ Electric Sheep Shears and Clippers 380W (Grooming Kit for Animal Hair)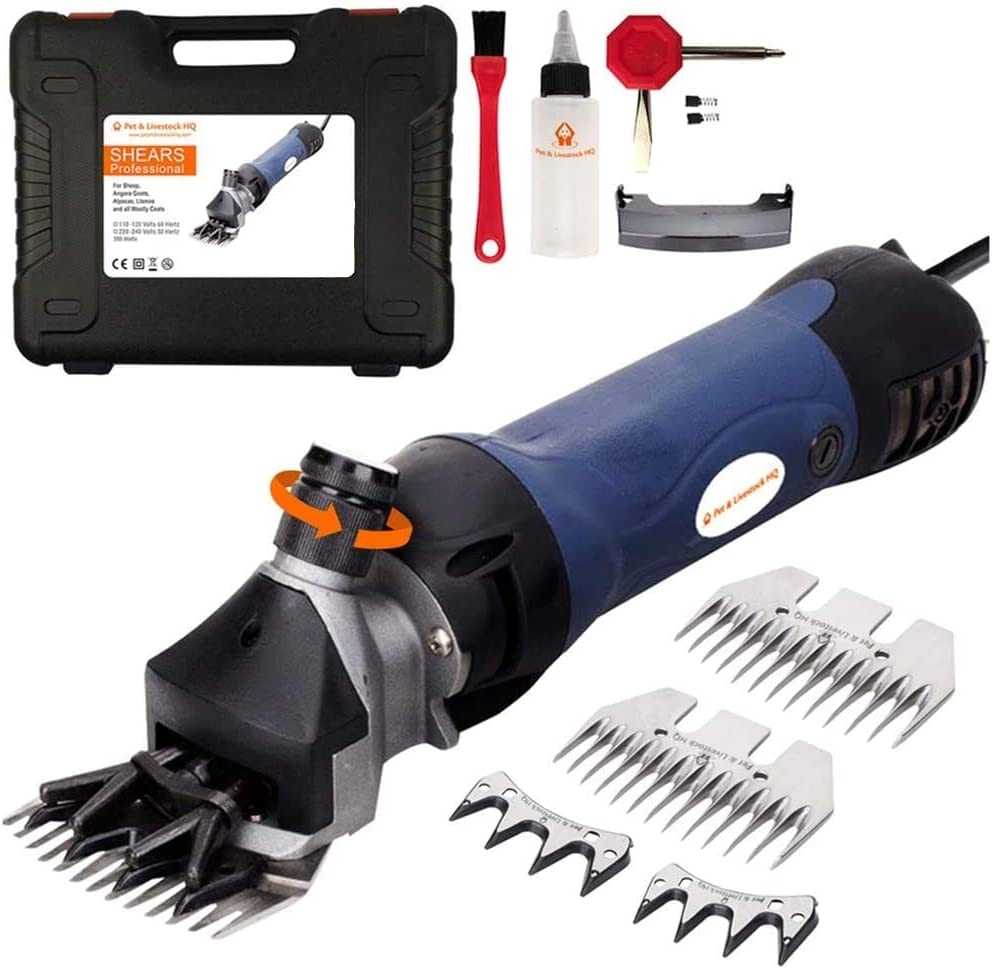 Power: 380 W
Rotate Speed: 2500 RPM
Item Weight: 6.8 Pounds
Use Range: Sheep, Llamas, Goats, Lambs, and Alpacas
Rating: 4.3 out of 5.0
Pet & Livestock HQ brings you a comprehensive kit to carry out the shearing process. The shear grooming kit for animal fur includes a shearing clipper head, screwdriver, cleaning brush, carry case, extra case, and a bottle of blade oil. Blade oil is essential to keep the parts lubricated.
The professional sheep shears machine is lightweight, minimizes noise, and uses 380W power. The high heat-resistance quality reduces overheating. The weight is ideal for portability.
2500 RPM is an excellent speed for shearing sheep efficiently. It saves time in shearing the farm animals. The electric sheep clippers help you clip fast in minutes. The long power cord further eases the process.
Moreover, the professional sheep shears have a rugged polymer body for smooth application and negate vibration, making the process much safer for the sheep. The superb blade provides clean trimming on llamas, sheep, goats, alpacas, and Angora rabbits. The user-friendly ergonomic design makes it suitable for shearers, too.
Pros
High-speed functioning.
A rugged build provides balance and good grip
High motor power
Airflow vents prevent overheating
Long-time use
Happy shearing for thick-haired animals
Cons
Not suitable for large flocks or large animals
4. Best Efficient: GDJOB 500W Professional Electric Sheep Shears for Heavy-duty Fur Wool Grooming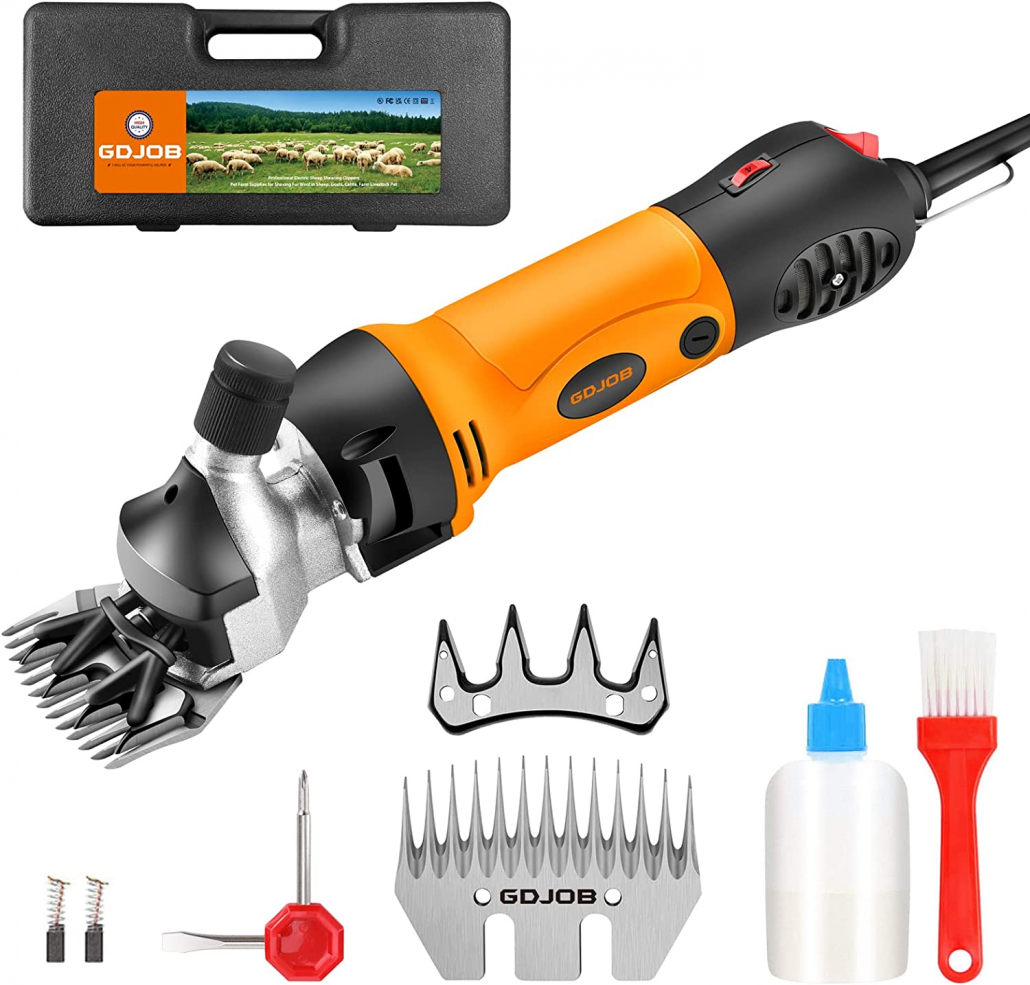 Power: 500 W
Rotate Speed: 0-2400 RPM
Item Weight: 1.45 KG
Use Range: Sheep, Cattle, Goats, and Farm Livestock Pet
Rating: 4.3 out of 5.0
The 500W motor power of the electric sheep shears makes it one of the most efficient. The 6-speed control lets you achieve a maximum of 2400 RPM, which provides excellent cutting and shearing.
The comfortable grip of the model reduces effort and fatigue. The blades have 13 teeth for smooth and efficient cutting of thick furs in one stroke. The rotatable button for blade tension further facilitates the process.
On the whole, the heavy-duty sheep shears are pretty suitable for long-haired animals with thick fur and wool. It is also light and portable for long use.
What is in the Package
1× Dual-blade electric shearing clippers with head
1× Cleaning brush
1× Clipper screwdriver
1× Power cord (5.6m)
1× Bottle of oil
1× Carrying case
2× Sets of carbon brushes
Pros
Very efficient
High speed
Sharp 13-teeth blades for smooth cutting
Best for long-haired animals
Lightweight
Portable
Great grip
Cons
5. Best for Blades: Sheep Shears Pro 110V 500W Professional and Heavy-duty Electric Sheep Shearing Clippers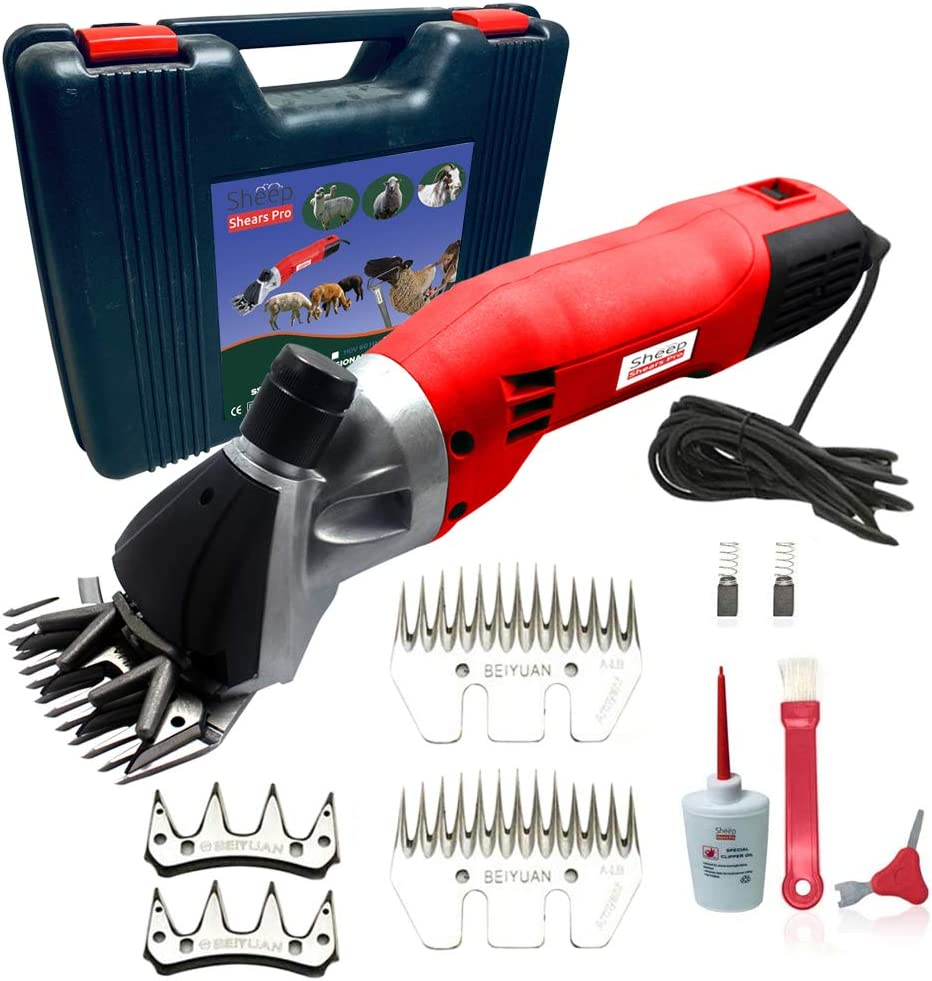 Power: 500 W
Voltage: 110 V
Rotate Speed: 2400 RPM
Use Range: Sheep, Llamas, Goats, Alpacas, Angora Rabbits, and Large Dogs
Rating: 4.2 out of 5.0
The Sheep Shears Pro 110V 500W Professional Heavy-Duty Electric Shear is a great tool for beginners and experienced shearers. It provides heavy-duty performance and cuts the toughest wool with ease.
These professional sheep shears come with two sets of blades and can work at six different speeds for precision. The 500W power (motor) and 2400 RPM speed are high enough to shear sheep in minutes. You can cut through long and thick coats with one or two blows. The six-speed controls help you maneuver the process as you need, without making mistakes.
The comfortable grip allows shearing with precision. The two superior original 13-straight tooth Beiyuan Blades cut the wool without hurting the sheep. The airflow vents do not cause overheating issues in the machine. The 18-feet long power cord lets you work comfortably in all positions.
Overall, the sheep shears are great for sheep, goats, alpacas, Angora rabbits, llamas, and large dogs. However, the electric clippers are not suitable for shearing any timid pets like your puppies and cats.
What is in the Package
1× 500 W sheep shears pro clippers with head & Beiyuan blade set
1× Clipper blade tool driver
1× Lubricating oil
1× Cleaning brush
1× Extra Beiyuan blade
1× Extra set of carbon brushes
1× Operating instructions
1× Carrying case
Pros
Air vents do not allow overheating
Low noise production
Heavy-duty performance
Adjustable six-speed control
Cons
Blades may turn blunt quickly
6. Best Budget: Missyee Electric Sheep Shears for Heavy-duty Shearing Work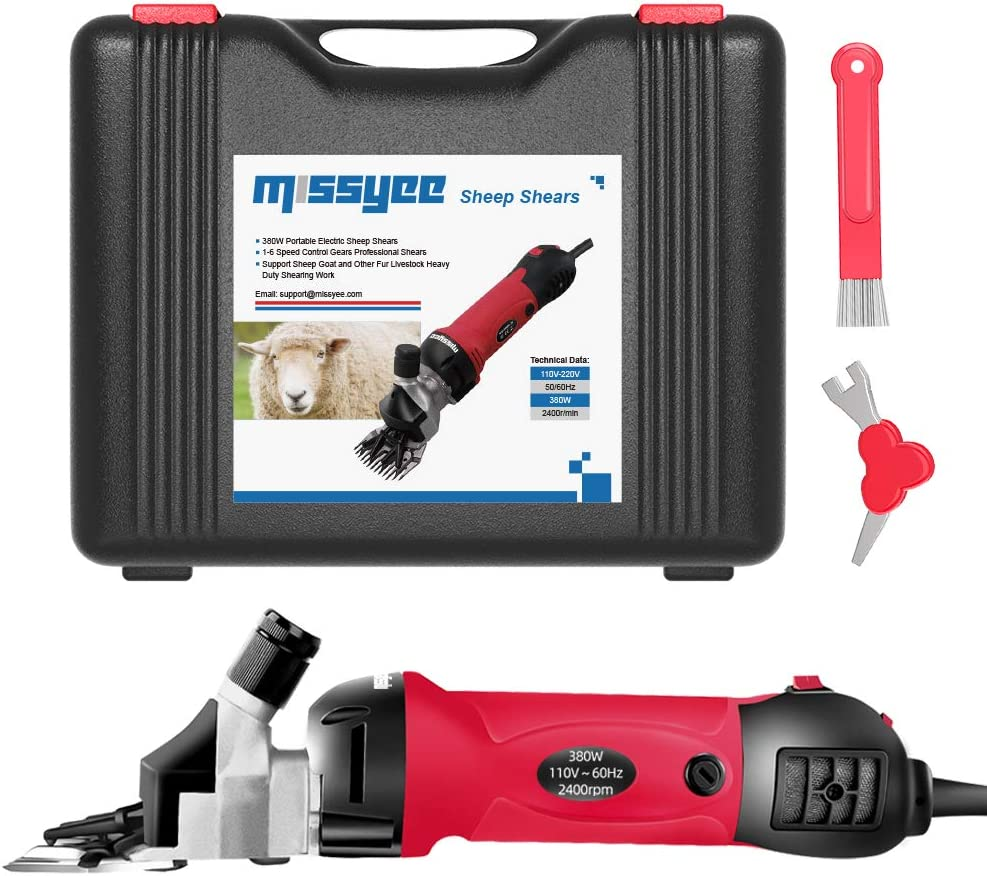 Power: 380 W
Rotate Speed: 2400 RPM
Item Weight: 7.23 Pounds
Use Range: Sheep, Llamas, Goats, Alpacas, Horse, and Cattle
Rating: 4.0 out of 5.0
Missyee sheep shears prove the best for family farming. It provides the most efficient wool shearing at the lowest price. It has 380 W power and offers 2,400 RPM speed, suitable for sheep shearing.
The electric sheep clippers have a rocky nylon PVC body and an aluminum head that causes low vibration. The blades are ultra-sharp and hard with a pressure adjustment feature using a rotating button to shear smoothly without problems. The 13 sharp blades help you cut a lot of thick fur in minutes.
The electric sheep shear is a specialized farm tool and is good enough to keep sheep, goats, llamas, and alpacas well-groomed. It is suitable for both individual shearers and organized large-scale farms.
The heavy-duty shearing machine is robust and works at high speed but is ultra-quiet. The shear does not overheat due to the cooling features. This makes it safer for both the sheep and the shearer.
Pros
High speed
Less overheating issues
Ultra-quiet
Low vibration
Great grip and control
Cons
No variable speed controls
7. Best Value: TAKEKIT Professional Electric Sheep Shears and Clippers for Thick-haired Animals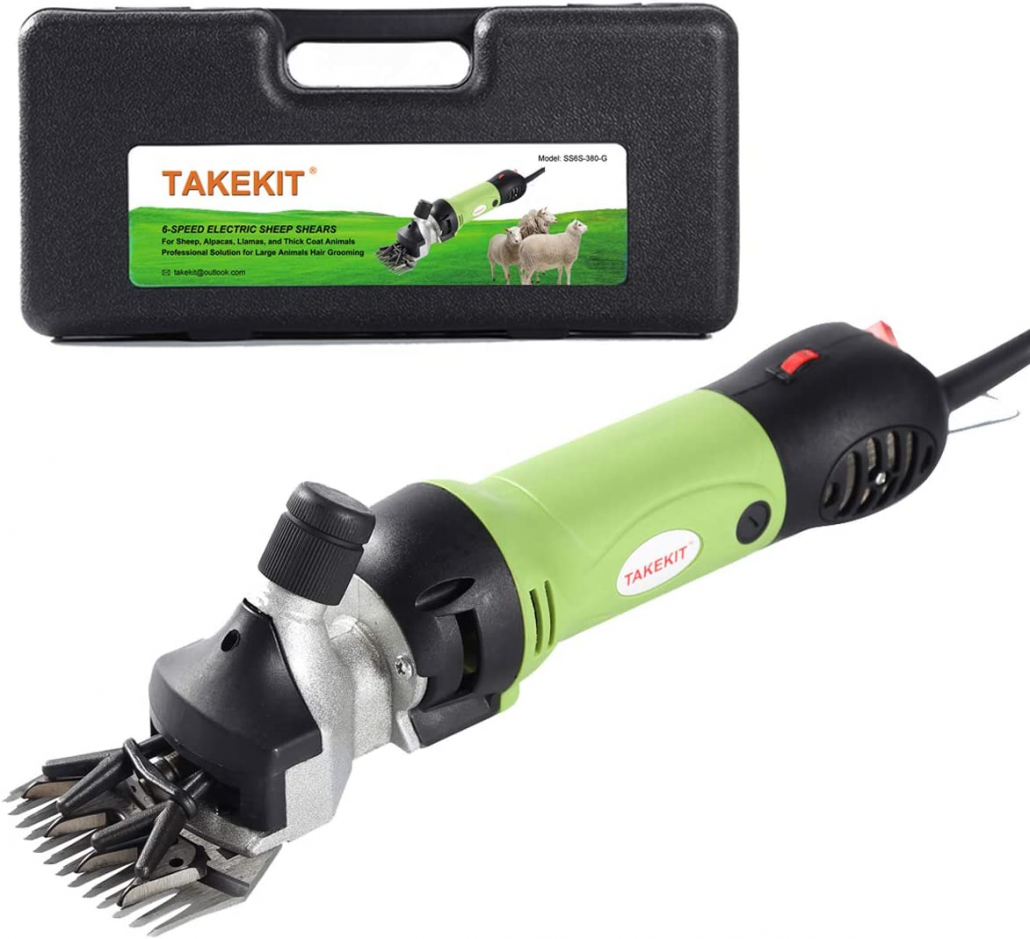 Power: 380 W
Rotate Speed: 2400 RPM
Item Weight: 6.5 Pounds
Noise Emission: 75 dB
Use Range: Sheep, Llamas, Alpacas, and Large Thick Coat Animals
Rating: 4.2 out of 5.0
TAKEIT professional sheep shears are affordable shearing clippers with a low-powered motor that works well for one sheep. However, it is not suitable for large flocks.
This sheep trimming shear is best for owners with one or just a few sheep.
The high-grade steel blade functions at 2400 RPM with six-speed settings so that you can act with minimum mistakes and with precision. Continued use creates some heating issues. It may overheat if you use the machine for too long or more than one sheep in a session.
The sharp blades can cut through long, coarse, and thick wool. The kit also provides a carry case, cleaning brush, oil bottle, and a screwdriver.
The only other drawback is that the low power of the motor causes heavy vibrations.
Pros
Cheap
Good for individuals with a few sheep
Includes accessories in the kit
6 speed controls
Cons
Gets hot with long use
Heavy vibrations
No oil was provided in the oil bottle
8. Top Rated: Oster Clipmaster Variable Speed Clipping Machine

Item Weight: 7.88 Pounds
Rotate Speed: 700-3000
Use Range: Horses, Cattle, and Lambs
Rating: 4.6 out of 5.0
These variable speed clippers are the most heavy-duty sheep shears you can get. The variable speed ranges from 700 to 3000 RPM and is quite commendable. You can adjust the speed as per requirement during shearing.
The design features a secure grip to maneuver the entire process smoothly. The model is lighter than previous ones and causes less fatigue. Oster claims that the new housing is durable and shatterproof while being lighter.
Most shears generally have 2400-2500 RPM. But, the Oster Climpaster Variable Speed Clipping Machine has a maximum of 3000 PRM to shear multiple sheep in a day in a few minutes. The heavy-duty performance is essential for large-scale farms. They reduce effort and time spent in shearing.
Pros
Heavy-duty performance
Huge range of variable speed
Lighter
Shatterproof housing
Cons
9. Best for High Speed: Apelila Electric Sheep Shears and Clippers with 6 Speeds for Fur Grooming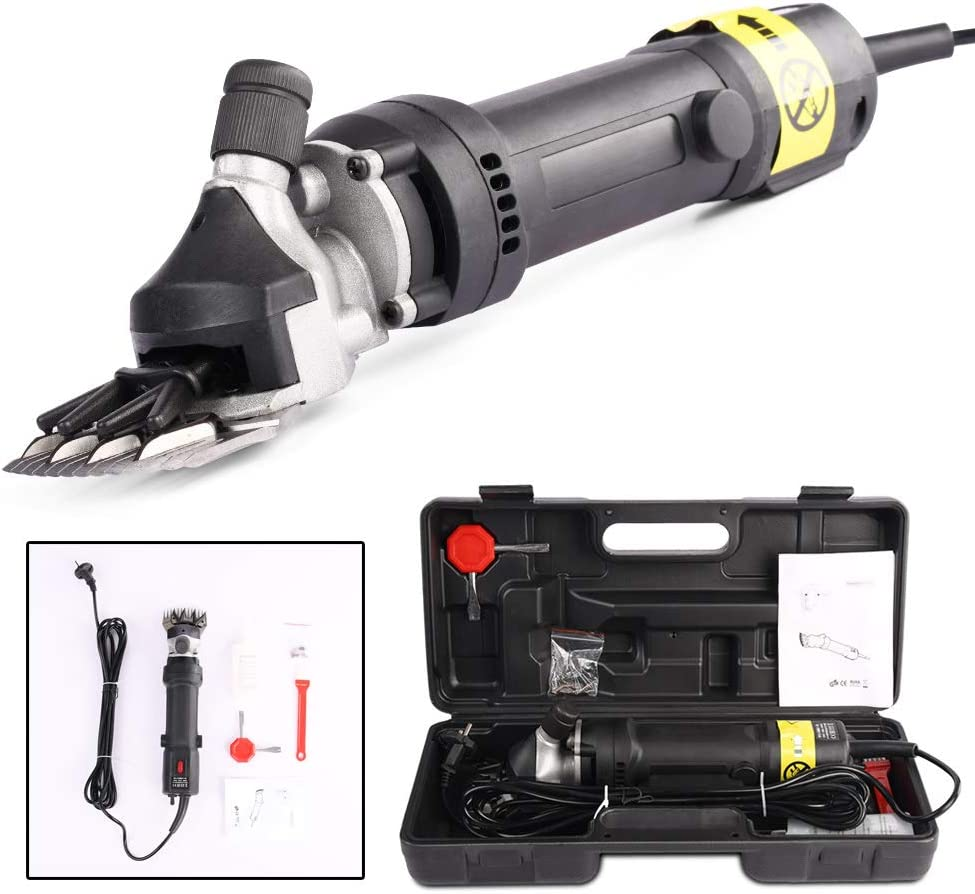 Power: 320 W
Package Weight: 3.2 KG
Cutting Speed: 0-2800 RPM (8-10 Sheep Per Hour)
Noise Emission: 80 dB
Use Range: Sheep, Llamas, Goats, Alpacas, Cattle, Horses, and Large or Medium Dogs
Rating: 4.1 out of 5.0
Apelia 6-Speed Electric Sheep Shears work very fast for large-scale farm jobs. The manufacturer claims you can clip eight to ten sheep in an hour. Even though nobody would like to go so fast, the speed is decent enough. However, continued use will make the machine overheat.
The six-speed control is very efficient for precise cutting with safety. The sheep shear is moderately priced and saves labor effort.
Even though the 320-watt power is low compared to others, the 2400 RPM speed is high enough to cut thick wool. However, the low power causes vibrations and heating issues. The price is quite low and is good for shearing a few sheep with breaks in between.
Pros
High speed
Very efficient
Suitable for large-scale shearing work
Cons
How to Choose the Right Sheep Shears
Even though we have discussed the top sheep shears in the market, it is important to know what you should look for in professional sheep shears.
Most sheep shearing machines come with a handle, a set of blades, and a comb. Some have extra accessories like a case, an oil bottle, and spare blades. As a beginner, it is recommended that you go for a kit before understanding the basics.
Here are some features of sheep shears that you should look for while buying.
High Motor Power
Sharp and powerful blades work well only when the clipping machine runs on a high-powered motor. Low power models do not work well with the thick fur of sheep and alpacas. High-powered motors help you achieve long and smooth strokes on the fur.
Motor power can range from 300W to 600W. Powerful motor-powered shears run at low temperatures and reduce the chance of overheating. It is easy to operate them at high speeds.
Sharp blades
Ensure you use powerful, sharp blades with multiple teeth for smooth use. They help you cut thick fur easily and safely.
Air vent
An air vent is essential for proper use. Sheep shears without an air vent can be overheated. It makes it uncomfortable for the sheep. Moreover, overheating also makes it harder to use the machine.
Variable Speed
Low-speed power settings operate at 1000 RPM, while high-speed machines operate at 2,500 RPM. High-speed machines are the best for experienced shearers.
However, lower speeds are needed for precision in shearing-sensitive areas. Therefore, it is best to go for clippers for sheep shearing with variable speed settings.
You can start at high speed and slow down to cut the sensitive parts of the sheep.
Portability
The sheep shears for animals shouldn't be too large and heavy. A sheep clipper that is not very heavy or huge and complicated is perfect for use on farms.
Long Power Cord
Shearing a sheep requires you to put the animal in different positions. A long power cord makes it easier to maneuver the entire process.
How to Sheer a Sheep and Why?
Shearing is the process of removing the thick layer of fur from the sheep. The process is cumbersome but necessary for the health of the sheep. It is done once before the summer months. Without shearing, a sheep cannot regulate its body heat and will probably get dehydrated due to the heat. However, shearing shouldn't be done in the cold months of winter.
Sheep shearing is a dirty and tiring job but is good for the well-being of your flock. Most people who own large flocks call a professional sheep shearer. If you are shearing the animals yourself, it is important to know the process to avoid stressing and injuring the sheep.
Preparation
Understand the purpose of shearing the sheep. Shearing is done to sell the sheep's wool or to provide relief to the sheep in summer.
Choose the right time to shear your sheep. The best time of the year is during spring.
Choose the right shearing equipment to make the process smooth and safe for the sheep. Electric shears are safer and more efficient these days. Shears with many teeth on the comb cut the fur with precision.
Make sure that the sheep are not wet or fed before shearing. Being wet can give an electric shock to both the shearer and the sheep. Fasting the sheep helps to reduce the waste they produce while shearing.
Shearing
Get the sheep into position first by laying it on its back with the legs in the air. When the sheep is comfortable, it will not struggle throughout the process.
Using long blows, shear the wool near the belly by clearing the right side, the left, and finally, the middle.
Next, it is time to shear the crotch and the inner parts of the hind legs.
Keep the sheep firmly between your knees, holding the legs in the air. Bend down and run the shear along the insides of the legs.
Be very careful while shearing the crotch part of the sheep.
Now, change position and turn the sheep to its right. Shear the wool from the left hind leg, starting from the toe and finishing near the backbone.
Use two or three strokes to clear all the wool, being careful with the tail part.
Repeat the procedure on the left side.
Keep the sheep now in an upright sitting position to shear the face.
Grab the chin and tilt the head backward. Start moving the clippers from the brisket towards the neck, ending below the chin. Use parallel cuts to clean beneath the eyes and the ears safely.
FAQs About Sheep Shears
1. How Much Does a Sheep Shear Cost?
A professional sheep shear should cost at least around $80. The more advanced models could go up to $300.
2. Can You Shear Sheep With Cattle Clippers?
High-powered cattle clippers with sharp blades, made for thick and long-haired animals, can help you shear sheep.
3. Can You Use Sheep Shears on a Dog?
No, you should never use sheep shears on a dog as they will injure it. Professional sheep shears are high-powered tools with long blades to dig into the thick, dirty fur of sheep and alpacas.
4. Do All Sheep need to be Sheared?
Yes, all sheep need to be sheared for health concerns. Keeping the thick wool on their body overheats them during the hotter months and causes dehydration. Moreover, the thick fur can get dirty over time and become unhygienic.
5. How Often Should You Shear Sheep?
Most sheep need shearing at least once a year. Spring is the best time for shearing the sheep before the summer months set in.
6. Do Sheep Feel Pain Sheared?
A high-powered electric sheep shear with sharp teeth on blades cut the thick fur easily in one or two blows. These do not hurt or injure the sheep unless the machine is overheating.
Professional shearers can perform the job easily without stressing or scaring the sheep.
7. Why Can't Sheep Eat Before Shearing?
Sheep generally do not eat before shearing because the less it eats, the less waste it produces on the shearing floor. The clean-up is easier when the sheep excretes less or none at all.
8. How Long Does it Take to Shear a Sheep?
A novice shearer can take about half an hour to shear a sheep. Professional shearers perform the job in 5 to 10 minutes.
9. Will Sheep Shears Work on A Dog?
Technically, sheep shears can be used on dogs, but this is not recommended. Because shaving a dog is likely to damage its fur.