Did you love the shawarma you had in that fancy restaurant last night? Are you craving it again? How about making mouthwatering and tender shawarma at home? Is it possible? Sure, it is. A promising and functional shawarma grill machine is all you need to satisfy your craving.
You don't need expert cooking skills to make delicious shawarma at home. What you need is a good recipe and a gyro machine or shawarma grill that makes the meat as tender and juicy as the restaurant-made shawarma.
Most people don't know how to select and what to look for in a shawarma grill. We have got you covered. This blog post is all about the best choices for shawarma machines and a detailed buying guide so that you don't find this task bothersome anymore.
Our Picks for the Best Shawarma Grills
What is Shawarma?
We know you must have heard about shawarma once in a while because of its worldwide popularity. Here we are going to give you a deep insight into what shawarma is, how it is made, and its origin as well.
Shawarma is a flavorful meal made of marinated chicken, beef, or mutton meat. This Middle Eastern meal is now getting famous in America because of its savory and tender taste. Shawarma is the ideal street food for meat lovers. People can't stop having it due to its juicy and unique flavor.
Turkey is the origin of shawarma, later, it became famous all over Greece, and then Lebanese immigrants introduced this dish to the Western world. The original dish of shawarma has only beef or lamb, but now people have evolved it with chicken or pork as well.
Making mouthwatering shawarma takes a lot of steps, including marinating the thinly sliced meat with all the required spices and then giving uniform heat to the meat through a gyro machine or shawarma grill machine. Roasting the outer layer of meat makes the dish more delicious.
Types of Shawarma Grill Machines
Making a tender and juicy shawarma without a shawarma grill is like an impossible dream. Shawarma cooker roasts and boils the meat by giving constant heat. These machines have a vertical rotating rod or spike, adjustable heat controller, drip tray, and other important parts. After getting the meat fully cooked, the machine keeps the meat heated. We are going to mention and explain a few types of shawarma grills to make your shopping decision easier.
Electric Shawarma Grill Machine
The electric Shawarma machine rotates the meat slices by using electricity. It's a reliable choice for restaurants and even home. Because of its efficient high thermal feature, it uses less electricity. Additionally, it's easy to regulate or adjust the intensity of heat by controllers.
Gas Shawarma Machine
A gas Shawarma machine is a type of machine that uses natural gas or methane to make your shawarma all tender and roast perfectly. It's a great option for indoor as well as outdoor family gatherings. Uniform roasting is possible with a variety of burner configurations and regulating knobs. You can provide heat to the shwarma on the vertical rod by adjusting it accordingly.
Detailed Reviews About the 7 Best Shawarma Grill Machines for Home
1. Best Affordable: NutriChef Countertop Vertical Rotating Shawarma Grill Machine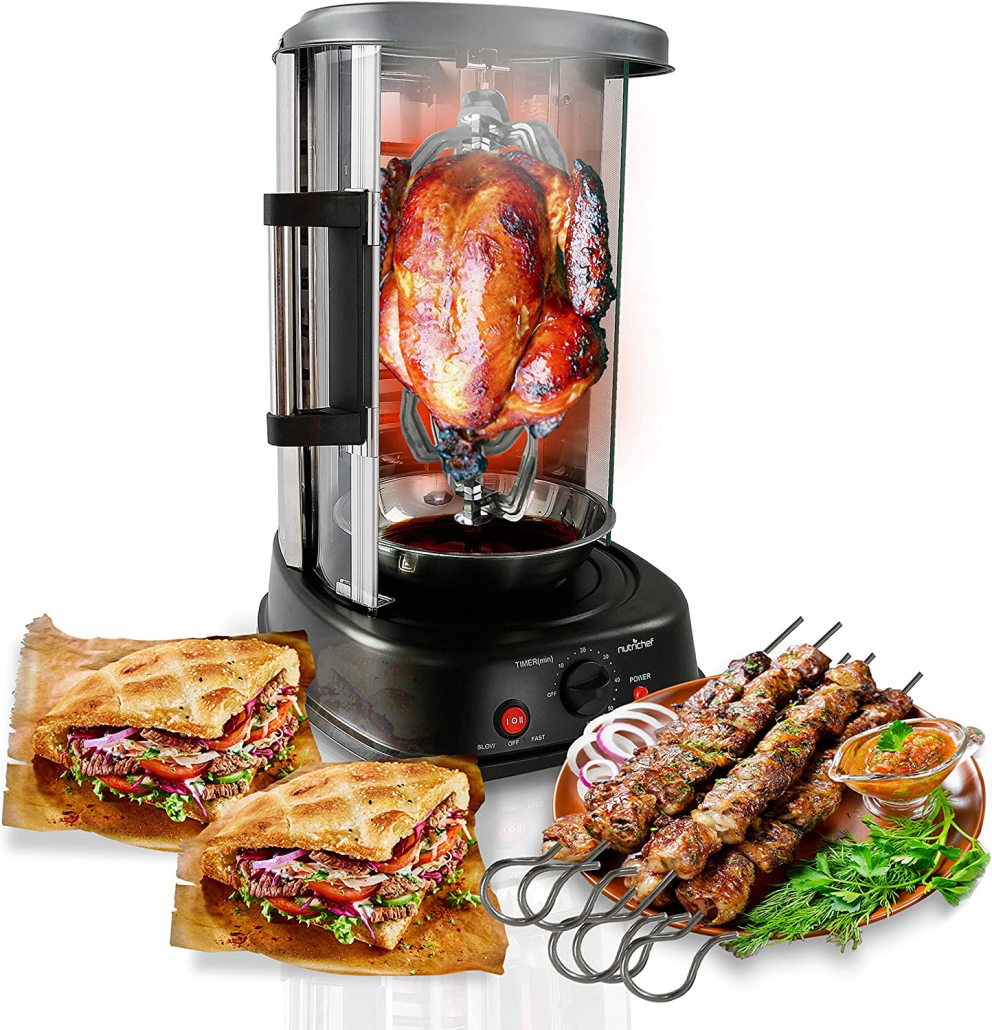 Item Weight: 11.4 Pounds
Power Usage: Electricity
Wattage: 1500 Watts
Max Temperature: 464 ℉ (240 ℃)
Time Setting: Up to 60 Mins
Rating: 4.1 out of 5.0
NutriChef Vertical shawarma grill machine is the choice for people who don't want to spend more than 100 bucks. The tempered glass body of this shawarma grill gives a premium look. The automatic spinner makes cooking easy for you. All you have to do is organize meat into a kebab rack and switch it on. It will start roasting the meat and make it delicious and juicy.
The energy-efficient system of the electric shawarma machine won't only provide uniform heat but also save a lot of time. In addition, the stain-resistant material and grease drip tray make the machine easy to clean and allow mess-free cooking. Besides, you can set the time and hear intensity according to you, thanks to operable settings. From kebabs to shawarma, enjoy every meal you crave.
Pros
Stain-resistant material
Decent meat holding capacity
Light on pockets
Adjustable setting
Cons
Hard to take out the sticks
2. Best for Propane Gas: Li Bai Gyro Rotisserie Shawarma Grill Machine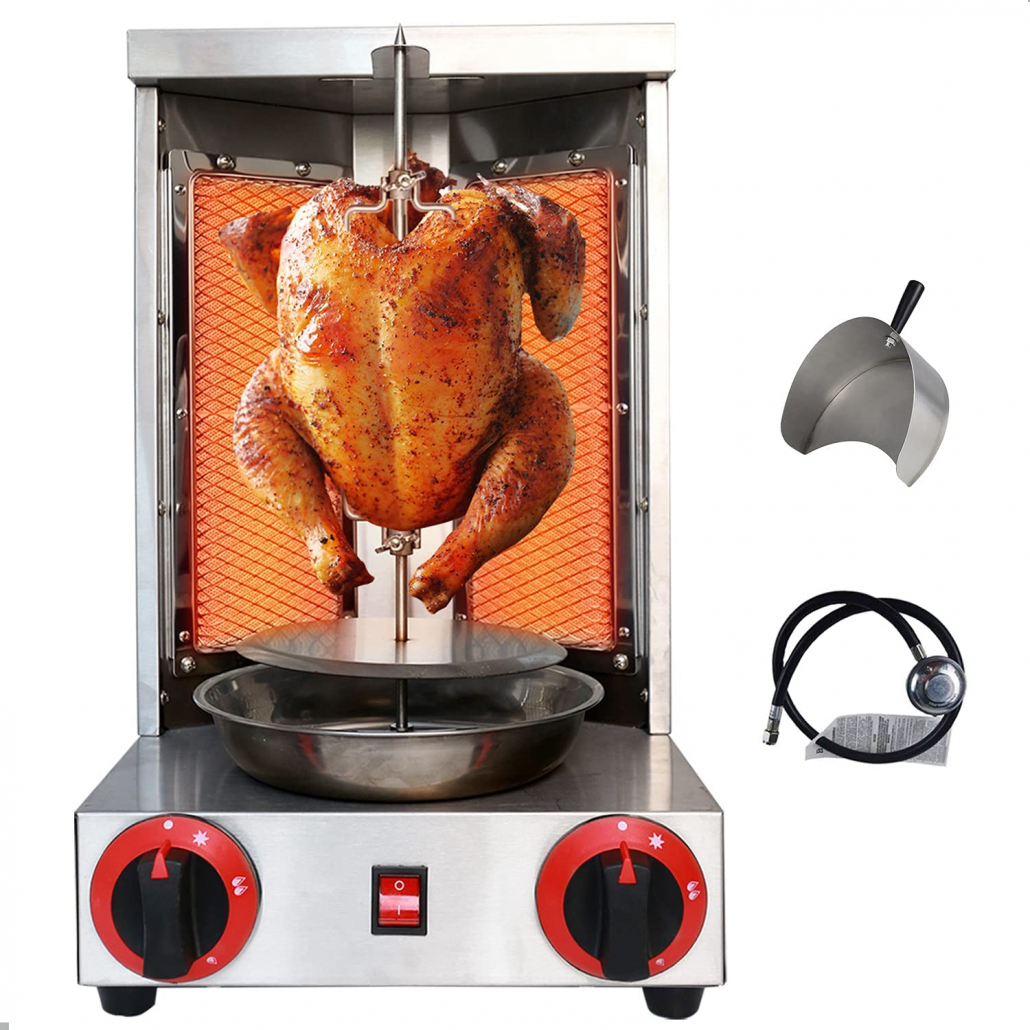 Item Weight: 5 Kg
Power Usage: Propane Gas
Voltage: 110 V/ 60 Hz
Gas: LPG/NG
Warranty: Six Months
Rating: 3.9 out of 5.0
You are not going to find tons of vertical gas machines that offer two infrared burners other than the Li Bai Gyro Shawarma Grill Machine. Fast cooking is no longer a wish as two burners provide high thermal efficiency. Enjoy your juicy meals in half an hour with this machine. It's easy to fit this compact shawarma grill in your kitchen as it's not heavy or huge.
The vertical oven is great for small gatherings and family parties because its capacity ranges from 11 to 13 lbs. Features like the bottom oil pan and detached parts make cleaning easy and allow mess-free cooking. If you want a home shawarma machine that works smoothly and rotates effortlessly, you must have this Li Bai on board.
What is in the Package
1 × Shawarma grill machine
1 × Meat shovel
1 × Manual operation
Pros
Great for a small gathering
Two infrared burners
Tremendous power to cook
The unit gets hot quickly
Able to make meat juicy
Cons
Grease can get leaked into the motor
3. Best Manual: Zz Pro Shawarma Doner Kebab Machine Gyro Grill for Home Use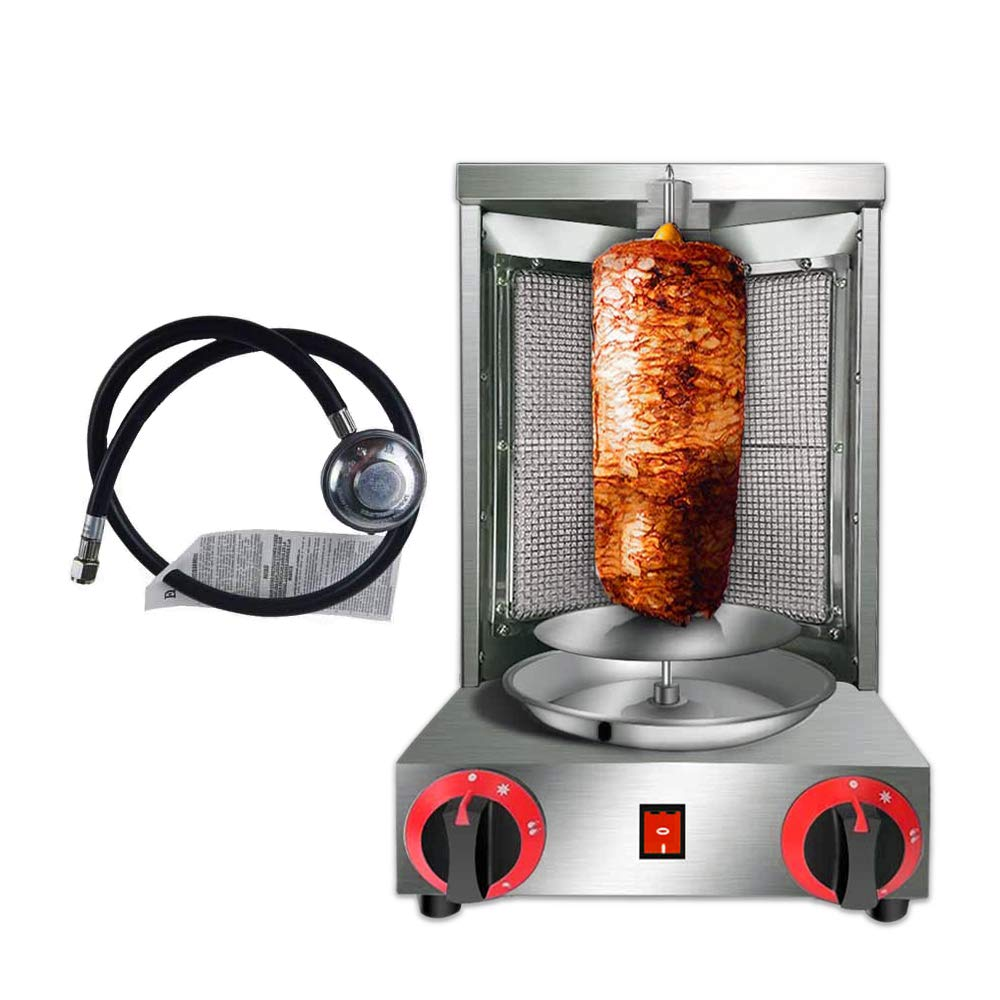 Item Weight: 16 Pounds
Material: Stainless Steel
Voltage: 110 V
Meat Weight: 5-13 Pounds
Warranty: Six Months
Rating: 3.8 out of 5.0
Fast cooking? Durable material? High power motor? Rotate smoothly? Do you want all these features in one vertical roasting shawarma grill? You have got it.
The Zz Pro Gyro Shawarma Machine is all about fast cooking and durability. This shawarma grill has so much to offer. Such as a high-strength material body, shaded-pole motor, and independent control.
Each premium feature adds value to the machine while making it easier to cook. Smooth rotating and two burners work perfectly fine to make the meat tender and crispy. Moreover, unlike other roasteries, the Zz pro doesn't make noise at all while roasting.
Pros
Easy to use
Worth the money
Less to no noise
Control knobs
Cons
4. Best Controllable: YOOYIST Vertical Electric Shawarma Grill Machine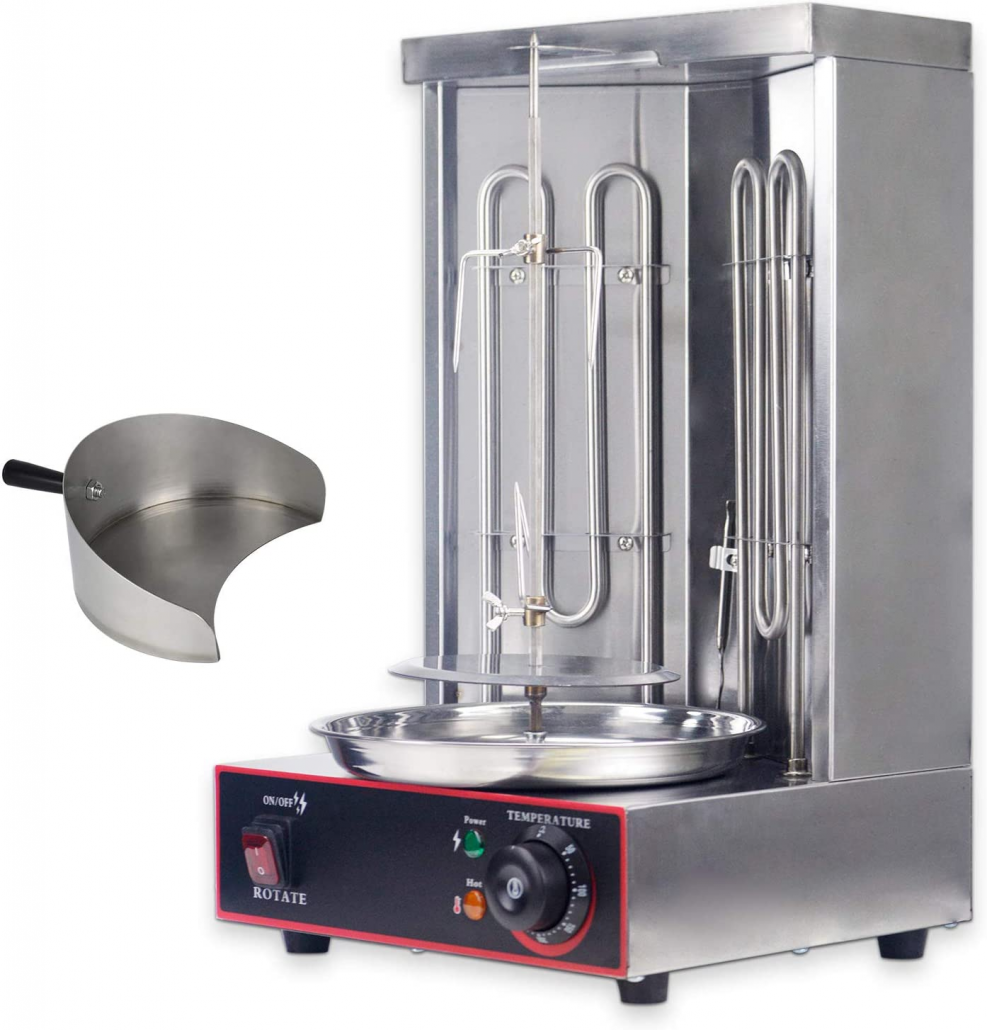 Item Weight: 12 Pounds
Power Usage: Electricity
Heating Power: 2.4 Kilowatts
Temperature Range: 50-300 ℃
Voltage: 110 V/60 Hz
Rating: 4.1 out of 5.0
Do you like your meat crispy yet juicy? If so, all you need is this YOOYIST Electric Shawarma machine. The sturdy stainless steel makes the unit long-lasting for years. Keeping it in the kitchen will be convenient for using it regularly. There will be no fear of an explosion as the on and off switch provides extra safety.
Have a picnic or host a small party in your backyard with no worries. The YOOYIST shawarma grill is there to serve a proper meal to your guests. Just put the meat in the pan, switch on the unit, control the temperature up to 300 degrees and you're good to do other chores. Additionally, an over-temperature alert can automatically adjust the heat for safe use.
What is in the Package
1 × Commercial kebab shawarma machine
1 × Meat shovel
1 × Manual operation
Pros
Perfect for making kebab
Temperature alert
Robust construction
Easy to use
Cons
Temperature control is a bit flimsy
5. Top Rated: BNDHKR Homemade Rotisserie Chicken Shawarma Grill Machine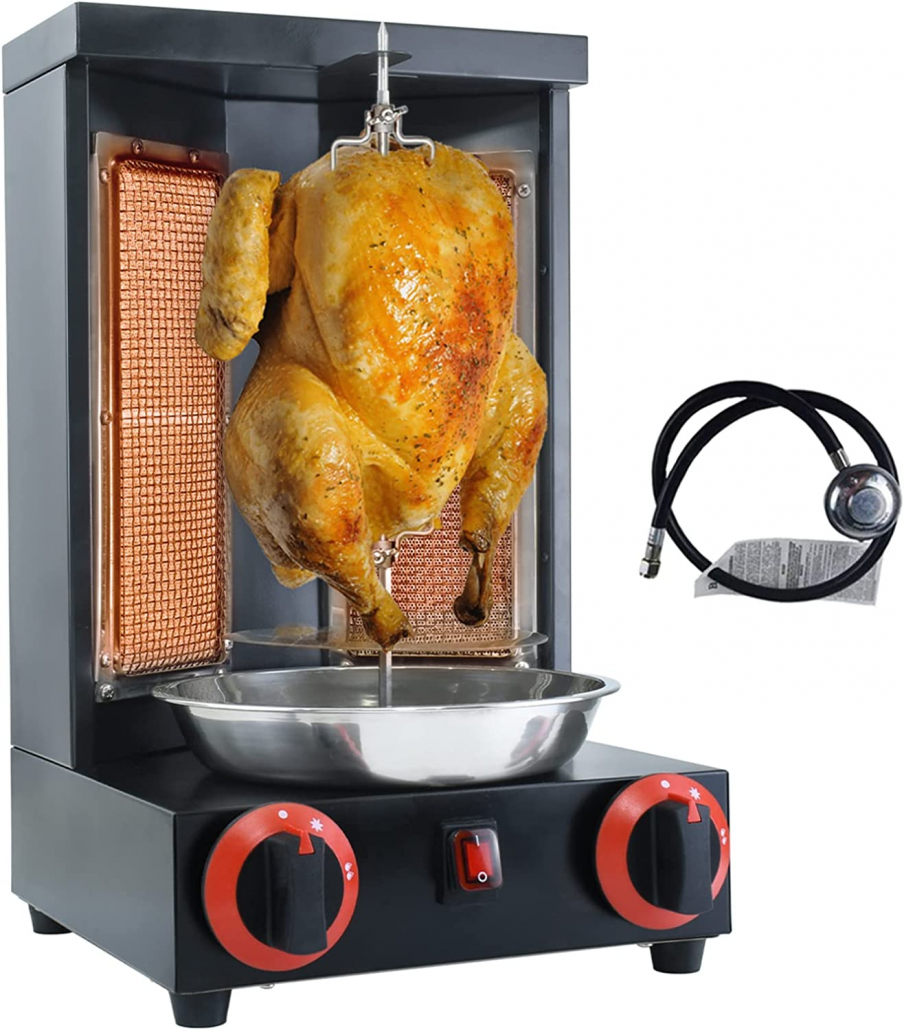 Item Weight: 14.57 Pounds
Power Usage: Propane Gas
Meat Weight: 11-13 Pounds
Voltage: 110 V/60 Hz
Rating: 4.8 out of 5.0
The BNDHKR chicken shawarma grill machine is a worthy investment since it has all the features and looks gorgeous in the kitchen. Easily adjustable height of meat is possible with removable stainless steel skewers. Also, you will have a worry-free cooking session with this unit because of its convenient and safe use. The meat will rotate smoothly so that each part of the meat gets cooked properly.
There will be no grease dripping that can damage the motor, all thanks to the oil collecting tray. It's better to clean the unit regularly to keep it safe and long-lasting. In addition to that, another deal-making feature of this home shawarma grill is the two ceramic burners. These highly efficient burners make sure to lower the power consumption.
What is in the Package
1 × Commercial kebab shawarma grill machine
1 × Manual operation
1 × Gas hose
Pros
Oil collecting tray
360 degrees smooth rotation
Removable skewer
Low energy consumption
Cons
6. Best Value: Zz Pro Electric Vertical Broiler Gyro Shawarma Grill Machine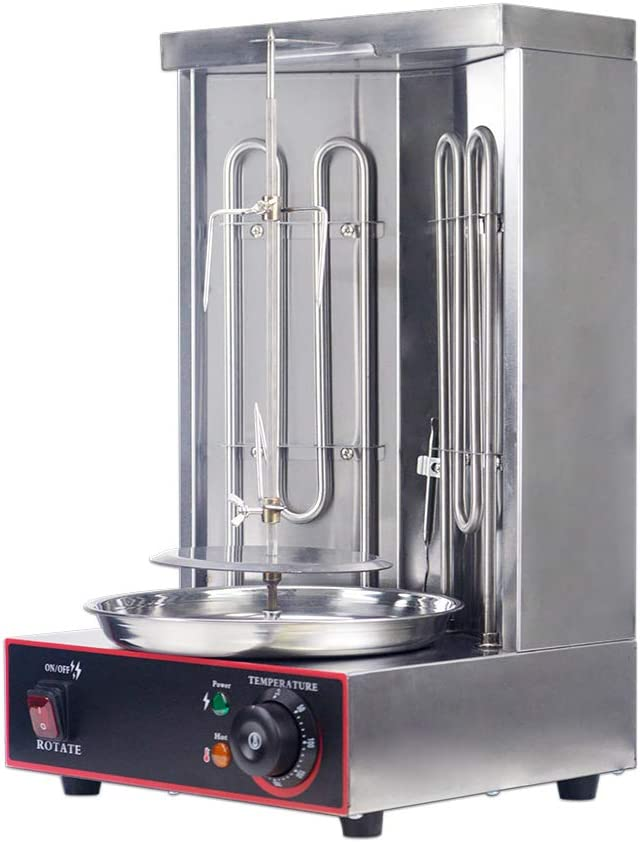 Item Weight: 5 Kg
Power Usage: Electricity
Heating Power: 2.4 Kilowatts
Meat Weight: 5-13 Pounds
Temperature Range: 50-300 ℃
Rating: 4.0 out of 5.0
The ergonomic and compact design of this Zz Pro electric shawarma grill machine makes your cooking experience free of tension. To allow even more enjoyable cooking time, you can separate the oil tray to keep it from touching the base directly.
Unlike other unsecured shawarma grills, this electric vertical broiler is a blend of security and convenience. Just carefully put the meat on the pan, switch on the unit, regulate the temperature wisely and then wait for half an hour. Your delicious barbecue or shawarma is ready to eat.
If you're having a small get-together or family dinner, this shawarma grill broiler can be a considerable choice since it can hold 5 to 13 pounds of meat at a time. Not only does it hold a decent amount of meat, but it can also make it tender from the inside and crispy on the outside.
Moreover, thanks to stainless steel, it is no longer a challenging task to clean the grease and other stains to save the gyro shawarma machine for years.
Pros
Get heat up fast
Hold a decent amount of meat
Great for small gatherings
Durable stainless steel
Cons
Sometimes, grease can way down to the motor
7. Best Premium: Royali Vertical Rotisserie Gyro Shawarma Grill Machine for Home Kitchen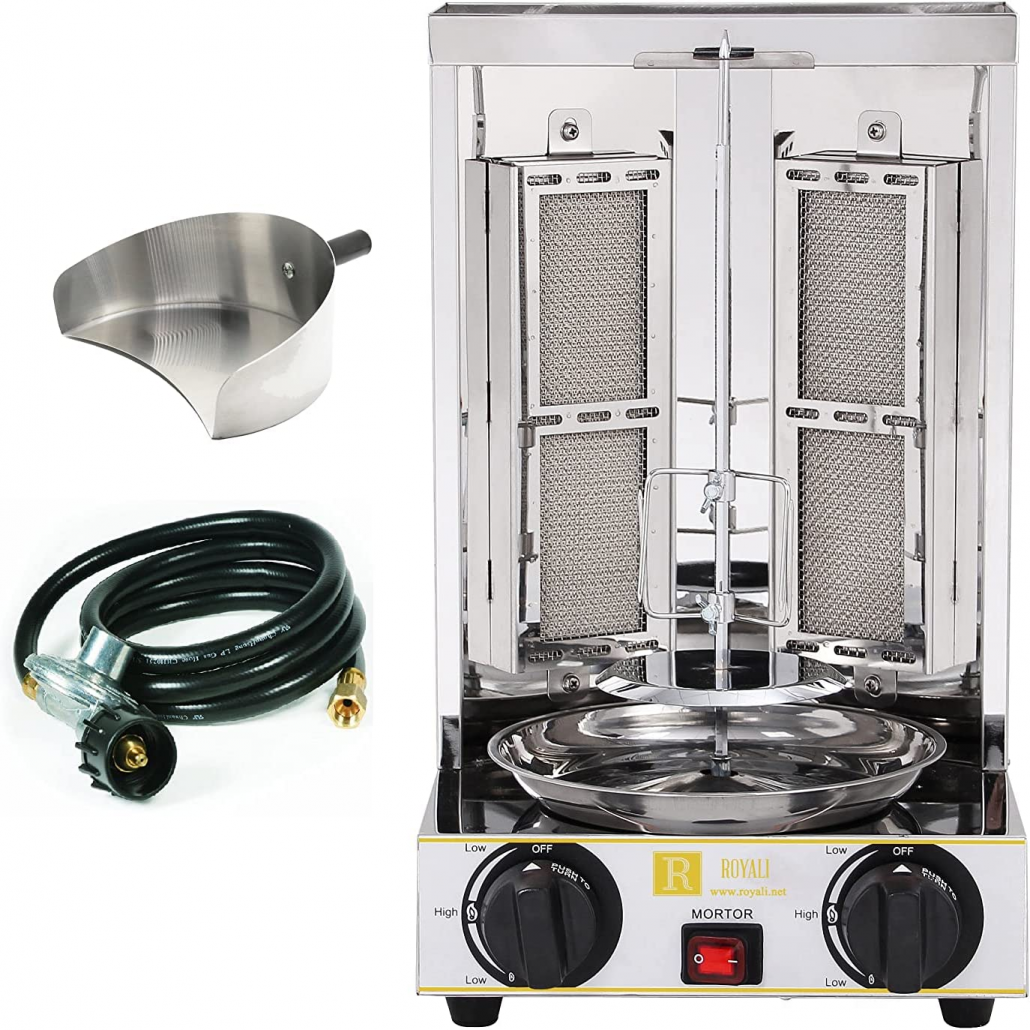 Item Weight: 17 Pounds
Power Usage: Propane Gas
Wattage: 1100 Watts
Voltage: 110 V
Meat Weight: 5-13 Pounds
Rating: 4.1 out of 5.0
The Royali Shawarma cooker isn't only suitable for shawarma but is a perfect rotisserie for chicken, kebabs, and pork as well. Offering double infrared burners allows uniform and constant heating while ensuring the tenderness of the meat. Besides, the shawarma grill also gives freedom to control the temperature of both sides. Easy to use temperature adjusting knob and premium stainless steel stylish body makes this unit worth having.
Also, there will be no fear of electricity explosion. The Royali shawarma grill machine operates on propane gas. That's why you can use it in your kitchen and backyard without thinking twice. It's possible to enjoy your turkey, lamb, beef, and even tacos at home.
Pros
Great for home gatherings
Easy cleaning up
No struggle to assemble it
Stylish body
Cons
How to Choose the Right Shawarma Grill Machine
How to ensure that the shawarma grill you're about to buy suits your needs? What features to look for while choosing a shawarma machine for your upcoming parties? This guide is all about choosing the right machine for shawarma.
Capacity
Shawarma grills come with different meat-holding and cooking capacities. You must choose according to your needs.
Some offer to hold a few dozen, while others can hold a few hundred kilograms.
About to throw a Shawarma party? If that's the case, you will need a shawarma machine with a large meat capacity. So you don't have to cook your meat twice. On the other hand, you don't need to spend your hard-earned money on the huge-sized shawarma grill if you need it for normal usage.
A shawarma grill cooker with 5-11 lbs capacity would be a good option for home purposes. So always look for the capacity of the machine before buying it.
Types of Spinner
The spinner of the shawarma grill is another essential feature you should never overlook. The shawarma machines come with automatic and manual spinners. Now you have to opt for the right one for you.
For home use, go for the manual spinner as it's an affordable, compact-sized body and is easy to fit anywhere. You have to rotate the spinner manually, so your hand might get tired.
The gyro shawarma machines with automatic spinners are great for restaurants and big parties. This type of machine is a bit expensive comparatively and has a huge body. Go for the one that suits your needs.
Type
As we mentioned earlier, shawarma machines can run with electricity and gas. Therefore, realize your way of usage whether you are going to use electricity or gas.
If you're mostly going to use it in the kitchen or where there's natural gas or methane supply, you can choose a gas shawarma grill machine.
Oppositely, if you're planning to use it outdoors where it's hard to find a gas supply and easy to get electricity, it is better to go for a machine with electricity settings.
Construction
Buying something means putting your pretty pennies, so the product must have premium quality and be well-constructed. So should a shawarma grill.
Select a shawarma grill with the following details to avoid any regret by buying something useless or with less to no premium features.
A durable shawarma grill cooker should be made of high-quality food-grade stainless steel. Besides that, a controllable and easy-to-adjust is a must-have feature in any kind of shawarma machine. The motor should be placed in a sealed container to ensure that no grease is dripping down to the motor to avoid damaging it. Additionally, ceramic-made gyro machines are well-known for their long-lasting and fast heating feature.
Cost
The price of the shawarma grill varies depending on the material and type. Our picked best home shawarma machine ranges from $100 to $300. You can pick one that suits your budget and demands. Just make sure that the shawarma grill has all the features you need.
Easy Cleaning
The shawarma grill machine should be easy to clean so that you can protect it from getting ruined by all the grease and sauces. Otherwise, grease and stains will make your grill dingy and vulnerable. Additionally, it should have a grease collecting compartment at the bottom so that you can clean it often.
Frequently Asked Questions About Shawarma Grills
1. How Do You Use a Shawarma Grill?
You need to be very careful while using a shawarma machine. You have to clean after every use and regulate the heat intensity to avoid any danger of overheating. If you're taking care of these two things, you're good.
2. How Much is a Chicken Shawarma Machine?
Well, there's no straightforward answer to this question. The market has various shawarma grill machines ranging from $100 to $500 and even more than this. If you're not willing to invest heavily, there are good options under $100 as well. On the other hand, high-priced shawarma cookers certainly offer advanced and brilliant features.
3. How to Make Shawarma Meat?
All you need is a functional shawarma grill that provides uniform heating and a good recipe. Marinate the meat with the right spices and sauces for a few hours, put it on the pan, and start giving heat to it. Now, wait half an hour or more and cut the meat with a sharp knife. After that, serve the shawarma meat the way you want it.
4. Can Shawarma Make You Sick?
Many people have such worries. However, some food safety officials have pointed out that shawarma is not the only food that may make people sick and lead to food poisoning. In fact, the improper and unhygienic use of any food items can cause infections and food poisoning. You're more likely to get sick if the shawarma meat is old or hasn't been cooked properly. Overall, it's always good to eat healthily so you don't get sick or get an upset stomach.
5. Do I Need to Clean My Shawarma Grill?
A big YES. You always have to clean your shawarma machine after use. Otherwise, your unit won't last for even a year.
Conclusion
Making delicious and flavor-packed shawarma at home is undoubtedly a task to do. Constant practice will make you an expert in making delicious shawarma at home. So, a resilient shawarma grill machine is a must-have for making it happen. We have shared some of the best shawarma grills so that you don't have to struggle in making buying decisions.
If your monthly budget is exceeding and you want a gyro grill machine within budget, then NutriChef shawarma grill can be the best option.
On the other hand, if budget isn't an issue for you, then go for the one that offers ultimate comfort and convenience, such as Rayoli Gyro Machine. Enjoy your family dinner and make it even more special by serving delectable shawarma sandwiches.