Who doesn't wants a wallet while stepping out from home? ID's, credit cards, and other personal items are essentials when going out. However, not everyone loves to carry a bulky handbag around all the time. So, the best solution to this is to have a lightweight and functional keychain wallet with you. The keychain wallet will provide you with the option of both wallets and keys at a place. Go hands-free now wherever you want to go!
Things to Consider Before Buying a Keychain Wallet
Before buying a wallet with a keychain, you must consider these critical features.
The functionality of the wallet is one of the most crucial factors that you must consider. Notice how many cards it can carry? Are there enough pockets for keeping accessories and keys? Is there a separate space for cash? Look for a highly-functional wallet that works great for you without adding weight to the product.
Wallets can be of different types. Some of them have front pockets, while some are hard case wallets, bifold, or trifold. Pick the keychain wallet that perfectly matches your preference.
Wallets are made with a range of materials. From leather, fabric to metal, there is a large variety available. Choose the one that stays with you for a longer time and also matches your personality. Leather wallets are durable, long-lasting, and classy. You don't need to worry about wearing down the material, at least for a couple of years. Other than these, nylon keychain wallets are also great to use. Nylon wears even slower than leather and lasts for a more extended period. The main concern in wallets made of any kind of material is stitching. Always look for the guarantees of stitching.
People having a good fashion sense look for a wallet with a stylish design. Make sure that the keychain wallet you select should be not only stylish but also functional. The wallets made with leather or nylon add up beauty in the product. These materials are also durable and have better wear resistance.
Before searching for a wallet, the first thing you must do is to sort out all your cards, bills, and other IDs. Remove all the cards that you don't use frequently. After completing the wallet audit, take your essential items left. Now, start searching for the wallet whose size exactly matches your requirement of capacity.
RFID blocking wallet is an essential feature to consider to protect yourself from RFID skimming. Especially if you have RFID-enabled cards in your wallet, then you surely want to keep them protected. A wallet having a blocking feature will keep all the information on your card safe. You might be thinking about how you will get to know that your selected wallet has this feature or not? Read the product description carefully as it will give you all the details related to RFID.
All the brands offer design; it's not something very different. Look for brands that provide you unique features. Appearance attracts us, but what matters most is the functionality. Accessories and functionality, such as a solid case for card protection and RFID protection, are essential features. Find out the products that ensure easy removal of cards and security clips is also mandatory.
Another unusual feature of the wallet is that the wallet's keyring attaches allow you to connect the keys with it. No more worries about losing keys now. Money clips that help to keep your cash in place are also present in some wallets. Consider the models with all these and other unique features that make them stand out from others.
The price of the keychain wallet varies according to its features. Whether you are looking for a premium or entry-level wallet, they have different specifications, and price varies accordingly. Our experts recommend you to buy premium quality wallets, as they have perfect stitching. You might have noticed that when your wallet starts wearing, the first place is always stitching.
Always look for the wallet brands that offer you a warranty or guarantee. The warranty for 12-24 months on stitching is good enough. Manufacturers that put their reputation at the topmost priority offer you the confirmation. The assurance of stitching makes you feel more confident about your product. [/su_box]
1. Minimalist Wallets for Men & Women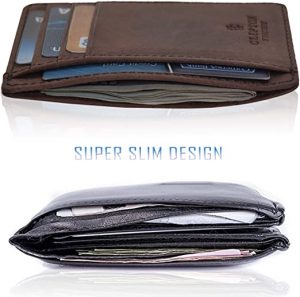 Although the wallet looks extremely slim and discreet, it has plenty of room for storing your essentials. The compact design allows you to slide it easily in your front and back pockets. You will love how lightweight it is; the wallet will never disturb you. Your protection is what matters a lot. RFID blocking technology is a must nowadays to keep you and your data protected. RFID wallets have RFID chips in it that keeps them secure.
It is the perfect gift for your friends, family, and relatives. Whether it's a special occasion for your father or husband, it has an attractive packaging that makes it memorable pleasant. Moreover, Minimalist's wallets also provide one year of warranty and provide complete customer satisfaction.
Pros
Slim and convenient.
Perfect gift.
Made with genuine leather.
Functional and compact.
RFID Blocking.
Cons
The bottom of the wallet is a bit thinner.
2. Thread Wallets Front Pocket Credit Card Holder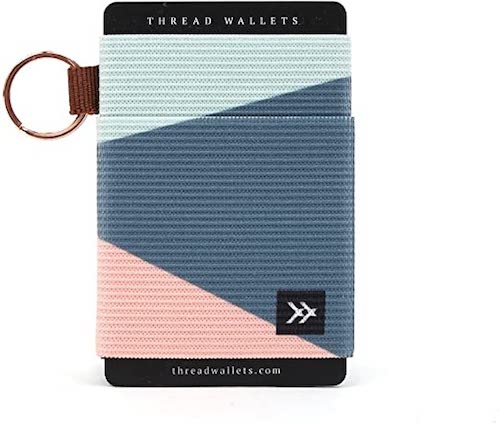 The Thread Wallet is a dream wallet for keychain wallet lovers—all praises to the compact and slim design of this product. Without any discomfort or bulkiness, it is easy to keep this slim wallet in your front pocket. All your cards and keys will keep them secure. This wallet is constructed with a tight-knit elastic that will stay with you for a more extended period. If you are the one who always keeps the essentials close to you, then this is perfect for you. You can keep the most frequently used cards on the front side of elastic pockets.
The wallet is beautiful, unique, and has vibrant colors.
You can enjoy the freedom of your on-the-go lifestyle. Thread wallet is to have on trips, to the gym, morning walks, or whenever you are out. It also has a built-in keyring that attaches the wallet to your backpacks, keys, and others. The wallet comes in different unlimited combinations of patterns and colors. Chic and straightforward, both wallets are present. Please have a look at all our designs and then choose the one that matches your personality. Be it classy or adventurous, we have a vast range of keychain wallets. Even girly and flittery wallets are also available that suits best for fun girls.
Pros
Comes in different colors.
Smart and functional.
Fabric is durable.
Easy to carry.
Cons
Not have RFID technology.
3. Vera Bradley Women's Signature Cotton Zip ID Case Wallet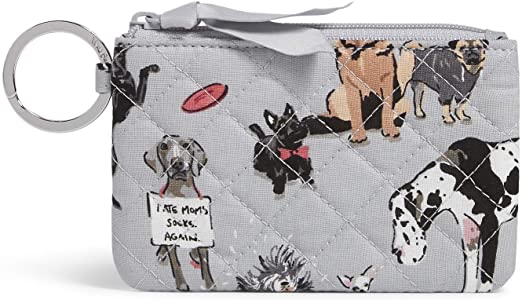 The Vera Bradley Women's is a signature keychain wallet for women and girls. Now you can keep your valuables close wherever you go. This great wallet is constructed with imported cotton and has a polyester lining. The cotton use in it is lightweight and durable. The wallet also has a front ID window, zip closure, and key ring that ensures that the zip ID case is a secure place for cards, cash, and ID. Keeping your money and card safe is essential, and interior compartments do this. The zip ID case is fun iconic and will add up a little fun in your life.
A combination of brightness, fun, and functionality is what makes Vera Bradley wallet our top choice. Sort out all your cards and cash, then take with you only the essentials. Hardly 2 to 3 cards are what you need. Now carry only these essentials with you. This wallet helps you to organize the belongings easily. You don't have to do anything, just add your keys, tuck your ID, and travel lightly with the correctly sized wallet.
Pros
Compact style and stylish.
Made with excellent quality.
Zipper closure.
Comes with a signature key ring.
Easy organization.
Cons
Quilted fabric makes it a little heavier than others.
4. Chums Surfshort Wallet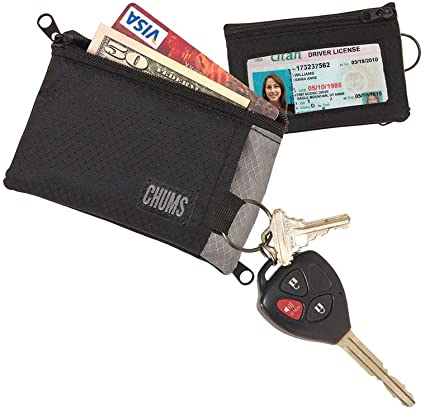 The Chums Surfshort Wallet is the favorite of keychain wallet lovers.
The stash wallet for ID, cards, cash, and keys is perfect for you. You can carry all the items safely that you don't want to leave behind. It comes with two independent zipped compartments; one has a clear window and internal divider. You can ideally put passes, id, or driver license. The external pocket contains a key tag that is ideal for keeping the belt chain, and it is easy to access the card slot.
The chums' wallet is specially crafted with durable rip-stop nylon. Small pockets fit all the essentials perfectly. Outside of the wallet has an ID window that keeps your ID protected.
Pros
Holds a lot of stuff.
Practical and functional.
Best for traveling.
Made with durable nylon.
Cons
Don't zip it up entirely as it may get stuck.
5. Women's Slim RFID Credit Card Holder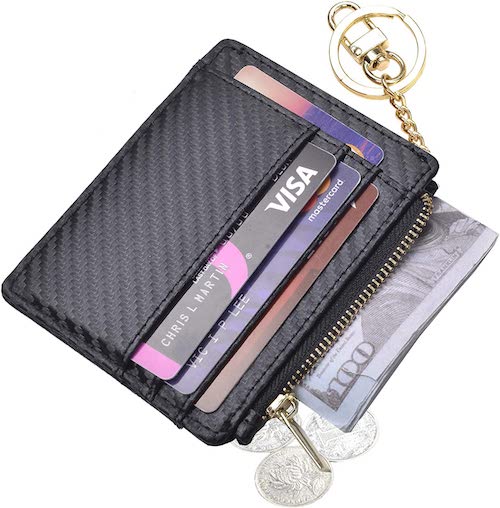 The Women's slim keychain wallet is good to go with. You can entirely rely on this wallet, as it is an excellent replacement for bulky handbags and briefcases. The card wallet is crafted with high-quality microfiber leather making it soft, delicate, yet durable. The inner fabric is soft enough that you will just thank the finest craftsmanship. Furthermore, the zipper in it is upgraded and lasts for a longer time than others.
The slim women's wallet is lightweight and compact. However, it is mini but super functional. The wallet comes with 1 ID window outside, 6 card slots, and 1 zipper pocket for change, cash, and accessories. It also comes with a key chain that has a crucial ring for securing your keys properly. To protect all your cards from scanning, the card is specially designed with RFID technology. RFID helps to keep all your information secure.
Whether you are a gentleman or a classy woman, you can find the right color for you. You can choose from a wide range of colors available. No matter where you are going, either it is shopping, a business trip, a casual walk, or for an appointment, this wallet is perfect to go. As it matches everyone's style, so it is best for all.
Pros
Zipper closure.
Available in various colors.
RFID technology.
Slim and functional.
Durable zipper.
Perfect gift.
Made with high-quality material.
Cons
A little bit heavier than other models.
6. AnnabelZ Coin Purse Change Keychain Wallet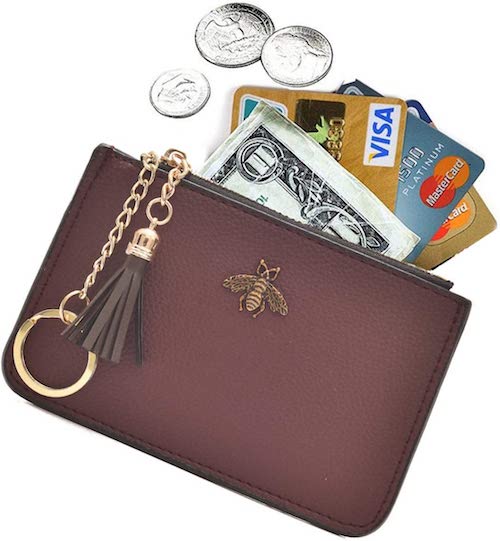 The Annabelz coin purse is specially designed for putting your coins and change quickly. It is made with a synthetic material that is of high quality and durable. The wallet is soft, compact, and super lightweight. Although it is a mini wallet, the functionality and practicality are not compromised at any cost. It has a zipper pocket for coins, change, cash, 3 card slots inside, and a keychain ring. You can also keep daily accessories within it.
The design of the wallet is unique, and bee decoration adds value to it. You can organize well all your bills, cards and other small items. The keychain wallet has a zipper closure that ensures that all your belongings are safe.
Pros
Can store a lot.
Tassel pendant.
Unique bee decoration design.
Zipper closure.
Super thin.
Slim design and stylish.
Cons
Smaller for those who want to store a lot of things.
7. Dickies Men's Bifold Chain Wallet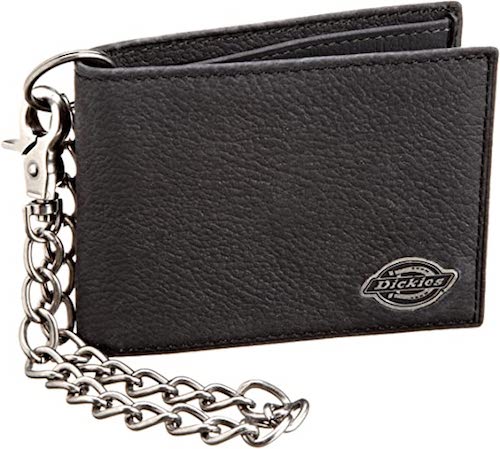 The Dickies Men's Bifold Chain Wallet is for men and allows you to keep everything organized. A large capacity wallet with a thin design with all the specific features you are looking for. It has a large bill compartment, 2 slip pockets, 4 credit card slots, and 1 ID window that allows easy access for your essentials. If you want to go everywhere hands-free, then choose this mini keychain wallet. Made with real leather, the wallet is sturdy enough to go with almost anything.
The lining of this wallet is entirely human-made. This bifold fits perfectly in your pocket. For giving a casual finish to the wallet, an ornamental logon has been added to the front. While for an elevated finish, the stitch details are featured. Now men can carry all their essentials at a place. Go now and pick it up!
Pros
Heavy-duty wallet.
Stylish with finishing.
Ideal for all ages.
Comes with a keychain cardholder.
Have a large capacity.
Perfect gift.
Which material is perfect for a wallet?
Wallets can be made of different materials. They may be of nylon, leather, or any other material. Of all the others, nylon and leather are the top products.
Can my keychain wallet also carry coin?
If you want to hold coins in your wallet, then go for the wallet with pockets. Not all the models have this option, but a few have.
Can I carry keys in my wallet?
Yes, the keychain wallet comes with a keyring. You can quickly put your keys in it. The combination of wallet and keys makes it perfect for usage.
How to carry notes in my keychain wallet?
Not all the keychain wallets have this feature to put notes properly in it. Some extra slim wallets have a quality of folding the notes and then putting it in the wallet. This feature is a little bit inconvenient as it puts you in the difficulty of folding it again every time.
What is RFID protection?
The RFID chip is present in the debit or credit cards that have all your personal information. The criminals may have RFID scanners that they may use to steal your information. Wallets with RFID protection blocks your wallet with scanning. This technology helps to keep your data secure.
From where can you buy a keychain wallet?
Our experts recommend you buy a keychain wallet from Amazon. Amazon offers buyer protection, fast delivery, and ensures you to refund.
Key Chain Wallets – Final Verdict
Till now, you have got the idea of the best key chain wallet. In this review, we have shared our top recommendations with you. If you choose the premium model, we suggest you buy Minimalist Wallets for Men & Women. This product has unique features and will make you feel proud of your choice. Now nothing ever will fall out from your pocket as all your essentials will be safe and secure. So, enjoy the easy life now.