Cruising is a fun activity that most of you do on your vacations, but it can become a life threat if you are not adequately protected. Even if you are on a fun road trip with your friends on a cruiser motorcycle, you still need a helmet for safety. A Better Quality helmet can protect you from accidents.
Finding a helmet as per your choice and requirements might be complex. With so many options available in the market, deciding on one helmet that meets your needs and complements your aesthetics is challenging.
To make things easy for you, We have made a list of the top-notch Ten best Cruiser Motorcycle Helmets so you know what to Consider before purchasing. Suppose you are finding a safe and stylish option for a convenient motorbike trip; in that case, we suggest buying the top cruiser helmet that meets your requirements.
Our Pick For Best Cruiser Motorcycle Helmet:
Best Half Face Helmet: Vega Helmets Half-Size Warrior Motorcycle Helmet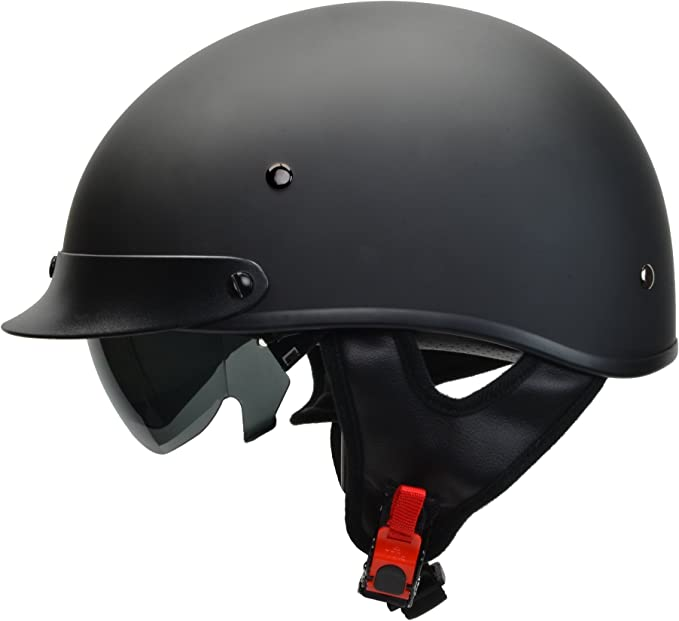 Suppose you are looking for something that protects you and gives you a comfortable feeling. Then the Vega Half-Size Warrior is the best option for you. It is very lightweight, has a relaxed fit, and lets you enjoy the breeze on the go.
The cruiser helmet has a drop-down sun shield. It saves you from bugs, sunlight, rain, etc. Moreover, the inner moisture-wicking liner makes the riding experience smoother. It soaks the moisture to block away sweat and odor. The size adjustment dial system makes it the best option for all heads. You can adjust the size according to your needs.
Whenever you want to take off the helmet. Use the padded quick-release strap. Users can easily adjust the strap even with gloves on. As for the looks, Vega Helmets Half Size Warrior Motorcycle Helmet
has the best of both worlds. You can choose the flag style or the more basic solid color scheme.
In addition, Not only the cruiser half helmet looks cool, but it also has DOT-certified protection. It is the leading certification when it comes to protecting your head. Even after all the high-quality materials, it only weighs around 2.2 pounds making it the perfect choice for long tours.
Pros
Drop Down SunShield
Moisture Wicking Inner Liner
Size Adjustment Dial System
Padded Quick Style Strap
DOT Certified
Cons
Best Light Weight Helmet: VCOROS Motorcycle Half Helmet
Brand: VCOROS
Color: 2# Cross Medal
Age Range: Adult
Size: Medium, Large, Extra Large
Model Name: F-02
VCOROS helmet is for all those who wanna cruise in style without feeling the weight on themselves. The half-face cruiser helmet ensures that your long ride is completed without hassles. With a lightweight of 2.4 pounds, there will be no neck strains on long journeys.
Being light and easy to carry doesn't make it any less of a protective helmet. Made with the best ABS shell, it will keep you safe in any mishap. The DOT FMVSS N218 certification proves the helmet to be the best choice when God forbid, in an accident.
The VCOROS Motorcycle Half Helmet has funky designs that make you feel like a real rider. All 12 colors have brown straps, but the shells are different. You can choose a glossy white paint. Or go with something more exotic. The best part of helmet is suitable even for cyclers because of its basic design and manageable weight.
VCOROS provides consumers with a warranty of up to 5 years. This is a proper validation of the quality product of this helmet. Moreover, this makes every dollar you spend. Worth it.
Pros
Lightweight
12 Colors to Choose From
Official Warranty
DOT FMVSS 218
Cons
The leather starts to chip off
Noise Reduction is not good
Best Anti Fog Helmet: ILM Motorcycle Street Bike Full Face Helmet 
Brand: ILM
Color: Matte Black
Size: Small, Medium, Large
Weight: 4.99Pounds
The outer shell of helmet is made with high-density EPS foam and, most importantly quality ABS . Furthermore, it has DOT protection to keep you safe while you tour. With all this protection and suitable materials. It only weighs 4.99 pounds.
This cruiser helmet allows you to enjoy your ride even in the snow. It comes with Anti-fog 30-pin lock technology that never lets fog affect your vision. It is the perfect choice if you live in a cold city or planning to visit one.
The adjustable ventilation system makes the journey super pleasant. Three vents keep you cool. 2 are on the forehead, and one is on the chin. This ventilates the inside of the helmet and stops you from sweating. Also, it can shut down the vents with only one touch.
ILM Motorcycle Street Bike Full Face Helmet liners are not only of high quality but also of superb usability. They are breathable and made of lightweight materials. Users can easily remove the liners for washing and even replace them when needed. Moreover, the prominent chin curtain is also washable and removable. The curtain prevents cold air from entering the helmet and getting you hard.
The quick-release buckle strap is straightforward to use. And makes the process of wearing or taking off the helmet very efficient. When tucked in, the belt gives a secure feeling to the consumer.
Pros
ABS Shell with EPS Liner
Washable and Removable Liner
Anti-Fog Pinlock
Adjustable Ventilation System
Quick Style Strap
Multiple Visors
Cons
Easily Breakable Locking Component
The Finishing isn't Top Notch
Best Value for money Helmet: ILM Full Face Motorcycle Street Bike Helmet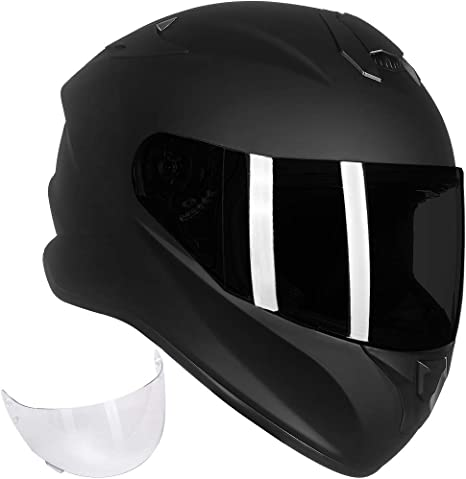 Brand: ILM
Size: Small, Medium, Large, Extra Large
Age: Adult
Color: Matte Black
This cruiser motorcycle helmet uses an ABS shell with a multi-density EPS liner. The inner foam is excellent for the money, as it will last a long time. As compared to the regular single-lined EPS. Furthermore, it has DOT FMSS-218 certifications. So you can live in the moment fearlessly.
People often complain about cruiser bike helmets being uncomfortable. To fight off that, it has enlarged air vents. They maximize the airflow by increasing the intake of cold air. As well as exhaling the hot air inside the helmet.
Not only are the vents bigger, but also the shield system. This larger-than-usual angle design expands the field of view. They are making the ride more secure and enjoyable. In addition, the different visors can be easily replaced without damaging any part or style of the ILM Full Face Motorcycle Street Bike Helmet.
The all-black full-face cruiser helmet has a removable and adjustable interior pad. Moreover, It can absorb sweat and can be washed whenever needed. Quick release strap makes it relatively easy for riders to take off or put on the helmet. Supringlsy, the helmet only weighs around 4.54 pounds, which is relatively light and thus extra comfortable.
Pros
Enlarged Air Vents
Wide Shield System
Comfortable Inner Pad
Quick Release Clasp & Strap
FMSS-218 and DOT
Cons
Not Very Long Lasting
Wind Noise
Best Modular Cruiser Helmet: ILM Motorcycle Dual Visor Flip-up Modular Full Face Helmet
Brand: ILM
Color: Black and Red
Weight: 4.5-pound
Size: Small, Medium, Large, X-Large
Suppose you want to ride in style while being safe and secure. Then ILM helmet is the ultimate choice for you. It is made of high-quality ABS material that not meets but also exceeds protection certification. The DOT FMVSS-218 safety standards are some to name.
This helmet has an extensive range of colors. Users can choose between an all-black color scheme. Or get funky with colors like yellow and red. Furthermore, users can choose a white color with various color accents.
It has a modular design, allowing you to use ILM Motorcycle Dual Visor Flip-up Modular Full Face Helmet according to your needs. The flip-up action changes the style in a few seconds. The clear visor makes it optimal for riding in fog or rain. Also, the speaker spot makes it restful even with a Bluetooth device.
The strap of the cruiser motorcycle helmet is micro metrically adjustable. They allow users to adjust the helmet to their size and be secure. In addition, the padding used is super lightweight and soft. It will enable you to remove and wash it whenever you want.
Pros
Plenty of Color Options
Modular Flip-Up Design
Speaker Friendly
Micro Adjustable Strap
Cons
The visor of the helmet could be of Good quality.
Best Budget Helmet: AHR RUN-C Motorcycle Half-Face Helmet 
Brand: Ahr
Color: Matte Black
Weight: 2.43 pounds
Rating: Certified
This spartan half-face helmet is best for those who want practicality. It has a simple all-black design. That looks cool without grabbing any unwanted attention. The retro-looking shell is made of high-quality ABS. With EPS liner to ensure a pleasant riding experience.
Even with all the high-quality materials, it only weighs around 2.43 pounds. And also has all the necessary safety certifications. The DOT safety makes sure the helmet is safe and secure. Weighing at only 2.42 lbs, you won't even feel the AHR RUN-C Motorcycle Half Face Helmet when worn.
The quick-style chin strap makes the taking off and putting on process very easy. You can take off the helmet with just one click and feel like a hero. Before buying, make sure you buy the right size for yourself.
Pros
Upgraded ABS Shell
EPS Liner
DOT Certification
Quick Release Chin Strap 
Cons
Best Looking Cruiser Helmet: Vega Helmets Warrior Motorcycle Helmet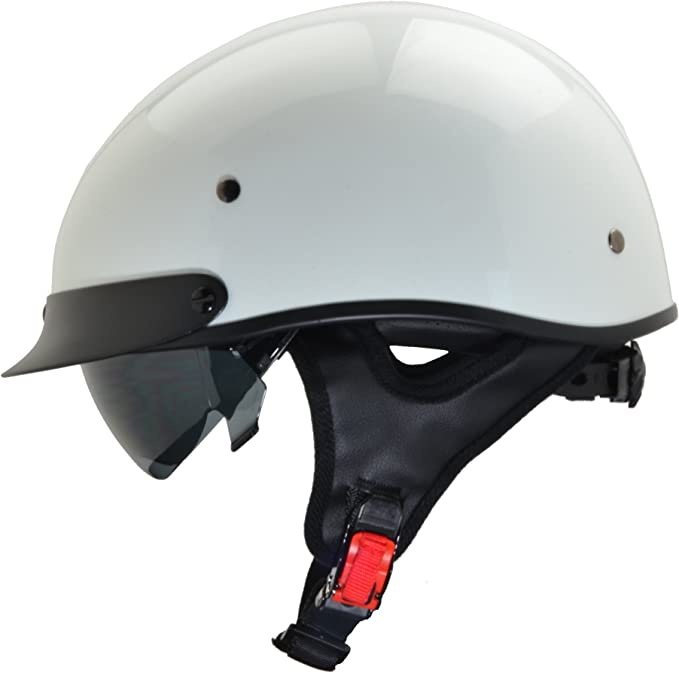 Brand: Vega
Color: Pink Scroll
Size: Small, Large, X-Large
Weight: 2.2 Pound
Regarding durability and protection, Vega leaves no boxes unchecked. The ABS shell combined with the EPS liner makes it secure and comfortable. Moreover, the drop-down sun shield is the cherry on top. It protects your eyes while letting you enjoy the breeze on the go.
This cruiser motorcycle helmet has one of the broadest color ranges. Consumers can choose between different shades of black. Or designs based on the black color. Even users can get full glossy colors like red for this helmet.
Not only it looks great, but it also has a new and improved adjustment dial. It allows you to make a custom fit for your head. The moisture-licking liner ensures that the inside of the cruiser motorcycle helmet is always fresh. Also, the quick-release strap makes it super easy to wear or take off the helmet.
The weight is only 2.2 pounds making it feel like a feather on your head. However, Vega Half Size Warrior Motorcycle Helmet is protected well and approved by DOT safety standards.
Pros
Wide Range Of Colors
It only Weighs 2.2 Pounds
Moisture Wicking Inner Liner
Size Adjustment Dial System
DOT Certified
Cons
Best Protected Cruiser Helmet: ILM Open Face Motorcycle 3/4 Half Helmet
Brand: ILM
Color: Matt Black
Weight: 3.74-pound
Size: Small, medium, large, Extra large
ILM helmet is the best option for off-roading and dirt biking. It has an all-black design with a 3 / 4 modular setup. I am making it one of the best options for both men and women. Moreover, the helmet has a lot of detachable accessories to make it more practical.
The adjustable sun shield protects you from the sunlight. The ILM Open Face Motorcycle 3/4 Half Helmet has screws to adjust the protection angle. At the same time, the drop-down sun visor defends you from direct sunlight. Make sure you remove the protective film before using it.
Moreover, the removable face mask makes it entirely adjustable. You can add or remove parts according to your needs and liking. If you want a half-face helmet feel, take off the chin guard. Even when it is on, it has air vents for unrestricted breathing. These vents can be controlled with one click.
Additionally, the visors are replaceable for your different needs. You have to buy the clear bill separately. Furthermore, it doesn't matter if you break any removable parts as they are effortless to purchase and replace.
Moreover, the protection of the helmet is never compromised. Even if you take off all the add-ons, it meets and exceeds the DOT FMVSS-218 certification.
The helmet has one of the best ventilation systems. It has multiple vents that allow air to flow in and out quickly. Keep in mind that the helmet is tight for better noise reduction. Make sure to get a size bigger, so it fits you perfectly.
Pros
Adjustable Sun Shield
Drop Down Tinted Visor
Detachable Chin Guard
Ventilation System with Controlled Vents
Semi-Modular Design
Quick Release Buckles
Cons
No Clear Visor Included
Easily Fogs Up
Best Overall Cruiser Helmet: 1Storm Motorcycle Modular Full-Face Helmet With sun shield
Brand: 1storm
Color: Matt Black
Weight: 3.0 pounds
Size: Small, Medium, Large, X-Large
This cruiser motorcycle helmet is suitable for day and night without changing the visors. It has a dual-visor design. The inside bill is smoked. However, the outer shield is clear. Both of these components are removable and changeable.
Besides, the advanced modular is super flexible. Users can adjust the helmet according to their mood and needs. Also, it has six ventilation systems. The vents are on the top, bottom, and back. They ensure that even when the style is complete, face cruiser helmet. Users will not feel suffocated.
Speaking of the outer shield, the aerodynamic ABS shell provides complete protection. With the DOT rating, 1storm helmet is one of the safest options. The multi-density EPS liner grips the head well. And provides a comfortable feel while riding.
As well, the padding is easily removable. Users can also wash it whenever needed. This is important to keep the inside of the helmet clean and odor free. A sweet smell allows you to enjoy your ride to the fullest.
Although the helmet size is relatively larger and weighs 4 pounds. With the help of a quick-release buckle. The process of wearing or taking off the helmet is relatively easy. I am making the 1Storm Motorcycle Modular Full Face Helmet a good choice for you.
Pros
Advanced Modular Design
Dual Visor Design
Aerodynamic ABS Shell
Multi-Density EPS Lining
Six Ventilation System
Quick Release Buckle
Cons
A tinted Visor is Hard To Control
Visor Squeaks
Best Quality Cruiser Helmet: VCOROS Carbon Fiber Open Face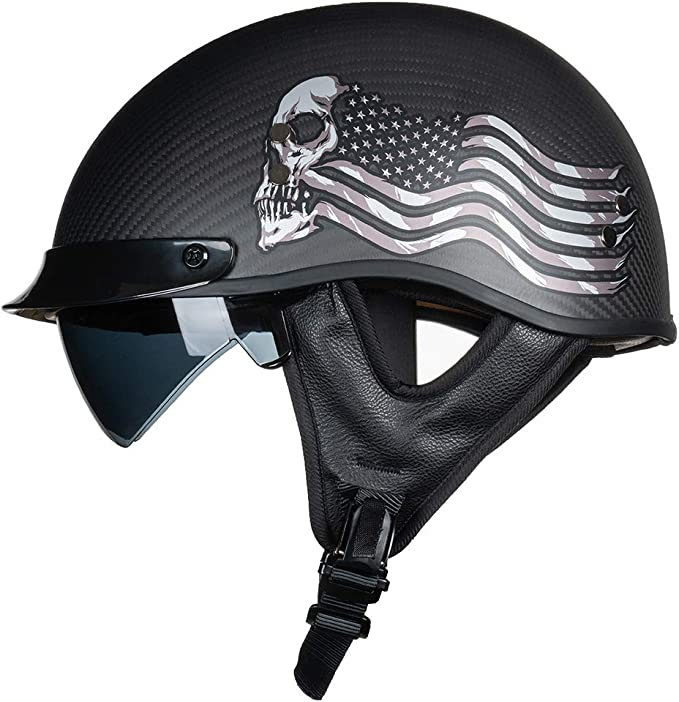 Brand: VCOROS
Color: Flag Skull
Weight: 1.33 KG
Size: Small, Medium, Large, X-Large, XX-Large
The carbon edition of the open-face cruiser helmet is best for relishing the ride without getting noticed. All three colors are based on black. Users can get solid colors or a skull version of black.
It weighs 2.9 pounds, making it a good choice for both men and women. Also, users face one issue with open-face helmets: they need to be more secure. On a ride, it moves a lot. This is not an issue with this helmet.
As it has a micro metal quick release for fast clipping. The nylon woven strap makes sure that users feel comfortable. As well as the grip makes sure that the helmet stays in place. It gives the feeling of protection to the consumers.
Speaking of protection, this cruiser motorcycle helmet has DOT certification. I am making it safe to ride whenever you want. The pull-down system with a sun lens makes the experience more pleasurable. It blocks any unwanted insects, protects you from sun rays, etc. Moreover, the visor system is easy to tweak without needing any tools.
The inside of the helmet has a Cool Komfort liner. Not only it gives a sheltered feel but has great practicality to it. Being a half-face helmet, the inner side gets dirty quickly; however, removing the material with the help of velcro is. Users can wash it according to their needs.
Suppose you want to add more style to VCOROS Carbon Fiber Open Face helmet. Try getting a mask or bandana from the same company. This will prove to be a cherry on top.
Pros
Micro Metal Quick Release
Nylon Woven Chin Straps
Kool Komfort Liner
Visor System
Cons
The helmet sizes are not accurate.
How to Select a Good Cruiser Motorcycle Helmet?
Now it is time to talk about what makes a helmet a perfect option to invest in. Continue reading the article to find out what to consider before buying the Top-notch cruiser motorcycle helmet.
Safety
Safety and protection should be your top concern when buying a cruiser helmet. Look for a helmet with DOT and ECE certificates because these certificates can be used to determine the safety level of the helmets. These certificates are only provided to the helmets that meet the safety standards.
Size and fit
Size and fit is the most crucial factor to keep in mind while deciding on the helmet. Never compromise on your comfort. Always get the right size and make sure it fits your head properly. In an accident, a correctly fitted helmet will protect you as much as possible; nevertheless, a helmet that is too loose or too tight may not function properly.
To get an approximate measurement to use as a benchmark when comparing against the manufacturers sizing guidelines, you can wrap a tape of soft kind measure around the crown of your head. The helmet must be tried on to ensure a tight fit and no pressure spots, typically found on the forehead or near the temples.
You should be unable to chew gum even if your cheeks are pushed up, probably like a chipmunk's. You should be able to tell if the helmet is comfortable or uncomfortable after wearing it for about 20 minutes.
Weight
The most important aspects to consider when selecting a cruiser motorcycle helmet are weight, size, and its making. Cruiser Motorcycle helmets are typically the finest choice due to the low hazard level. They're accessible to wear and take off and less likely to cause neck pain after prolonged use.
The disadvantage is that they are less intense than heavy-duty models. Before looking at the helmet's making material to determine how long it will endure, you must decide whether you value ease of use or outstanding protection.
Comfort
When it comes to motorcycle helmets, comfort reigns supreme. Riders wear their helmets for long periods, and the last thing they want is to be unbearable. The right fit is essential for comfort, but other factors, such as the materials used for the helmet lining, all make a difference.
Some manufacturers provide a bespoke fit service, which involves swapping out cheek pads to make the helmet a little looser or tighter, depending on your requirement.
Tinted helmet visors, helmet vents, integrated sun visors, and other features that increase a rider's comfort according to their demands are also excellent. If you're driving a bike through the South Badlands.
In the summer, good ventilation and a built-in helmet sun visor can differentiate between a pleasant and unpleasant journey.
Price
Price is the most critical factor that should be considered while making a purchase. Always look for a helmet that fits your budget. There are a lot of good options available in the range of
$100.
Conclusion
Riding a motorcycle may make you feel liberated. Whether four-wheel cars have a more comprehensive range than Most motorcycles, it is evident that these two-wheeled speed kings may still provide a pure sense of freedom while driving. They are suitable for long-distance journeys.
Always wear a helmet and all the necessary protective gear on a ride. Make sure not only the rider but also the pillion have protection on them. Drive safe; remember, someone is waiting at home for you.
Helmets are an essential part of protective gear. The needs and requirements of every ride and user are different.
We have included half-face helmets to full-face modular ones. This article covers everything you need to consider when purchasing your next cruiser-style helmet and has provided you with a list of the top 10 models currently on the market to get your search going.