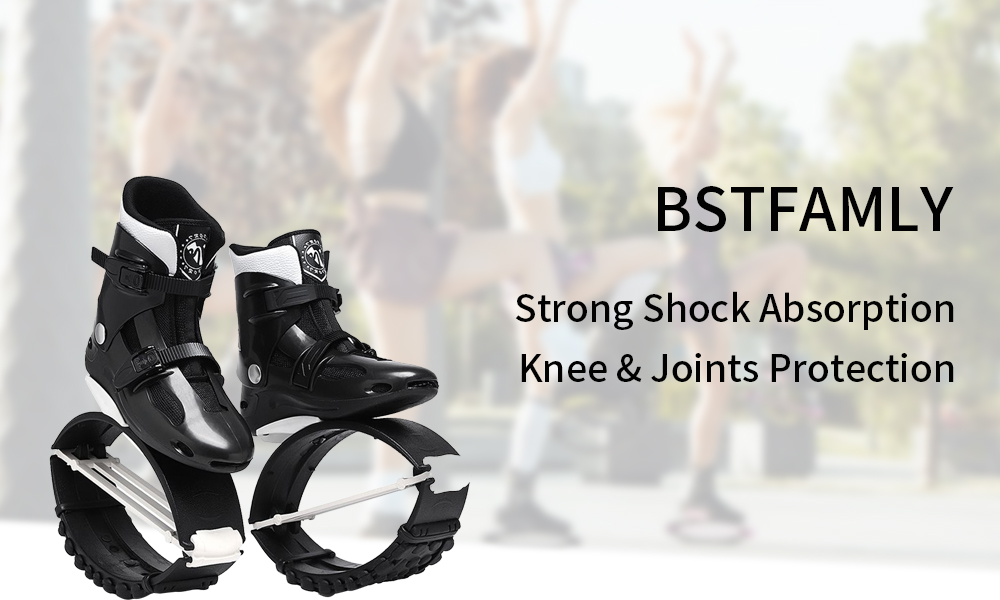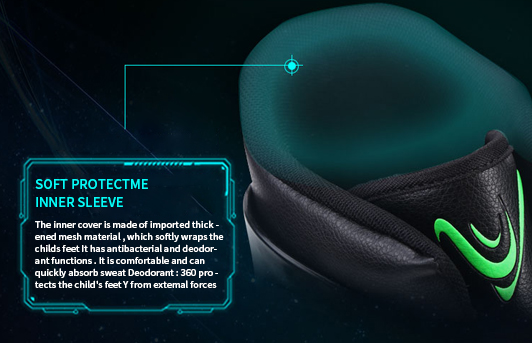 Thickened Mesh Material
The thickened mesh material protects children's feet from external impact.
It is comfortable and antibacterial and can quickly absorb sweat to remove the odour.
Comfortable
Absorb sweat
Antibacterial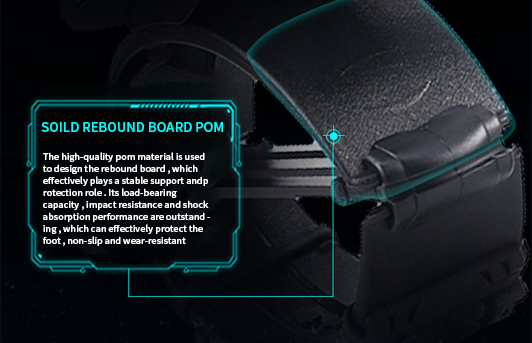 Rebound Board
The rebound board with pom material is non-slip and wear-resistant, providing stable support and protection.
It has a remarkable load-bearing capacity, impact resistance and shock absorption performance.
Shock absorption
Non-slip & wear-resistant
Stable support and protection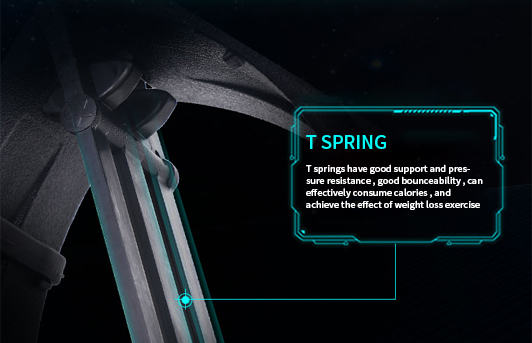 T-spring & Fixing Clip
The T-spring has good support, good rebound and pressure resistance. It can burn fat and achieve weight loss.
The fixing clip prevents the bottom plate from being loosened. It gathers external forces and allows them to be applied to the spring, reducing the impact on the joints and spine.
Reduce the impact
Good support
Good rebound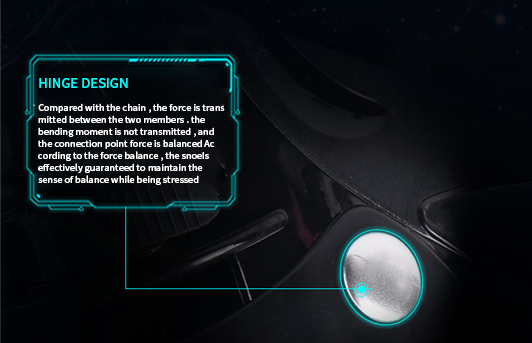 Hinge Design
In contrast to chains, forces are transmitted between the two members, while bending movements are not transmitted. The forces at the connection points are balanced according to the balance of forces. The shoes maintain a sense of balance when forces are applied.
Balance of forces
Stable
Detachable elastic buckle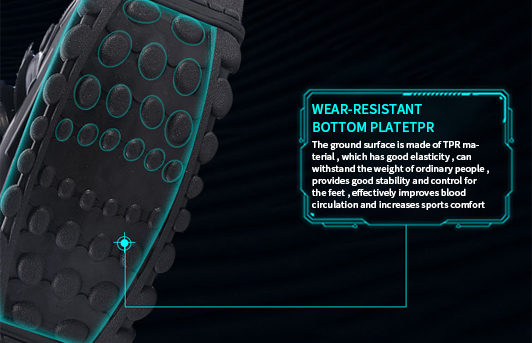 Wear-resistant TPR Material
TPR material has good elasticity and can withstand the weight of an ordinary person.
It gives your feet good stability and control, promotes blood circulation and increases comfort.
Good elasticity
Good stability & control
Blood circulation
SHIPPING & FAQ
Standard Shipping:
Order now, and then we will ship your jumping shoes by sea / by train.
Arrives in the US / Canada about 35-50 Working Days(After shipment)
Arrives in the UK about 40-55 Working Days (After shipment)
Arrives in Europe about 60-70 Working Days (After shipment)
Air Shipping:
Order now, and then we will ship your jumping shoes by air
Arrives in the US about 7-15 Working Days (After shipment)
Arrives in Europe, Canada about 15-20 Working Days (After shipment)
Arrives in Asian countries about 7-15 Working Days (After shipment)
* We will update the delivery time in real-time according to the feedback of the logistics company.
Q: What is the shipping date?
We will ship out the jumping shoes within two working days. (We will update the jumping shoes' tracking number several days later.)
Q: May I modify my order after placing the order?
Yep! Please get in touch with us within 1 hour after purchase. However, we cannot assure you that we will change the order successfully as it is difficult to modify the order once sent to the factory.
Q: Can I modify my address after the order has been shipped?
Please get in touch with us at SERVICE@LUMBUY.COM. Then we will always do our best to assist but do not make any guarantees. Sometimes it is too late, and the courier no longer allows the change. If there is an additional charge for changing the address, we will notify the customer before deciding to change if they want to proceed. The customer will be responsible for any additional fee incurred.
Q: Will you send me a tracking number?
Yep! You will receive an email with a tracking number after shipment.
Q: How can I get support when the jumping shoes have a problem?
Please get in touch with us by email: SERVICE@LUMBUY.COM. And attach pictures or videos of jumping shoes problems in the email. We will reply as soon as possible.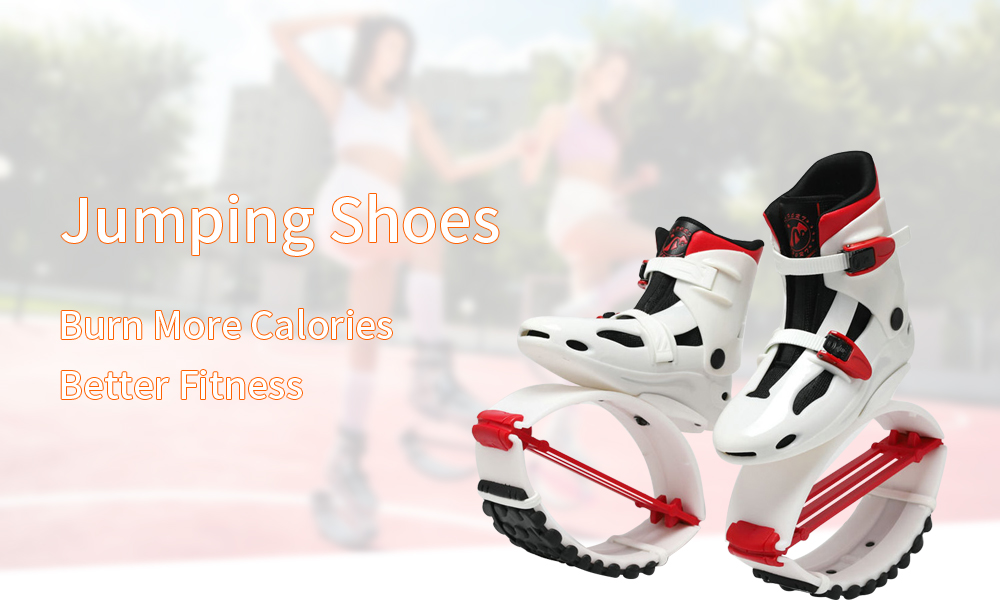 LumBuy jumping shoes focus on quality, timeliness, and price. Professional pre-sale and after-sales services are never out of reach. Whether you are a green hand or an experienced user, you can choose jumping shoes that suit you. LumBuy has become partners with multiple brands at the same time so that you can buy jumping shoes with confidence. All LumBuy jumping shoes are perfect as they are excellent to accompany.
Shipping Fast: The best options for you – Standard Shipping or Air Shipping
Excellent After-Service: To contact our customer service department anytime