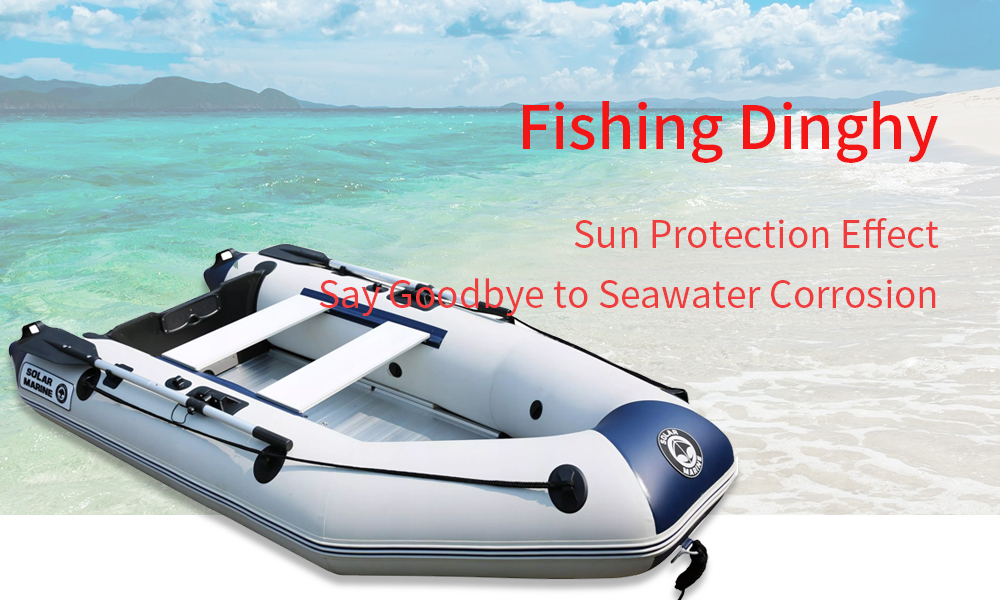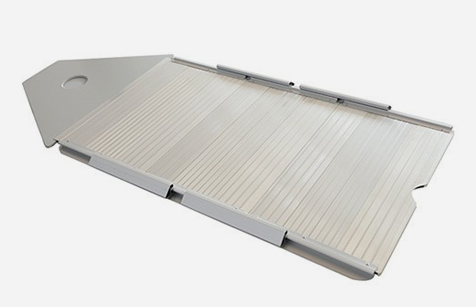 Aluminum Base Plate
Aluminum bottom plate has good performance when the boat is sailing at high speed.
It is stable and does not deform and shake easily.
It works against wind and sun and has a long life.
Durable
No Seawater Corrosion
Stable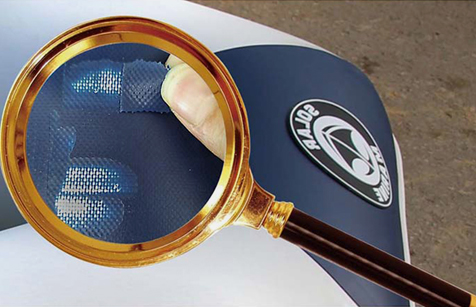 Three-layer Mesh
High-strength three-layer mesh is very strong. If sharp objects pierce it, the broken position will not spread.
High-strength
Strong
Safe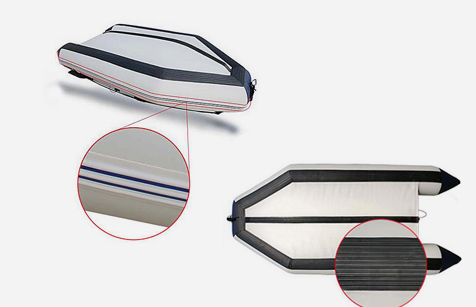 Anti-collision & Anti-abrasion
Anti-abrasion strips are put on the critical parts of the bottom of the boat. The hull enjoys Anti-collision strips.
Both strengthen the hull, protect the hull and reduce the damage to the hull.
Anti-abrasion Strips
Anti-collision Strips
Reduce the Damage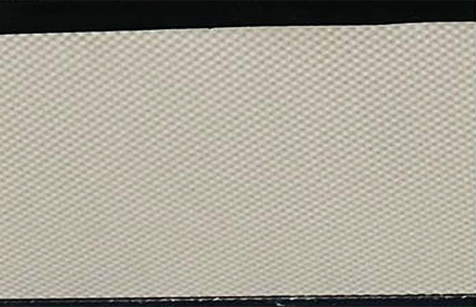 Sun & Seawater Corrosion Protection
The coating effectively prevents seawater from corroding the hull.The coating does not add cadmium, lead, and other harmful substances and has no heavy metals, formaldehyde, VOC.The coating is highly reflective of infrared and ultraviolet rays for a sun protection effect.
No Harmful Substances
Highly Reflective
Effective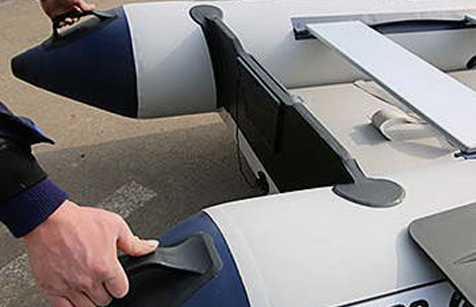 Double Cone
The cone is equipped with an anti-sink float, which can effectively prevent side-turning.
Compared with the trapezoidal tail, it is not easy to turn over when turning.
Anti-sink Float
Prevent Side-turning
Effective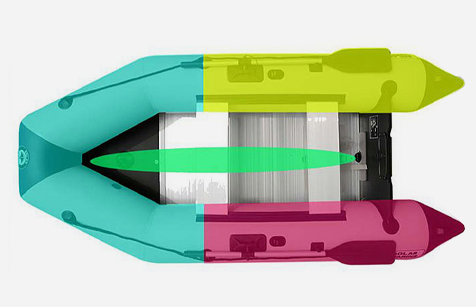 Independent Air Chamber
The air chamber diameter is up to 41cm.
It boasts multiple independent air chambers and thickened floats.
If one of the air chambers is damaged, it will not affect other air chambers.
Safe
Thickened Floats
Independent
SHIPPING & FAQ
Standard Shipping:
Order now, then we will ship your dinghy by sea / by train
Arrives at US / Canada about 35-50 Working Days(After shipment)
Arrives at the UK about 40-55 Working Days (After shipment)
Arrives at Europe about 60-70 Working Days (After shipment)
Air Shipping:
Order now, then we will ship your dinghy by air
Arrives at the US about 7-15 Working Days (After shipment)
Arrives at Europe, Canada about 15-20 Working Days (After shipment)
Arrives at Asian countries about 7-15 Working Days (After shipment)
* We will update the delivery time in real-time according to the feedback of the logistics company.
Q: What is the shipping date?
We will ship out the dinghy within two working days. (We will update the dinghy's tracking number several days later.)
Q: May I modify my order after placing the dinghy?
Yep! Please get in touch with us within 1 hour after purchase. However, we cannot assure you that we will change the order successfully as it is difficult to modify the order once sent to the factory.
Q: Can I modify my address after the order has been shipped?
Please get in touch with us at SERVICE@LUMBUY.COM. Then we will always do our best to assist but do not make any guarantees. Sometimes it is too late, and the courier no longer allows the change. If there is an additional charge for changing the address, we will notify the customer before deciding to change if they want to proceed. The customer will be responsible for any additional fee incurred.
Q: Will you send me a tracking number?
Yep! You will receive an email with a tracking number after shipment.
Q: How can I get support when the dinghy has a problem?
Please get in touch with us by email: SERVICE@LUMBUY.COM. And attach pictures or videos of dinghy problems in the email. We will reply as soon as possible.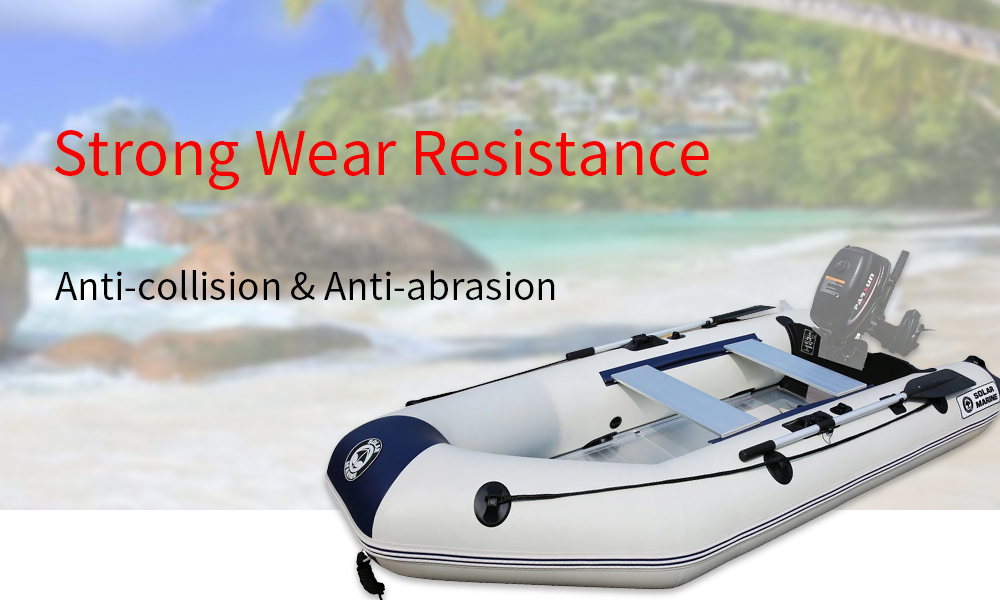 LumBuy dinghy focuses on quality, timeliness, and price. Professional pre-sale and after-sales service are never out of reach. Whether you are a green hand or an experienced user, you can choose an electric heater pool that suits you. LumBuy has become partners with multiple brands at the same time so that you can buy dinghy with confidence. All LumBuy dinghy are perfect as an electric heater pool is excellent to accompany.
Shipping Fast: The best options for you – Standard Shipping or Air Shipping
Excellent After-Service: To contact our customer service department anytime