Whether you are buying a skateboard for the first time or upgrading your taste, there are numerous electric skateboards that you can go for. The advancement in technology and feature upgrades might make it quite hectic for you to decide what you can go for. The wide range of features, including the off-road all-terrain capabilities and use of batteries or motors, make the skateboard world fascinating.
Reading this article, you will get the best knowledge on the trending off-road all-terrain skateboards with a comprehensive buying guide. Read through the entire article to avoid regrets in purchasing or upgrading your skateboard collection.
Our Picks for Best Off-road Electric Skateboard:
Off-road Electric Longboards Buying Guide
1. WowGo AT2 Electric Skateboard for All-terrain – Best Overall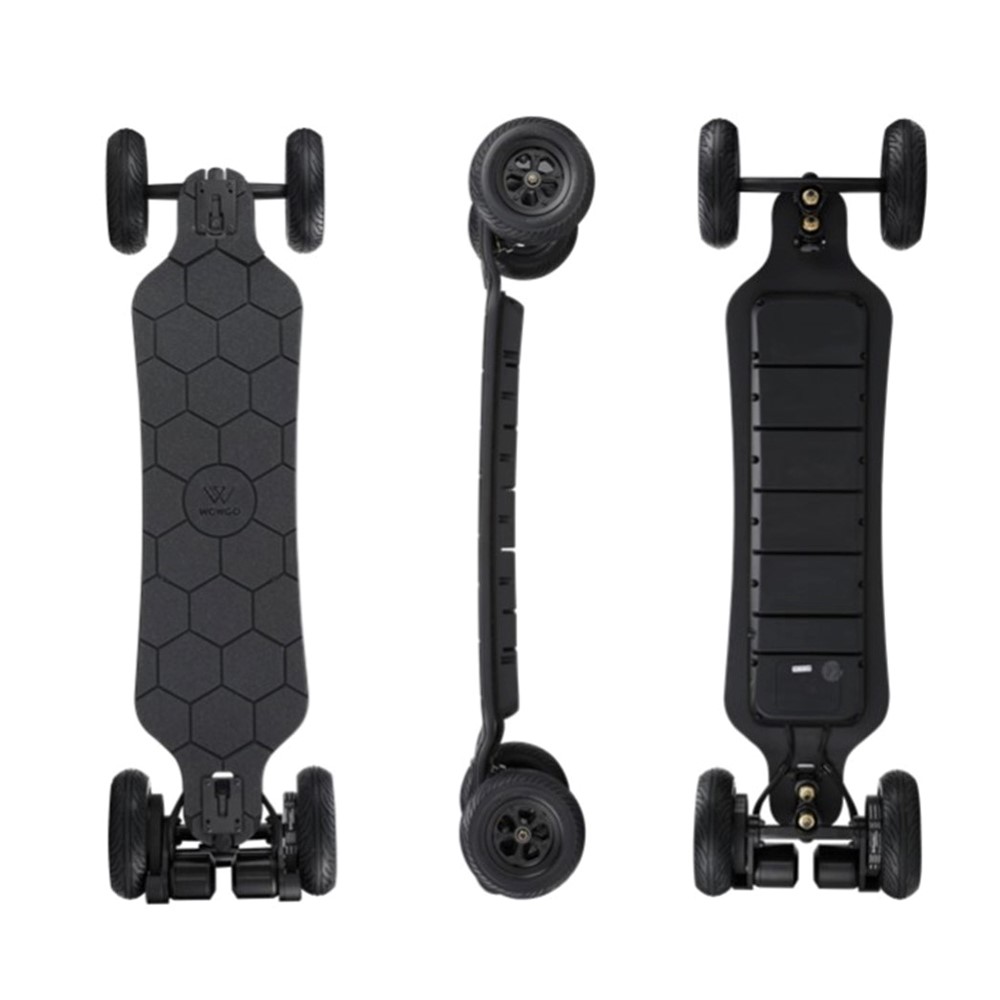 Weight: 19KG
Dimensions: 120x 40x 22 cm
Wheels: cloud/pneumatic
Speed: 20-40 km/h
Battery: 14Ah/504 Wh Sanyo
Slope: 25%-30%
Getting the value of your money is quite an assurance with the WowGo AT2 electric skateboard. Many features have been developed not only to embrace performance but also comfort. The WowGo AT2 gives the best all-terrain wheels and street wheels that are pretty easy to replace. Other than comfort on the wheels, you will have a high response in terms of shock absorbance while riding.
You can adjust the hardness of the tires with ease to your liking and needs. The powerful motors that have been keenly assembled will give you the best stability, impact resistance, and high output for power. The intelligence features like using a remote to control your skating board make the riding or skating experience more fun. You can get numerous features with the WowGo AT2 electric skateboard should you try it out.
Pros
Has high power motors
It has a great battery for off-road
Cons
Might require regular upgrade and maintenance
2. Maxfind FF Plus Off-road Electric Skateboard – Best Slope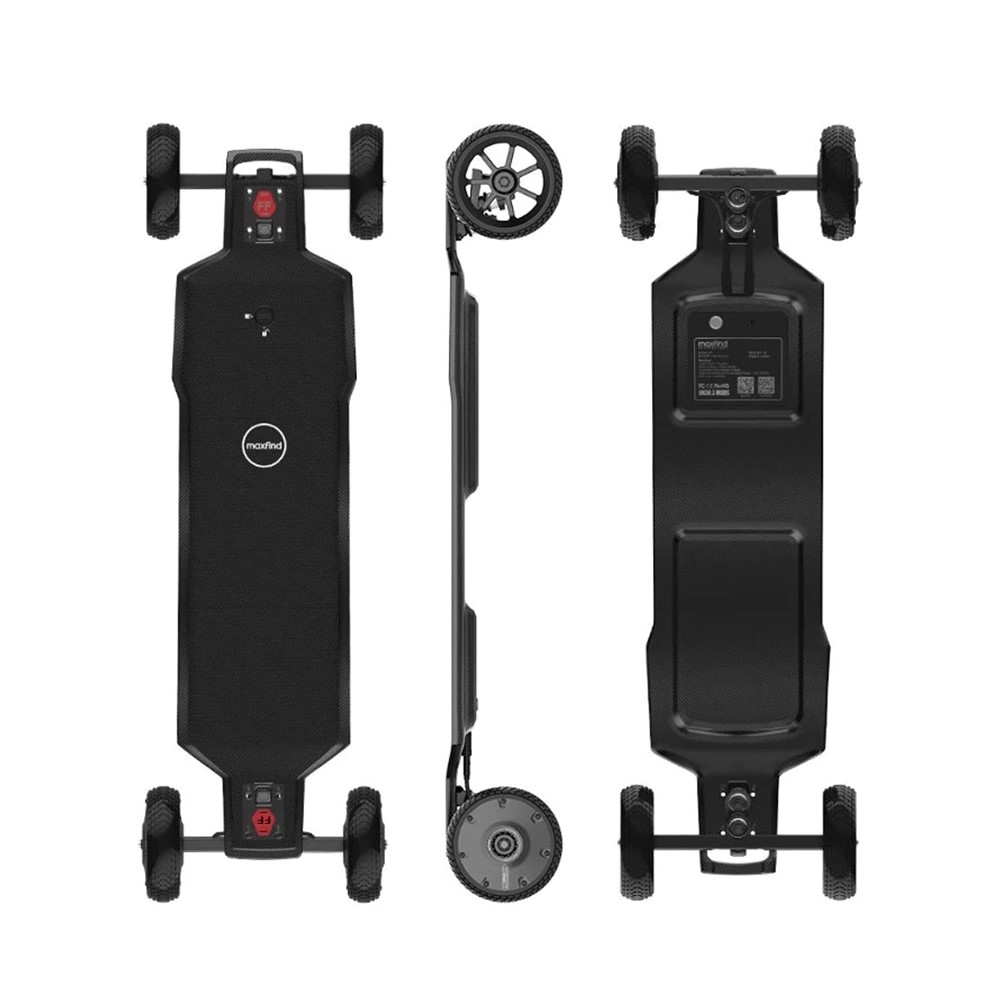 Size: 38"x13.4"x6"
Weight: 11.2kg
Wheels: 6.5″ all-terrain
Top Speed: 38 km/h
Battery: 36V 216Wh 10sp Samsung
Slope: 30%-35%
One smiling factor for this type of electric skateboard is that it has a dynamic base and a superior motor. The ultimate performance quality is guaranteed with minimum noise, high stability, and impact-resisting abilities. The noise minimization ability is a trait that most off-road skateboards lack.
The vacuum rubber wheel for the Maxfind plus provides an excellent off-road experience, such as the fantastic gripping ability and riding stability through even gravity distribution. The tires are about 160mm thick with shock-absorbing technologies. The wheels are removable and are quite easy or simple to replace.
The Maxifind FF plus has the best sturdy deck as per most reviewers after purchasing. The deck has a sleek and clean look due to the flex and glass fiber coating used to make it. You are sure to get not only the most out of the riding experience but also high performance.
Pros
Has a superior and powerful motor
Has shock and impact-absorbing technologies
It has a luxurious and smart look
Cons
Quite expensive to buy and maintain
Requires complex procedures to install batteries
3. Teamgee H20T 39′ Off-road Electric Skateboard – Best Thin Fastest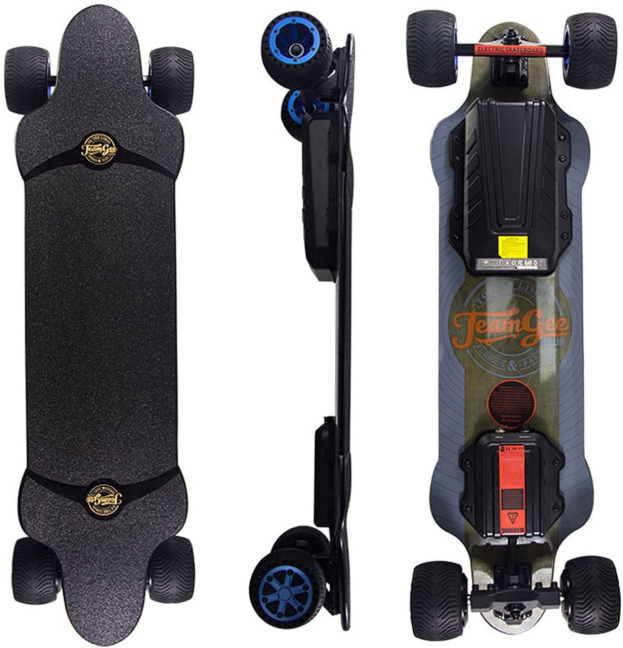 Weight: 9.5kg
Range: 12-18 miles
Top Speed: 42 km/h
Slope: 25%-30%
Motors: 1200W hub motors
Warranty: 180 days
Teamgee is one of the brands that you have to trust the service you will get as a customer. You are assured of the best safety test at high rates, and above all, this off-road skateboard comes with a warrant. This kind of all-terrain electric skateboard has the best wheels with enhanced tire technology.
The improved shock absorption capabilities make the Teamgee the best all-terrain electric skateboard available. With the adjustable wireless remote, you will get the most out of the capable 1200W hub motors. You will love the design and how sturdy this type of skateboard is.
The board has a luxurious design with W-shaped foot sockets. The V-shaped tire technology used in developing the tires ensures enough friction while you are skating to avoid skidding.
Pros
Powerful motors with a high-speed efficiency
Power efficiency management system
Luxurious design
Good for holidays and beach holidays
Cons
A little expensive
Requires regular battery replacement and thorough maintenance
4. Moto Tec 1600W Dirt Off-road Electric Skateboard – Heavy Option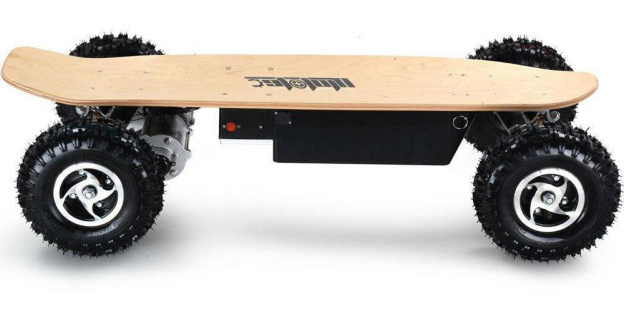 Weight: 77 pounds
Range: 10 miles
Top Speed: 22 mph
Charge time: 3-5 hours
Motors: 800Wx2 Hub Motors
Payload: 260 pounds
The Moto Tec all-terrain electric skateboard comes with two separate motors on the rear wheels. This significantly enhances power and performance. This kind of all-terrain electric skateboard has large tires that are treaded with a classic design. You can get wireless control capabilities besides the integrated braking and locking system.
One fascinating feature about the Moto Tec is that it has a fast-charging system. You can also opt to use the battery indicators to monitor your battery life. This type of all-terrain electric skateboard has the best maneuverability and high-performance power off-road. The design and use of natural wood materials give it a classical look and feel. The battery packs take about 85 minutes to charge fully and sustain you for about 12 miles before recharging.
Pros
A classical texture and feels
Quite affordable for its performance capabilities 
Has a quick recharge time as compared to its competitors
Cons
A limited lifespan of about eight years
Might need regular replacement of the battery packs
Relatively small slope angle
Other Electric Skateboards With High Quality
# Fast and Furious ft001 Electric Skateboard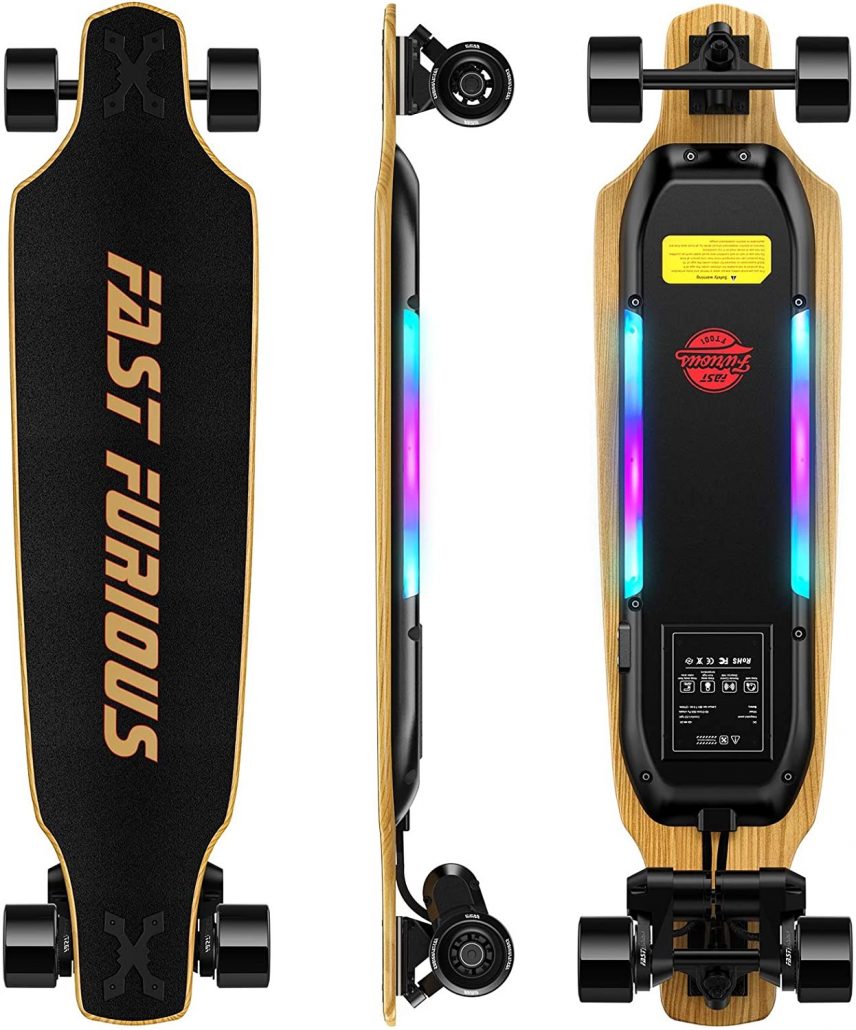 Size: 39"x10"x6"
Weight: 8kg
Wheels: 3.4" all-terrain
Top Speed: 40 km/h
Battery: 7500mAH 18650
Slope: 20%-25%
The Fast and Furious ft001 is a tool for power and luxury. The skateboard has a motor that provides up to 1800W power output. This means that you will experience the best torque and top speed on the street levels. The ability of the fiber belt to support high speed under high power makes the functionality of the skateboard more than just riding. You are assured of tackling sandy slopes and bushy areas with little or no hustle.
While you are out on bushes or the beach, you will get enough battery energy with the Li-ion battery pack on your Fast and Furious skateboard. Additionally, you get a 2.4G wireless remote that you can use to control your skateboard with a lot of ease and convenience. This makes the user experience more fascinating as compared to using other brands of skateboards.
Pros
Quite easy to use for beginners and experts
Versatile
Cons
Has low battery power
Few control functionalities
# Teamgee H5 37″ Electric Skateboard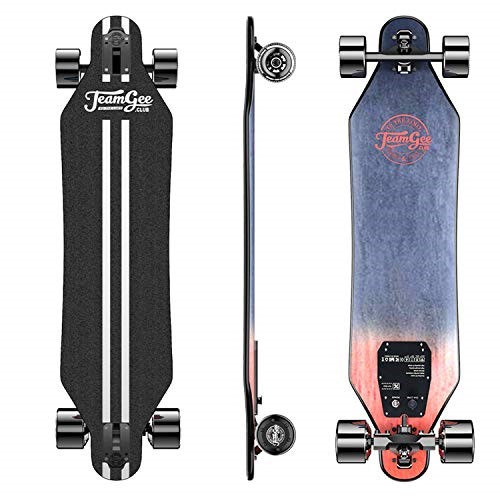 Size: 37"x8.7"x6"
Weight: 6.35kg
Wheels: 90mm all-terrain
Top Speed: 35 km/h
Battery: 5500mAH Battery
Motors: powerful 380x2W Motors
This kind of electric skateboard is quite simple as compared to the rest. It does not have many complex features. You can easily buy it as it is quite cheap compared to the other electric skateboards in the same category. With a weight of about 14 pounds, this electric skateboard is 0.59" thick.
The wireless remote control feature makes this particular type of e-skate be one of the best in busy streets. The skateboard has an LCD screen for displaying different features.
According to experts, you need to charge and discharge for three cycles to have optimal battery activity for your skateboard. You will get a medium flex compared to the rest of the skateboards that have large. The board is made from maple hence the name. You are sure to enjoy a smooth ride due to the usage of fiberglass and ply.
Pros
Has wireless remote feature
Has a high stability rate
Has LCD for skating features
Cons
Quite expensive to maintain
Requires a lot of expert advice that might cost you
# Meepo V3 Vboard Electric Skateboard – Eco-friendly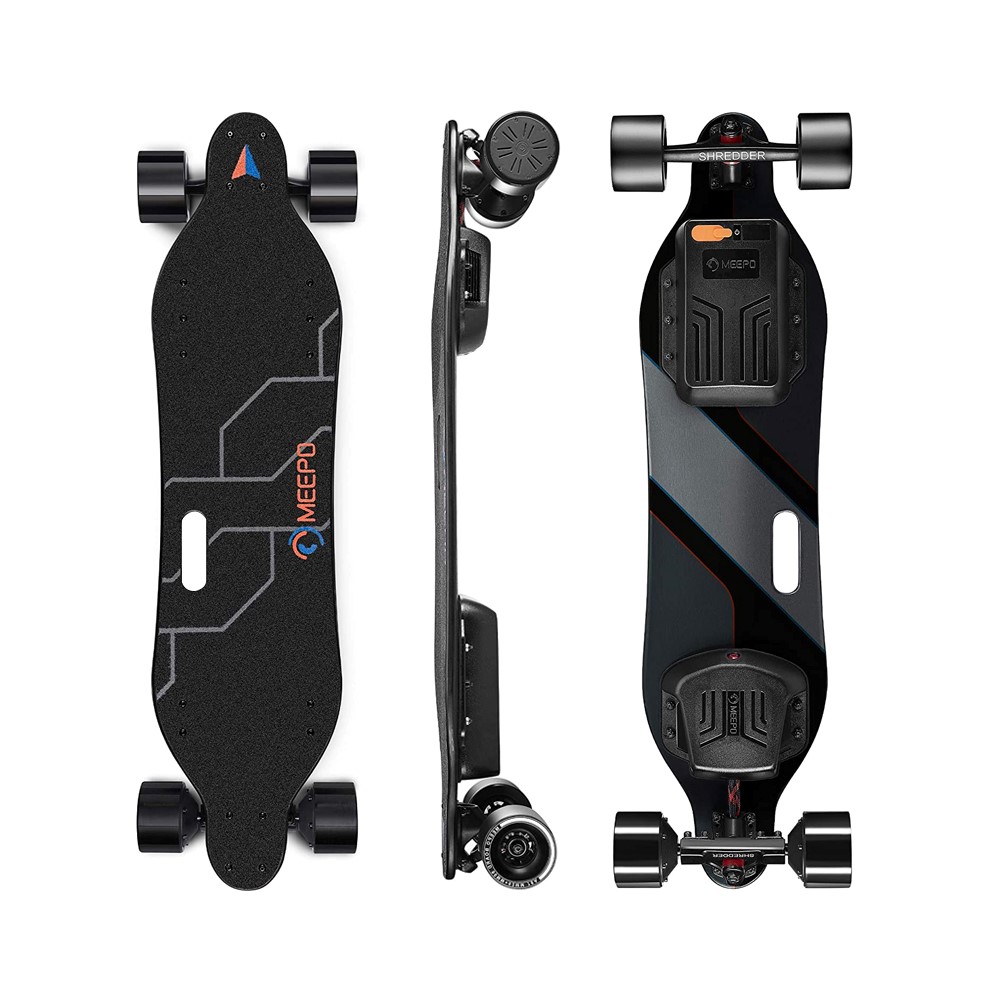 Size: 34.4"x8.5"x5.5"
Weight: 7.5kg
Wheels: 3.8"
Top Speed: 20 km/h
Battery: 4000mAH Lithium
Slope: 15%-30%
One of the best electric skateboards that will never disappoint you is the Meepo V3. This electric longboard comes with a dozen advantages that will never disappoint you. The PU wheel can absorb shocks hence making your rides very smooth. This type of wheel is not resistant to slip and wear. Changing the PU sleeves of the wheels is relatively easier as compared to changing traditional board wheels.
Meepo V3 is known to be environmentally friendly as compared to any other skateboard. This particular skateboard is built using bamboo that is non-pollutants.
The dual hub motors are very powerful and give amazing energy during riding uphill. There is strong torque due to the effortless energy you will get out of the 540W power motors.
The skateboard has an easy carry handle capability. You will get the best and ever maximum stability. Due to the high stability rate of this particular skateboard, you are sure of using it even if you are a learner. The skateboard becomes an ordinary skateboard whenever you are not using the motor or battery. This saves a lot of energy, and it is good for enhancing battery life. The Meepo V3 skateboard is quite light and hence convenient to carry around.
Other features for the Meepo V3 electric skateboard include the M4 wireless remote controller. The remote works perfectly for shorter and longer ranges. The sine wave processor has the best and great speed for the FOC and CPU of the skateboard.
Pros
Best for long ranges due to high battery power
It is quite stable
Has high torque as compared to the competitors
It is environment friendly
Cons
It is quite expensive
Requires regular maintenance
# Blitzart Hurricane Electric Skateboard – Best Budget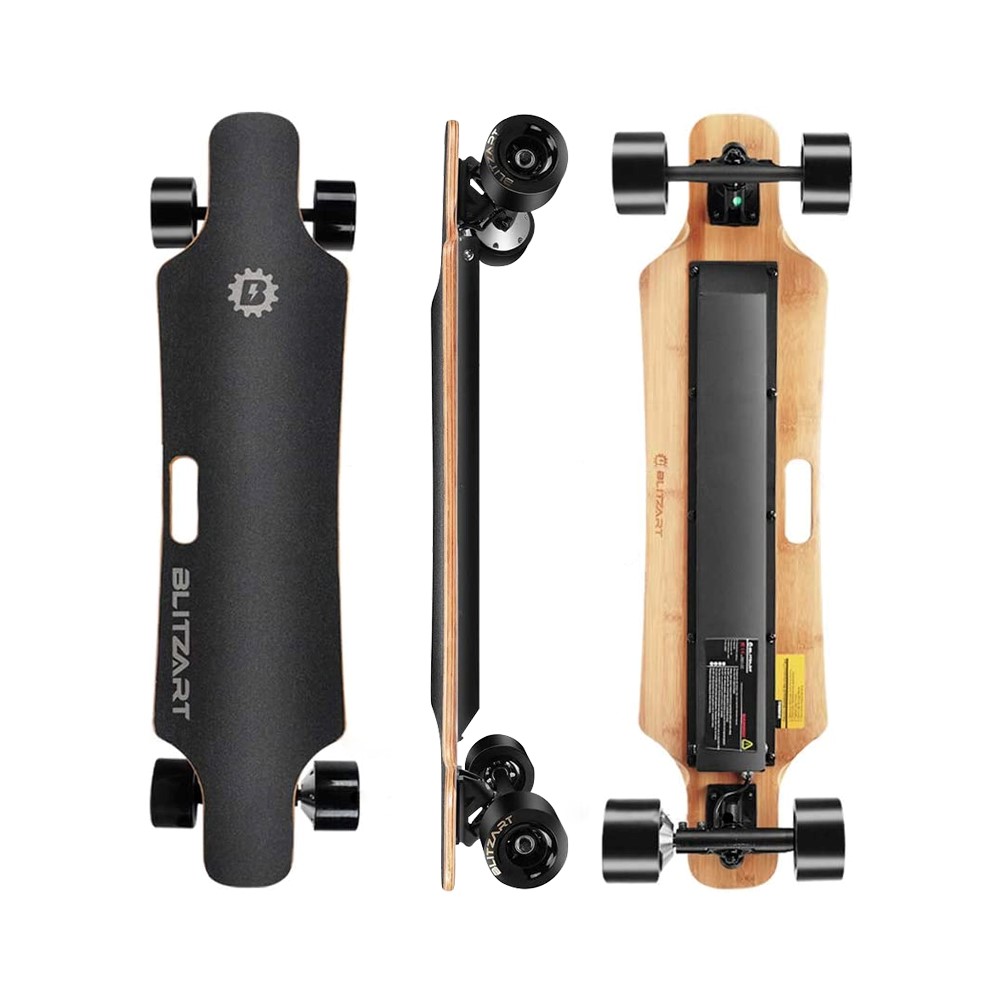 Size: 39"x10"x6"
Weight: 8kg
Wheels: 3.4″ all-terrain
Top speed: 30 km/h
Battery: 36V Li-ion Battery
Motors: 350w Brushless Motor
With a max speed of about 30km/h, the Blitzart skateboard offers many fascinating features. It has a strong lithium-ion battery with a fast-charging property. You can charge your battery for up to three hours only, and you are good to go. The battery has a significant number of charge cycles considerably.
The wireless mode for this kind of skateboard is the upgraded one. You will be able to enjoy high sensitivity from the best upgraded remote that is wireless. Whether you are an advanced rider or beginner, you will get to enjoy the best experience with the Blitzart Hurricane electric skateboard.
Pros
It has a great battery.
It might be considerably cheaper as compared to the peers
It is quite light to carry around
Cons
It might not be durable or elastic enough.
It has a small capacity battery that might not support longer distances.
# Wowgo 3X Electric Longboard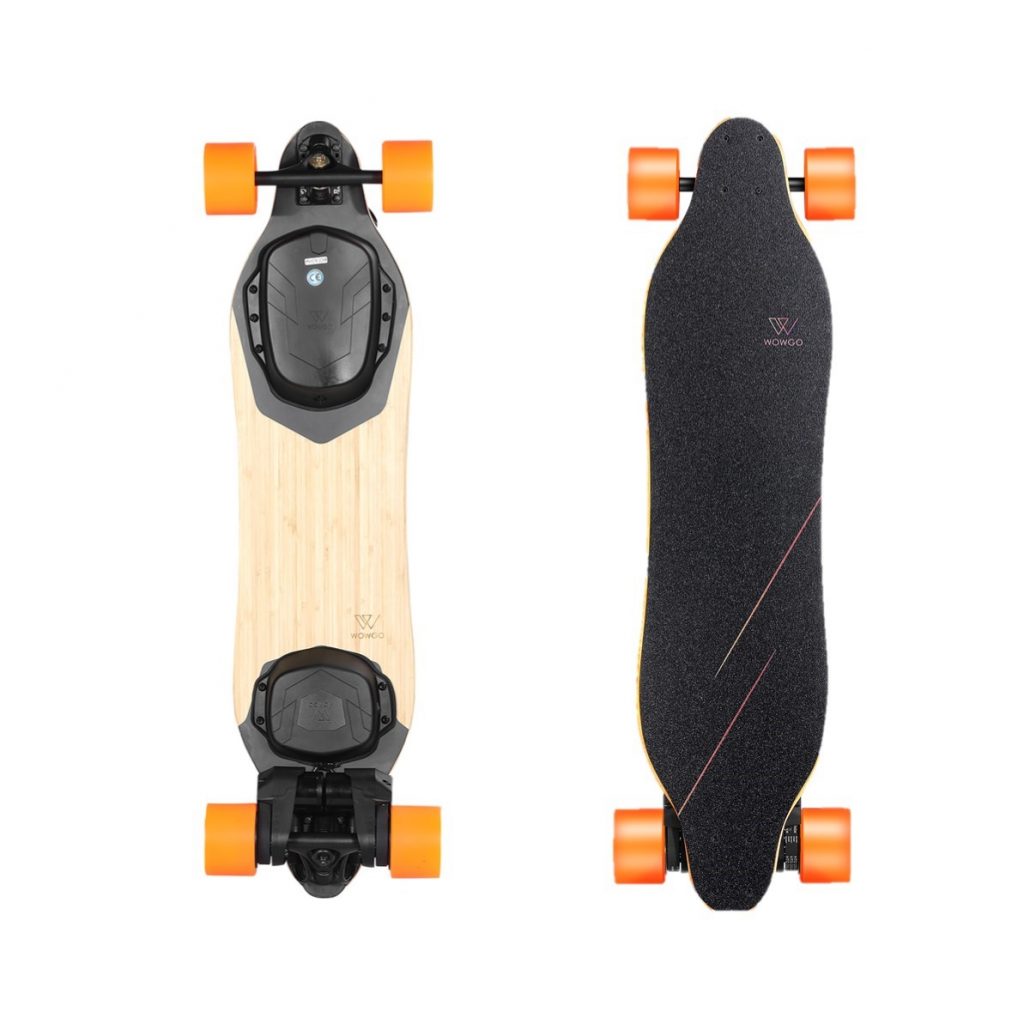 Size: 37.9"x11.2"x5.5"
Weight: 10.5kg
Wheels: 3.4″
Top speed: 39 km/h
Battery: Samsung 12S2P
Motors: 1200W Hub Motors
With the Paris front truck, you will excellent carving experience from your WowGo 3X electric skateboard. With outstanding dynamic balance and high speed, you will get a fantastic riding experience. Other than the high-speed feature due to better motors, you will get a highly upgraded Samsung battery that is rechargeable.
The OLED remote controller will give enhanced controller features with ease of use and wireless functionality.
Pros
Has high stability as compared to the rest
Quite durable and environmentally friendly
It has an attractive shape and smooth texture
Cons
The battery has a high discharge rate
It might be expensive to purchase and maintain
Quite heavy hence might be bulky to carry around
Safety Tips on Riding Off-road Electric Skateboards
There are several considerations and precautions that you ought to take before and while riding off-road electric skateboards. Here are some of them; take a look.
Always wear helmets and reflectors before embarking on your ride.
It is best if you wear protective gear to prepare for any incident that might happen while riding.
Watch for traffic lights while riding in towns and streets. It is best to obey traffic laws.
Always ride at a manageable speed to avoid accidents. It is easy to cause accidents while at high speeds.
Ensure that your off-road electric skateboard is well maintained and serviced before going for a ride.
What Next?
Now since you have learned something about the best off-road electric skateboard, why don't you also check out our other related guides as follows: