Introduction
Ultrasonic cavitation machines are a great way to get rid of stubborn fat and sculpt your body. They are not as risky and expensive as liposuction. Best of all, they are proven effective at fat reduction and skin tightening. And you can use them from the comfort of your home.
In this article, you will discover the 5 best cavitation machines that melt body fat and improve skin elasticity. If you're skeptical about the effectiveness of cavitation for fat loss, we also explore how ultrasonic liposuction works and whether it delivers the results it promises.
Our Picks for Best Ultrasonic Cavitation Machines:
First, let's explore what cavitation machines are and how they work to help you shed fat, slim down, and tone your body.
What is a Cavitation Machine?
A cavitation machine is a body-sculpting device that uses ultrasound waves to break down fat deposits, making it easy for the body to shed unwanted fat.
It emits ultrasonic waves that melt adipose tissue and apply pressure on the fat cells. Air bubbles form within the fat cells and cause the cells to burst and release the liquefied fat into the body.
The lymphatic system absorbs the fat and converts it into waste, which the liver eliminates from the body. The result is a leaner figure with reduced fat mass.
Related:
Types of Cavitation Machine
Although all cavitation devices utilize ultrasound waves to cause fat loss, there are different types of cavitation slimming systems on the market. Based on the number of wands or heads each machine has, there are 3 in 1 and 5 in 1 cavitation machines.
3 in 1 ultrasonic cavitation machines come with an ultrasound cavitation wand, a multi-polar radio frequency (RF) wand, and a tri-polar RF wand. On top of these three wands, 5 in 1 cavitation slimming systems also have bi-polar and vacuum RF wards.
Beyond this, more advanced machines come equipped with infrared (IR) wands and electronic wands. Here is an overview of what each type of wand does:
Radio Frequency (RF) nodes work on the skin. The radio frequencies they emit heat the dermis layer of the skin, promoting collagen regeneration.
Multi-polar RF probes penetrate through thick skin and reduce cellulite. Tripolar RF wands deliver a gentle treatment for the eye area while bipolar RF heads lift the skin by getting rid of wrinkles and saggy skin. Vacuum RF wands help dissolve fats, promote drainage, and tighten skin.
Infrared (IR) heads use infrared light to warm up tissues, melt fat, increase blood circulation, and promote healing. Finally, Electronic Muscle Stimulator (EMS) wands use electrical impulses to contract muscles and tone the body.
Benefits of Professional Ultrasonic Cavitation Machine
Cavitation machines come with plenty of fitness and cosmetic benefits. If you're aiming for a leaner figure and rejuvenated skin, here are the benefits you can expect to reap from ultrasound cavitation and radio frequency (RF) therapy:
Effortless Fat Loss: Get rid of persistent fat deposits without much effort. All you have to do is massage the area as instructed and maintain a healthy lifestyle.
Skin Tightening: Cavitation machines come with RF wands that promote collagen regeneration and restore skin elasticity. If you're looking for a way to get rid of wrinkles and saggy skin after weight loss, look no further.
Body Sculpting: By removing fat deposits that cause bulges such as pot bellies and love handles, ultrasonic cavitation creates a slimmer figure. The greatest thing is that you can decide exactly where to reduce the inches.
Cellulite Reduction: By getting rid of the fat below the skin and improving skin elasticity, cavitation machines help reduce cellulite.
Related: Cavitation machine benefits and side-effects
How to Use a Cavitation Machine
The beauty of cavitation liposuction is in its ease of use. You don't need special training to use it. You don't even have to pay a professional beautician for sessions. It's possible to treat yourself from the comfort of your home. Simply follow these steps:
Read the manual to learn how to use your cavitation machine efficiently and safely.
Apply a generous amount of ultrasound gel on the area you want to work on. The gel enables the wand to glide smoothly on the skin and helps the ultrasonic waves penetrate deep. It also protects your skin against burns.
Switch on the cavitation machine by pressing the power button.
Select the right mode and setting for the problem area you want to work on.
Use the appropriate node or head to massage the area in circular and sliding motions.
Now that you understand what cavitation machines are and how to use them, here are our expert hand-picked ultrasound cavitation and RF machines to help you get into your dream shape.
Related:
# AURO 3 in 1 Lipo Slim Professional Ultrasonic Cavitation Machine – Best Overall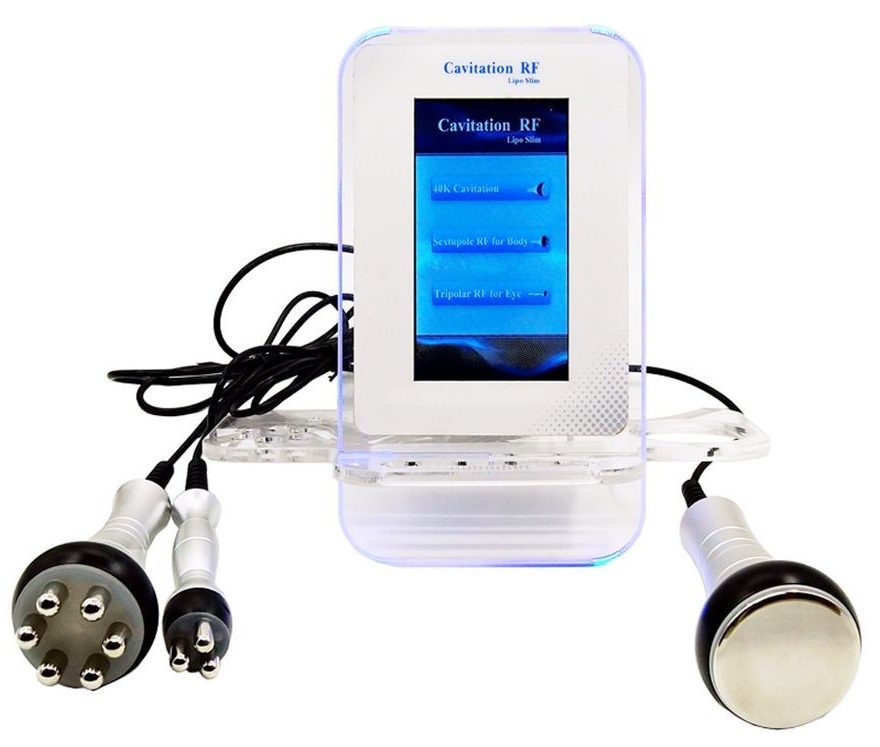 Powerful yet pocket-friendly, the AURO 3 in 1 Lipo Slim liposuction Cavitation machine takes the top spot as the best Cavitation machine overall. It makes a great professional cavitation machine and is easy to use at home as well.
The ultrasound cavitation wand sends sound waves at a 40K frequency. These waves travel deep into the skin and dislodge unwanted fat deposits to leave you with a trimmed-down figure.
You will also be able to use the AURO machine to treat wrinkled and saggy skin. For this, the device comes with a multi-polar radio frequency wand for the thicker skin on the body and a tripolar RF wand for the delicate skin around the eyes. These wands improve skin elasticity by promoting collagen regeneration.
The AURO lipo machine is built to high standards and bears CE certification. To top it off, your purchase is backed by a one-year warranty and lifetime maintenance support. You can have peace of mind that you're buying a high-quality device you will be able to use for years to come.
Pros
Reasonably priced
Emits strong ultrasonic waves
Improves skin elasticity
Large and clear display
Compact and easy to handle
Boasts CE certification
One-year guarantee
Lifetime support
Cons
Does not have an infrared wand
# Miss Heart 3 in 1 Ultrasound Cavitation Machine – Best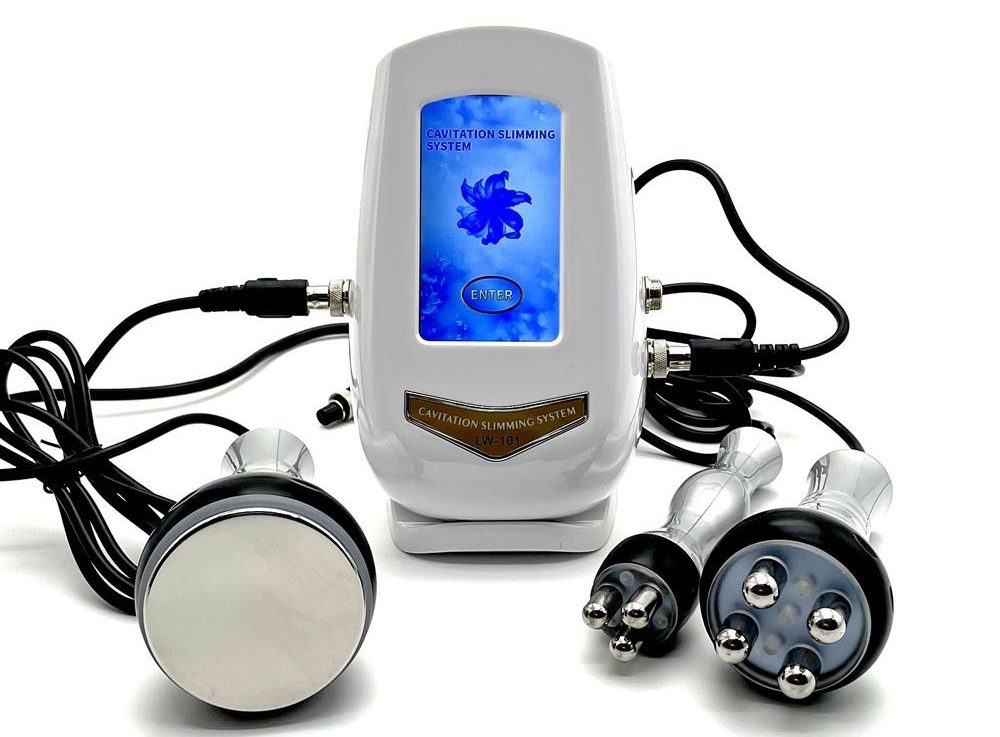 You don't have to break the bank to get an effective ultrasonic cavitation machine. This Miss Heart 3 in 1 cavitation machine is accessibly priced but powerful and multi-functional.
The ultrasonic cavitation probe puts out powerful 40 kHz ultrasonic waves that penetrate deep and break down tough fat layers buried deep in the subcutaneous layer. This dissolves the adipose tissues to leave your body leaner and toned.
Fat burning isn't the only thing this affordable cavitation device does. It's also a radiofrequency cosmetic machine with a tri-polar head for the sensitive skin on the face and a multi-polar head for the body. The radiofrequency waves stimulate collagen regeneration, leaving skin with a healthy and youthful aura.
Despite being a 3 in 1 cavitation machine, this Missheart device has a compact design that's easy to move around. Last but not least, it features a touchscreen display that's easy to operate.
Pros
3 in 1 cavitation system
Strong sonic frequency
Skin lifting probes
Reasonable pricing
Great value for money
Touch display
Compact form factor
Cons
A simple device without fancy features
# Missheart 3 in 1 Lipo Cavitation Machine – Best Value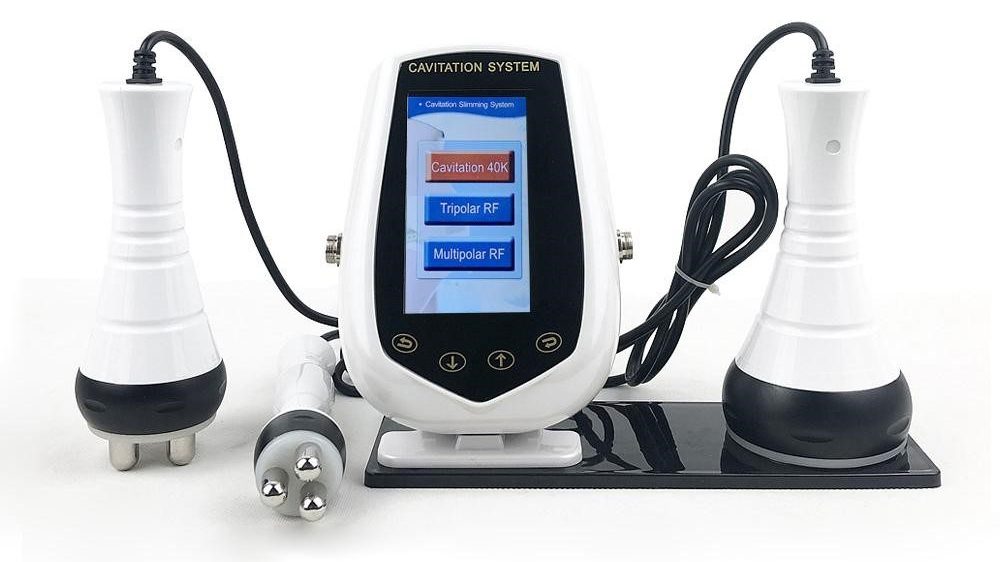 Missheart 3 in 1 lipo cavitation machine strikes just the right balance between features and price. For a pocket-friendly price, you're getting a quality body contouring and face lifting machine you can use from the comfort of your own home.
Use the 40KHz ultrasonic cavitation probe to massage where you want to shed stubborn fat and reduce the inches. The heat and resulting vibration will dislodge stubborn adipose reserves. Once you shed the excess fat, the body and face RF wands come in handy to tighten and tone loose skin leaving you feeling and looking your best. The color display lets you set a timer and customize the intensity level up or down to optimize performance or comfort. Although the device includes a base, it's still compact and easy to handle and doesn't require much storage space.
Pros
Great value for money
Effective ultrasonic frequency
Skin tightening benefits
Compact and easy to handle
Space efficient storage
Adjustable intensity levels
Convenient timer function
CE mark of compliance
Cons
Does not have a bi-polar RF probe
# AOKO 5 in 1 Professional Cavitation Machine – Best Premium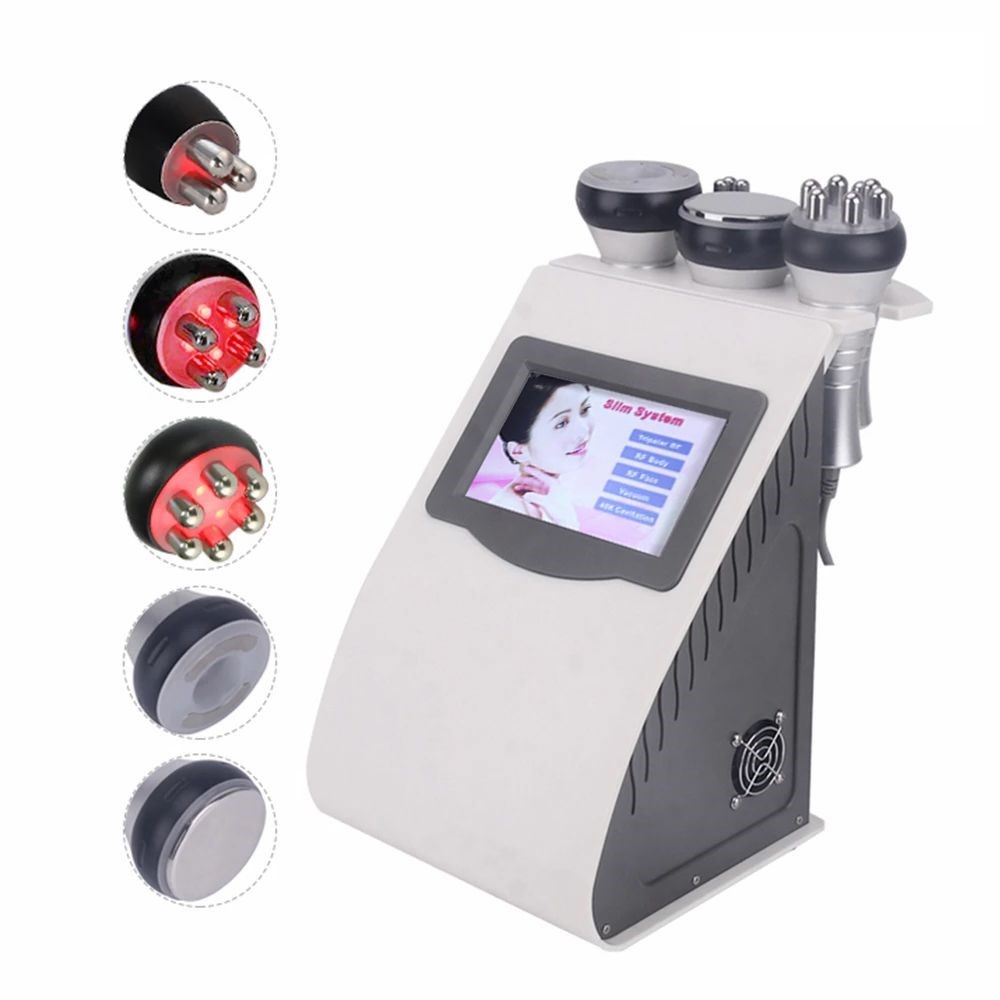 AOKO 5 in 1 professional cavitation machine provides complete spa therapy. Besides being an ultrasound cavitation machine, it's a radiofrequency skin treatment device. Although it comes at a higher price than the other options on this list, it delivers fantastic value for money.
The cavitation head emits sound waves at 40 kHz. This frequency is strong enough to penetrate the skin and turn solid fat deposits into liquid form. You can count on it to sculpt your body and deliver the figure you have always wanted.
The AOKO is also a radio frequency beauty machine that does wonders for the skin. Red photon, multi-polar, and radiofrequency vacuum probes detoxify the body and improve skin elasticity. These three RF wands allow you to improve the skin on any part of your body, including the face.
Pros
5 in 1 cavitation system
Powerful cavitation machine
Promotes detoxification
Face lifting effect
Red photon and vacuum benefits
CE certified device
Cons
A bit expensive than the options here
A little bulky and not easy to move around
# Missheart 5 in 1 Ultrasound Cavitation Machine – Best Portable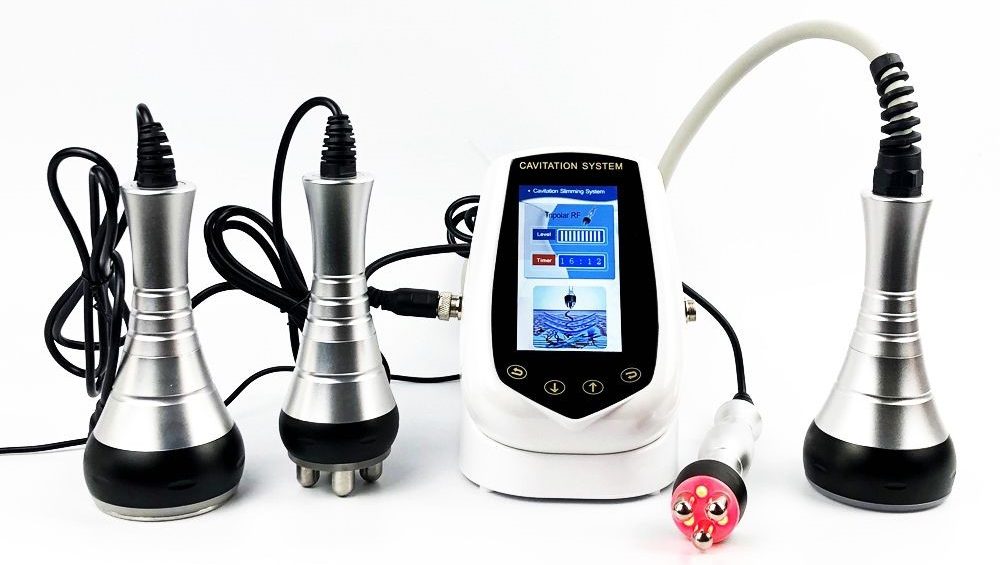 Measuring 8.46 × 8.6 × 6.59 inches, Missheart 5 in 1 Cavitation slimming system is the most compact cavitation machine on this list. If you're looking for a space-efficient and easy-to-carry cavitation RF device you can travel with to use at your convenience, you can't go wrong here. The smaller size isn't at the expense of performance. You are still getting a 5 in 1 system for both body sculpting and skin therapy treatments.
Like the other cavitation machines on this list, it puts out ultrasound waves at 40 kHz. This frequency is powerful enough to liquefy fat deposits yet safe enough to use at home. The RF wands include a vacuum bi-polar wand, a tri-polar wand, and a multi-polar RF wand. You can use it to tone both thick and sensitive skin.
In addition to the ease of carrying and storing, this fat burning and beauty machine is also easy to use. The display is easy to read and features a timer. You can customize the intensity level depending on the part you're working on and for comfort.
Pros
Contact and portable
Space-efficient design
Three skin lifting RF wands
Promotes detoxification
Easy to handle and use
Timer offers convenience
Allows you to adjust the intensity
Cons
Does not have an infrared red (IR) wand
How to Choose the Best Cavitation Machine
No two cavitation machines are alike. They differ in the number of probes attached, settings, features, price, size, and other things. To make choosing easier, here are the factors to have in mind as you select which fat loss device to buy:
Frequency
How effective a cavitation system depends on the strength of the ultrasound waves it emits. Frequency is, therefore, one of the most important things to consider when buying a cavitation device. The stronger the sound waves, the more effective the machine.
So what is the best frequency for a cavitation machine? Look for a device that emits ultrasound frequencies at 25, 30, or 40 kHz. This kind of frequency is strong enough to penetrate deep into the skin and burst fat cells.
Features
Cavitation machines range from simple single wand devices to complex machines with a host of attachments and settings. Some features of cavitation machines include RF heads, color displays, EMS massagers, and more.
However, the more features a device has, the more expensive it is. It's, therefore, crucial to look for a device equipped with the features you need and don't mind paying for.
Treatment Duration
Different ultrasonic cavitation devices have different treatment lengths. It's a good idea to consider how long each session will take.
Additionally, find out how long the wait time in between treatment is. The treatment length and frequency can affect how long it will take to see the desired results.
Size
You can get a compact device or a large, powerful ultrasonic liposuction machine. A small machine is easy to store and carry around but not as powerful as a large machine.
Large machines are more powerful and have more complex settings to help you reach your body sculpting and skin toning goals. However, they take up more storage space, and you can't easily move them around.
Multiple Settings
Different parts of the body require different treatments to achieve the desired results. A cavitation machine that allows you to choose from various intensity settings will enable you to work on different parts of the body. For example, some devices have massaging, kneading, and tapping nodes.
Safety Features
A cavitation machine should come equipped with a host of safety features. Look for a device with an auto shut-off timer. Such a machine will go off automatically once the treatment duration is over.
Since cavitation machines release heat waves, they need a way to dissipate excess heat. A reliable heat-regulation system is also vital to prevent heat build-up.
Ease of Use
Cavitation devices require precision in their use. A well-written manual is essential to teach you how to operate the various knobs and settings. The manual should be comprehensive and written in a clear, easy-to-understand language.
Certification and Warranty
For quality assurance, only choose a machine with a quality certification by a reputable organization. All the lipo cavitation machines here bear the CE certification. Warranty support is also vital as it gives you peace of mind that you're covered just in case you end up with a defective machine.
Related: Cavitation machine buying guide
Tips on Using an Ultrasonic Cavitation Machine
Even when using the best professional cavitation machine, your results vary, depending on how you use the machine and what you do after the treatments. Here are some tips to help you make the most of your cavitation device.
For your first session, select a low power and intensity level. You can increase the power as your body gets used to the experience.
Be sure to exercise for about 30 minutes after each session.
Drink plenty of water before and after your treatment. Hydrating helps your body eliminate the loosened fat quickly.
Each healthy and nutrient-dense food. Steer clear of fatty foods and alcohol. Your liver is already working overtime to eliminate the dislodged fat.
Engage in moderate but regular and consistent exercise several times a week.
Consult a doctor if you have a chronic or skin condition, are on medication, or have other health concerns.
Frequently Asked Questions
1. Do Cavitation Machines Work?
Cavitation machines are scientifically proven to reduce fat deposits and slim down the body. Studies show that they can reduce the fat layer by 13% and slim down the waist by 2 to 4 cm.
2. Can I Lose Weight with Ultrasonic Cavitation?
Ultrasonic cavitation is not a weight loss or obesity treatment. It only gets rid of fat deposits and helps tone the body.
3. How Does Ultrasonic Cavitation Work to Remove Fat?
Ultrasonic cavitation uses ultrasound waves to agitate and break down fat deposits. The liver then takes over and eliminates the liquefied fat.
4. How Often Can I Use My Cavitation Machine?
Cavitation machines shouldn't be used daily. The typical frequency is three times per week. This gap allows enough time for the body to process the dislodged fatty substances and for the liver to eliminate them.
However, how often to use it also depends on the machine you're using. Be sure to check the manufacturer's recommendation on how many times to use your device per week.
5. How Long Does It Take to See Results from Ultrasonic Cavitation?
It usually takes 8 to 12 sessions to achieve the desired results. It takes the body this long to eliminate the excess fat deposits. On the positive side, you will start noticing a positive change after the third treatment.
6. How Long Do Ultrasonic Cavitation Results Last?
Although ultrasonic cavitation gets rid of fat permanently, you can still regain the deposits over time. It's essential to eat healthily and exercise regularly to prevent the fat from coming back.
7. How Safe are Ultrasonic Cavitation Machines?
Cavitation machines are generally safe to use. They don't cause scarring, pain, or bleeding. No downtime, as you will be able to walk, drive, and resume work right after a session.
As for side effects, you may experience some bruising or feel slightly unwell as the fat gets eliminated from your body, but this is only temporary.
This isn't to say that ultrasonic cavitation is entirely risk-free. It's vital to observe the necessary safety precautions. For example, follow the instructions on the manual, apply the ultrasound gel, and stick to the specified treatment duration and spacing.
Conclusion
No matter how hard you exercise, some stubborn fat deposits refuse to budge. The good news is that you don't have to resort to invasive procedures like liposuction to get rid of stubborn bulges.
Cavitation machines are among the best inventions in body sculpting and skin tightening. They offer an easy way to dislodge stubborn fat deposits and get into your dream shape.
Now that we have presented the five best Cavitation machines on the market, it's up to you to pick the right one for your needs and use it. You will start seeing positive changes after only a few sessions.
Adopt a healthy diet coupled with physical exercise to make the fat loss and skin toning benefits of cavitation treatments permanent.